Quote of the Week
"The disconnection of Russia from the global web would mean that we are already at war with everyone. In this situation we should be thinking how to grow potatoes in a nuclear winter, and not about the internet."
– Filipp Kulin, Russian internet expert, asked about a Kremlin plan to put up its own firewall around the internet, for "national security" reasons that are nothing to do with rising protests against Putin's handling of the economy. (BBC, 12 Feb.)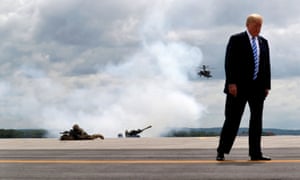 "And my doctor says I'm 35 feet tall and still only 239 pounds."
Trump passes his medical with flying colors. (Photo Carlos Barría/Reuters)
There has to be a reason
"The secrecy imposed on the civil service is the second reason why, if trouble comes, it will appear to come from nowhere. The truth is that we have a hidden government, thinking the unthinkable in secret, not as an academic parlour game in which an idea is reduced to absurdity for intellectual pleasure, but as a means of stopping voters realising the scale of the trouble we may be facing."
– Nick Cohen, writing in The Guardian, 11 Feb 2019.
Nick's thesis is rather troubling. There has to be a reason why the government is quietly creating a new ministry employing five thousand supposedly temporary civil service volunteers at vast expense to the taxpayer, to manage the country on what looks suspiciously like a war footing.
They are being recruited now, to ensure stockpiles of food and medicine are distributed and rationed, with plans to chopper the Queen out of London, plans to commandeer trucks and warehouses and public transport and to put five thousand troops on the streets – possibly even to round up potentially violent dissidents – in the event of a no-deal exit from the EU at midnight on Friday, 29 March ("Piano Day").
Saturday 30th, appropriately, being "Bipolar Day"; and Monday 1 April, of course, when people will get up, shake off their hangovers and go to work in the Brave New World of Britain as a vast global trading empire once more: "All Fools' Day".
Maybe it's because the May cabinet genuinely expects the country to fall apart, with supermarkets looted, empty shelves, businesses shut down and rioters on the streets?
It seems inconceivable in this day and age.
For a start, few people really give a hoot about Brexit, they don't have a clue what the fuss is all about, just that they don't like the government's hideously cruel and seemingly never-ending austerity program, although they go on voting for it.
They're too busy going about their zero-hours "cog in a machine" jobs and trying to survive in the dog-eat-dog, app-driven modern world of Deliveroo and Uber Eats; of call-centres and fast-food outlets, of shelf-stacking and warehouse picking and packing, of Amazon deliveries and unpaid internships and temporary "teaching assistant" and "community policing" and agency cleaning and admin jobs where you can be fired for taking a day off sick.
That none of this growing fragility of our social institutions and the deskilling of work is the fault of the European Union is really quite meaningless to everyone other than policy nerds and the illiterate, piss-stained-sofa-dwelling fucktards of the far-left and the rabid-right – mostly the right – who post their irate, uninformed comments on media websites, as if they mattered.
Harking back to August 2011, and the "Tottenham riots" that spread over the course of a week to Birmingham and other cities, with the deaths of 5 people and much looting and arson, however, we recall that the single most proximate cause was the police shooting dead a black suspect in a planned ambush, who had already thrown away a gun that might or might not have been his.
That seems a somewhat more concrete casus belli than a possible decision to delay or abandon the lunacy of leaving the European Union on 29 March.
But the reason for the violence, later examined in detail by handwringing liberals in the media, was much the same as the reasons we keep hearing from the few more articulate Brexit-voters for why they delivered a slap to the government over the referendum: boarded-up white working-class communities left behind by globalization and immigration, disaffected with austerity and growing inequality, are fed up with well-padded politicians making remote decisions that make ordinary people worse-off; fed up with seeing the plethora of consumer goodies in shops, images of material success that they can't afford.
So actually, the idea that riots might accompany a bad-deal Brexit may not be so far-fetched.
Will we hold them to this pledge?
In the wake of an urgent think-tank report slating politicians for failing to come up with any real policies for confronting multiple environmental threats coming thick and fast on top of impending climate disaster:
"A UK government spokesperson said: 'We are committed to leaving our environment in a better state than we found it through our 25 Year Environment Plan and the forthcoming Environment Bill.
"'Over 25 years we will replenish depleted soils, rid our seas and rivers of the rubbish trashing our planet, cut greenhouse gas emissions, cleanse our air of toxic pollutants, and develop cleaner, more sustainable energy sources.
"'The Environment Bill will also create a new environmental body, the Office for Environmental Protection, to hold us to account on this commitment'." (BBC Environment)
The BogPo replies: "Seeing is believing". Especially the bit about replenishing depleted soils, as it takes around 300 years to create a microgram of new soil.
And we don't have 25 years, sorry.
http://www.bbc.co.uk/news/science-environment-47203344
Trump has the media exactly where he wants them
Kick him out!
"A BBC cameraman was violently shoved and abused during a Donald Trump rally in El Paso, Texas, on Monday night, in an incident the corporation described as 'unacceptable'.
Ron Skeans "recovered to film a man in a red Make America Great Again cap being restrained and shouting: 'Fuck the media.' As he was led away some in the crowd at the rally could be heard chanting: 'Let him go.'"
Good. Maybe now the BBC's apathetic "North America Editor", John Supine will stop normalizing and apologizing for this demented old showboater in the White House.
Even with this report of what has become a fairly humdrum assault on journalists covering Trump's Nazi rallies, his rapturous, chanting dumbfucks doing their Saviour's bidding, the BBC admits only that he has a fairly "strained" relationship with the media.
He doesn't.
Trump is and has knowingly for decades been a creature of the media. In turn, he ruthlessly exploits the media's obsession with his every fart and grunt, his every cheeseburger dream, to keep himself in the limelight.
He knows that the more he insults and mocks and chastizes them, the harder the editors think they have to try to please, and the less likely his increasingly abusive, baying fascist "base" is to believe a word anyone says against him; especially Mueller.
His relentless self-publicizing and abusive personal put-downs of even the mildest critics have but one aim: to impress the image of a successful business tycoon, which he has never been, on potential victims of his family's scams.
These tend to be sleazy minor criminals and corrupt officials skirting the law in "developing nations", easily impressed by Trump's tawdry glitz and glitter. Easy marks, ready and willing to be led by the nose into improbable real estate developments involving multi-million-dollar licensing and merchandizing contracts, generally disasters from which only the Trumps walk away richer. (According to media sources.)
Trump has the media exactly where he wants them: by their tiny, fluffy little balls, which (like Eleanor Rigby and her "face") he keeps in a jar by the door.
"Enemies of the People" they may be. Friends to Trump they surely are.
Can we trust economists?
Best practice
Warehouseman Mr Jeff Hayward from Clitheroe in Lancashire has won his appeal at the fifth attempt against an employability tribunal decision that, despite letters from two doctors stating he was unable to walk 50 meters, he was so obviously fit for work that he merited zero disability points.
Sadly, Mr Hayward was unable to celebrate his victory, as he died seven months ago. A Department of Work and Pensions spokesperson expressed their regrets to the family over the time taken to reach a decision, but offered them some cheery news – at least they'll get the back-payments. (Guardian)
Feurquières tous!
The mayor of a town in northern France has issued a ban on excessive dog barking in a bid to curb canine noise pollution, that he says has created an unbearable situation. Dog owners in Feurquières face a €68 (£60; $77) fine for "prolonged or repeated barking".
One woman's dogs in particular have apparently been the cause of numerous complaints. Animal rights groups are protesting. (Guardian) The BogPo however wonders why the French mayor has calculated the fine in Euro to come out as an exactly round number in UK pounds?
Are we maybe talking Englishwoman here?
GW: Sweep-up in Seattle

USA: One of the more potent storms of the winter, Nadia will hit California with heavy rain, excessive high country snow and gusty winds through Thursday night (13 Feb.). The worst of the storm is forecast to focus on Central and Northern California with a heightened threat of flooding, mudslides, erosion, power outages and avalanches and road-closing snowfall in the mountains. Several inches of rain will fall on the lower and intermediate slopes of the mountains." (Accuweather, who are forecasting 3-6 FEET more snow in the Sierra Nevada.)
Storm Maya brought up to 5 feet of snow in Washington State at the weekend. "… more than 80,000 Washington customers were without power Saturday afternoon after nearly a year's worth of snow fell in a single day in the Seattle area." (Wunderground) "Severe weather is expected to stretch from coast to coast Tuesday (12 Feb.), with about 100 million people under some sort of winter alert, millions facing a flood threat and more snow on the way in Seattle. Widespread rain Tuesday will continue to soak the Ohio Valley, from Arkansas to Ohio. As much as 4 inches could fall. More than 55 million people are under a flood warning, flood advisory, flash flood watch or flash flood warning across the country." (CNN) It also snowed, unusually, in Hawaii, where a wind gust was measured at 191 mph and several houses lost their roofs.
A brief heatwave in central Texas this weekend is likely to lift February temperatures into the 90sF, mid-30s C, an all-time record, before yet another storm system sails in from the Pacific and intense rainfall returns to the midwestern states, with more flooding forecast for the middle of the week. (The Weather Channel)
Europe: 3 German skiers and 2 ski patrollers have been killed over the weekend in the Alps. Another patroller is missing. An accident in France and an avalanche in the Austrian Alps brings the number of weather-related deaths in Europe this month to 26 as heavy snow continues to paralyse parts of the continent. (Independent) Meanwhile, most of Europe will bask this week in Spring-like weather. (Severe-weather.eu) Indeed, just north of sunny Boglington, the mercury hit 17C yesterday (62F) (15 Feb.).
Indonesia: "As many as 4" people have died in flooding in West Java, Indonesia, after heavy rain that began on 7 Feb. "A disaster agency spokesperson said that the overflowing Cinambo River caused a dam to break, flooding areas in the Cilengkrang district." (Floodlist)
Saudi Arabia: Amber warnings have been issued for more heavy rainfall, after 2 people died near Madinah on 9 Feb. More than 100 people were rescued from vehicles stuck in flooded wadis. (Floodlist)
Malawi: 8 days of continuous heavy rain between 18-24 January caused extensive flooding, evacuations and damage to property in central and southern regions. (Late report from Floodlist)
Brazil: Strong winds, torrential rain, flash flooding and landslides caused havoc in the municipality of Rio de Janeiro, 6-7 Feb. 90mm (4-in.) rain fell in just one hour. Officials said that some areas recorded more than the February average rainfall in just a few hours. Wind gusts of around 110 km/h were also recorded. (Floodlist)
Peru: "As many as 10 people have died after heavy rain, flooding and landslides since 07 Feb. President Martin Vizcarra said on 11 Feb. that 8,000 people have been affected and 1,800 made homeless. Flooding and landslides have damaged or destroyed bridges, roads, homes, health centres and schools." And there's more flooding in Ecuador. (Floodlist)
Australia: 1 person has died and several are in intensive care, infected with Melioidosis, a soil bacterium apparently released by the recent record floods affecting Queensland. A report from CNN notes that the Flinders river has gone from a trickle to 27 miles wide – so vast a flood that it is believed to have generated a thunderstorm. Huge volumes of soil can be seen from space, washing into the Gulf of Carpentaria.
Russia: "Residents of a coalmining region in Siberia have been posting videos online showing entire streets and districts covered in toxic black snow. The scenes in the footage were described as "post-apocalyptic" by Russian media.
"The coal dust that turns the snow black in the Kuzbass comes from numerous open pit mines that environmental activists say have had disastrous consequences for the health of the region's 2.6 million people. … Officials in Mysky, a town in the region, were mocked recently for painting black snow white." (Guardian Green Light report, 15 Feb.)
Two cyclones colliding over Norilsk in Eastern Siberia earlier in the week produced up to 4 meters of snowfall. But at least it was warmer – temperatures rose to -11C. (Siberian Times)
World: The oceans are warming fast.
"The year 2018 passed the previous record set just the year before, in 2017; the top five years of ocean heat have come in the last five years. Last year continues a startling trend of global ocean warming that is a direct result of humans' warming of the planet." (CNN, from journal Advances in Atmospheric Sciences). Prof. Paul Beckwith reports – the land is now warming three times faster than the sea, which until recently had absorbed over 90% of all the atmospheric warming caused by CO2 and other greenhouse gases.
"In the extreme, environmental breakdown could trigger catastrophic breakdown of human systems, driving a rapid process of 'runaway collapse' in which economic, social and political shocks cascade through the globally linked system – in much the same way as occurred in the wake of the global financial crisis of 2007-08." The warning comes in a paper from UK thinktank the Institute for Public Policy Research.
"CO₂ levels just reached another record high. On February 9, 2019, an average daily CO₂ level of 414.27 ppm was recorded at Mauna Loa, Hawaii." Global CO2 level normally peaks in March/April. (Arctic News)
Atlantic hurricanes showed "highly unusual" upward trends in rapid intensification rates during the period 1982 – 2009 that can only be explained by including human-caused climate change as a contributing cause, according to research published last week in Nature Communications. Hurricane Maria (2017) for instance intensified by 70 mph in just 24 hours.
A new study is causing worries for electric car smuggies, who may lose up to 40% of their cruising range in cold weather. Fights are being reported in the lines for recharging cars at scarce charging points.
Yellowstone: the rising magma column – 300 miles long and containing enough molten material to fill the Grand Canyon 11 times over, with a core temperature measured at 2,500 F, – is now being "intensely monitored" by USGS geologists and vulcanologists. Ground heating, earthquake swarms continuing. (Mary Greeley)
POZI-NEWS
A great new feature accentuating the POZITIV!
By a margin of 92 to 8, "Joshua Tree and Death Valley national parks are to be enlarged, and stunning river landscapes in California and Utah will be protected, under new legislation that passed the US Senate on Tuesday. In all, the public lands package sets aside more than a million acres of new wilderness and conservation areas in western states. … The bill will go to the Democrat-controlled House next, where it's likely to pass, and then to the president's desk." (Guardian, 14 Feb.)
Where it will hopefully cause the ecocidal vandal Trump to choke to death on his fucking cheeseburger.
The "very stable genius" has been frantically trying to reduce the size of protected national monument lands and encourage more fracking and opencast mining while permitting slurry runoff from mines and agricultural poisons to pollute the rivers on behalf of his pal David Murray of Murray Energy, a multi-billionaire "coal baron" and one of his biggest donors,
Mr Murray reportedly backhanded several million dollars to Trump's highly controversial $107m Inaugural Fund, AFTER the Inauguration ceremonies were over, from which a vast amount of money appears to have gone missing without explanation, in exchange for a "wish list" which Mr Trump on assuming office immediately set about using Executive Orders to grant.
Both men have quite openly admitted without a trace of shame that, for example, Trump's order to the Tennessee Valley Authority to reverse a decision to switch its energy supply away from a Murray Energy coalmine into renewables was as a direct result of David Murray's paying him money.
A bribe, in other words.
And so extensive is Trump's gluey web of corruption, fantasy and deceit, nobody even cares anymore.
School's Out!
Schoolchildren in 60 areas of Britain were apparently striking today (15 Feb.) in sympathy with the expanding global movement begun by the scary-looking 16-year-old Greta Thunberg, from Sweden, to bring government attention back from the Brexit farrago to the very real environmental threats the rising generation are going to have to deal with, since we won't.
You might not know this, reading the BBC's coverage, which is a day out of date. However, on a POZITIV note, the Nailsea Comprehensive school/Oxford/Harvard-educated Claire Perry, Minister of State at the Department for Business, Energy and Industrial Strategy – who in your Old Uncle's view should become our next Prime Minister – went on the Today programme this morning …
And smack in the face of the smug, middle-class (w)anchor Justin Webb, who has been tutting his disapproval all week, actually SUPPORTED the strike!
But you won't read about that on the BBC News website. It would cause a revolution.