Quote of the Week
"Even animals that are hated by many people deserve respect." – Michael Sehr, animal rescue volunteer, after several people including local firemen managed to extract an overweight brown rat stuck in a sewer cover in Bensheim, Germany. The animal was later released unharmed.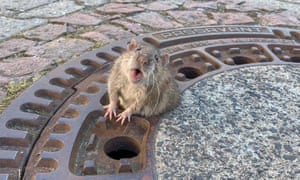 "So you wanna know if Trump colluded?" (Photo: Berufstierrettung Rhein Neckar)
"Who knew the end of the world would, at least for now, be so agreeable?"
Turning up the heat…

Saturday afternoon, the winter sun was smiling down over the thundering main road outside, beyond the little front patio, and it was getting hotter. But how hot?
I'd long been pondering buying one of those digital weather stations, that tells you everything you need to know, but felt a bit of a nerd. Who actually needs an anemometer in the garden? It's windy or not! And you could usually tell it was raining, surely, and how much – as the water collected in the scattered pots and buckets in the untended garden, er, tended to show.
But I felt I could safely draw a red line just north of a max-min gardeners' thermometer. And eventually on Saturday, prompted by the unusually fine weather, I remembered I'd been thinking for some years about acquiring one, and decided to slip out between the two vital rugby matches on TV to do a quick shop.
Wandering around the garden section of the DIY emporium, peering at things, I was gratified eventually to find a digital model, whose large black numerals I could easily read without glasses through the sitting-room window.
Despite two emergency surgeries, the damage to my eye from last year's retinal detachments is permanent: I've described it as like looking through the bottom of a thick glass beer-mug. In my right eye, I've been left with very short, uncorrectably fixed focus, which at nine inches gives only a distorted impression of the world, with an annoying blind spot in the middle; although if I had to, with the one 'bad' eye I could just about grope my way around.
My 'good', left eye, by contrast, is very long-sighted. It can easily count the little matchstick figures of tourists as they break the skyline on top of the far hill opposite, trudging up the steep path to the monument over a mile distant.
Making out the lettering on the packets of stuff in the garden section, however, at a distance of perhaps three or four feet turns me into one of those elderly people who are always putting on and taking off their glasses, peering at mundane things as if they were precious museum relics.
I mention this only because it led to one of those daffy mix-ups the elderly have to brush off on an almost daily basis, pretending that we have become unembarrassable in our old age.
Because, when I got it home and inserted battery supplied, nothing happened. The big black numerals remained insistent that it was currently 39 degrees, which would have been a British record at any time of the year or century; while the previous max and min were stuck at 34C. Neither the reset button nor the convert to F button were working either.
A change of battery made no difference. They had clearly sold me a dud. So on Sunday I took it back to the shop, where after staring at it thoughtfully for about five seconds, a patient and helpful assistant peeled off the protective layer of plastic on which the numerals 39C and 34C were printed, to reveal beneath, a fully working screen.
It hadn't occurred to me that anyone might do that, stick fake numbers on the front for display purposes. It hadn't occurred to me either to wonder how the numerals would have got stuck on 39C and 34C if there was no battery in the machine. And with my short-range vision unaided, well, Mr Magoo hadn't noticed the otherwise clear plastic covering.
There, I've geri-splained, so you can stop laughing now.
Which is all by way of an amuse bouche, an anecdotal preamble to what I really wanted to tell you.
Because as Hunzi and I took the opportunity of a little walkies along the cycle path behind the DIY store, from where you can go down to the river, I was checking my now operational max-min thermometer at intervals along the way.
And I can tell you that, in the dappled shade under the trees, at 2 p.m. on Sunday, 24 FEBRUARY, an unscientific – nevertheless, fully digital – observation, on a line of latitude that would, if pursued across the Atlantic, take you some one hundred miles north of Toronto, Canada, via Gander, Newfoundland, here on the west coast of the UK it was…
22.9 degrees C; 73.2F.
And as the sun beats down outside, in a hazy but cloudless sky, on the following day, Monday morning in Wales at exactly 11.25 a.m., under the large Photinia 'Red Robin', my new max-min thermometer is telling me it's already an improbable 23.9C, 75.2F.
I'm hoping it's defective, because this is insane. While out in the valley, catkins are bursting open on the willows, cow-parsley and celandine springing up everywhere and trees coming into leaf; on the beach, half-term families are picnicking and sunbathing and even paddling. In February.
Who knew the end of the world would, at least for now, be so agreeable?
Postscriptum: Huzzah! We made the news. Just up the road from Boglington a new British winter heat record was set today, of 20.6C. That's with the official Met Office thermometer, which to be on the safe side always reads cooler than the actual temperature as measured by thousands of old gardeny folk like me, weather gnomes with our dodgy waterworks and our dodgy kit. Probably.
A thought: It occurs to me to wonder. Given that we are having problems with the world getting hotter, why does the Met Office insist that records have to be set – only in the shade? It's the sunshine that's killing us, not the shade! At least record the max and the min at any one time, shade and full sun, so we can see how hot it really is getting. And for the record book, if you must, take the midway-point. Shade-only temperature tells us nothing useful.
Nature notes
Tuesday: Two big, glossy rooks are having at my bird table, their wild, wary eyes darting around to check how threateningly I'm sitting here, typing. No wonder I keep having to fill the attached wire basket with those fatty bricks with fruit and seeds in them, yesterday's is mostly gone. The thermometer affixed to the stem under the big Photinia is already showing 18.5C, it's gained 2 degrees in the 20 minutes since 10 o'clock, and today's sunshine is unimpeded by the thin layer of cirrhus cloud we had yesterday, blaring like a trumpet out of an azure sky.
Maybe another record is on the cards?
Wednesday: This morning's Guardian bears images of a large and fierce brushfire that broke out yesterday over 1.5 sq km on Saddleworth Moor near Marsden in Yorkshire, curiously without even mentioning last year's major peat fire on, er, Saddleworth Moor – which was closer to Manchester and notorious as the location of the burials of the victims of mass-child-murderer Ian Brady. Firefighters were also battling a smaller fire visible on Arthur's Seat, an open space in the outskirts of Edinburgh; and two more in Sussex. (It's February…)
Walking Hunzi at about noon here in our river valley on the edge of Boglington-on-Sea yesterday, I noticed that it appeared to be clouding over rapidly from the southwest, but soon after determined that the singular source of the cloud that now covered much of the town on an otherwise cloudless day must imply the existence of a fairly large brushfire. We drove to the highest point nearby but I could see only a huge column of smoke rising like a mushroom-cloud about ten miles away, beyond the next ridge; there was almost no wind and the broad valley inbetween was filled with smoke.
No-one else I spoke to had even noticed it. No-one ever looks up now at the sky.
A sunny day in February on Saddleworth Moor (apologies: Anthony Devlin/Getty Images)
GW: Don't know why, there's the sun up in the sky…
USA: Parts of Tennessee, especially Nashville, had their wettest ever February, with 3 days still on the calendar A state of emergency has been declared as rivers reach record highs. One man died at the weekend, driving into floodwater, and another was killed by a tornado. A Subway sandwich bar in Chattanooga was eaten by a landslide. It was closed at the time (Floodlist). 1 more person was killed and 71 injured in a 100-vehicle pileup in a whiteout blizzard in Wisconsin. (Accuweather)
Yet another winter storm, Ryan, is moving eastwards across the Rockies into the plains. Eugene, Oregon had 12-in. of snow (The Weather Channel). Life-threatening flooding and high winds are warned of in the Northeast as Winter Storm Quiana plays out. A freak 30-ft high wall of frozen chunks of foam has been pushed ashore from Lake Erie along the Niagara River Parkway at Buffalo, NY, blocking the highway. (Mail)
Updating that, another weather system to follow Ryan will be bringing yet more rain and snow through northern California, Oregon and Washington, with heavy snow over the mountains, and across into the already saturated great plains over the weekend. 1 person has already died in flash-flooding in Humboldt County as Venado in Sonoma County recorded "an incredible 20.48 inches" (520.19 mm) of rain in 48 hours to 27 Feb. How much more can Americans take? (The Weather Channel). Well….
Climate skeptic Donald Trump has appointed elderly Princeton physicist and general doofus, Prof. William J Happer to head a special White House panel on climate change to decide once and for all if it exists, in the light of the 1,400 page report by 300 actual scientists from the US administration, which warned only four months ago of the extreme need for urgency to tackle it. His verdict should be interesting: Happer has previously expressed a view that climatologists are an inferior species who don't know what they're talking about. But that's okay, it's your taxes the Big Galoot is pissing away (reports: various).
Canada: Extreme cold warnings are in place for an extended belt of provinces all along the US border, with windchill temperatures as low as -45F forecast. (Met Service of Canada).
Arctic: The Arctic is roasting this week, meteorologist Nick Humphrey writes in his Patreon blog. "Two separate Pacific storms moving into the Arctic, sending wide swaths of the Pacific side of the Arctic Ocean Basin to over 20C (36F) above normal. Not just very anomalous heat, but high wind and wave action hitting the thin sea ice in association with strong storms right out of the Pacific." Prof Paul Beckwith in Ottawa is of the opinion that 80% of the cold air column in the Arctic has gone, spilled over into North America and Siberia.
Antarctic: "An iceberg (660 sq miles) roughly twice the size of New York City is set to break away from an Antarctic ice shelf as a result of a rapidly spreading rift that is being monitored by Nasa. The crack along part of the Brunt ice shelf in Antarctica first appeared in October 2016, according to Nasa. The crack is spreading to the east" (and having almost joined up with an older crack, is likely to complete within weeks). A "study found that melting of the ice sheet has accelerated threefold in the last five years." (Guardian)
Angola: Heavy seasonal rain over the capital Luanda has left at least 4 dead and hundreds of homes destroyed. Rain fell from late 21 until 22 Feb., causing a bridge to collapse as well as destroying hundreds of homes. 4 people are thought to have died when houses collapsed. (Floodlist)
Indonesia: Dozens of houses have been destroyed by flash flooding in Papua New Guinea's East New Britain province. Flooding has also damaged or blocked roads, leaving several communities isolated. 2 fatalities have been reported. (Floodlist)
Australia: Parts of Australia are expected to sizzle through a late summer heatwave this week. "Southern states and Victoria will get scorching weather in the coming days, while the northern part of the country sweats through 'oppressive humidity'. Both Adelaide and Melbourne are forecast to hit up to 40C by the end of the week." (Daily Mail). Wildfires are continuing to burn.
Mining giant RTZ has received a AU$2 million grant from the climate-change-denying Morrison government out of a fund set up by the previous administration to reduce fossil fuel carbon emissions, to bring a new diesel power plant online at a bauxite mine in Arnhemland, that they've already built. The "emissions reduction fund" has officially been renamed the "climate solutions policy" (Guardian).
Fiji: "Pola is currently a Category 3 severe tropical cyclone with winds equal to a Category 2 hurricane in the Atlantic Ocean. Despite tracking farther from American Samoa and Samoa, bouts of heavy rain will affect the islands into Friday. Additional rainfall amounts of 150-300 mm (6-12 inches) are expected across the islands during this time." (Accuweather)
Peru: Government reports that 51 people have been killed since the rainy season began in September 2018. 228 houses and 26 bridges have been destroyed and several roads blocked by torrential rain and landslides. Further heavy rain has affected several regions over the last few days, causing flooding and landslides in at least 5. (from Floodlist)
West Pacific: "…Wutip underwent rapid intensification on Saturday, topping out as a Category 4 supertyphoon with a central pressure of 925 mb and sustained winds of 155 mph. This makes Wutip the strongest tropical cyclone ever anywhere north of the equator in February (or since 1911?). The typhoon dumped 5–12" of rain over Guam Saturday afternoon, with another 3–5" expected." (Wunderground). Despite only average sea surface temperature, Severe-weather.eu later has Wutip gaining Cat 5 strength – 161 mph sustained windspeed, gusting above 186 mph. Local media see it as drifting towards the Philippines at about 5 mph. There it has been renamed Betty. The last Typhoon Betty in 1989 killed 85 people.
China: Severe fog/smog warnings have been issued for large parts of the country, covering Hongzu province and Lianshui county. (WMO)
Europe: Warm, settled weather is expected to return to the British Isles during the week after setting a new winter record today, with 20.6C (68F) in the west of Wales; forecasters think it could go warmer (BBC). (Update: it hasn't! Friday, we're sitting under a wet and windy Atlantic front again.) The island of Crete, Greece, is bracing for more intense rain and flooding overnight, with totals of 250mm forecast through tomorrow. (Severe-weather.eu)
Update, 28 Feb: Crete experienced torrential rainfall and flooding for the second time in 7 days. A weather front, known locally as "Oceanis" brought heavy rain, hail and strong wind to the island from 23rd. 1 motorist died, making 5 dead for the month. Askifou in Chania had 596 mm of rain in 2 days between 23 and 25 Feb. and has now recorded 1,202mm of rain so far this month (to 26 Feb.), breaking the record for the highest monthly rainfall total in Europe. (From Floodlist)
Oceanis also affected parts of Malta, which saw winds up to 133km/h and waves up to 5 metres. The Times of Malta described the storm as "the worst since 1982". Strong winds were also reported in parts of Croatia and Italy, where 7 deaths have been blamed on the storm, including four in Lazio, one in Campania and two in Sicily. One person is still missing in Sicily.
Yellowstone: "…was struck on Sunday by a magnitude 4.8 earthquake, the biggest recorded there since February 1980, but no damage or injuries were immediately reported. The tremor, a relatively light event by seismic standards, struck the northwest corner of the park and capped a flurry of smaller quakes at Yellowstone since Thursday, geologists at the University of Utah Seismograph Stations said in a statement." (Scientific American. USGS says nothing to worry about… tens of thousands of years before the Big One.)
Steamboat geyser, biggest in the park, may have gone off for the 7th time this year (verification needed). The frequency is roughly every 7 days – readers will know that up to last year's record of 32, the average was about 2 or 3 a year, if that. The huge M7.3 quake at the border between Peru and Ecuador at the weekend set the Yellowstone seismographs a'dancing, with much sympathetically rising magma. Yesterday saw a swarm of M1 and M2 quakes at very shallow depths around Clearlake, California; the previous day, a cluster at Green River, Wyoming, around the soda ash mines. Meanwhile, the even more disturbing, long-running swarm off the north California coast is creeping ashore. (Mary Greeley)
Temperature readings for the Madison River and other watercourses in the caldera climbed ten degrees F in one day, 27 Feb., according to the official graphs – despite the air temperature being below freezing. Firehole River recorded over 55F. (Mary Greeley)
Fun with methane
Methane is a word you can make from the letters of 'the elephant in the room'.
The relationship of methane to carbon dioxide is a little more complicated, as it decays much more quickly in the atmosphere but while it persists is a much more potent retainer of solar heat, or producer of 'radiative forcing'.
A greenhouse gas, in other words. And as it decays, it gives up its… carbon, which combines with oxygen to form carbon dioxide.
It also confusingly tends to be measured in parts per billon (ppb) rather than parts per million (ppm). Obviously, 'n' ppb is a thousand times' weaker concentration than 'n' ppm.
Nevertheless, if anything is going to wipe us out fairly rapidly in the next few years it will be methane (CH4), rather than carbon dioxide (CO2). Because the CO2 is causing the warming that is releasing the CH4 to the air, in what is known as a 'positive feedback loop'.
Methane gas is a product of decay: rotting vegetation, mainly. That's why there is so much of it in the frozen lands around the Arctic circle and beneath where the sea rose during the current interglacial, about 12 thousand years ago, to form the shallow East Siberian Arctic Shelf.
There the methane has three 'sinks': in the so-called permafrost, the vast lands of tundra whose frozen peaty/spongy surface layer is up to 40 meters thick, that in many places is now rapidly thawing out. As it does so, it releases methane from the rotted vegetation – but also from fossil methane reserves from ancient forests trapped underneath, the second 'sink'. This effect is increasingly visible bubbling from so-called 'kaarst' lakes in Canada and Siberia.
The third 'sink' contains methane that has been slowly outgassing from the seabed and then freezing, into clumps of what are called 'clathrates'. The frozen methane, methane hydrate, is volatile and detectably emitting gas, although experts at Yale university have studied the phenomenon and are not convinced the warming of the shallow sea to date is sufficient to  vaporise the clathrates, as they tend to act rather like a Baked Alaska dessert, the outer layer of whipped eggwhite containing air bubbles acting as insulation to prevent the ice-cream center from melting before a meringue forms. (If only!)
Nevertheless it seems to be agreed that the Arctic alone possesses some 500 gigatonnes of methane reserves, just one per cent of which if emitted in a single event, a 'methane burp',  would be enough to force a further 1.6 degrees of global warming within weeks.
The rate of increase of atmospheric methane globally is both perturbing and puzzling scientists. Around 720 ppb in the mid-18th century, it's now averaging over 1850 ppb worldwide.
The rate of increase has accelerated markedly over the past ten years. "Sam Carana", the pseudonymous group of researchers at the Arctic News website, identified peaks in 2018 of over 3000 ppb.
But given that much of it seems to be coming from the tropics, and from the high Himalayas, as well as from the polar regions, no-one seems quite sure of the source.
Logic would suggest that scrub burning for cattle-grazing in the tropics and the removal of forest cover are exposing reserves locked-in the soil, retreating ice is uncovering ancient forest areas and thawing peatlands, while the excess heating of the poles is melting the permafrost and the submarine reserves, enabling the escape of fossil methane pockets beneath.
We also seem to be experiencing an upsurge in volcanism at present, that would produce additional CH4, CO2 and sulfur dioxide – SO2, another greenhouse problem.
But your Uncle Bogler is only an ancient Media Studies graduate giving off lots of methane himself, and must trust the experts who say they haven't the faintest idea.
Just one more thing, while I'm scaring you.
Data from the Scripps Institute shows that, as CO2 and CH4 are increasing in the atmosphere there is, as my gasping lungs have been trying to tell me for the past three or four years, a corresponding loss of O2 – rather necessary oxygen – from the air; that I have described to skeptical friends as seeming less 'nutricious' than before.
And yes, GW is mostly man-made. Sorry, deniers, but we're having eight times more effect on atmospheric CO2 heat-forcing than the small natural increase from solar output that happened before the current slide towards another 11-year cyclical minimum began.
Nor do polar shift, blood moons, solar eclipses or Nigel Farage have anything to do with it, okay?