Quote of the Week
Having nothing better to do, I drift in and out of slumber this Monday morning, and awake for the fifth or sixth time since five a.m. with the radio burbling quietly in the background, to find myself semiconsciously immersed in a discussion on Woman's Hour about a campaign to address the problems of women unable to obtain sanitary products in the Third World.
The guest is the Women's Minister, Ms Penny Mordaunt – a longtime Leave (the EU) supporter. The presenter is Jayne Garvey. Having exhausted the topic of period management, the conversation divagates thus:
Garvey: "Anyway, there's only one show in town (sly menstrual pun intended?), and that's Brexit. Assuming we leave at the end of the month (25 days away, folks) and we leave with an agreement, what will be the benefits for British women?"
Mordaunt: "Well… (hesitation)… I… I… I… (repetition)… I think… (deviation)…. er…" (Sound of sleepy fist clunking furiously on radio off-switch.)
This is absolutely bloody terrifying.
Not one of these dismal molluscs engineering the catastrophe has the slightest idea of what they voted FOR, they only have vastly divergent opinions on what they thought they were voting AGAINST.
Rather than listen to this brain-dead functionary riffling through her unread pile of moldering briefing notes, I set myself to imagining the benefits for British women living in a world of:
ever-rising prices and lower standards for food, travel, pharmaceuticals and energy;
permanently low wages and increasing inequality;
housing, food, medical, educational and job insecurity;
reduced womens', human, consumer, working and maternal rights;
savagely reduced child, in-work, carer and disability benefits, social and maternity services;
increasingly uncontrolled environmental health and personal security hazards;
at the mercy of global corporations and anti-abortion white Christian fundamentalists;
ruled by misogynistic, patriarchal gangsters and their licensed abusers: the male race;
in an atmosphere of rising violence.
Yes, Brexit makes you free, alright.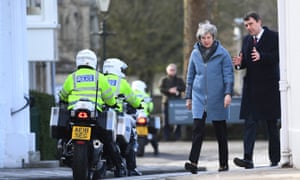 "The plan, Prime Minister, is to introduce these tiny miniaturized policemen at lower cost…" (EPA)
EU: What the ignorant like to hear
"There are two important realities that I constantly try to hammer home here. One is that it's not unelected bureaucrats who make the decisions in the European Union. It's the democratically elected representatives of our member states, and it's the democratically elected European Parliament, which by the way is about to have direct elections in May. All our decisions are taken with very thorough democratic accountability and review.
"The second thing, and I say this as a European, is that the European Union is not about the death of the nation-state. It's about allowing the nation-state to better flourish by having a framework of cooperation that delivers better outcomes for our citizens than would be the case if our member states acted separately. My European identity is complementary to my Irish identity — not a substitute to it. I think that's the strong view of all Europeans.
(David O'Sullivan, EU ambassador to Washington, interviewed in the Washington Post, Tue. 5 Mar. )
Was there no-one in the Remain campaign during 2016 who could have stood up every day for six months and said just those words, loudly in a public space?
Because it seems to me that O'Sullivan here in essence encapsulates and perfectly contradicts every stupid negative argument the Leave side was able to muster, while the rest was just belligerence, Jingoism, deceit and denial – the closing-down of debate.
What the ignorant like to hear, in other words.
In nomine patri, et feel-you-up sancti
Have you ever wondered about the people in charge of the spiritual care of 1.2 billion Roman Catholics around the world?
A spectacular new exposé of – not just the intrinsic homosexuality, but the Chaucerian debauchery of many prelates – the Church in Rome contains such wonders as this, commenting on the testimony of a male sex worker who records his pontifical encounters:
"I was able to consult the 'dossier' called Preti gay ('the gay priesthood'); it reveals dozens of priests celebrating mass in their cassocks and then, stark naked, celebrating other kinds of frolic via webcam. The photographs, alternating homilies and intimate pictures, are quite extraordinary."
Andrew Sullivan writes in The Intelligencer – a New York Magazine supplemental website – about the almost hysterical reaction of many conservative reviewers to Frédéric Martel's new book on the hypocrisy and homosexuality in the Vatican, In the Closet of the Vatican: Power, Homosexuality, Hypocrisy.
Among other reviews, he quotes Lifesite News: "His statements regarding Pope Francis are so grave from a doctrinal point of view that they need to be known and, hopefully, officially denied." While, from The Spectator: "Martel confirms that the Vatican is full of gossipy queens, most of whom stare at waiters' bottoms and some of whom have sex with young men. But I think we knew that already."
I suppose it depends on how young?
As Martel informs us, based on a very large number of interviews with Vatican insiders: "many of these cardinals and officials have lively sex lives, operate within a "don't ask, don't tell" culture, constantly hit on young men, hire prostitutes, throw chem-sex parties, and even pay for sex with church money."
Of course, there are dangers in this kind of reporting. In quite a few countries, homosexuality is still a prisonable crime that can be informally punished by death at the hands of semi-official vigilante squads. Taken with the claims of predatory pedophilia against alarming numbers of priests and apparently covered-up for decades (possibly centuries) by the hierarchy, it would not be surprising soon to see a witch-hunt culminating in reprisals and expulsions – even extrajudicial martyrings.
Given the murderous excesses of the Islamic State, the attempted genocide of the Rohingya by Burmese Buddhists, the disruptive Islamophobic interventions funded by the Russian Orthodox Church, the growing revival of tensions between the religious communities in Northern Ireland and the slimy machinations of political Christianity (especially in the USA), religion doesn't have a very good name at the moment.
Best be rid of it. Grow out of this supra-parental dependence on invisible and improbable entities to control people's lives through a hypocritical and unelected, patriarchal priestly caste, eh?
http://nymag.com/intelligencer/2019/03/andrew-sullivan-a-radically-moderate-climate-solution.html
In the Closet of the Vatican: Power, Homosexuality, Hypocrisy, by Frédéric Martel and Shaun Whiteside. Available in hardback from Amazon, price £14.70.
One of Martel's more lurid revelations, is the life of Pope Benedict's chief Inquisitor, Cardinal Trujillo, who notoriously waged a war against liberation theology in South America, touring the countries setting death squads onto left-wing priests; and was subsequently employed in Rome to drive gays out of the church and mastermind the Pope's campaign against condoms, claiming that they caused AIDS. As one Colombian interviewee recorded:
"Trujillo's specialty was novices: "The most fragile, the youngest, the most vulnerable. But in fact he slept with anybody. He also had lots of prostitutes. … Everyone knew that he was homosexual. He lived with us, here, on the fourth floor of the Palazzo di San Calisto, in a 900-square-metre apartment, and he had several cars! Ferraris! He led a highly unusual life." And what was Trujillo's task in Rome? You guessed it: president of the Pontifical Council for the Family!"
GW: Gone with the wind
USA: At least 23 people have been killed as a succession of powerful tornadoes struck Lee County in Alabama. County Sheriff Jay Jones said there had been "catastrophic" damage and there were fears more bodies would be found. Dozens are thought to have been hurt. An unconfirmed number of tornadoes with a power estimated to be at least EF-3 – winds of up to 165mph (266km/h) – struck the area around Beauregard, carving a path at least half a mile wide. 2,000 homes are without power and more cold weather is forecast, with temperatures predicted to drop to near freezing (BBC report). The tornado season in the southern states normally starts in April.
Iran, Pakistan, Afghanistan: After a severe drought, intense rainfall has caused flash flooding and landslides over the past few days. "According to media reports, as many as 50 people may have died as a result of flooding, landslides or collapsing buildings across the 3 countries. Parts of Kandahar Province in Afghanistan recorded around half the annual rainfall in 30 hours." Thousands of homes, roads and other infrastructure have been damaged, hundreds of people needed rescuing. Parts of Pakistan have also been affected by severe snowstorms. (Floodlist)
Australia: And the heat goes on… After a four-day spell of searing temperatures brought the hottest-ever recorded start to March, "2 thousand firefighters are battling (more than 19) fires in Victoria, in the far south of Australia. Multiple lightning strikes on Friday started the largest fire in Bunyip State Park, east of Melbourne. High winds pushed two huge brushfires together, creating a "monster" wall of flame. Over 10 thousand Ha. has been burning, with property losses, and several townships have been evacuated. The country's meteorology bureau said plumes of smoke have risen up to 15km into the atmosphere." A "few millimeters" of rain is forecast for Wed. 6 Mar., but with further dry lightning and a change of wind direction raising fears of more fires in the meantime.
Temperatures in Tasmania, Australia's southernmost state, reached 39.1C on Saturday, the hottest in 131 years of records. (BBC Weather/Guardian/Straits Times)
Buy Australian wine now, and woolly jumpers while stocks last…. "Australia's hottest summer on record is causing several industries to wilt, including the US$4.4 billion wine industry with grape yields set to drop to the lowest in years. Drought has also damaged the winter wheat crop and is expected to drag the wool clip to a record low." (Straits Times)
Europe: A snow warning has been issued Mon. 4 Mar. as Storm Freya sweeps across the southern UK with wind speeds approaching 80mph. The Met Office has warned that dangerous conditions will continue into Monday morning and there have been reports of flying debris and sailors stranded at sea. Hundreds of homes have been left without electricity and gales have also disrupted trains and closed bridges. 6cm (2.4in) of snow was recorded at a weather station near the border between Cumbria and Northumberland. Severe-weather.eu forecasts severe wind conditions with potential for tornadoes, and intensive rainfall pushing eastwards across northeastern France, Benelux and northern Germany over the next few days.
This is where our story ends…
Trees: The EU is failing miserably in its mission to reduce carbon emissions as a result of industrial logging. Brussels "…expects to lose about 125m tonnes of carbon sequestration potential from forests between 2010 and 2030, with countries such as Estonia, Latvia and Austria transforming from carbon sinks to carbon sources." Poland still hopes to clear swathes of the ancestral (UN-protected) Białowieża Forest to drive a military road to the coast, and other ancient woodlands are also under threat across central and eastern Europe, with potential effects on Europe's greenhouse gas emissions.
A spokeswoman for the Polish forest protection group Fern, said:"The biggest factor in the destruction [is] incentives given by the EU to burn trees for energy." Illegal logging is another cause of deforestation. The Romanian NGO Agent Green, said government figures showed that 38m cubic metres of wood were harvested in the country last year – more than twice as much as officially claimed. "Old-growth forests in our national parks are being massively logged," he said. "It is an environmental catastrophe taking place in front of the EU's eyes." (All from Guardian Green Light report)
Uncle Bogler writes: Instead of leaving the EU, Britain needs to stay in and lobby for these former Soviet republics to be heavily sanctioned and even expelled, for these and other crimes their corrupt, pro-Putin gangster regimes are blatantly getting away with. They have no place in a modern Europe faced with environmental and climate catastrophe on a life-threatening scale.
Oceans: The number of heatwaves (surges in water temperature lasting more than 5 days) affecting the planet's oceans has increased sharply, scientists have revealed, killing swathes of sea-life like "wildfires that take out huge areas of forest". "The damage caused in these hotspots is also harmful for humanity, which relies on the oceans for oxygen, food, storm protection and the removal of climate-warming carbon dioxide from the atmosphere. … The number of heatwave days jumped by more than 50% in the 30 years to 2016, compared with the period 1925 to 1954. As heatwaves have increased, kelp forests, seagrass meadows and coral reefs have been lost. These foundation species are critical to life in the ocean."
"Another study showed that achieving the 2C climate change target set out in the Paris agreement would protect almost 10m tonnes of fish catches each year, worth tens of billions of dollars." (Guardian Green Light, quoting Marine Biological Association and other recent research papers.)
Wildlife: "The World Wide Fund for Nature (WWF) had long helped fund and equip Chitwan's forest rangers, who patrol the area in jeeps, boats, and on elephant-back alongside soldiers from the park's in-house army battalion. Now WWF's partners in the war against poaching stood accused of torturing a man to death."
In an extraordinary exposé, at which we find it hard not to scream 'Fake News', BuzzFeed News is reporting that the WWF is actively encouraging the murder, torture and beatings of villagers in countries where it supports and operates anti-poaching squads to patrol protected areas in national parks.
The story from Nepal concerns the kidnapping and beating to death of Shikharam Chaudhary, a farmer suspected of concealing an illicitly obtained rhino horn (none was found). It goes on to detail how the WWF actively lobbied to shut down the investigation into the murder and issued a triumphal statement hailing a victory for wildlife when the case against the three suspect rangers and the park manager was dropped.
"In national parks across Asia and Africa, the beloved nonprofit with the cuddly panda logo funds, equips, and works directly with paramilitary forces that have been accused of beating, torturing, sexually assaulting, and murdering scores of people."(Buzzfeed News)
WWF is one of those global NGOs that makes waves, and politicians in many countries with fingers in muddy pies probably would rather they were shut down. So this might just be evidence of a campaign to throw maximum shade at the hated conservationists, that makes the claims of sexual misconduct against Oxfam and Save the Children look pretty tame.
On the other hand, BuzzFeed is claiming: "WWF has provided paramilitary forces with salaries, training, and supplies — including knives, night vision binoculars, riot gear, and batons — funded raids on villages … and signed off on a proposal to kill trespassers penned by a park director who presided over the killings of dozens of people."
The charity responded to these extraordinary claims with: "Human rights abuses are totally unacceptable and can never be justified in the name of conservation." WWF officials have promised a thorough investigation
However, BuzzFeed promises to continue running more stories of similar atrocities in the coming days.
Uncle Bogler writes: I have found myself on occasion wishing I could win £120 million on the Euromillions lottery, as some do. I have visions of acquiring a secondhand submarine to sink Japanese whaling ships, and sending trained mercenaries to eliminate Chinese and other Asian government officials involved in the clandestine ivory and powdered rhino-horn trades.
Shaken, and stirred: Extreme weather: drought, flooding, high winds and unseasonal frosts consistent with an overall increase of 1.4C locally in the average temperature of the Mediterranean region have been blamed for a 57% fall in the Italian olive crop, a loss valued at $1 billion, and other farming losses. The European commission has projected 2018-19 olive harvests to drop by 20% in Portugal and 42% in Greece, where extreme heat triggered an olive fly infestation, although industry sources said final figures there could be significantly worse. (Guardian Green Light)