Quote of the Day
"Unfortunately, the Nazis don't play cricket. If they did, we wouldn't be on opposite sides now." – Capt. Mainwaring (from BBC TV's "Dad's Army")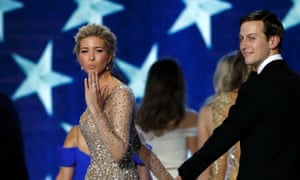 "So long, suckers! Thanks for all the security clearances…"
(Lucy Nicholson/Reuters. Sorry!)
Why Trump hates Puerto Rico
Wanna know why Trump hates Puerto Rico so much?
Maybe because it's got the word 'RICO' in the name.
RICO – The Racketeer Influenced and Corrupt Organizations Act – is the 1970 Act of Congress detailing how prosecutors can go after organized crime.
"The RICO Act focuses specifically on racketeering and allows the leaders of a syndicate to be tried for the crimes they ordered others to do or assisted them in doing, closing a perceived loophole that allowed a person who instructed someone else to, for example, murder, to be exempt from the trial because they did not actually commit the crime personally." (Wikipedia)
In the light of key moments in the Michael Cohen testimony to Congress, when he averred that Trump uses a kind of coded mobspeak to persuade people indirectly to carry out illegal acts that benefit him without putting himself in the frame, and did so in the case of Cohen's buying the silence of porn star Stormy Daniels with election funds, people are increasingly talking about bringing RICO to bear on his former employer.
No-one yet wants to accuse Trump of being an actual mob boss, a racketeer – but many people from former FBI director James Comey and his successor, Andrew McCabe, to Congressman Schiff and the liberal media are drawing attention to the obvious parallels between the way Trump runs his businesses, the way he suborns everyone around him to do his bidding, reeling them in one bad deed at a time, insisting on personal loyalty and a code of omerta, and the way mafia bosses ran – or run – their 'families'; spinning a web of corruption, lies and deceit around everyone and everything he deals with.
Just the way Trump tweeted that Cohen was a "rat" is being seen as proof that the president is not the legitimate businessman he boasts he is. Because to "rat" in criminal circles is not to lie, but to spill the actual beans.
And Trump has beans in spades.
Given that Trump's mentor was the notorious mob attorney and top-level 'fixer' of politicians, police chiefs and judges, Roy Cohn, and his associates have included 'Fat Tony' Salerno, a member of the Gambino crime family, and Felix Sater, an associate of the Armenian-born Russian mob boss Semyon Mogilevitch, who invested unwisely in Trump casinos, it's not really a surprise.
What is a surprise is that the RICO Act was most successfully put into practise by none other than Rudy Giuliani, the 'shoot-from-the-mouth' lawyer Trump now relies on to protect him in countless bizarre media interviews, back in the days when, as a New York Attorney-General in the mid-1980s, and later as mayor, he was instrumental in taking down the city's notorious crime families.
Could this be why Trump appointed him – and despite his many gaffes, keeps him on? Because he knows more about racketeering and how it is investigated than most lawyers ever will, is Giuliani the gamekeeper-turned-poacher for the head of the criminal Trump Organization, now being investigated by the Southern District Court on at least 18 counts of fraudulent financial activity, obstruction of justice, bribery, extortion, witness intimidation, organized employment of undocumented immigrants, etc.?
You know, stuff the mob does?
In a widely quoted piece in the New York Times today, historian and author, Garrett M Graff writes:

"The parallels between the Mafia and the Trump Organization are more than we might like to admit. … Cohen was clear about the rot at the center of his former employer: 'Everybody's job at the Trump Organization is to protect Mr. Trump. Every day most of us knew we were coming and we were going to lie for him about something. That became the norm.'
"Indicting the whole Trump Organization as a 'corrupt enterprise' could help prosecutors address the thorny question of whether the president can be indicted in office." Graff writes. For a second time, Trump could be labelled as an "unindicted co-conspirator" as, from the relative safety of the Oval Office, he watches helplessly while his rackety empire is progressively dismantled around him. At that point, getting himself re-elected in 2020 would not be much help.
RICO would also allow the authorities to seize the assets and interdict the revenue streams of Trump's entire operation; possibly to prosecute the officers of the company, including Trump's awful children – and impeach the President himself, actions neither the Mueller probe nor the splurge of inquiries and subpoenas of documents announced by the Democrats having fun with their newfound majority in the House of Representatives seems likely to be able to achieve on its own.
http://www.nytimes.com/2019/03/04/opinion/rudy-giuliani-trump.html
Why we love Randy Rainbow (and you will, too!)
http://www.youtube.com/watch?v=z7q0bz0sk30
Yang and the Big Yin
"There is something deeper, most commentators feel, that he doesn't want to come out; something for which he is preparing to exercise the Presidential pardon on his own account if Mueller or the FBI gets too close. It is something potentially so serious that he has twice in the past week been prepared to say, or not say, dumb or reckless things that add to the growing tally of reasons to impeach him. He's prepared to risk his position, to bet the presidency on it."
The Pumpkin made that comment about two years ago, but we are still really no wiser.
The "thing" he didn't want to come out then is most probably the Trump Tower Moscow story, that has emerged from the investigations into Trump's legal fixer and bagman, Michael Cohen – now staring at a three-stretch and pouring his little heart out to Congressional committees.
He and several of Trump's staff were involved in clandestine Russia trips and meetings during the 2016 election campaign that have since turned out to have been involved with his plans for a huge and lucrative hotel complex, that required Putin's permission. Plans the boss didn't want the minor inconvenience of running for President and even possibly being elected to get in the way of.
It's one possible explanation for why he so vehemently denied time and again he had any business in Russia, which was a Bigly Lie; and why he has done everything in his power to please Putin, as he stood to gain hundreds of millions of dollars from the project. And in part why the puppetmaster, Putin has kept him dangling on a string ever since.
However, those pesky sex scandals never seem to be far away. The Daily Kos website and others are currently digging into a story that starts like this:
"In late February, billionaire Robert Kraft, owner of the New England Patriots, was arrested in a prostitution sting centered around a day spa in Jupiter, Florida. Kraft faces two counts of soliciting sex, and prosectors say evidence includes video surveillance taken at the spa.
The investigation uncovered a series of crimes taking place there, resulting in charges that include human trafficking, racketeering and money laundering. (All my italics. A quick divert to en.wikipedia.org/wiki/Meyer_Lansky will bring you up to speed on the history of mafia activities in Florida and elsewhere.)
"Turns out, spa founder Cindy Yang is quite the fan of Donald Trump and Republicans, and has appeared at a number of Republican events. She was also a guest at Mar-a-Lago for a Super Bowl watch party with Donald Trump himself." (http://www.dailykos.com)
Yang has also personally donated over $50 thousand to Trump's 2020 campaign war chest; and she and her family are or were the owners of a number of other suspected "rub-and-tug" massage parlor operations across the state, ten of which have been closed down by investigators on suspicion of employing undocumented women. Since selling her original spa, she has founded a lobbying business fairly openly selling access to Trump during Mar-a-Lago weekends. Did he know about that?
(Incidentally, Googling "Trump; Kraft" will bring all this up on Mother Jones and other websites, including the Miami Herald, which seems to have broken the story in the first place as its reporting is extensively quoted with little attribution elsewhere.)
The story reminds us however of a previous exposé in The Daily Kos, regarding Trump's New York model agency in the 1990s and a string of under-age, 'size-zero' models imported as undocumented migrant workers from Eastern Europe; some of whom may have ended up at another agency owned by notorious pedophile and "man about town", John Casablancas, a "friend" of Trump's – along with his 14-year-old daughter, Ivanka.
That line about "charges that include human trafficking, racketeering and money laundering" therefore gains a certain resonance in the light of The Pumpkin's lead story, above, that the Southern District court of New York is considering invoking the RICO anti-racketeering Act to enhance their powers to investigate the Trump Organization and its officers – among them, his children.
For here is a direct connection apparently between Trump's operation and another family network in Florida accused of involvement in what look remarkably like organized criminal activities, as listed in both hearings. The Herald reports:
"Facebook is covered in photos of (Yang) standing with President Trump, his two sons, Eric and Donald Jr., Florida Gov. Ron DeSantis, Sen. Rick Scott, Sarah Palin, the president's campaign manager and an assortment of other high-level Republican operators."
While she was also photographed alongside Trump with Kraft at a Patriots' party at Mar-a-Lago.
The Pumpkin has long wondered, and publicly posed the question wherever able, about Trump's apparent obsession over images of young women with their hands bound and tape over their mouths, bleeding from the eyes, etc. It's something he frequently alludes to during his rambling campaign speeches about immigrants, traffickers and gang crime.
It may be an image he got from a movie. In a recent speech to his MAGA dumbfucks in El Paso, he recounted as entirely truthful, a completely fictitious scene involving migrants on the border that he had most probably seen in a film, as several keen cinéastes have pointed out. So that could be the most probable explanation for his flashbacks to girls being kidnapped, tortured and even murdered. He saw it in a movie.
What kind of movies does the president watch?
The other explanation doesn't bear thinking about. But it's probably all just innocent fun. As The Kos optimistically concludes:
"If nothing else, it shows just how easy it is to buy access, and that should be troubling to us all."
A voice from the dead

A six-week old embryo in Alabama is suing a 16 year-old-girl for aborting it.
Using a new 'personhood' law pushed through the legislature by an anti-abortion group, 19-year-old Ryan Magers has brought a joint action together with his putative, never-to-be born son or daughter against his unnamed former girlfriend, the family planning clinic AND the pharmaceutical company that made the pill, for infringing his paternal rights.
No-one is saying who put this little shit up to it, he's unemployed and can't afford a lawsuit, but the girl, who was underage at the time and now faces an uncertain future as she has been named in court as "the Mother" is insistent she did not consent to sex. The inchoate bundle of cells she expelled is being named in the case as "Baby Roe".
It's not a baby. She's not a mother. Ryan is not a father. But he is a rapist, and the Alabama court system appears not to care about that part.
It's the first case of its kind and if the judge rules in favour of the plaintiff it'll set a troubling precedent in terms of male rights over women's bodies.
Great news on International Women's Day. But make no mistake:
The Evangelicals and the Trump Judges are coming for you. (Story: Jill Filipovic, in The Guardian)
"We truly live in a world spiralling into madness and the dark."
Eat shit, dystopians
"Washington's ambassador to the UK has defended the US's approach to food hygiene and farming. Criticism of US food standards was 'designed to reduce not increase trade'," Woody Johnson told the BBC. "Mr Johnson said the UK should accept American meat as part of a post-Brexit trade deal. 'To get a robust trade arrangement, that lifts all boats, it has to include farming and farm products,' he said."
If that sounds reasonable, The Pumpkin would like to refer you to an excellent piece written for The Guardian this morning by Mr George 'Useless' Eustice, the recently resigned Minister for Agriculture, Food and Fisheries, on the subject of America's antediluvian farming practices.
It's not for the squeamish.
http://www.theguardian.com/commentisfree/2019/mar/06/us-chlorinated-chicken-trade-deal-agriculture
Mr Eustice, a farming MP who has quit his post over the usual Brexit disagreements, nevertheless makes some very robust points. Britain was largely responsible, he argues, for raising all the boats in the EU when it comes to more humane farming practices, clearer food labelling and product hygiene.
Are we going to throw all that away to become part of the virtually unregulated Big Food production racket? (He doesn't mention the Chicago mafia, but the huge US food conglomerates and their lackadaisical attitudes to animal welfare, consumer protection and pollution runoff have mostly grown out of the criminal monopolies and union abuses of the 1920s.)
Well, it's a good question, George. If you don't believe we should be bullied into accepting cheap industrialized food dumped on us from the USA, why did you vote to leave the EU, you dismal shit-shoveller? What else did you think would happen? Farmers are committing suicide in droves already because of what you've done.
And if there is one thing in your article it might be possible to doubt, it is the optimistic assertion that the Yanks (their meat-producers' cabal already seeking entry by the back door of the Institute for Economic Reform, parent of the treasonous Parliamentary conspiracy known as Jacobin Irish-Mogg's European Research Group – are you starting to twig what's been going on, you Leavers?) are going to accept our rules and regulations.
Yet you are well spoken of in farming circles. We truly live in a world spiralling into madness and the dark.
Britain should tell Robert Wood "Woody" Woodpecker 1V Johnson to go fuck a chlorinated chicken. What does this overprivileged, aristocratic scion of a baby-powder dynasty know about UK/EU food standards and farming, anyway?
How dare he come over here and order us that it's shit or bust as far as a post-Brexit trade deal with his failing country goes? Is this their subtle way of negotiating? Are we going to accept being a directly ruled province of the criminal US empire and go down the pan with them?
Also, kindly note one detail of Johnson's remarks. He says: 'farming AND farm products'. In other words, we don't just have to take their chemically supplemented, mechanically rendered horseflesh in our shops, to accept the millions of extra food-miles needed to turn us all into gross, waddling blimps and give us endemic cancer and irritable bowel syndrome to keep the US healthcare corporations with which Mr Johnson will no doubt order us next to replace the NHS, happy.
No, we have to accept their "farming" too – i.e. submit to allowing US producers to set up their black-site animal torture-factories in leafy Britain, without submitting to UK/EU regulatory standards; putting UK producers out of business.
No, we're proud Britons! Oh, oh yes, right, sorry….
It seems to The Pumpkin that so much about America still smacks of the early-20th century: its abusive labor laws, its collapsing infrastructure, its rigged Tammany Hall elections, its casual racist brutalities, its isolationism, its intolerance of any hint of social co-operation (a huge threat to corporate interests) – the ignorance and fear of its citizens, the corruption, racism and institutionalized criminalities of its rotten system of governance; its flag-shagging, God-bothering hypocrisies; its rapacious business culture, its childlike militarism; its desperately limited, fiber-free diet.
Which is why I voted not to leave the EU rather than be dragged screaming into the nightmare of Trumpworld. Could you not see this coming, you pointless, half-witted Leavers swiping kiddie porn day and night, on your piss-stained, pay-nothing-now, sale-bargain sofas, guzzling your fucking giant bargain buckets of lardy chickenshit in roomsful of discarded £4 Primark sweaters?
Welcome to dystopia.
Footnote:

A Matter of National Pride
The American Cancer Society says the jury's very much out on baby powder. But a New York Times article last December describes how Johnson & Johnson has for many years been using lobbyists to fight a desperate rearguard action to convince American mothers that their talc product is free from carcinogenic asbestos contamination; which it possibly isn't.
"In one instance, Johnson & Johnson demanded that the government block unfavorable findings from being made public. An executive ultimately won assurances from an official at the Food and Drug Administration that the findings would be issued only 'over my dead body,' a memo summarizing the meeting said."
Currently, there are 12 THOUSAND lawsuits pending against billionaire Ambassador Woody Hardon's family business. No wonder he seems particularly sensitive to criticisms of safety standards in the US factory farming industry. It's a matter of national pride.
http://www.nytimes.com/2018/12/14/business/baby-powder-asbestos-johnson-johnson.html?mc=contentSEintl&ad-keywords=IntlAudDev&gclid=CjwKCAiA_P3jBRAqEiwAZyWWaNLAPA–AvDWSFF6jt4cYnGxjQDyfLOkpHCPIbB03mOg60PebEUa3xoCAjgQAvD_BwE
GW: Ooh, what a spin I'm in

USA: The Weather Channel reports, the contiguous USA (that's the big bit without the colonies) had its wettest ever winter season (December to March). Averaged over the whole country, they've had more than 9 inches of rain (31 inches over the whole year, thanks to Hurricane Florence), with local rainfall and snowfall records set in many places; and the second wettest ever February. It's never been wetter before in Tennessee. Nome, Alaska held the snowfall record with 69 inches. Despite all that, thanks to a weak El Niño, a warmer December and a Top 10 warm winter in the southeastern states it has still only been the 38th warmest of the past 124 winters.
This may sound familiar, however: "Another powerful low-pressure system will track across the Lower 48 late this week and into the weekend, bringing snow and wind from the West into the Plains and Midwest and a risk of severe thunderstorms to the South." (Forecast, 6 March). Winter ain't done yet. Before and after photos of the devastation caused by the monster EF-4 hurricane that tore through Lee County, Alabama last week killing 23 people, can be seen at weather.com/storms/tornado/news/2019-03-05-before-and-after-images-tornado-damage-alabama?cm_ven=wu_videos?cm_ven=hp-slot-3.
Africa: Heavy rains in southern and central parts of Malawi have caused flooding and rivers to overflow, in particular the Shire River in Chikwawa, where local media say 6 people have died and many more are missing in flash floods and river flooding after 160mm of rain fell in one day. (Floodlist)
Indonesia: Heavy rain on Flores Island caused flooding and landslides in West Manggarai Regency early on 7 March. At least 2 people have died, 6 are still missing and 3 reported injured. (Floodlist) There's also flooding in Java.
Arctic: As we head into spring in the northern hemisphere, Arctic sea ice "Extent (extent is not volume, by the way) for February 2019 averaged 14.40 million square kilometers (5.56 million square miles). This was 900,000 square kilometers (347,000 square miles) below the 1981 to 2010 long-term average extent. For the Arctic as a whole, 2019 tied with 2015 for the 7th lowest average February extent in the 1979 to 2019 satellite record." (US National Snow, Ice and Data Center) BBC reports, Greenland is getting too much rain in winter when it should be snowing, says a new report.
Antarctic: More shocking are the satellite images for the South Pole, revealing an enormous loss of ice that was in extent in January the third lowest since 1981, but in concentration visibly thinning everywhere. "Across the entire continent, there are more than 750,000 square miles of sea ice missing, a record deficit for this time of year. Antarctica will keep shedding sea ice for about another six weeks or so, and is currently on pace to drop far below the all-time record low set in 2016." (Grist, 3 Jan) The Ross Ice Shelf retreated a month before it usually does. Loss of sea ice leads to shelf collapse, allowing the major glaciers to slip into the sea. A global rise of 3 meters would follow, if they all did.
Ending it all down under

Australia: Readers, Spammers etc. will be broadly aware that the climate in Australia has crashed spectacularly. Record heatwaves both for temperature and duration, record floods, cyclones, record wildfires – economic damage, increasing food (and wine!) production problems, major loss of wildlife, another vast area of the Great Barrier coral reef bleached beyond recovery. All these have occurred in the past year.
It's coming into autumn now and the furthestmost southerly part of Australia, the part nearest the Antarctic – the island of Tasmania – has had an appalling summer of fires rampaging through its unique ancestral forest, while only two days ago, 5 March, the temperature exceeded 39 degrees C.
Controversy over the failed policies of successive governments to take more than a passing interest in these problems grinds on. It's currently focussed on this phantom "emissions reduction fund" of AU$2bn set up in 2009, that appears to have done precisely nothing as emissions continue to rise, but which has become a political football. Most recently, the Morrison government decided to rename it the "climate solutions package" – from which it has already made a big grant to global mining company RTZ to operate a new diesel-fired power plant up in Arnhemland, adding to emissions.
Finagling of "carry-over" carbon credits has also allowed the government to pretend they're making progress on meeting their Paris targets by contributing years of past credits – which are earned by selling your excess emissions to less polluting countries – under the old Kyoto agreement, to the current account balance. In the meantime, Australian ministers of the bluffer sort continue to ridicule the science behind climate change, and to promote the country's main source of energy: no, not vast amounts of free sunlight – coal.
Now there's a report in The Guardian that possibly explains why they're continuing with this suicide mission. Lobbyists in Australia have been secretly hurling money into the blazing reactor of official denial and indifference:
"The multinational mining giant Glencore spent millions bankrolling a secret, globally coordinated campaign to prop up coal demand by undermining environmental activists, influencing politicians and spreading sophisticated pro-coal messaging on social media. An investigation by Guardian Australia can reveal the covert campaign, dubbed "Project Caesar", was orchestrated by world-renowned political operatives at the C|T Group, the firm founded by Sir Lynton Crosby (the genius behind Theresa May's 2017 'Strong and stable' election trainwreck) and Mark Textor."
The $7 million campaign has used personalized social media messaging and conventional media to target disinformation – fake news – aimed at undermining environmental organizations such as Greenpeace and companies promoting renewables, and "helped set up online grassroots groups to push positive messaging about clean coal technology". Or, as Glencore's spokesmouth puts it: "The project's objective was to convey simple facts about coal and in particular to counter misinformation from environmental activists."
I don't know about you, but your old Granny is warming to the idea that the only solution to these sick bastards and their bottomless pockets the world over is extreme personal violence.
http://www.theguardian.com/business/2019/mar/07/revealed-glencore-bankrolled-covert-campaign-to-prop-up-coal