Quote of the Week
"I'm ashamed of my country for what it has done. It's torn people apart … I am sick to death of politicians, especially British politicians. I am sick to death of Brexit. I am a European. I am not a stupid, colonial, imperialist English idiot." – Sir Elton John, speaking while on his latest farewell tour in Verona.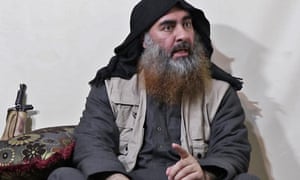 "Ar-har, Jim lad, we be bound for Treasure Island!"
Long John Silver speaks out in shock new IS recruiting video.
"There'll be only one monarch on parade."
The State of the Art, the Art of the State

The problem with the Trump approach to diplomacy – stir everything up, throw shit at your allies and hold your enemies embarassingly close, while gutting the State Department of traditional diplomatic expertise and listening to nobody but the tiny yammering faces on Murdoch's Fox & Friends – is that someday you're going to turn up to the party to find the hosts piled up in the corner, gibbering incoherently in a state of advanced intoxication and no use to anybody.
This week, Trump's callow son-in-law, special envoy Jared "Ken" Kushner arrived in Jerusalem to unveil his pre-doomed "peace plan" for the Middle East, only to find that the Israeli government had just collapsed in a groaning heap. Who expected that?
Newly re-elected by a whisker, The Kush's dad's old pal Netanyahu had tried to push for a law making it impossible to prosecute him on growing corruption charges, while parties far even to the right of his hardline Likud were refusing to join his coalition, leaving him with a minority in the Knesset.
As Kushner and his entourage were descending from the skies, Netanyahu was declaring a fresh election in the autumn, his majority whisked away in part by liberal voter opposition to Trump's clumsy efforts to influence the election last month; while the White House's unpopular attempts to deprive the Palestinian Authority of funding has largely failed as a typically Trumpian negotiating tactic since European sources have stepped into the breach.
The Washington Post reports:
"A new campaign cycle means no Israeli politician — least of all Netanyahu and Kushner's other interlocutors on the Israeli right — would want to be associated with any kind of compromise with Palestinians."
Nor, with the 2020 election fast approaching, does the Post think Trump will risk giving the deal another outing in November when the possibility – most say the likelihood – of failure could compromise his anticipated triumphal return to the White House for another four years of mounting chaos, kleptocracy and spiteful untruth-telling, a nation descending into madness.
Meanwhile, an ostentatiously huge delegation of 800 American officials: security men, hairdressers, burger-chefs and military planners has been landing on harmless little Britain like mosquitos to prearrange the arrival of The Beast – no, not Trump, the two-and-a-half ton bomb-proof perk, that travels everywhere to protect the president against satirical balloons – and the rest of the Imperial baggage-train, in advance of Trump's greatest PR coup, his self-exonerating State visit.
And, oops, his dear friend Theresa May, whose authority as Prime Minister he went to great lengths on his "informal" visit last year to undermine, is now dead in the water and sinking fast, having agreed to step down as party leader the day after the Orange Nightmare goes home, under intolerable pressure from the Trumpists and Bannonites, the hardline nativist No Dealers, Victorian throwbacks and hedge-fund managers on the far right of her formerly centrist party, who have determinedly fucked-up her futile negotiations to exit the European Union with anything approaching our national dignity and the Good Friday Agreement intact.
Who will he be left to hold significant talks with?
The Pumpkin supposes he will not be much interested in being harangued on the subject of climate chaos and the Sixth Extinction by our putative future Green King, and may wish to escape ASAP the stuffy and oppressive atmosphere of Buck House and all those dull, hoity-toity, jewelry-encrusted losers and their hangers-on, just as soon as the photo op is finished.
There'll be only one monarch on parade.
Nor will he want to mix with the likes of poor Jeremy Corbyn, who has already set light to his own invitation to the ceremonies. In the ritual pre-visit interview with Murdoch's rabid tabloid Sun newspaper, Trump's inner mob boss emerged to ominously inform Corbyn – just in case he should win an electoral victory – that he was making a big mistake.
Why, then, summon forth his old pal and elevator boy Nigel Farage, Britain's Reichschancellor in waiting! Summon the correspondingly golden-haired wunderkind and darling of the provincial tricoteuses of the aging Conservative matriarchy, Boris "Watermelon, Picanninny, Letterbox, 'Fuck Business'" Johnson.
Summon, why not, for Heaven's sake, the pocket nationalist, "Tommy Robinson", martyr for the cause of racist street-violence, to commiserate over the Presidential Abuse poor traduced Mr Trump has suffered for two years at the hands of Obama's Deep-State Democrats and their profoundly conflicted inquisitor, Bob Mueller 111, gay lover of sacked FBI Director, James Comey, who has completely exonerated the President with his notorious hoax report levelling numerous unproceedable charges of treason and obstruction of justice at him that never happened, okay?
("I wasn't involved with the Russian attempt to… er, no, as you were, there was no Russian attempt to…")
The fact is, whoever the "unindicted co-conspirator", employer of undocumented labor and convicted tax-cheat, Trump chooses to consort with, his visit will be seen by most as an unwarranted intrusion into the political affairs of the nation. It remains to be seen what tone his infamous nocturnal tweets will adopt, what petty insults and whinges and lies and false accusations his tiny thumbs will produce around his unwelcome visit, for the entertainment of his dumbfucks at home.
It's hard to see how exceptionalist British nativism can willingly reconcile to the imposition post-Brexit of US Imperial corporate hegemony in these islands, summarised simply for consumers as "chlorinated chicken", although it's a lot worse than that, but stranger things have happened.
His devoted followers may not be willing to consider, or even wish to hear about, Farage's actual political agenda, beyond doing the maximum offence to inworkers and leaving the hated EU on any terms, including the collapse of much of Britain's remaining manufacturing industry and the clawing back of worker and consumer protections.
But the removal of our revered State-funded universal healthcare system is high on his list, in favor of a US-style, US-owned, co-pay insurance market few people and small businesses will be able to afford to buy into.
So don't blame The Pumpkin if life in Britain is about to take a very strange and ugly turn. He's been trying to warn everybody for years.
Raindance festival
"Claire Cahm was preparing to set up an anti-Trump banner on the roof of her house, in the hope it catches his eye as he flies in. 'I don't suppose he will see it but it's my gesture,' she said. 'We all have to do what we can. I hope it's rainy and windy so his hair flies around everywhere.'" (Guardian)
Ooh, you absolute bitch! Portsmouth prepares to protest Trump's personal Donald-Day event. (But of course, if it's raining he won't attend. Military helicopters can't fly in the rain, as we all know.)
Off with their heads
Asked by his nemesis Jim Acosta of the hated CNN at a press conference on the lawn if he would agree that "treason" was a crime punishable by death, and who would he suggest could be prosecuted for the crime, a curiously swollen-looking President Trump began rattling off the names of James Comey, Peter Strojk and other former FBI officers he has had fired, apparently for investigating Russian interference in the election or, as in Comey's case, refusing an illegal order to stop investigating former Trump soldier, Michael Flynn (said by a judge to have sold out his country) and swear personal allegiance to Trump.
Mr Trump also mentioned "Crooked" Hillary Clinton, who, he said, had instigated a coup d'etat against the government, purely out of spite because he won the election. (This, from the man who has floated the idea publicly that if he loses the 2020 election, he might refuse to leave office because the vote will have been rigged.)
Given the antithetical elements in the Commentariat and all the Democrats in the House, Death Row is going to get pretty crowded.
In the meantime, Trump has seized on comments tweeted by Liz, extreme rightwing daughter of former W Bush Vice-President and broadly acknowledged war criminal, Dick Cheney, one of the authors of the neocon conspiracy known as the "American Project for the 21st Century", that political opposition to the President constitutes treason, to redefine the meaning of the word.
Bit by bit, America descends into the abyss.
For fairly terrifying analysis of the extent of the coup Trump is mounting against the State which, as the President, he is sworn to protect, see David Smith's piece, 'The Kraken unleashed': how Trump's shock troops attack US democracy, at http://www.theguardian.com/us-news/2019/jun/01/donald-trump-gorka-lewandowski-hannity-fbi-treason-mueller-russia
The gain in Spain
As further evidence of the growing insanity of the right, a proposal by the probably incoming Popular Party president of Spain's Madrid region to abolish the city's successful Low Emissions traffic zone must take the tortilla.
The aim apparently is to please the Vox party, that the Popular Party needs to go into coalition with to obtain a majority. The Francoist Vox is believed to be funded by the Christian right in the USA and to be acting as a conduit for money pouring into far-right disruptive parties in other parts of Europe.
Isabel Díaz Ayuso, 40 – yes, a woman (pretty hot!) and probably a mother (her marital status cannot easily be ascertained) – has argued that traffic congestion at 3 a.m. is part of the city's culture and what gives it its vibrancy. Increased traffic is consistent with the city's lucrative nightlife, she says, and so must take precedence over what she admits is not an ideal environment for humans.
The scheme has rapidly cut congestion and dangerous nitrogen pollution from diesel engines by up to 50% in parts of the city, in response to EU regulation. The European Environment Agency has estimated that 30,000 additional deaths in Spain annually are caused by air pollution.
Much research recently has shown too that CO2 and other airborne pollutants, including microparticles from diesel exhaust, are damaging children's growing brains and lungs, and actively cause cognitive impairment in adults.
Neoliberalism is literally killing people and making us even more stupid.
And these greedy, selfrighteous, self-serving fuckers on the Christian right just don't care.
Well, if they don't care if others live or die, babies and children, as long as they go on making money for Jesus and his Lear jet, then what is the moral bar to killing them first? (reporting: Guardian)
Just askin'.
Oh, the pain
In response to an interview with the US Ambassador to London, Mr Robert Wood "Woody" Johnson a couple of months ago, in which he told Britain we would basically have to suck-up US food standards if we wanted a trade deal, the Bogler pointed out that Mr Johnson's family business, Johnson & Johnson, was facing 12 THOUSAND law suits in the USA relating to allegations that their famous baby powder is cut with cancer-causing asbestos dust.
It gets better. The State of Oklahoma is suing the New Jersey-based firm for perpetuating America's worst ever public health crisis, that is killing more than 50 thousand people a year through overprescription of powerful painkilling opioid drugs, for conditions that are essentially medicalized, i.e. invented by doctors. The Guardian reports:
"The New Jersey-based firm, better known around the globe for baby powder and shampoo, is fighting allegations by the state of Oklahoma that it conspired with other drug makers deceptively to market opioids by downplaying the significant risk of addiction and by pressuring doctors to prescribe narcotic painkillers, including to children."
Several other companies involved in the lethal trade, including the Sackler family, have already settled huge compensation claims. You can bet your boots the Johnsons would be the kind of philanthropic Christians who tenaciously oppose abortion, being pro-life. Being accused of killing live babies and children however is a problem for their legal team.
GW: Gettin' better all the time
USA: The Weather Channel reports, "A much-needed break is finally on the horizon after a month-long siege of severe weather that ranks among the worst in modern U.S. records. A 12-day streak of daily rounds of severe weather culminated on Tuesday with a major long-track tornado … across the Kansas City metro area. … The havoc this month has also included widespread flash floods across the Plains and Midwest and severe river flooding in Oklahoma and Arkansas. … Amazingly, only six deaths have been directly attributed to this month's tornado swarm."
The worst flood in US history?: 2,289 died in the Johnstown flood of 31 May, 1889, 130 years ago, when a 40-foot wall of water from a bursting dam roared through the town. Around 8″ of rain had fallen overnight – the weather station was washed away with its operator, so no-one knows quite how much rain fell. Many residents took refuge on a stone bridge, where a huge pile of debris including oil tanks caught fire, leading to many deaths. (Weather historian, Christopher C Burt, on Weather Underground)
Vietnam: Heavy monsoonal rainfall in China that has claimed 9 lives and ruined 23 thousand Ha of crops has spilled over into north Vietnam and killed another 2 in floods and landslides that have destroyed homes and crops. "National Center for Meteorological Forecasting warned of further heavy rain with risk of flooding and landslides over the coming days." (Floodlist) BBC Weather reports, the monsoon is late arriving in southern India but is expected any day now.
Japan: It seems a little cooler, Japan Times is now ignoring the whole story. Earlier in the week, The Weather Channel reports, "At least 5 people have died and nearly 600 have been hospitalized as a heat wave grips Japan. Sunday, the temperature hit 103.1 degrees in the coastal town of Saroma on the island of Hokkaido, according to the Japan Times. The Meteorological Agency said that is the highest temperature at any observation point in Japan for the month of May."
Chile: BBC is reporting, trails of destruction have been caused by a rare series of strong tornadoes that hit the towns of Los Angeles and Conception, 100 km apart, yesterday. 1 person is reported dead, others injured.
Spain and Portugal: Many parts of the peninsula have been on Orange heat and fire alerts this past week. Spain's national weather office placed one province, Cordoba, on Red alert, the highest level in the scale, meaning soaring temperatures posed an "extreme risk" to health. Temperatures in the Andalusian countryside were expected to climb to 44 deg. C., 111F (Earth Changes Media)
"'These are not usual meteorological phenomena, being of an exceptional intensity and with a very high level of risk for the population,' a spokesman for Spain's national weather office said."
It's expected still to be around 30C this evening, 1 June, for the 8pm kick-off of the European Champions' League final in Madrid between British football clubs Tottenham Hotspur and Liverpool.
UK (the south, anyway ): "is forecast to record the hottest day of the year so far as temperatures are set to soar this weekend (1 June). According to the Met Office, the south-east of England could reach 29C (84F) on Saturday, 0.5C higher than the joint warmest days of the year so far, on 19 April and 15 May. The average June temperature is 17C. (Guardian Weather) Here in Boglington, it's an agreeable 25C. Sadly, it's a one-day wonder: Sunday it's back to cloudy and cool with rain in the west.
"Britain is setting new records for going without coal-powered energy. In the latest milestone, it has gone for two weeks without using coal to generate electricity – the longest such period since 1882." (Guardian Green Light)

Tunnel approaching…
Bali: Mt Agung is at it again. A major eruption yesterday, latest of many that have led to mass evacuations in the past two years and disrupted air travel, sent a cloud of ash up to a height of 6000 feet. Mt Etna on Sicily has also been erupting quite violently, a new fissure spewing lava in spectacular fashion.
Yellowstone: looks like the Steamboat geyser went off again briefly on 28 May. That makes 18 this year, on course for a new record to beat last year's total of 32 (normal year is 2 or 3). USGS printouts show, there's been major venting in the Norris Junction area this week of sulphur dioxide, ancient helium and other volcanic gases. (Mary Greeley)