"Gangs in England are so adorable. This is what we could have here if we just implemented gun control!"
– Stephen Colbert, on the milkshake attacks in Britain on rightwing agitators like Robinson and Farage.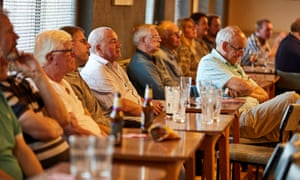 Last Brexit to Nowhere… Leave supporters who have stolen our future
wait to die at a working men's club in Lancashire. (Photo: Guardian)
How many wars can Trump sustain all at once?
You must watch this issue of Thom Hartmann's vlog (link below). Unlike any panel discussion of Trump's startling refusal to co-operate with legislators I've heard on US media, arguing that he is above the law, it provides a crystal-clear, historical analysis of the legal position regarding the constitutional battle between Congress, the courts and the White House.
And the conclusion is terrifying.
Spoiler alert: Thom's verdict
If Trump refuses to co-operate with investigations, tough luck. Not even the Supreme Court can enforce the law if the President chooses not to obey it, as Congress and the courts have NO POWERS OR MEANS OF ENFORCEMENT under the constitution. Only the Executive branch, which includes the Justice Department and the White House, can order arrests.
And with the appointment of Attorney General Barr, Trump has the DoJ in his pocket.
Even if Congress were to impeach Trump for ignoring legal subpoenas ratified by the Supreme Court, as he is proposing to do if decisions go against him, they have no power to arrest him. And he knows it.
Until Nixon, such unpresidential defiance of US law has occurred only three times in the history of the USA. The first was in 1861, when the southern states backed the Supreme Court against a certain Abraham Lincoln, who refused to give way on their ruling that African slaves were not humans, and it cost 600 thousand lives to settle the matter.
Not for nothing does Trump sit under a portrait of his favorite President in history, the appalling racialist Andrew Jackson, who twice ignored the Supreme Court in matters pertaining to his genocidal campaigns aganst First Nation Americans.
How many wars can Trump sustain all at once, on how many fronts? A clue may lie in the number of law suits he's currently juggling.
I refer you to the incomplete list of lawsuits pending against Donald Trump (NB these are only primary cases, excluding many hundreds of cases in which he is named incidentally.)
en.wikipedia.org/wiki/List_of_lawsuits_involving_Donald_Trump
Thom Hartmann: http://www.youtube.com/watch?v=B1Zv3zlK714
Collision
An open letter stating an opinion that Trump should face trial for multiple crimes of obstructing justice on the basis of the evidence gleaned by the Mueller investigation and published in the redacted report has been signed by 900 (nine hundred!) current and former prosecuting US states' attorneys.
The problem being that only the Department of Justice can indict – the investigation was under their jurisdiction. And the Attorney General whom Trump personally appointed in February to run the DoJ, M William "Bill" Barr, is refusing to indict on grounds that you cannot indict a sitting President; although that is a controversial opinion or, as we say, bullshit.
Talk about obstructing justice!
While the President also remains an "unindicted co-conspirator" in the case for which his lieutenant, Michael Cohen, was sent to gaol for three years, for co-operating with Trump's order that he should pay bribes to silence two inconvenient women, illegally out of campaign funds, to assist Trump's election prospects. The President remains under suspicion that he also persuaded a friend, Mr Elliott Broidy, to pay $1.8 million to a Playboy model whose baby he had aborted, and to accept responsibility himself.
Next week, this corrupt criminal – yes, he last year pleaded guilty in a New York court to misuse of tax-exempt charity funds and his Trump Foundation was compulsorily wound-up; while, in 2017 he was forced to pay $35 million reparations in a case involving the bogus "Trump university" scam – and his wretched family, all of whom are under investigation for financial crimes – is to be entertained, literally royally, by the British State, at a cost of many millions of pounds, and will hypocritically attend a 75th anniversary parade to mark the joint military invasion of Europe by US, Canadian, French and British forces.
Pray for rain.
During President Trump's election campaign he promised voters that, unlike "lazy" Obama, he would be the hardest-working president in history. In his first 27 months in office he has played golf on average once every three days, at a cost to the US taxpayer now of $102 million. (TYT/The Huffington Post)
Trumpenfilth corner:
I wrote recently that the 2020 campaign will only get filthier. In response to Speaker Pelosi's comment that Trump is engaged in a cover-up with regard to the Mueller report, video of her statement has been digitally edited to make her look drunk and rambling* and this fake news version was helpfully put out on air by the Fox Business channel.
It's also been posted online with, so far, 2 million views. Facebook and Twitter have made half-hearted attempts to takedown the video. No doubt many dumbfucks will not have the cognitive abilities to see what's been done to the original, although it's pretty crude. Or they'll just think it's hilarious.
Asked about it, Trump defended it, whining that she attacked him first. An opposition politician! And this is the cheesy sleazeburger with an emotional age of nine they're inflicting on the 93-year-old Queen next week, officials desperately claiming "It's not the man, it's the office"?
*How to edit a video to make a person look drunk and rambling, Part One. First, cut it into little pieces and put it back together with little delays and overlaps and hiccups and repeats. Then you slow the voicetrack down by about 15%. We recommend you use FinalCutPro for a cleaner finish.
Bent crude
It's axiomatic now that Trump's actions stink of corruption and malpractise. To the point where, it seems, nobody cares. He hasn't launched the nuclear missiles, like everyone feared. He's derailing the economy, but the Obama momentum, a global recovery and a weak dollar are still keeping it going. Cuts in Medicare and tax increases on the middle-class have yet to kick in. He's done many other horrible things, told endless lies, started a trade war and bust the budget, but so far they haven't made a telling shot among his base. His chief propaganda mouthpiece, Brad Parscale (late of Cambridge Analytica) is Facebooking lies like a good 'un.
And many people quite approve of the way he seems to be standing up to the hated politicians in Congress, even if it is to cover up his own crimes.
He continues to protest his innocence of the charges investigated by Mueller. It's been two months now since his hand-picked Attorney General, a man who doesn't think a sitting President can be indicted for anything, a man who has argued the Mueller investigation was illegitimate, released a three and a half page summary of a 488-page report, using Mueller's inability or strange unwillingness to prosecute a sitting President for abuse of office as a pretext for claiming he totally exonerated Trump and his campaign, which he absolutely did not.
Mr Barr is again summonsed to testify before a Congressional Intelligence Committee, Thursday (23 May) and the media is waiting to see if he turns up, having refused to the last time and being held in contempt for it. Unfortunately, Congress has no powers of arrest outside the building itself.
The redacted report has been published, but few people have taken the time to read it. Those who have are convinced, despite the redactions, of the President's guilt. The one Republican senator who read it and admitted openly that he was convinced of Trump's guilt has been, as they say, sent to Coventry by his colleagues.
The vast majority of Americans however are left with just those three and a half carefully selected pages and a president who continues to tweet and whine and cry and boast that he's a "stable genius" (yep, he said it again!) who has been cleared of all charges; and who has now said he will not co-operate on government legislation while the House is investigating him – a childish tantrum neither Nixon nor Clinton threw, even while impeachment hearings were going on.
What are the public supposed to think? The Justice Department continues to refuse to release the unredacted report, even to Congressmen and women with the highest security clearance.
Well, they could look at his behavior. Whining and blustering that he's been proven innocent, Trump has continually attacked the investigation as illegitimate, the investigators as biased plotters – "traitors", he's calling them, in the best tradition of dictators the world over. He's called for them to be investigated, and a supine Justice Department already convicted of lying to the House is complying.
And nobody seems to think that's strange. If he was exonerated, what's the problem? Why not release it all? But it's just what he does. Look how he continues to claim Hillary Clinton rigged the 2016 election, even though he won it! Nothing must be allowed to undermine the legitimacy of his presidency, which he genuinely seems to believe in his paranoia and delusional narcissism will go down as the greatest in history; although he has achieved nothing but growing inequality and chaos.
Perhaps unwisely, Mueller left it to the Justice Department and Congress to make up their minds based on the mountain of evidence he uncovered, and is now curiously silent on the whole affair. Trump has continued to claim that, as he was exonerated, which he was not, there is no evidence of crimes; consequently further investigations and the judgement of Congress have no validity and must end – before, many assume, more dirt comes out.
And time is going by, with the 2020 elections approaching and the public growing bored and fractious and easily distracted by talk of war and an immigration crisis on the border, "collegegate" and the unsatisfactory conclusion of Game of Thrones.
The British government, equally in chaos amid similar accusations of divisiveness and abuse of the poor and immigrant, with the far-right poised to take control and Prime Minister May due to stand down as Conservative leader in total humiliation on 7 June, has dumped almost the entire State visit of the criminal Trump family, which she instigated, onto the shoulders of the extended royal family – a further "exoneration" Trump and his infinite propaganda machine will make maximum capital out of for the dumbfucks.
Now, congressional committees trying to investigate the findings of the report, as Mueller charged them to do, are themselves being shut down, either by lawsuits – all so far rejected in the courts – or by the simple expedient of the White House refusing to release information under subpoena, refusing to allow witnesses quoted in the Mueller report to give testimony about their evidence to Congress, daring the Democrats to impeach.
The main example is that of Don McGahn, former White House counsel, who gave over 30 hours of testimony in private to the Mueller team, but is now at risk of being charged with contempt of Congress, having failed to show up for a scheduled committee session under subpoena. Why? Well, it's possibly to do with his law firm having $1.2 million worth of consultancy to the Republican party that's going down the pan if he testifies.
Witness intimidation.
And, at http://www.youtube.com/watch?v=Q8LI2-dCoro, Rachel Maddow discourses on the other main topic, that of the request by the House Oversight Committee to see Mr Trump's tax returns.
The committee is empowered by a law of 1927 that is absolutely clear: if the chairman wishes to see anyone's tax returns, the IRS is legally obliged to comply. But no, Trump is not of a mind to let anyone ferret through those, literally, thousands of pages detailing his financial activities over 7 years. A barrage of dubious legal objections has been put up to deny the committee's clear and lawful request; Mr Trump having hired a separate legal team to fight on just this one issue.
And, it turns out, in Trumpworld there are massive and unexamined conflicts of interest between the top three officials at the IRS and their duty to the law. Three officials whose appointments were in the gift of the President, whose appointments were railroaded urgently through the Senate by the leader, "Cocaine" Mitch McConnell*, as the likelihood of impeachment drew nearer.
(Incidentally, the question remains, was Donald Trump at any time involved in the cocaine trade? Evidence suggests he may have been, but that's yet another accusation that's gone unresolved for years, as there's just so much of this stuff going on that the legal system is totally underequipped and unable to deal with it all.)
Three officials, one of whom happens to be a partner in an accounting firm that used to work as tax advisors for Trump Organization. Another of whom just happened to write a legal opinion that while the IRS may be obliged to furnish tax returns to the committee of anyone in the country on demand, the law doesn't apply to the President. He also happens to own several apartments in Trump condominiums.
The third, Stephen Mnuchin, is the Treasury Secretary. He's a former longtime Goldman Sachs man, like several of Trump's arslikhan cabinet of all the millionaires, draining the swamp, who profited from the 2007 crash by buying up the assets of busted banks and loan companies cheaply and foreclosing on all the debtors, including hundreds of families who lost their homes. According to Wikipedia:
"Mnuchin founded a hedge fund called Dune Capital Management, named for a spot near his house in The Hamptons, in 2004 with two former Goldman partners. After its founding, Mnuchin served as the CEO of the company. The firm invested in at least two Donald Trump projects, the Trump International Hotel and Tower in Honolulu and its namesake in Chicago."
Together, these profoundly conflicted appointees at the head of the country's tax collection service form a formidable wall against intrusive inspections of their patron's financial affairs, even as they may be mandated by law and unbroken precedent.
But, you know, given Trump's nature, it may just be that his tax returns will show nothing amiss. It's possible that he's just preternaturally averse to being investigated. Or that he's happy to create a diversion by getting the media to focus obsessively on his taxes and ignore how he makes money illegally outside of the tax system altogether.
*Where does the nickname "Cocaine Mitch" come from? Apparently, from a debunked story involving his wife's Chinese family; although financial journalist and veteran Trumphound, David Cay Johnson, has written that there is substantial circumstantial evidence linking Donald Trump with the Columbian cocaine trade in the 1980s.
But apparently, McConnell is willing to leave no turd unstoned when it comes to re-election, and is milking the monicker for all he's worth. He has already raised $70 thousand from sales of Vote for "Cocaine Mitch" T-shirts. As website FastCompany.com reports:
"It's exactly the kind of trolling nihilism you can expect from the man who obstinately opposed the Obama administration at every turn and now frequently calls Democrats who don't accede to Trump's agenda 'obstructionists.' Cocaine is hilarious, trolling is politics, nothing matters, who cares?"
Trump has ordered US farmers to be compensated for losses caused by China imposing retaliatory tariffs against the tariffs he's imposed on China, blaming China for deliberate aggression against US farmers. The cost to the US taxpayer: $12 billion. Experts believe the soybean trade may never recover.
The Man Who Would be King
The Guardian is reporting on video evidence of meetings between Nigel Farage and Steve Bannon, in which the two men discuss the possibility of forming a "global alliance" of some of the most terrible men on the planet "to combat globalism".
It would be funny if it weren't so horrific. "Fake news", if the possibility exists that The Guardian does not check its sources carefully. But after luring Mr Bannon to a private entrance at the Ritz Hotel in London, presumably because the doorman wouldn't have let an Islamophobic nihilist looking like a dishevelled drunk into the foyer, the conversation with Farage is all apparently there on tape, in the form of out-takes from a new fly-on-the-wall (more like "flies-on-a-turd") documentary about Bannon, The Brink, to air here in July.
Among those great leaders they thought it would be a nice idea to involve in their little plot to rule the frazzled earth are the self-admitted murderer, Duterte of the Philippines, on whose say-so thousands of presumed "drug dealers" – mostly harmless addicts – have been exterminated by police death squads, and who speaks openly and pleasantly of raping women.
Indian "strongman" – actually he's just an elderly peasant buoyed up by heat-crazed Hindu nationalists and appears to The Pumpkin from a distance to be a quite profoundly stupid man – Narendra Modi is on the list, as is the authoritarian Hungarian PM, Viktor Orban, ruthless exploiter of any passing populist issue and slayer of NGOs. Egypt, too, was mentioned – see below.
Amusingly, Farage is on tape telling Bannon he finds Boris Johnson too lightweight and incapable of concentrating on anything for more than a few seconds. This, from the pathetic Trumpsucker photographed in the Golden Elevator, adoring inches away from that other adulterous, overweight, tow-headed scamp who practically invented ADHD.
(In case you objected to my use of the word "turd" earlier, I should mention that this global conspiracy of White-is-Rightists was known appropriately as The Movement.)
Apparently The Movement has been abandoned, as the funding mechanism wasn't quite meeting internationally accepted rules, while Farage's instant pop-up Brexit party, the No Deal, anti-EU party leading in the polls for tomorrow's EU elections, is being investigated for accepting illegal foreign donations.
Taking a leaf out of Trump's "Quick, smear anyone you think may be a threat!" playbook, Farage has been quick to dismiss the Electoral Commission without the slightest evidence as a bunch of Remainers. The worst insult he can imagine! It might even work with his Brexit party dumbfucks, 5,000 of whose jobs at British Steel in 70% Leave-voting Scunthorpe are imminently threatened by Brexit contractions.
Let's hope it doesn't end there, and that these deluded voters finally understand what an unreconstructed fascist this deeply unpleasant, richer-than-he-pretends-to-be, "Man o' the People" is.
From supporting removal of workers' rights, to cynical climate-change minimization, to privatisation of the NHS, Farage is not at all what his fans think he is. Or maybe he is, I don't know. Anyway, being "different" is not a reason to vote for someone who has no plan to do you any good whatsoever.
And how "different" is he? Most if not all of the dead white men in the Tories' factional European Research Group share his 1950s golf-club-bore views; as do, apparently, the elderly lads and Thatcherized mineworkers of northern working men's clubs.
Miserable old farts, our beer glasses are empty, but our time has come to screw the rest of you.
A filthy, murderous little regime
"Ahmed Saddouma will face his final hearing on 8 June for a crime he could not have committed. He was only 17 years old when he was abducted from his bed in the middle of the night by the Egyptian authorities. He was tortured for three months until he 'confessed' to a crime that took place 21 days after his arrest. He was sentenced to death in a mass trial of 30 people, where he could not present a defence."
Thus the content of an email from Reprieve, the NGO that campaigns worldwide against the gross injustice of the death penalty, especially where no defence case is admitted.*
The filthy, murderous regime of General al-Sissi grows more barbarous with each passing day. As it has the courts in its pocket, a policy of torture and the vast financial and military resources of the United States of Ismerica to underpin it, the regime easily passes the bar of fascism.
Fascism is when the State, for its own ends and those of its partners in business, the military and the religious establishment combined, empowers its ordinary citizens to unleash their frustration, their brutality, what Hannah Arendt called the banality of evil, on the chosen Other: in this case, members of the Muslim Brotherhood, an invented enemy.
How bitterly must those who took part in the Arab Spring revolution that overthrew the last oppressive dictator of Egypt, Hosni Mubarak, be regretting their failure to properly organize and to coalesce around clear ideals and objectives, allowing this strutting, pockmarked little shit to take over and impose the most astonishing brutality on his people; with almost daily judicial massacres of his perceived "opponents".
The "strongman" view of history is littered with such examples, of lawless, power-crazed thugs – generally ugly little men of reduced stature and stunted intellect but infinite low cunning – riding to power on the credulity of the mob and the seemingly endless willingness of followers to hide inside a uniform and commit unbridled acts of violence against even those fellow citizens who would hope to improve their lives too.
I signed the petition, but without optimism. Theresa May is not going to intervene, she may not even be in office tomorrow. How many more Ahmed Saddoumas will hang before justice and moderation and good governance are restored to the world?
It will never happen in our lifetimes. We are descending into a barbarism not seen since the 1930s, that will undoubtedly end with the collapse of the socio-economic order as the planet rapidly heats beyond bearing.
*And just watch sales of Amazon's new face recognition app to oppressive regimes like Egypt's.
GW: Water, water everywhere – except where there's drought

USA: Heavy snow is reported in Denver, Colorado; major flooding is forecast for the northeast, more storms for Texas; while in Georgia, temperatures are approaching 37C, 98F.
"A dangerous storm system in South and Midwest USA has produced dozens of tornadoes, strong winds, hail and heavy rain since Monday 20 May. Oklahoma, Kansas, Texas, Arkansas and Missouri have all been affected, with major flooding reported in parts of Oklahoma and Missouri. 2 people died in a vehicle accident. Heavy rain is expected to increase river levels, many of which have been high since March this year. More storms are forecast throughout the week. As of 22 May, rivers were above flood stage in 370 locations across the South and Midwest. (Floodlist)
Update, 25 May: A large and violent tornado has left at least 3 people dead in Missouri as torrid weather continues to pummel parts of America's midwest. A series of devastating storms hit the area on Wednesday night (22 May) leading to multiple tornadoes. The region has already endured days of torrential rain and flooding.
All 3 fatalities were in Golden City. Another tornado carved a 3-mile swathe of destruction through the state capital, Jefferson City (where people are thought to be trapped under rubble). It brought the death toll from Midwest twisters this week to 7. (BBC Weather)
Drought and unseasonally warm temperatures in Canada have brought two massive uncontained wildfires to northern Alberta in an early start to the season (BBC). 5,000 residents have been evacuated from the path of the Chuckegg Creek wildfire, which is burning out of control and has already consumed 200 thousand acres. The High Level fire has been prevented from reaching the town but has burned 100,000 sq km of forest. (CNN/Global)
Japan: as Trump arrives to play golf with Abe, the Japan Times reports, "Unseasonably hot conditions gripped wide areas of Japan on Sunday, with the town of Saroma setting the highest temperature ever recorded in the country for the month of May. The mercury hit 39.5 degrees in the northeastern coastal Hokkaido town. (26 May). Strangely, although the earthquake that shook Tokyo an hour before Airforce One touched down gets a mention, mainstream media is making no mention of the heatwave.
Germany: "Storm Axel" brought heavy rain, strong winds and thunderstorms to parts of Germany between 20 and 22 May. Several states were affected by flooding. Some areas of Bavaria recorded over 250mm of rain in 48 hours. I person is known to have died. Rail travel was disrupted. (Floodlist) The storms are moving away across Georgia into Russia (Severe-weather.eu)
Turkey: Over 30 buildings have been destroyed or severely damaged by a landslide in Aybasti district in the Black Sea province of Ordu. The area had been affected by an earlier landslide in February. It's thought recent heavy rainfall in the area triggered a second landslide on 15 May. Over 80 homes have been evacuated. (Floodlist)
Mali: At least 14 people have died in flash flooding that hit the country's capital, Bamako, on 16 May. The flooding struck after a sudden torrential downpour that lasted several hours. Flood water was up to 2.5 metres deep. At least 1 person has died in flash flooding in southern Ghana after a downpour lasting around 2 hours on 15 May. It's one of several spates of flash flooding to affect the country since March this year. At least 12 people died in the capital Accra in early April. (Floodlist) In Guinea, 5 people died when drains in the capital, Conakry, blocked with years of garbage, backed up during a heavy rainstorm. (from: Floodlist)
Korea: North Korea is suffering its worst drought in 37 years (when tens of thousands starved to death) and has called on its citizens to "battle" against the crop damage. It comes after the UN said that up to 10 million North Koreans were "in urgent need of food assistance". State TV however is showing images of lush crops and flowing streams. So it must be bad.
UK: As Sheffield council contractors continue to hack away at the city's remaining mature trees, protected from elderly protestors by the police and courts, "more than 130,000 trees are to be planted in English towns and cities over the next two years as part of the nation's battle against global heating". Previous tree-planting programs are way off schedule. Environment secretary, Michael Gove has announced that grants for the plantings will be made available through the Urban Tree Challenge Fund. Researchers have determined from lake sediments that flooding twice in the past 10 years in Cumbria was the heaviest for over 550 years – as far back as they can go. (Guardian Green Light)
Tunnel approaching….
Yellowstone: Steamboat geyser, largest in the park, went off on 21 May for the 17th time this year, on course to beat last year's record 32 eruptions. Normal activity is 2 or 3 a year. A huge, very deep M8.0 earthquake in Peru on Sunday 26 May (1 dead, a dozen injured, buildings brought down) seems to have produced a responding M4.2 quake in Utah, near the caldera. (Mary Greeley) Was the M5.0, 48 miles south of Tokyo, also related?