Quote of the Week
"What Johnson understood was that in the digital age, voters were behaving more like an audience consuming entertainment than a civically engaged electorate. His shtick was no longer an aspect of his politics. It was his politics." – Matthew D'Ancona, writing in The Guardian.
And for all Joy-Ann Reid's handwringing over Trump as the ur-creature of white America's deep-rooted, historical cultural racism*, isn't that exactly what brought Donald Trump to power, his TV ratings; and why in Ukraine they have a political party led by a TV comedian going into coalition with another led by a rock singer, and why Italian neofascism is being enabled by another comedian leading a political movement?
What is killing the planet is consumer boredom.
*The Man Who Sold America. Random House, July 2019.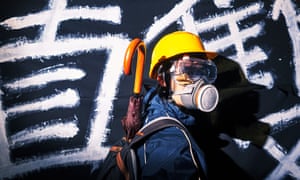 "You never know, it might rain…." Hong Kong protests hot up.
Take cover, it's Boris!
So it looks like Boris Johnson's tragic fantasy that he is the reincarnation of Winston Churchill could come true sooner than he was hoping.
Apart from his schoolboy biography of the great man, with whom he shares American citizenship, I first spotted Johnson's personal homage on these pages when he descended from the notorious red Brexit "battlebus" wearing – instead of his normal, rumpled suit – a light canvas jacket of the type worn by Churchill on his watercolor painting expeditions to the South of France.
Yes, I'm that kind of a detail man.
In retaliation for the Royal Navy seizing an Iranian oil tanker two weeks ago at Gibraltar, at the request of Mike "two lunches in a suit" Pompeo and the US State Department, claiming it was sanctions-busting and bound for Syria, Ayatollah Khameini's demented Revolutionary Guard has pirated a British-flagged tanker in the Strait of Hormuz, with 23 crew on their way to Saudi Barbaria, and is steering it towards Iran.
(On closer examination, we find that the flag is the only British thing aboard the Stena Impero, actually a Swedish vessel with a motley crue. It was surely only a matter of time before this whole flags of convenience thing would get in a huge muddle.)
The US may very well extend its threat of protection for all its interests in the region against Iranian interference to its occasional closest "ally", the island known as Golf Course 1. It's a step nearer to the war for regime-change Pompeo is pushing for – even to the extent of repeating the same old preposterous lie the Bush administration concocted to justify its disastrous invasion, that Sunni Iraq was supporting Shiite Al Qaeda.
Not that many Murikans would have known the difference.
Johnson is expected to move into No. 10 Downing Street with his fun-loving mistress, party-girl Carrie "get off me, get out of my flat!" Symonds, by the end of next week as Britain's least likely ever Prime Minister: a bumbling, stuttering hoaxer, a domestic abuser, a shameless liar, a spendthrift on vanity projects and an overentitled, shambolic, racist-lite buffoon, funded and promoted by some of the nastiest, greediest and most ambitious men on the planet.
It's almost as if they've realized the game is up and are rushing to have the best time before we go extinct. (And there is a Deep Ecology school of thought that says, the quicker humans fuck off, the more chance the rest of the planet has to recover from us, before it turns into Venus #2.)
Don't expect a kind of Prince Hal (Henry V) Shakespearian moment, when the prodigal heir to the throne turns, on his promotion to king, into a statesman of gravitas and tells his gross and licentious mentor, Sir John Falstaff, to fall to his prayers.
Johnson IS Falstaff.*
Take cover!
* Note: Your Uncle B. writes this comment on the 19th of July. On 25th July, the celebrated Fintan O'Toole writes in The Guardian:
"They go along with the fiction that Johnson is a Prince Hal who will metamorphose into the hero to lead England to a new Agincourt, while knowing damn well that he will always be a Falstaff for whom honour is just "a word".
I hope he was well paid. Not as well as Johnson, though.
One of life's ironies
Last Monday, or Tuesday possibly – I have a dreadful memory now for when things happen – a few days ago, I bumped into an old friend from choir in the carpark of my local supermarket. What she was doing there I have no idea – she lives in town and there are half a dozen food stores closer to home.
It seems she'd come to say goodbye.
I hadn't seen her for many months, but she was in good form. She told me she was working part-time now and planning to retire fully when her pension kicked-in in September. She had plans to travel. Like most people our age she has family scattered globally. Whenever we meet like this we always end up suggesting we should have a proper catch-up over tea someday. It's become almost a running joke, we've never managed it.
It's about ten years ago now since we went on an entirely platonic walking holiday in Corsica. It just sounded like a nice idea, although no-one in the choir believed the platonic bit. We usually ended up arguing, so (having had two wives already) for me anyway, a relationship was never on the cards. She's a deeply religious Catholic with profoundly conservative views and I'm a liberal-lefty, throw-it-up-in-the-air kind of atheist. The safe territory between the two was fun, but possibly limited in scope.
After sharing our last comfortable night for a fortnight, insisting on a twin-room – much to the mirth of the two French receptionists – in a three-star hotel, we set off on the train from Bastia to where the mapped hiking trail known to sadistic French tourist-board officials as a randonnée of only moderate difficulty started in the hills inland.
Despite the heat, those first seven kilometers along the metalled road leading gently uphill from the station to the village proved easy, and I made a macho point of outpacing her. The next day, however, the walk proper began, and things changed.
My friend half-joked – and this is the point of the story, I suppose – that as I was some years older than her I would only hold her back, and she didn't want to be responsible for me when I collapsed and died in the middle of nowhere, being obviously so unsuited to the terrain. We decided to carry on separately by day and just meet up every evening for dinner at the 30-euro-a-night gites marked on the map along the way. She would go on ahead by herself.
I recall emerging each morning from deep, shady chestnut forests, only to spend the rest of the long day stumbling about on high, stony hillsides with far distant sea views, scrabbling up bone-dry creek beds in 90-degree heat, pouring sweat, my fingers and ankles painfully swollen with oedema, raving like a madman and casting aside the contents of my rucksack item by item as I went, to save weight. Once the bottle I carried was empty, by around 11 o'clock, there was not a drop of water anywhere to be had; no human habitation in view.
The stages each day were only seven or eight kilometers as the crow flies, but so mountainous they took hours to negotiate. At one point I was forced to cross a narrow, natural bridge over a ravine between two peaks, with a drop of perhaps a hundred feet on either side. Suffering as I do with acrophobia, it took an hour inching along on hands and knees, gibbering in terror, eyes tightly shut, to get across maybe 15 yards.
Just as well there was no-one around to see me.
My Beau Geste act in the blazing, pitiless sun lasted five days, until we rendezvoused at an agreeable seaside village with two beach bars and a small Napoleonic castle, that was shut. It was inaccessible by road. With many apologies, despite the beach being covered in a thick mat of rotting kelp and the first ten meters of seawater from the shore smelling like neat Ambre Solaire, the next morning I decided to stay there for a few days R&R, swimming off the pier, watching the yachts come and go and drinking ice-cold beer.
But the owner of the gite pointed out, the hostel accommodation was for one or two nights only, I could not live there permanently, so I travelled on to Ajaccio by boat, from where (after paying homage at the Little Emperor's childhood home) I toured the island by bus and rail for a few days while my enduring and clearly super-fit, erstwhile companion pressed on, intrepidly completing the circuit by herself.
Arriving back in Bastia on the last-but-one day, I took a long walk out of town to try to find a place to eat. Everywhere was closed, it was some kind of holiday. I must have walked miles along the coast road in my bare feet and sandals before eventually finding a beachfront bar. The chargrilled Loup de Mer was so good, I took a photo of it, thus beginning the whole Instagram thing.
We met up again the next morning and flew back together, my feet a mass of painful blisters.
On Friday, I had an email from the secretary of the choir to tell us that, sadly, Libby had passed away from a sudden, unexplained heart attack. No more details were forthcoming; it appeared she had just dropped dead. You run into someone you haven't seen for ages, say hi and bye, then two days later they die.
Great.
My 70th birthday is in a couple of months' time. I'm beginning to experience survivor's guilt.
Pot. Kettle. White?
BBC News reports, Scotland Yard's computers have been hacked. "Scotland Yard confirmed its website had 'been subject to unauthorised access'" (20 July).
Following the incident, US President Donald Trump renewed his vendetta against Mayor of London Sadiq Khan, once again retweeting the loathsome, self-promoting racist frothover, right-wing provocateuse "Katie Hopkins" as saying the police had lost control of the city's streets: "With the incompetent Mayor of London, you will never have safe streets!" (Maybe a word with the Chancellor about the police budget might help to improve matters? Just suggestin', "Katie".)
Well now. Herr Trump has recently accused three American-born, majority-elected opposition Democrat congresswomen of interfering in America's politics, hasn't he, complaining that their color and ethnic origins should prevent them from saying how the country ought to be run, accusing them of "hating" America – i.e. him – and proposing that they should "go home" to their own shithole countries.
The Leader of the Free World then whipped up one of his dumbfuck rallies in North Carolina into a frenzy of racial hatred against a fourth elected Congresswoman, the tiny Muslim, Ilhan Omar, mindlessly chanting "Send her back!", and after appearing to condemn the crowd for the next 24 hours, doubled-down once more, calling his brainwashed trailer-trash cult, 99% white: "true patriots".
That bit barely even made the news.
And now, after continually praising our incompetent PM-select, "Minority Johnson" over Prime Minister May, here the Bronzed Blowfish is, at it again, telling us with his little tweety thumbs how to run our country, conducting a clearly religious and racially biased vendetta against the elected mayor of our capital city (not that we think much of him either).
You're such a fucking hypocrite, Blondie. You're not even a British citizen.
The BogPo says: Fuck off out of our face, Trump, and do something to unite your own disastrous, racist shithole country (400 thousand opioid deaths, 30 thousand annual gunshot killings, cops out of control, kids in concetration camps, record floods and wildfires, poisonous air and water – 60% of US beaches are polluted – and counting), you incompetent, corrupt, demented old blowhard.
And we don't mean "unite the whites" either.
Shit in that swamp
What would you say if somebody told you, the Trump regime's attempts to keep Chinese firm Huawei out of the global 5G market – which have included Trump's verbal assaults on British Prime Minister Theresa May, who defied State Department pressure to refuse Huawei contracts in the UK – were entirely aimed at profiting one small hedge fund, managed by a buddy of a buddy of Donald Trump Jr?
I know. Improbable, ain't it.
(Brilliant reporting by ProPublica: http://www.propublica.org/article/trump-inc-podcast-tommy-hicks-jr-donald-trump-jr-hunting-buddy?utm_source=pardot&utm_medium=email&utm_campaign=dailynewsletter )
Charity begins at home
It's unbelievable your Granny W. missed this, but in 2015, The Guardian reported, Britain "gave loans to fossil fuel projects around the world despite a pledge to withdraw financial support from such schemes, an analysis of loans made by the UK's export credit agency has revealed.
"Gazprom in Russia (source of half the country's oligarchs' wealth), Brazil's state-owned oil company (corruption-riddled Petrobras) and petrochemical companies in Saudi Arabia are among the companies benefiting from around £1.7bn in government funding over the course of the parliament, Greenpeace found."
The latest on our Foreign Aid budget is that we're still shovelling £0.68 billion of taxpayers' money at oil- and gas-powered energy projects in third world countries. "Britain allocated more overseas development cash to oil and gas in the two years after signing the 2015 agreement than it had in the previous five."
Meanwhile, in drought-stricken and war-torn parts of the world….
Where are they then?
A week ago, Vanity Fair magazine reported:
"The U.S. Court of Appeals for the Second Circuit will release almost 2,000 pages of documents that could reveal sexual abuse by "numerous prominent American politicians, powerful business executives, foreign presidents, a well-known prime minister, and other world leaders," according to the three-judge panel's ruling.
"The documents were filed during a civil defamation lawsuit brought by Epstein accuser Virginia Roberts Giuffre, a former Mar-a-Lago locker-room attendant, against Epstein's former girlfriend and alleged madam, Ghislaine Maxwell.  A person involved with litigation against Epstein (said): "It's going to be staggering, the amount of names. It's going to be contagion numbers."
http://www.vanityfair.com/news/2019/07/jeffrey-epstein-case-grows-more-grotesque/ etc.
Er, okay…. And is Trump a racist? Maybe, but he's also a master of distraction. The "2,000" names – presumably including his – don't appear to have appeared anywhere.
If they did, nobody noticed.
GW: Helter, swelter
USA: A perfectly fit, 32-year-old former NFL football player, Mitch Petrus, dies of heatstroke on Thursday while working outdoors at his family business in Arkansas. It's a lesson. Temperatures across the whole of the midwest and up the east coast into New York, where Mayor Bill has declared an emergency, are expected to peak in the 90s °F., high 30s °C. this weekend, but with the ground saturated by months of flooding, humidity will bring wetbulb temperatures up into the lethal 110s °F., mid-40s °C.. range. Cooler weather is forecast to return early next week. (BBC/The Weather Channel)
A new storm system is forming in the Gulf, off the coast of Florida, in the wake of Barry, says Accuweather, 23 July. "The system was packing 35-mph sustained winds early Tuesday morning, and if it reaches tropical storm strength, it will be named Chantal."
Europe: "Most of the models have intensified the severity of the heatwave developing next week, trending into the potential for low 40s °C. peak afternoon temperatures across parts of France. Stronger heat with 30-33°C. seems also increasingly likely across England from Tuesday to Thursday. A 12-15°C. July heat anomaly will extend over France, Benelux, England and western Germany. (Severe-weather.eu) Hundreds of firefighters and planes have been tackling five large fires that broke out on 20 July in a mountainous region of central Portugal around Castelo Branco. 20 people have been injured and villages evacuated.
Turkey: Heavy rain from 17 July caused severe flooding and landslides in northwestern Turkey, with at least 2 dead and 5 still missing. (Floodlist)
Russia: "After a month of warm, dry weather and wildfires, the huge crater nicknamed 'Mouth of Hell' is now under direct threat. The fear is that (a 237 Ha. fire burning the tree cover around) the rim of the depression will weaken the permafrost and cause a major enlargement of the Batagaika 'megaslump'. Reports say the destruction of the tundra is 'alarming' in the Verkhoyansk district of Yakutia region." (Siberian Times)
Note: the Batagaika "megaslump" is a 1km long thermokarst depression, 800m wide and 100m deep, caused by thawing permafrost in a forest area clear-felled in the 1980s by the Soviet administration. The perimeter has been expanding at the rate of 30m a year but there are fears of it speeding up..
On 14 July, Siberian Times reported, the temperature in Irkutsk, "Russia's coldest city", reached 32°C, 89°F. Residents sought relief on a nearby glacier. 2 vacationing families, 9 people including 7 children, drowned when their SUV was swept away crossing the snowmelt-swollen Tuva river in southern Siberia.
Zimbabwe: Compounded by gross economic mismanagement in the wake of the coup that overthrew the 94-year-old dictator Mugabe, 4.7 million people are facing food shortages this autumn as a result of a long-running drought. Meanwhile Mozambique, struck by a tropical storm and two major typhoons earlier this year, is also suffering from drought owing to weak monsoon rainfall, while disease has wiped out cereal crops. Nearly 2 million people are suffering acute food shortages. (UN News)