QotW….
"… people would rather see their children die than forego the preservation and defense of their culture or religion. In places where climate chaos is already underway, we are seeing a solidification of tribalism and battle lines drawn between communities who have formerly lived together in relative harmony. These pressures are bound to increase." – Catherine Ingram blogpost: http://www.catherineingram.com/facingextinction/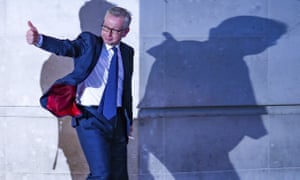 "I'm just going to see if I can get my whole thumb up my nose."
Michael Gove appears as himself in the new production of The Phantom.
Can you hear the whistle blow?
It seems the entire strategy for defending Trump against impeachment charges is to discredit, or maybe murder, the whistleblower.
It seems rather odd, given that every detail of the 9-page allegation, endorsed by both the Inspector General of Intelligence and – more uncomfortably – the Acting Director of National Intelligence, that White House staffers had expressed genuine concern over the President's mobster-like extortion phone calls to foreign leaders to obtain their connivance in fixing his re-election, in a word treason, and that they sought to bury the evidence in a Top Secret, offline Intelligence server, has been confirmed to be accurate.
And given that the White House itself, under the direction of President Trump, then put out a summary transcript of his call to the newly installed Ukrainian president that confirmed he did indeed seek foreign assistance in direct contravention of the emoluments clause of the Constitution and US Federal election law; his answer to which being, that he never said what he said he'd said, the Democrats were "savages", the whistleblower was a "traitor", and that what he had just admitted doing was all a plot to discredit him.
The one possibly exonerating factor being the apparent removal, if such had existed, of any direct link in the conversation between his illegal order to delay sending a Congress-approved $390 million in military aid to the Ukraine, to the benefit of his friend Putin, and his request to President Zelenskiy to do him "a favor, though" in digging for "dirt" on Democratic hopeful, Joe Biden.
(White House apologists are denying he used the word "though", which would strongly link the threat to the demand. It is there in the transcript, though.)
Mr Putin then to some extent wiped his nose with Donald Trump, letting it be known that he would be displeased if the transcripts of his own phone calls with Trump were to escape the black hole of the intel server.
And, since the President is on public record as opining that there was nothing wrong with soliciting foreign aid and that he would welcome more, from whatever source, despite its illegality, it would seem a bit odd to try to pretend that anyone finding evidence of such a request was lying about it. It might suggest Trump himself was lying about it when he admitted it!
Update: And today (1 Oct.) it's being reported, Trump also leaned on the Prime Ministers of Australia, Italy and Great Britain in phone calls (subsequently buried) and in sending emissaries Pompeo, Barr and Giuliani to misuse their state resources to find evidence supporting his belief that the Mueller investigation was a "hoax"; and attempting to shift the emphasis from proven Russian interference with the 2016 election to "Ukrainian interference", a charge so ridiculous as to defy contradiction.
In the meantime, he has also demanded that House Intelligence committee chair, Adam Schiff should be arrested and charged with treason. His crime? Putting on a silly voice briefly mocking Trump while questioning Maguire, the Acting Director of Intelligence.
Trump claims that proves all the charges against him are false and that Schiff has "lied to the American people", because Trump did not say those things – which he has already admitted he did say.
I know, double-take time.
Why does the Republican party continue to defend this sort of insolent behavior, this clear and indisputable evidence of the insanity of the man in the White House – and of his own treason?
We should understand that this troubling series of events is only one small part of a vast nexus of possibly illegal, covert or damaging actions this president has undertaken since coming to office less than three years ago, a concerted abuse of his powers, which in turn have to be set against the background of extensive criminality alleged against him and his family over the years.
Mr Trump is not an innocent party, or the victim of a "witch hunt". He is still named as an "unindicted co-conspirator" in the case of fraudulent misuse of election expenses against his former lieutenant, Michael Cohen; and in 2017, was found guilty by a New York court of operating the fraudulent scheme known as "Trump University", a "pay-to-play" scam involving a very expensive, totally underwhelming "course" in Real Estate management, basically a 4-page leaflet, for which he was ordered to pay $25 million in costs and compensation to the victims.
Court records also show at least two prior convictions for tax offences in the 1980s. Although Robert Mueller, the Special Counsel, stopped short of indicting him, handing that responsibility over to the Congress – whose pursuit of the case has since been stymied by Trump's threats to witnesses, ordering them to defy legal subpoenas, alleging they are covered by some non-existent Executive privilege – he produced a mass of evidence showing Trump had attempted illegally to obstruct justice many times during the inquiry into his acceptance of Russian (and probably Saudi) help in the 2016 election.
Or, as Senator Graham brazenly said on Fox yesterday: "nothing there".
We are still awaiting, too, the outcome of some 16 separate cases before the Southern District of New York's District Attorney, alleging bank fraud and money laundering; while serious questions remain over the possibility that Trump suborned US foreign policy to collude with Saudi Barbaria in pressuring Qatar to refinance Trump's son-in-law, Jared Kushner's loss-making company; and may thereby have inadvertently assisted through the release of classified documents in the death of Jamal Kashoggi.
Some 3,500 civil suits are pending around the USA, involving the president either as litigator in chief or as defendant. This is not normal presidential behavior, and Trump's continued, frenzied efforts to transfer blame for his own crimes and misdemeanors onto his opponents don't make it so.
The inexplicable Lindsey Graham, cherub-faced Republican Senator for South Carolina and chairman of the Senate Judiciary committee, who volubly prosecuted the impeachment of Bill Clinton on moral grounds, arguing that he was cleaning out the cesspit that was the Democratic White House, and who is on record as saying previously that Trump was wholly unsuitable to be president, is leading the defense.
He seems to blow hot and cold over the actions of this, the most wayward of US presidents, whose record on morality makes Clinton look like St Francis. Some actions and statements he seems to criticize; others, even worse, he stoutly defends. It's hard to know where he stands on any issue, but in this case he was overheard on a plane, loudly discussing strategy down the phone with Trump's son-in-law, Jared Kushner.
The whistleblower, he says, is not credible, because the information on which he blew the whistle was "hearsay", having come at secondhand from anonymous sources. (It now appears that Secretary of State, Pompeo was invited in on the Zelezniy call.)
Verifiably, palpably true, almost certainly illegal, definitely damaging to national security and the interests of the United States, a clear misdemeanor abuse of powers – but "hearsay" and hence, non-evidential. As if the crime and the accusation are two entirely separate matters.
Mr Trump has already attacked those who expressed their concerns to the whistleblower, apparently a member of the intelligence community, as "spies" and "traitors"; adding with a tone of menace that "we used to have different ways, better ways" of dealing with such people. A remark he shrugged off as an example of his curious sense of humor.
It's not the first time he has suggested executing his political opponents: we recall his thinly veiled red-meat exhortation to the "2nd Amendment people", i.e. rabid gun fanciers, to assassinate Hillary Clinton. We recall, too, his warning that his supporters were a well-armed militia, he had the police and military in his pocket and they would take necessary action if he did not get his way.
ABC News has amassed a file of 36 instances in which Mr Trump's aggressive or menacing statements and his apparent support for rightwing extremist elements have been followed shortly afterwards by acts of violence against minorities.
Coincidentally I'm sure, here in the UK Prime Minister Johnson is also being accused of threatening to unleash mob violence unless he gets what he wants over the Brexit deal. Were that to happen, it's being rumored that he would consider locking the country down under the Emergency Powers Act. He's dismissed the suggestion as fanciful.
He created a furore last week when he appeared to minimize the significance of the murder of a Labour politician in 2016; and had to defend himself against a barrage of criticism over his use of bellicose language, which he initially did by doubling-down on it, calling his critics "traitors" and labelling Opposition moves to force him to make a deal as "surrender" to the EU.
He has also uttered words of defiance against the Supreme Court, that judged his shutdown of Parliament illegal, claiming the 11 senior law lords were legally "wrong"; and encouraged a new campaign of vitriol against the judges in the hard Brexit-supporting rightwing media.
Johnson, who recently deserted his wife of 24 years while she was undergoing radical treatment for ovarian cancer*, and has taken up with a vivacious party worker twenty-some years younger, who he has (in my rather elderly view, scandalously) moved into the upstairs apartments at 10, Downing Street, further demeaning his office, is also increasingly embroiled in his own scandal involving payments from public funds and favors (and "regular visits") to a blonde former model, implying possible abuses of office and conflict of interest when Mayor of London. (He has since said she was "too boring" to have an affair with! You can tell, he's a real toff.)
I wasn't aware that Trump had published a playbook, "Popular Fascism for Dummies". Perhaps they've both been reading Mein Kampf together. Advised by malevolent, shadowy rogues, both men having previously been metropolitan liberals have committed themselves similarly to the path of popular anarchy in the (hopefully mistaken) belief that the best and the quickest road to absolute power is through the brutish "will of the people", regardless of who gets hurt.
They need to be stopped.
*I'm slightly surprised not to have seen any of the Guardian's usually strident feminist columnists mentioning that ovarian cancer is known to be caused, among other things, by the sexually transmissible Human Papilloma virus, which is carried by men.
Addendum
As it happens, the whole sordid Ukraine affair may have been entirely unnecessary. Mr Biden's poll numbers are fast slipping behind those of the didactic Senator from Massachusetts and former Harvard lawschool perfesser, Elizabeth Warren.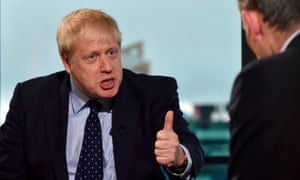 "With this thumb, Mr Marr, and a well-filled nostril, I can remove £350 million worth of snot a week. And if not, I will declare bogey law."
They've all got it infamy
"Look at me, Ma, I'm flying!"
Added to the catalog of Trump's psychological problems, paranoia is a word increasingly heard on liberal media as his ongoing tweetstorm in response to the announcement of Nancy Pelosi's impeachment inquiry reaches new levels of, frankly, foaming insanity.
He is demanding to meet the whistleblower in person, who is reportedly in hiding under federal protection as Trump's hardier dumbfucks have been posting death threats and have offered a $50 thousand reward for a name and address. It is his "right" as a freeborn American to meet his accuser! Yes, in court, possibly.
Whistleblowers in government are in theory protected by the law, and this one went through all the appropriate official channels. Trump wants him dead.
Trump has quoted a Fox news contributor who suggested that impeachment of the President would result in a "civil war-like fracture" in the nation "that will never be healed", Trump adding that he would NEVER be removed from office.
This is not the first time he has covertly incited his followers to violence, and already far-right groups are calling for an armed insurrection.
The whistleblower's report has been fully corroborated, in part by the "memo" that came from the White House under Trump's own orders, in which he is clearly seen to have illegally demanded dirt on the Bidens as a quid pro quo for arms exports to Ukraine.
Trump is now lying that the whistleblower and his treasonous staffers have made it all up, what he said, and they are part of a Democrat-controlled Deep State conspiracy to overthrow him. He continues to double-down on his belief that Joe Biden and his son acted corruptly, without a shred of evidence. Indeed, the prosecutor at the center of the Ukraine case has said they broke no laws.
(Will Trump have anything to say about Republican Representative, Chris Collins, "the first member of the House to back Donald Trump for president", who has just resigned his seat ahead of a court hearing into corruption charges to which he is pleading guilty? "Collins was indicted in August 2018, accused of using inside information about a biotechnology company to help his son make illicit stock trades". – CBS News)
Trump has made other, thinly veiled threats to have the whistleblower and their informants murdered, a threat he has now extended to Democratic Congressmen Adam Schiff, Jerrold Nadler and Elijah Cummings, the committee chairmen investigating him, who he has described as "savages" and "traitors".
And he has sent out a very small platoon of his closest remaining advisors to lie repeatedly to the media about what is there in black and white for all to read – not that his Republican party apologists have read it, on their own admission – on his own transcript, so clearly that even Fox News interviewers are unable to spin this and are now being included in his wider conspiracy theory.
The ending of the film, The Third Man, celebrating its 70th anniversary this year, seems peculiarly prophetic, as the cynical American black-marketeer Harry Lime (Orson Welles) gets his just desserts after a desperate attempt to escape justice through the reeking sewers of ruined, postwar Vienna.
As he dodges this way and that, his every exit blocked, the sociopathic racketeer previously so self-admiringly full of his own importance increasingly resembles a cornered rat.
Or perhaps we recall smalltime gangster James Cagney in Little Caesar, trapped by the Feds atop the water tower, with no way out but down: "Look at me, Ma, I'm flying!"
How are the mighty mighty
It's time we stood up against these triumphal "progresses" by US Presidents and their absurdly huge entourages.
Why should these overmighty satraps, elected for a brief space, be allowed to swan about the world, demanding obeisance wherever they go?
Seriously, who the fuck do they think they are? Could a US president not occasionally express a little humility, or show some sympathetic good manners towards their hosts, instead of riding roughshod over every other political leader on the planet?
Details have emerged, concerning a two-day visit to Ireland for a meeting with PM, Leo Varadkar, of Trump – the most egregiously boastful, pompous and expensive of all American presidents.
Ireland is a relatively small country, that has had economic problems in the past but is now, we trust, over the hump.
Why, therefore, were they forced to detail over three thousand, two hundred police working overtime to guard the presidential panoply at a cost of €7.5 million? What did they imagine was going to happen to him, that we don't all devoutly wish for?
Why couldn't he have stayed at an official residence in Dublin, say the US embassy, instead of patronising his own business over 100 miles away… er, right, no need to answer that.
Because why did Trump's tacky golf resort at Doonbeg (Room: €220 a night), where he stayed, send the Irish government a bill for €113,000 just for feeding his own security entourage for two nights? Money, the profit margin of which ends up in Trump's pocket?
This is disgusting.
Even when travelling about the USA, mostly to his own leisure resorts, Trump incurs huge costs, that are passed on to the taxpayer or to the local authorities, whose pleas for reimbursement are not being met.
It's alleged that the cumulative total cost of Trump's golf habit alone is approaching $150 million. And we note that a goodly proportion of that comes back to him in the form of profits from serving Cockroach Surprise in the restaurant, renting rooms and other essential facilities, such as golf carts.
If American presidents wish to swan around the world, swanking and showing off how hubristically powerful they are, let the bloated parasites pay their own goddam bills.
Fore!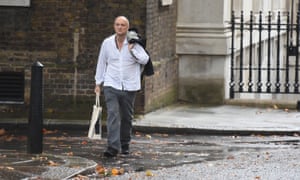 Homelessness is on the increase under the Conservatives. After pawning his gilet, Ramblin' Dom Cummings goes to visit his friend Bannon to see if his sofa is free.
GW: Oh, the weather outside is frightening
British Isles: "In a remarkable burst of rapid intensification," Wunderground reports, "Hurricane Lorenzo vaulted to Category 5 status late Saturday, becoming the Atlantic's second Cat 5 storm of the year, the strongest hurricane ever observed so far east in the Atlantic, and one of the northernmost Cat 5s on record. As of 11 pm EDT Saturday (28 Sept.), Lorenzo was packing top sustained winds of 160 mph. Lorenzo's sudden strengthening took even veteran hurricane forecasters by surprise."
As to where this enormous brute of a storm is headed, buckle up, chaps….
And Thursday, 3 October just happens to be your Old Granny's 70th birthday! What a treat.
Seriously, no weather forecaster expects Lorenzo to arrive at hurricane strength but it will add to days of gusty winds and, in places, heavy rain that has left surface flooding covering many parts of the country and rivers like the Wye at flood stage. The first snow of winter is forecast for the Scottish highlands later this week.
Postscriptum: Promised "two weeks of rain will fall in one hour" today, with 78 amber flood warnings, I throw a coat on over my T-shirt and take Hunzi for a precautionary stroll past the sewage works. After 20 minutes of blazing October sunshine it is 20.5C and I am perspiring heavily. The mercury hits 22.2C by 13.00 before dropping 5C in 2 hrs. as a little rain arrives. Happy days.
Europe: Letters from researchers in Geophysical Research assert that so-called "cold" days in European winters, the coldest days are on average 3C warmer than 70 years ago.
USA: North of the looping jetstream, another of those wayward Arctic plumes has descended across Canada, the Rockies and the northern states of the USA. At the time of writing snow depths in northern Montana were up to 2 feet, but another 2 feet is expected as the weekend wears on, spreading to lower elevations, with 60 mph whiteout gales – a historically life-threatening storm for September, according to Accuweather. Roads are freezing faster than they can be gritted, and there are reports of power outages and downed trees.
Meanwhile: The unseasonal heatwave affecting southeastern states is moving northward, and will bring temperatures in the mid-90sF, mid-30sC to New York – a <20F anomaly – this week.
India: "Unusually late monsoon rainfall has caused severe flooding in northern India, where over 120 people have died in the states of Uttar Pradesh and Bihar. Meanwhile officials have confirmed that the death toll of last week's flood disaster in Pune, Maharashtra, now stands at 21, with a further 5 people still missing." (Floodlist) The Guardian reported, 27 Sept., that the monsoon season has overrun by a month, causing crops to rot in the ground and food prices to rise.
Japan: Yet another typhoon "may approach western Japan from Wednesday to Thursday, the Meteorological Agency said Sunday. Typhoon Mitag, the season's 18th, is expected to gather strength Monday and move close to Okinawa Prefecture, the agency said, warning of possible strong winds and rough seas." (Japan Today)
Turkey: "Heavy rains hit the northeast of the country on 28 September, causing flooding and landslides. Buildings were damaged and several roads closed after landslides and streams overflowed. 13 people trapped in buildings by floodwater were rescued." (Floodlist)
Tunnel approaching…
Overpopulation: The leader of a popular Japanese minority party whose central policy is to close down NHK, the national broadcaster, has called for genocide to reduce the world's population of "idiots who breed like dogs".  Mr Takashi Tachibana suggests that discrimination and bullying are forms of divine providence. "Isn't it good for things to be natural? The natural order God created. People killing each other is part of God's system, too," he says. (Japan Times) At the last election, Mr Tachibana got close to a million votes.
Divine intervention: The default for politicians preparing to do pretty much nothing to help people avoid approaching natural disasters is to offer their "thoughts and prayers". A new US study conducted in the wake of Hurricane Florence found that while Christian participants were willing to part with money to receive thoughts and prayers from others, atheists were more willing to pay to avoid them. (Proceedings of the National Academy of Sciences, cited in The Guardian, 16 Sept.)
Moving ahead: Michael Mobbs, a former environmental lawyer who converted his Sydney, Australia terraced house into the country's first self-sufficient, off-grid city eco-home, is selling up and moving to a remote coastal community. He fears the city is not best placed to survive the complete climate-change-induced socio-economic breakdown he foresees within the next 3 to 5 years. (Guardian Australia)