Quote of, er, one or two days…
Americans Shocked by Spectacle of Legislators Taking Action
"Across the U.S., television viewers watched with mouths agape at startling images of elected officials seemingly intent on performing their constitutional duties." – US humorist, Andy Borowitz on the Commons vote to debate the no No-Deal bill.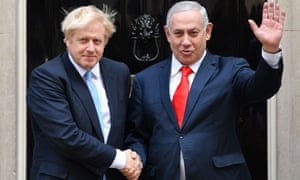 "Hang on tight, my friend, it's going to be a bumpy ride."
Dementia news
(This item appeared previously in The Boglington Post, 31 Aug.)
"Kevin McAleenan, the acting secretary of homeland security, told ABC's This Week the president would lead 'really a whole lot of government effort, and the president is going to make sure that we're on the same page, that we're tracking this, and that we're going to be ready.'"
"Trump sowed confusion earlier when he said incorrectly that Alabama would be hit by the storm, forcing the National Weather Service to issue an update. He later repeated the mistake at a press conference. He also repeated his claim that he was not sure he had "ever even heard of a category 5" hurricane.
"The increasing strength of the storm makes this the fourth consecutive year that at least one Atlantic cyclone has reached category 5, according to the NHC." And Trump's leadership strategy?
"Americans should 'pray for the people in the Bahamas', Donald Trump announced from Washington" as south-eastern US states looked on nervously. That should help, although everyone is already busy praying for the victims of the latest mass-slaughter in Texas, over which the regime dares take no action whatever, with an election looming.
To be really ready for natural disasters, the Trump administration recently ordered another transfer of funds out of the Federal Emergency Management Agency (Fema) budget, an easy target, to pay for increased border security.
(Quotes pulled from a Guardian report, 02 Sept., as Dorian rips into the Bahamas at 200 mph.)
Postscriptum
Mad King Donald has appeared at a presser in the Oval Office, waving a thoroughly unconvincing map of the southeastern US, on which "someone" had used a black marker pen – known to Americans as a Sharpie – to add a big, wavery, extra bulge on the western side of the official National Hurricane Center's forecast track of Dorian from last week, to include Alabama – where there was no prior indication the hurricane was headed.
This was in order to "prove" that he had been right all along when he twice said the storm was heading for Alabama, a claim that has been much derided in the media after the NHC said it was incorrect. Dorian would go nowhere near Alabama. The additional drawing altering the forecast – "fake news" that set off panic buying in the Sweet Home state – was in a different color.
Utterly unable to accept, ever, that he has made a simple mistake, the man is beyond mockery. He is completely insane and must be removed from office as a danger, both to himself and the country.
A Big Lie
MSNBC's Rachel Maddow draws our attention to another tweet frae the tiny thumbs of the liar-in-chief.
It seems that it has now sunk in that, instead of trashing Alabama, Hurricane Dorian has trundled northwards up the east coast and is spinning about 50 miles off North Carolina, picking up energy from the warm waters, dumping vast amounts of rain and looks likely to sit there as a devastating Cat 3, with 115 mph winds until the weekend.
It's a bad situation. So N. Carolina's governor, Roy Cooper, has fulfilled his statutory duty and made a request for FEMA emergency aid as a million people are ordered to evacuate coastal areas. It's the governor's job to do that. People are puzzling, then, as to why Mr Trump has tweeted out that he is considering a request for FEMA aid put in by Senator Thom Tillis of N. Carolina. It's not his job to do that.
Who? What?
Well, it seems Sen. Tillis is a Republican and up for re-election next year; while the pathetic and incompetent booby, Governor Cooper can't be trusted to put in his own request for aid.
Because he's a Democrat.
You see, it's only a minor thing, but we have to understand that this shit-for-brains in the White House is prepared to make political capital out of anything, sink to any depths, tell any lie, trash any opposition to get himself re-elected, and that nothing he says, tweets or does from now on, if it ever was, can be trusted not to be "fake news", in his own argot.
The alternative to re-election could be a very long spell in gaol.
Another Big Lie
Trump is not the only wannabe despot living in a complete fantasy world of his own making, where the economy is rip-roaring away, China is on its knees gagging to do a trade deal, non-existent hurricanes are trashing Alabama and thousands of illegal immigrants are roaming around Texas looking for women to rape and kids to sell marijuana to. Oh, and by the way, he's The Chosen One.
Or, to put it another way, lying through his unreliable old teeth.
"Brussels has responded with bafflement to Boris Johnson's claims that progress is being made in the Brexit talks, with EU officials saying discussions are going nowhere. The prime minister and his cabinet have insisted that the outlines of a deal are in the making and that attempts by MPs to rule out a no-deal departure will kill that momentum. However, EU officials said that nearly two weeks after Johnson met the German chancellor, Angela Merkel, no alternatives to the Northern Irish backstop had been tabled." (Guardian, 3 Sept.)
Nor are EU apparatchiks entirely sure where these British negotiators have got to, that Johnson says are popping over to Brussels twice a week to hammer out a deal. They've seen few signs of them.
"'Where have these people been for the last two years?' asked one EU official."
Suspicion is growing in Brussels that the negotiations, such as there have been any, are a complete sham and that Johnson and his ERG cabinet have no intention of doing a deal; certainly as they have not put forward any constructive ideas, especially in relation to the Irish border "backstop" arrangement that would keep Northern Ireland in the Customs Union and Single Market for two more years, which Johnson has repudiated in favour of a vague customs arrangement, an "invisible border" based on some still non-existent "technology".
Meanwhile the pound this morning hit $1.19, as low as it's been since 24 June, 2016 – the day after the referendum. And a handwritten note from Johnson has been produced at a court hearing in Edinburgh, where MPs are bringing a case that his prorogation of Parliament is unlawful, showing that he had already taken the decision to shutdown Parliament without telling the public, two weeks before he sent sloucher Mogg to browbeat HM Queen into agreeing it. Something he has denied.
Wake up Britain! We're being conned.
Postscriptum: Defeated in the Commons on a procedural motion to allow a further vote on a bill to make leaving the EU without a deal illegal – losing his first Commons vote as Prime Minister – Johnson lashed out at rebel members of the Conservative party, ordering that 21 of them should forfeit the party whip – among them, Winston Churchill's grandson, a tearful Sir Nicholas Soames, who has been a Tory MP for 37 years.
The action has reduced Johnson's Commons majority to minus 22 – not including the increasingly irrelevant 10 members of the Democratic Unionist Party of Northern Ireland.
Forcing so many men and women of principle out of your party just ahead of what may be a snap General Election next month and when you need to win several crucial votes in the meantime does not seem like the best idea, unless you want Nigel Farage's Brexit party to win.
But that is the next parallel we find between Johnson and Trump: their tendency to overentitled, childish petulance and tantrums in the face of what they perceive to be personal disloyalty; "traitors" putting country first, ahead of their crazed ambition.
Post-postscriptum:
For the record, the very next day Johnson lost three more votes in the Commons, while in the face of ERG attempts to filibuster, the House of Lords voted to send the Benn bill making No-Deal illegal back for its second reading. Pro-Brexit propagandists have launched a series of vicious attacks in the rightwing media, accusing the 21 holdout Tory MPs and poor Mr Corbyn, who has declined to fall for Johnson's call for an early election, of cowardice and treason.
History is being stood on its head, as Brexiters inflamed by the insane rightwing media blame "Remainers" in the Commons for undermining democracy and defying the referendum result, when it was Johnson, Sloucher Mogg, Duncan Cunt, Ugly Patel, Dominic the Serial Killer Raaaab and the other members of the rabidly Europhobic ERG who were the holdouts against a deal that would have seen us out of the EU by now, and who are trying to shutdown debate in Parliament.
Regardless of those abusive descriptors, or perhaps because of them, Boris' more sensible younger MP brother Jo has resigned his ministerial post, citing "unresolvable tension" between "family loyalty and the national interest". Brexit is creating toxic, internecine warfare across the country and must be abandoned now, for all our sakes.
Your Uncle B. has Commented: "The last time I felt like this was when watching the planes flying into the World Trade Center on TV, knowing that nothing would ever be the same again."
The rate of suicides in Britain is now higher than it was 17 years ago, especially among middle-aged men.
Not on the fairway….
The House of Representatives' Oversight Committee has been investigating for several months, internal messages that suggest regular US military flights between the USA and destinations in Europe and the Middle East have been ordered to stopover in Scotland, where crews have been forced to put up at Donald Trump's loss-making Turnberry golf resort; thus diverting many hundreds of thousands of dollars of US taxpayers' money – the sacred military budget – into Trump's personal pocket. (Politico/MSNBC report)
Meanwhile…. the Washington Post is reporting that Trump is defunding anti-Russian influence programs in Europe to divert money to his ludicrous border wall; and witholding military aid to the Ukrainian government until they supply him with "dirt" undermining the candidacy of former Democratic Vice President, Joe Biden. I'd offer more on this, but I can't afford the $90 to get over Mr Bezos' paywall.
GW: Blow the wind northerly

Hurricane Dorian is slowly churning up the east coast of the USA towards the Carolinas, after battering the Bahamas with record winds and a massive 23-ft storm surge on 1 and 2 Sept. At least 20 people are now known to have died on the Abaco islands, which have seen "unprecedented devastation" according to the Bahamas Prime Minister. The reconstruction bill will mount into many $billions.
Update 5 Sept.: Hurricane Dorian continues tracking north/northeast and is approaching the coast of South Carolina this morning, Sept 5th. It has re-strengthened back to Category 3 and will be tracking just about 30 miles offshore the coast of the South Carolina and likely make landfall across the outer banks of eastern North Carolina. Central pressure is down to 957 mbar with sustained winds of 115 mph. (Severe-weather.eu)
Severe-weather.eu adds that Dorian seemed hell-bent on erasing Grand Bahama from the face of the earth: "Some areas of the island were exposed to maximum winds for over 12 hours, far longer than typical for hurricane landfalls. (In the event, the hurricane took 36 hours to traverse 5 miles of territory.) Additionally, major storm surge inundated large parts of the island. Reports (confirmed by aerial footage Wednesday) indicate total devastation, with buildings in some areas levelled to the ground" and boats tossed far inland.
SE Asia: "Disaster management agencies in Thailand and Vietnam report that 6 people have died as a result of wind damage and flooding from Tropical Cyclone 'Podul'. Podul made landfall over Quang Bình Province in central Vietnam on 29 August, 2019, with maximum sustained winds of 55-65 km/h. The next day the centre of the storm had moved to Thailand, where the storm was forecast to weaken and eventually dissipate."
Africa: At least 1 person died and almost 300 homes were severely damaged or destroyed as a result of flooding in the Central African Republic in late August. "Flooding affected areas in the north west of the country, close to the border with Chad, from 19 to 20 August. Water and sanitation infrastructures have also been destroyed." 5 bridges connecting to flooded localities have been washed out, hindering rescue efforts (Floodlist). Parts of northern Nigeria are also continuing to experience widespread flooding after several weeks of rain.
North Africa: "More flooding has affected areas of Morocco. 2 people died after a storm, heavy rain and floods in the province of Khenifra, Béni Mellal-Khénifra region, on 2 Sept. Flooding was also reported elsewhere in the country. On 1 Sept. heavy rain in the Atlas Mountains caused a massive debris flow, resulting in widespread damage. Earlier this week at least 7 people died after flash floods swept through a small village in Taroudant province. 39 people have been rescued from flood waters in northern Algeria after torrential rain. In a 24 hour period, 127.3mm of rain fell in the city of Skikda, around 4 times the monthly average for September." (from Floodlist)
Tunnel approaching….
Microplastics: A paper by researchers at the Scripps Institute published in Science Advances (I know, sounds a bit like Mars Attacks…) found that "since the 1940s the amount of microscopic plastics in the sediments has doubled about every 15 years. In 2010, the most recent year analysed, the pollution had reached almost 40 particles per 10cm by 10cm patch of ocean floor every year. … Humans are believed to consume at least 50,000 microplastic particles a year through food and water. The health impact is unknown." (Guardian Green Light)