Quote of the week:
twitter.com/IamHappyToast/status/1171050051860422657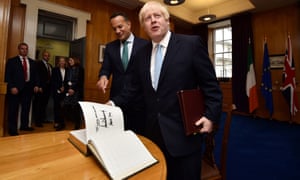 "Oh look, it's Sharpie and Harpie!"
Johnson finds the Trumps got to Ireland before him (and complained about the bedbugs).
Let us celebrate John Bolton Day, 10 September annually, when we burn him and his noxious mustache in effigy
Bolton has, he says, quit his position as President Trump's National Security Advisor, after a row with the thin-skinned, permatanned one over being sidelined over talks with the Taliban.
His account doesn't quite square with the White House's, that Trump fired him, but the effect is the same. Many people are joyfully hailing the possibility that Trump's next pick might be a less irascibly Irish, more peaceable fellow with fewer instincts for regime change and imposing US-style democracy on the world by force of arms.
(US media count eight wars prosecuted with Bolton's involvement.)
Trump announced just days ago that he had cancelled peace talks with the Taliban, due to be held at Camp David, following another onslaught by Taliban forces that killed lots of Afghan civilians. Bolton's astonished response indicated that Trump had kept him out of the loop.
But in addition to not wanting a drawdown of troops in Afghanistan, the mustachioed one also opposed Trump's famous nuclear deal with North Korea (that hasn't quite yet happened) and attempts to renegotiate the perfectly sound Obama-signed deal Trump abrogated with Iran, where Bolton made no secret of wanting to invade.* Trump is also concerned that Bolton is advocating replacing Venezuela's President Maduro by force.
As usual, he learned of his fate by tweet. Trump is a terrible coward when it comes to firing people face-to-face. Especially that face.
For some reason, oil prices fell on the news.
*Secretary of State, Mike "two lunches in a suit" Pompeo is today trying to spin an attack by drones flown by Yemeni rebels on a key Saudi Barbarian oilfield as having been perpetrated directly by Iran. These people will never give up their insane ambition for US business to conquer the planet.
When will they ever learn?
This is the story roughly as told by a US online news comment show, TYT Nation, which has an inaudibly adenoidal and slow-minded presenter. I hope the details are correct.
So. On the campaign trail in 2016, Trump convinced the voters of key swing-state Wisconsin and its controversial Republican governor, Scott Walker, that he'd done a $4.5 billion sweetheart tax deal with Chinese electronics giant, Foxconn, to build a huge plant that would, by 2022, employ 13 thousand of the state's great workers.
Everyone took him at his word.
Foxconn is known principally for manufacturing iPhones on contract to Apple – and for its notorious addition of anti-suicide netting to its factory rooftops in China after a spate of migrant workers reportedly threw themselves off while suffering depression after being made to work many illegal extra hours for no extra pay, often sleeping at their workstations, inhaling toxic chemicals, while far from home and warehoused on-site in vast, impersonal dormitories.
Things seemed to be moving ahead when demands to purchase land (including residential homes) went out from the state authorities, residents being threatened with compulsory removal without compensation if they refused to sell (known in the US as "eminent domain", where the government deems there to be a strategic necessity and is empowered to seize property). 75 homes were thus bulldozed, families forced out, and a large site cleared for buildings and an access road, that have yet to be built.
Indeed, construction has not yet started, and very probably never will be.
Because Trump's deal never existed. It was a scam, so it appears.
In the meantime, Foxconn had opened a small plant employing just 60 people, of whom 15 – unpaid interns – were almost immediately let go because there was no work for them to do. (That was my first "work experience" too, being fired for no reason, age 16! UB.) $7 million had been spent on a campaign to recruit workers from out of state, as the necessary skills didn't exist locally among the "great" workers of Wisconsin.
Since when, Trump has imposed swingeing trade tariffs on China, sanctioned the equally giant Huawei electronics company (bullying Google to stop supporting its Android apps on Huawei cellphones and attempting to prevent foreign countries from incorporating Huawei-supplied components in 5G networks), imprisoned one of its senior executives on possibly Trumped-up copyright theft charges, and the Foxconn deal has apparently gone sour – if it ever properly existed, there seemingly being no signed contract committing them to deliver anything.
So much for the Great Deal Maker. So much for "America First!" – the deal benefitted only the Chinese, but does he care? He got the votes.
Maybe not next time.
And maybe Congress, desperately running to catch up to Trump's astonishing record of emoluments violations which he continues to indulge (and deny!) while in office, visibly enriching himself and his family at public expense, could start looking into his and Kushner's relationships with Chinese banks, to see how such sweetheart deals might improve their position of chronic indebtedness with these state-owned entities.
"When will they ever learn?" As Marlene Dietrich so poignantly sang.
(Report: TYT Nation, citing Bloomberg and others)
A French company has been found liable for the death of an employee who had a cardiac arrest while having sex with a stranger on a business trip. A Paris court ruled that his death was an industrial accident and that the family was entitled to compensation. (BBC)

And we want to leave the EU?
Time to end it, #11,947
Late of RT-USA, Thom Hartmann is one of the more sober, centre-left, articulate and extremely well-informed of the many independent online podcasters – forgive me, I'm uncertain of the terminology. Vloggers? – found in 15-minute clips on YouTube.
In a thoughtful piece, he reminds us that the increasing public acceptance of corruption in high places is destroying the country – and Trump didn't invent it. Nixon, Reagan and George HW Bush all had their own corruption scandals hushed-up, that nobody talks about. As of course did Clinton, although he got impeached for lying.
However, unless the Congress is willing to call Trump out for what he is, and importantly also make an example of his many corrupt officials and enablers, future presidents will think themselves at liberty to behave even more irresponsibly.
It's worth a watch.
http://www.youtube.com/watch?v=NTUcvDy625U
While over on CNN even Anthony Scaramucci, the excitable, cocky, potty-mouthed little New York "investment manager" who lasted ten days as Trump's Head of Communications during which he appeared to go crazy with power, is now quietly and soberly and articulately proposing that the Republican party has to overcome its fear of the office, put up some credible opposition in the primaries, and quietly remove Trump on medical/psychiatric grounds, as the President is clearly unwell and lying insanely through his ill-fitting teeth about absolutely everything.
Surely to God, when the President of the United States becomes so completely obsessed with proving he didn't make a silly mistake over a goddam weather forecast that he crudely (and illegally) fakes an official map, and when even his Commerce Secretary and his Head of Staff get dragged into the row, when threats are made of senior meteorological heads rolling for failing to protect him, the "Is it time to question his mental competence?" headline must now gain some traction, finally, after three years of this seemingly never-ending lunacy?
Global laundromat
According to US historian Lamar Waldron, President Nixon would receive money from foreign potentates to influence US policy, for his "re-election fund", and would put the money on deposit with a crooked bank run by his friend, Bebe Rebozo.
At one stage, says Waldron, as a means of turning the capital into completely untraceable cash income, the two men actually bought a coin-operated laundry business in Florida.
Where are they now? #147
"Business dealings between US President Donald Trump's daughter Ivanka and wealthy Malaysian developer Tiah Joo Kim, are being investigated by the United States' Federal Bureau of Investigation, CNN reported. Quoting a former and a current US official, CNN reported that the FBI is scrutinising the negotiations and financing surrounding the Trump International Hotel and Tower in Vancouver. The US$360 million Trump tower was developed by the 37-year-old Tiah, the son of tycoon Tony Tiah Thee Kian." (Straits Times, 4 Mar., 2018.)
And…..?
Well, there was a hint of an insinuation in US media at the time that Trump may have been looking for reasons to move his beloved daughter and Plastic Ken out of the White House, where he found them an irritating distraction from his autocratic project. He really doesn't like being told what to do. And sundry reports of the business model followed by Trump Org. might suggest a possibility of money laundering, although a cursory check shows Kim seems sound enough, for a Malaysian businessman.
Still, as with so many other matters Trumpian under investigation that the national blanket of amnesia seems to have gently fallen over since 2017, it would be nice to know what happened, after 18 months.
Indeed, what has happened to that other FBI inquiry, also floated by the Straits Times, into allegations that money from the £4.5 billion MDB1 sovereign wealth fund scam ended up in Trump's SuperPAC, while his buddy, Republican fundraiser Elliot Broidy, was allegedly trying to shakedown one of the prime suspects for $73 million, to make the investigation go away?
Could we not be told before the Orange One gets re-elected, maybe?
Johnson: there's no explaining it. Or is there?
Despite:
losing his first six votes in the Commons as Prime Minister,
abandoning his wife to face surgeries for cervical cancer* and running off with a much younger woman,
being outed as a drunken domestic abuser,
making increasingly incoherent and rambling speeches,
insulting other European leaders, women and minorities,
firing 21 members of his own party for 'disloyalty',
making even Corbyn look good at Prime Minister's Questions,
having no plan to exit the EU by 31 October despite pretending he has,
being under the malign control of a monstrous egomaniacal psychopath,
having shut down Parliament for 5 weeks to avoid having to ask for an extension to Article 50,
refusing to allow staff and aides to surrender evidence of collusion over his No-Deal strategy,
threatening to ignore the law that says he can't leave the EU without a deal or an election, putting himself at risk of imprisonment,
conning the Queen into conspiring in an illegal prorogation of Parliament,
…and after even his own brother has resigned the Tory whip – along with other serving ministers who can no longer stomach his lies, laziness, incompetence and grand delusions –
Boris Johnson still has a lead in the polls.
"Still, 'e's jolly entertaining. Remember 'im on TV? Cor blimey, 'e were funny! 'e'll teach them garlic-munchin' sausage eaters a fing or two abart good old British spunk!"
Yes, it's the 80th anniversary of the start of the years when plucky little Britain stood alone against the ravening might of the European Nazi horde. And by God, if Brussels wants to rule the waves, we'll do it again! Winston Johnson is the man for our times! (Even if he has sacked @realWinston's grandson.)
Heil Boris!
*Any woman who has had unprotected sex with Johnson should go for screening immediately, as male partners may carry the Human Papilloma virus, believed to be a common cause of cervical cancer.
GW: Still thinning on the top
France: According to the Ministry of Health, 567 people died from proximate causes during France's first heatwave this year, from 24 June to 7 July. A further 868 died during the second from 21 to 27 July. France recorded its highest-ever temperature of 46C (114.8F) in June. (BBC) Extra precautions this time prevented the much greater loss of life – 15 thousand – experienced in the heatwave of 2003. Over half this year's victims were 75+; 10 died while at work.
Japan: "A powerful typhoon in Japan has left more than 100 flights canceled, thousands of travelers stranded at the airport, and nearly 1 million households without power. Typhoon Faxai, which made landfall early Monday morning in the coastal city of Chiba, brought heavy rain and winds of 128 miles per hour, according to the Japan Meteorological Agency." The storm then moved over Tokyo where it paralyzed public transport, stranding thousands of commuters. (CNN). 3 people are known to have died. More storms are forecast, with 30+ degrees C. and 80 per cent humidity for Rugby teams to contend with, as they gather in training camps in advance of the World Cup.
The verdict: "Cat 4, weakening to 3, Faxai was the strongest typhoon to hit Tokyo in recorded history. "Though the storm is now heading out to sea, strong winds and heavy rainfall are still affecting the west coast of the country. The Foreign Office has put out some official travel advice for rugby fans looking to head to Japan. 'Strong winds and heavy rainfall are expected,' they say, 'with potential disruption to transport and other essential services.'" (The i)
Korea: "Typhoon Lingling passed over the Korean peninsula 8 Sept., leaving 5 dead and 460 houses damaged or destroyed in North Korea, according to state media. The storm flooded 460 sq km (178 sq miles) of farmland, the official KCNA news agency said, in a country already suffering food shortages." Lingling earlier killed 3 people in South Korea, including an elderly woman picked up by the wind and slammed headfirst into a wall. (BBC)
Cambodia: 7 people have died in recent floods, which have displaced 7 thousand families and inundated thousands of homes. Flooding has also caused severe damage to crops and livestock. Rivers continue to rise. Further heavy rain is expected. (Floodlist)
Australia: More than 80 fires have been burning for days on Queensland's Sunshine Coast. Guardian Australia reports, some 20 properties have been destroyed and another 27 have been damaged since the bushfire crisis began on Thursday, including the historic Binna Burra Lodge. The ruins of the lodge, one of the oldest nature-based resorts in Australia, are surrounded by blackened remnants of what used to be lush Gondwana (primeval) rainforest in the UN heritage Lamington National Park.
The minister responsible for drought and natural disasters, David Littleproud, has said he "doesn't know" if climate change is man-made, and it's not important – as long as Australia continues to produce "high quality" energy from coal. The Environment minister, a woman of some kind, equally pig-ignorant, has rallied to his support.
Granny Weatherwax comments bitterly: The world has more than its share of tenth-rate, moronic, venal or corrupt liars, ecocidal criminals careless of the now unavoidable fate of humankind and the truncated lives of their own children, greedy for money and a little transient power. Why do so many of them have to end up working as politicians? And in Australia?
New Zealand: Heavy rain on 10 Sept. prompted evacuations and caused flooding and landslips in the Coromandel Peninsula. 260mm fell in 24 hours. A local civil defense manager commented: "Although we saw the rain coming, it was twice as intense as we were advised." (Floodlist)
West Africa: Floods continue to spread across Nigeria. In Niger, the death toll from last week's flooding has risen to 57. Flooding in Chad and Mali has displaced hundreds of families. Several other countries are affected. The UN is talking of a humanitarian crisis. At least 7 people have died in a landslide in southern Ethiopia. The disaster occurred after heavy rain during the afternoon of 07 Sept. (Floodlist)
USA: Accuweather reports: There are dozens of active wildfires in the western U.S. from California to Washington, Montana, Wyoming, Colorado and New Mexico. The Walker Fire, burning in the Plumas National Forest in Northern California has consumed more than 44,000 acres and was only 10% contained as of Tuesday morning. Temperatures are forecast to climb back to and above seasonable levels later this week and into this weekend.
Yes, it's been a bit cooler in the West the last few days. So much so, that several inches of snow have fallen in Utah….
Meanwhile for a swathe of the Midwest from Kansas through to Minnesota, guess what? That's right! Hail, torrential rain, flash flooding, tornadoes, damaging winds…. No such thing as climate change. Not happening. 3x T-2 tornadoes that touched down in Sioux Falls, S. Dakota on 11 Sept. left a shopping district in shambles, downed power lines and caused severe damage to a hospital. (Accuweather)
Mid-Pacific, Hawaii posted its hottest summer on record. Data for a handful of specific sites—Honolulu, Hilo, Lihue, and Kahului—reports Weather Underground, make a strong case that this summer's heat across Hawaii has been unprecedented, setting many new records both high and highest low.
Oh, and don't tell Trump – "A tropical wave festering near the Southeast Bahamas may gradually organize as it heads toward Florida and the eastern Gulf of Mexico."
Turkey: For some reason, we missed – oh, I remember, your Gran was away – torrential rain and severe flash flooding in Istanbul on 17 Aug. Some parts had 100mm rain in a few hours. Anyway, back in the Mediterranean, more torrential rainfall with potential for widespread flash flooding is the forecast for the rest of the week for Spain and the western Med. 11 Sept. And we're talking up to half a meter of rain in places. (Severe-weather.eu)
Arctic: Watching the BBC Weather forecast for the week, I suppose it's no surprise forecaster Darren Betts concentrates on remnant Dorian and remnant TS Gabrielle bringing wind and rain – and then warming temperatures, followed by high pressure – to the Fortunate Isles by the weekend. As your Gran has often observed, however, it's what's going on over his left shoulder that's of more interest.
A massive wave of warm, tropical air preceding what look like two more cyclones is shoving up past Iceland into the Arctic, where 17 September is the annual peak day for summer ice loss – already at a record low volume. Arctic News reports, 9 Sept., current air temperatures across the polar region at 4.41C over the 1880-1920 (?) global average and sea surface temperatures off Svalbard at 15.2C above the 1981-2011 average.
Mean global methane levels (720 ppb in 1750) were as high as 1911 ppb on the morning of 3 Sept. Methane is increasing faster than CO2 and up to 150 times more damaging. The "Sam Carana" editorial team is still betting on an extinction-level 5C global rise by 2026 and fretting that it will include enough methane to trigger the loss of reflective marine stratocumulus cloud, leading to an additional 8C of warming. (Arctic News)
Antarctic: A possibly unprecedented, sudden warming of the stratosphere over Antarctica, with temperatures an alarming 40C above normal, reveals just how complex climate science can get. Because, the effect is to push cold air at lower altitudes out sideways: thus large parts of Australia will see its already record-hot Spring temperatures plummet to a wintery 10C below-normal anomaly next week, lowering the risk of more wildfires – while the heat in the stratosphere will also have the effect of preventing the chemical reactions that cause the annual widening of the as-yet unrepaired hole in the ozone layer, actually helping to shrink it (and thus reduce damaging ultraviolet light from reaching the ground). (extreme-weather.eu)
It's an ill-wind, as they say.
Tunnel approaching….
Fukushima: The Tokyo Electric Power company responsible for cleaning up the disaster at the Fukushima nuclear facility where three reactors melted down after the 2011 tsunami, has said it is running out of storage space for over a million tonnes of radioactive coolant it has been only partly successful in decontaminating, and will need to start emptying it untreated into the Pacific by 2022. Local fishermen are protesting.
Bahamas: While government figures are still claiming the death toll from Hurricane Dorian is just 45, local media are speculating that 3 thousand or more may have died. Officially, 2,500 are missing (12 Sept.) Geographer and climate change activist, Prof. Paul Beckwith has looked at the numbers and estimates on the basis of local eyewitness accounts, population distribution, figures for missing, how many people may have left the island in time and the impact of the storm seen in photographs, that the final toll could be as high as 40 thousand.
Iceland: volcano watchers are monitoring a build-up of pressure in the Grimsvoten volcanic field under the huge Vanajökull glacier in anticipation of a major eruption. "The trend has increased lately, and with stronger earthquakes and more pressure in the volcano, it is possible for Grimsvotn to erupt within the next 4-12 months." say the experts. They don't know which volcano might blow, but bets are on Hekla, the most frequent eruptor. (Severe-weather.eu)
Human extinction: John Doyle is the EU's director of Policy Outreach and International Affairs. He gives a scary presentation in a video recorded at a recent symposium for UN aid agencies, available for now on the Arctic News website, in which he confirms the little publicized diagnosis of climate scientists that we are looking down the barrel of a planet-killing 10 deg. C of warming within the next "20 to 30 years".
To get there, he notes, we have to pass 4 degrees, and that's curtains for most of the human race. Food yields, he points out, are already plummeting due to climate change; parts of the world have already become almost uninhabitable due to excessive "wetbulb" temperatures. Vertebrate species and insect populations have collapsed. Forests are burning. And there is no "unless…" – no technological solution is on the horizon and one becomes even less likely as we try to retreat from fossil fuels, effectively ending global action. We have done this to ourselves.
"Most of you will be here at the end", he concludes.