Details of Operation Yellowhammer, the full horror story of the UK Government's own predictions, released under duress from the Johnson Dark House (except that they were leaked in The Times two weeks ago) predict that within 24 hours of a No-Deal Brexit, there'll be a 1.5-day-long backlog for goods to clear customs at Calais; and within another 24 hours we'll be waiting so long that all the goods will have perished, supermarket shelves will be emptying, prices rocketing, and people reliant on insulin will have died.
Things can only get better.
The Madness of King Donald….
"A lot of people want the job. It's a great job. It's great because it's a lot of fun to work for Donald Trump."
Er…. yes. That was – Donald Trump speaking, in what's become known as a "chopper talk" press gaggle on the WH lawn, posing in front of his airforce helicopter (that doesn't work in the rain), explaining that he will have no trouble finding a replacement for John Bolton, the mad neocon armchair warmonger he hired last year as his third National Security advisor, and fired the other night as they appeared to agree on absolutely nothing and besides, he always hated that yellowing signature soup-strainer Bolton sports on his horsey upper lip, as it got him so much publicity.
Defending his attempt to rollback the phazing-out of energy-intensive tungsten lightbulbs, something we did in Europe about 20 years ago, Trump told a gathering it was because eco-friendlier low-energy bulbs "Always make me look orange". This, in a speech to the Congressional Institute?
The guy has absolutely no self-awareness. The world is just an invention of his own diseased brain. A world through which he walks alone, troubled only by the shadows of the rest of us.
And then – this is the President who told another gathering this week that his wife Melania has a son – in wrapping up a rambling, delusionary and disorienting impromptu speech, he called Vice President Mike Pence: "Mike Pounds", and then looked momentarily confused.
For God's sake, Republican party, what the hell is wrong with you? You're headed for oblivion with this demented old fraud in charge.
(Based on actual news clips satirized on The Late Show, 13 Sept.)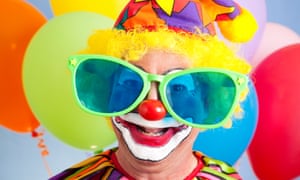 Double mammy: Al Johnson, as the PM might look in the age of color.
Depression news
Despite warnings from medical professionals and a number of deaths associated with the trials, Donald Trump has told his Health Department to order a vast quantity of a new, expensive, ketamine-based drug to be supplied to the Veterans Administration, for treating cases of PTSD in the military; where doctors have already advised, antidepressants can do more harm than good.
Are we to assume then that Trump "knows more about medicine than many doctors", as he once met a doctor, or perhaps is it a case of another anonymous million-dollar donation quietly appearing in his re-election campaign war chest?
And make no mistake. Muh good friend, The Pumpkin is betting his jazz collection on Trump getting re-elected next year, if he has not been carted off with his arms folded in the meantime.
Just as, after ten years of vicious "austerity" warfare against the poorer two-thirds of the country, and as we head into a recession, the mendacious and incompetent Conservative government led by a bumbling and entitled unelected oaf, a careerist dilettante, a serial shagger and amateur racist who proposes to destroy the economy by dragging us in chaos out of the EU with nothing settled, and who has been branded a liar and a chancer by no less than former PM, David Cameron; the party selling places in the lifeboats for the rich while the rest of us drown in a sea of bubbling-hot shit, has a 12 per cent lead in the public opinion polls.
On both sides of the Atlantic, populist lunacy reigns.
"More than 60% of US adults hold at least one "new age" belief, such as placing faith in astrology or the power of psychics, and 42% think spiritual energy can be located in physical objects such as crystals" – Guardian report. The International Labor Organization estimates about 85,000 children work in Madagascar's unregulated crystal mines, for the benefit of cretins like Gwyneth Paltrow and her tribe of emaciated airheads.
Depression News #2
It's an ill-wind… "Shares in oil companies have jumped this morning, following the jump in crude prices." (Guardian, jumping twice). Oil companies and armaments manufacturers are giving off the only signs that we're not heading into a global recession, accompanied by a mooted US-led retaliatory strike on Iranian refineries, as all other market indices were showing red this morning.
If you were hoping to avoid a 5p rise in the unleaded price at the pumps today, you're probably too late – althugh Trump is pumping ever harder. Aramco is now predicting it may take months to get back to full production after the drone strikes on the Abqaiq processing facility, which have interdicted half of Saudi Barbaria's refinery output – 5% of the world's oil supply.
Strikes for which the US has now managed to cobble together enough "intel" to suggest must have come from Iran or its proxies in Iraq, rather than from the Yemeni rebels who have claimed them.
Pundits now fear rising oil prices could be just the thing to kick off a global recession; while US banks – free once again to trade in dodgy debt-swaps with shareholder immunity risking only their depositors' savings – could be even more just the thing to trigger another 2007-style lending crisis and a consequent depression, from which there might be no escape this time. The ECB and the Fed have already got the printing presses smoking hot and interest rates set below zero, but will it be enough?
Buckle up.
I keep saying that, don't I? Yawn.
Depression News #3: "We can't be sure…" etc.
"…if anything is masked by dimming, it's the BBC".
In an online story today, the good ole BBC carries a series of interviews with climate scientists including former UK chief scientist, David King.
All of them admit straight away, they're scared. It's all getting out of hand. Extreme weather events are coming thick and fast. They're becoming more extreme, at an unpredicted rate.
But… we can't be sure that any one event is linked to climate change!
Why does the BBC keep on parroting this sanitizing mantra? What actual relevance does making individual connections have, when joining the dots is scaring the pants off the people who know?
"Dr Friederike Otto from Oxford University is an expert in the attribution of extreme events to climate change. (So's your Old Gran. It just comes natural, like…) She told us that in a pre-climate change world, a heatwave like this (France, June and July 2019, 46 and 43 deg. C) might strike once in 1,000 years. 'In a post-warming world, the heatwave was a one-in-a-100 year phenomenon.' (I know, that's twice in one year! and they had Lucifer in 2017, and another one last year, 15 thousand heat deaths in 2003. But carry on, Dr Expert.) 'In other words, natural variability is amplifying human-induced climate heating. (No, it's the other way around!) With European heatwaves, we have realised that climate change is a total game-changer,' she said." Indeed. Good experting there, Dr Otto. I'm sure you know, it's not a game.
But…  "it was impossible to be sure that the slow progress of Dorian was caused by climate change". Oh, really? We know what the meteorological mechanisms are for the slowing forward progress, the more rapid intensification and increasing moisture-content of hurricanes. And it's not just Dorian, it's pretty well all of them now. Harvey? Florence? Michael? Idai? Kenneth? The Terrible Twins, Lekima and Krosa?
We know the climate is warming. And we know that all weather events are (and were always) the product of Earth's climate.
Where's the difficulty then in assuming that events that are more unusual and more extreme and more frequent than the norm are the obvious products of a changing climate – an overheating world?
Oh, but, says the top UN climate science guy, we don't want to frighten the children!
Why the fuck do you think the children are striking and marching and demonstrating? It's because they're trying to frighten you! Why not listen to them?
And do stop telling us the world has warmed by "1 degree"! When you start from pre-industrial 1750 rather than 1880 you're looking at 1.85 degrees already. Adjusting other variables as the scientists at Arctic News have been doing (admittedly controversially) brings us to nearer 3 degrees, but masked by the aerosol effect known as "global dimming" we can go on pretending if you like.
Your Old Gran has made the point many times before: if anything is masked by dimming, it's the BBC.
"Two climate crisis protesters who removed Emmanuel Macron's portrait from an official building were justified in doing so because of the severity of the environmental emergency, a judge has said. ​The ​judge in Lyon acquitted the pair of theft in a ruling hailed as historic by campaigners." (Guardian)
And we want to leave the European Union?
Schools for scandal
"Each time a school becomes an academy the council must hand over the title deeds for the school if it has them (avg value £5m per school). As over 2,000 schools have been forced to become academies that is £10 billion (min) state assets (of which) Michael Gove has demanded the title deeds be handed to him."
Legal fees involved in this incredible scam, uncovered five years ago by Michael Rosen, the "Childrens' Laureate" at the time, amounted to another £50 million – all funded by the taxpayer.
Rosen's attempts in 2014 to discover who now owned the title deeds make for even more shocking reading: a FOI request backed, in the face of unlawful prevarication, by a court order eventually revealed, there were no paper records or any form of traceable audit of the transfers of £10 billion in titles to formerly public buildings and land to the governors of the new schools, many of them Conservative party notables.
Gove, he adds, secretly set up a private company to process the deeds. But the money itself could not be traced. He later changed the law so that academies – unlike every other charity in the land – don't have to publish accounts. Anyone "associated with the school" can now own the deeds, and even trade or sell them on; while the Government funds the payment of extortionate rents on the school properties to the new private "owners".
The deeds have, in effect, been converted to a traded bond currency with no IFA oversight: "dark money". While the "shareholders" of these new private school companies are indemnified at the public expense. THese are valuable public assets that have in effect been stolen by the state, and the money redistributed to private individuals.
Thus much of the money has ended up invested in offshore tax shelters and has been denied to the rest of our crumbling education system. As indeed, the schools were formerly in local authority ownership; while, as we know, local services – libraries, social care, housing, children's services, "meals-on-wheels", policing – pothole filling – have all been slashed to the marrow, thanks to the austerity measures imposed on us by this sickening bunch of rentier prostitutes, the Conservative party and its successive, failed governments.
Why this scandal is not better known, why the public has not burned down Parliament, I do not know. It is exactly the same system as was exploited by Vladimir Putin to vastly enrich his coterie of thuggish "oligarchs" in the new Russia, through the supra-legal disposals of holdings in formerly public companies; making himself probably the richest man in the world in the process. (He is believed to be worth twice as much as Amazon's Jeff Bezos.)
I learned about the scandal only today, from a link provided in a Comment on a Guardian piece reminding us how terrible Gove was as Education Secretary: principally, as evidenced by his cynical removal of classes covering civics, politics, contemporary history – and any mention of the EU – from the national curriculum, thus possibly explaining why there is so little resistance to Tory propaganda; so little interest in politics, or the EU, that the people can be easily bullied and manipulated into voting 180 degrees against their own interest.
It turns out, therefore, that in addition to being a duplicitous little shit, Gove is also very probably a criminal.
Would somebody please move for the arrest and trial of this mendacious little pox-doctor, on charges of conspiracy to defraud the public purse, and of misconduct while in office? Throw open the windows and let a little light and air in on his furtive activities? Whatever else by way of treacherous deception he might have engineered while nobody was looking?
And please Sir, can we have our education system back? No Tory government should be allowed within a mile of the school gates, they're nothing but a bunch of economic perverts and ignorance pushers.
Thanks.
http://michaelrosenblog.blogspot.com/2014/03/gove-nicked-our-schools-and-handed-them.html
GW: under my umbrella, ella

Parts of eastern Spain received what in some places was their heaviest rainfall on record on Thursday, 12 Sept., with severe flash-flooding, as storms wreaked (wrought?) widespread destruction and killed at least 4 people. The regional emergency service said a 51-year-old woman and her 61-year-old brother had been found dead in an overturned car in Caudete. 2 other motorists drowned in Almeria and Granada. The town of Ontinyent in Valencia had recorded more than 400mm (16-in.) rainfall by Thursday afternoon. The Clariano river rose 9 meters (30ft) in 2 hours. Regional airports were closed. (Guardian)
Bahamas: Tropical storm warnings have been issued for the northwestern Bahamas, including Grand Bahama Island. Disturbance 95L became Potential Tropical Cyclone 9 on Thursday afternoon and follows Cat. 5 Hurricane Dorian, which devastated the northern Bahamas last week (1,300 still recorded as missing.) If this system were to become a tropical storm, it would be called Humberto. As of 2 a.m. EDT Friday (13 Sept.), the center of the system was about 210 miles southeast of Great Abaco Island with maximum sustained winds of 30 mph. and potential to bring 300mm (15-in.) of rain (Accuweather) Behind it, a second disturbance has formed a disorganized system moving westwards out of the Cape Verde islands towards the Lesser Antilles, and stands a good chance of developing, monitors report.
Monday update: Strengthening hurricane, Humberto brushed by the Bahamas and then took a huge swing northeastwards, away from the Americas and out into the Atlantic. Bermuda is on standby. Watch out Portugal, or us, next week.
Brazil: Coffee lovers should consider stocking up on beans. Accuweather reports on market jitters, as: "the key coffee-growing region of Minas Gerais in Brazil has not had significant rain in three months. Average temperatures have been a whopping 7 degrees Fahrenheit above normal, and average precipitation has been 57% below normal since June 1." No rain is in the forecast for the next three weeks.
USA: As powerful storms continue to batter the Midwest, September 2018 to August 2019 was again the wettest 12-month stretch on record for the contiguous United States as a whole. March and July were the only months that were slightly drier than average, but still maintained the year-on-year record. The top five wettest Jan-Aug periods have all occurred since 1979. (Wunderground, from where the NOAA graph below, showing rapid intensification, is also taken.)
The floppy jetstream is once again plunging southwards, as far as southern California – 100F degree temperatures around Sacramento are likely to be in the 60s by early this week, a new storm system is moving in and there's a snow forecast for higher elevations. Tropical Storm Humberto has triggered storm warnings for Florida's east coast. (Accuweather) Behind Humberto, "Imelda" (as yet only an unnamed depression) is forming off the Cape Verde islands.
Accuweather reports, Monday 16th: "Residents (in South Dakota) are facing record-breaking flooding as the Big Sioux River continues to rise. The National Weather Service said recently, that almost a foot of rain fell near Sioux Falls, South Dakota, over the course of two days. Multiple rivers and creeks surpassed previous water level records."
Arctic: Prof. Beckwith's latest podcast causes some puzzlement. While it's clear from satellite scans that practically all the multi-year thick ice north of 60 deg. is gone, and there are still millions of square km of clear water around the outer edges of the ocean that weren't there in Augusts past, it appears that the overall extent of sea ice that had been falling all summer in line with 2012's record collapse had begun by mid-August to level off; although it's thin and mushy. Despite record air temperatures, as the sun's obliquity grows with the onset of winter, surface melting appeared to slow down early, although sub-surface melting continues for some weeks after, as the water beneath remains warm. No-one is quite sure why: aerosol masking from fires is one theory, fresh meltwater from Greenland another. So it looks like we won't be getting the dreaded "blue water" event this year; but we're still skating on thin ice.
UK – Wales: A Google search reveals the factoid that the average daily September temperature in the UK is 16.8C, with an average high of 18C. Happily then, in the shade of the enormous Photinia in my front garden, we hit 23.2 degrees at about 2 p.m. this fine, sunny – if still somewhat hazy – afternoon (13 Sept.); and 23.5 the next day. Truly, these are the Fortunate Isles!
Tunnel approaching….
"40% of the UK's food is imported," notes a parliamentary report. In the very near future, the Environmental Audit Committee says, "people would be at risk from sudden lurches in food prices if a no-deal Brexit resulted in trouble with imports, including higher costs, delays and shortages. Beyond the immediate effects of Brexit, the climate emergency and changing trade relationships may put the British diet in jeopardy." The committee has called for urgent action to improve resilience, including water rationing, greater diversity in farming and a campaign against food waste.
Mary Creagh, the chair of the committee, said: "We are facing a food security crisis."
http://www.theguardian.com/environment/2019/sep/17/uk-fresh-food-imports-areas-at-risk-climate-crisis-mps-warn
Meanwhile, the Department for Farming and Rural Affairs, DEFRA, has confirmed we are expecting the first case of African Swine Fever in Britain "within 12 months". It's already prevalent in eastern Europe. China has had to slaughter over a million pigs already and has dropped its tariffs against US pork producers to guarantee supply. China consumes half the world's production, but the country expects to have to cull another 250 million pigs to try to contain the outbreak of what is being described as potentially the world's worst ever animal disease pandemic. World prices are rising.
…a short essay

"Denialism comes riding on My Little Pony."
The sheer irrelevance of political journalism

I keep abandoning halfway through, long, thoughtful, worried articles in the kind of liberal press I tend to read, giving tendentious political analysis – Brexit, the Farage party, Johnson, Cummings, shutting down Parliament, whither democracy and the political system?, civil discourse, globalism, Orban, Salvini, street violence, treason, hedge funds, Nazis, Twitter rants, Trump's chaotic foreign policy, left, right – the rule of law.
Not one of them betrays the slightest awareness of the parallel climate crisis that is hurling itself upon us with ever-increasing velocity, violence – and expense. Not one appears to be aware that an extinction event is already far advanced, of mammalian species, that unfortunately now includes the human race; and that this is a political, as well as a scientific and geophysical conundrum: not, can we now prevent?, but how are we going to manage our own extinction?
Not one journalist seems to understand the connection: that, whatever political systems are in place five years from now, our "leaders" will have to grapple with issues humanity has not had to face in the last 13 thousand years, at least since the cosmic collision event that extincted the northern megafauna – and nearly us too; nor are the "leaders" seemingly capable of factoring those issues into their self-obsessed, narrow-minded, anachronistic ideologies.
It is as if politics and the environment are entirely separate issues proceeding on parallel tracks, with a high wall between.
The author and New York Times contributor, Jonathan Franzen – an expert amateur ornithologist, by the way, who travels the world in search of rare birds, has written a polemic in which he concludes, there is no way out of the situation we have gotten ourselves into.
And a silly little girl claiming to be a "climate scientist", Kate Marvel writes a reply in the Scientific American, telling Franzen to "shut up".
After several paragraphs describing the situation exactly as it is: fossil fuel overdependency, feedbacks kicking in, non-linear warming, ice vanishing, levels of CO2 in the amosphere unknown during the 2 million years humans have existed, environmental degradation, etcetera, etcetera, she writes – believe it or not: "I am a scientist, which means I believe in miracles."
It is gobsmacking stuff. Denialism comes riding on My Little Pony.
That's the childish, panic-stricken, self-censoring level to which – I won't call it a debate – scientific discourse has sunk. Franzen's view is soundly supported by numerous serious scientists, many of whom are being "shut up" by the vested interests for whom truth is an elastic polymer. None, so far as I know, is offering us a "miracle".
Even where mainstream media journalists do crossover from their political navel-gazing into quasi-scientific environmentalism, not one seems fully apprised of the depth of the hot shit we are now swimming in, or prepared to peer into the abyss. Twelve years, according to the IPCC? Don't be so fucking naive, we were given 12 years by the UN in 1989!
I could name you all, you sober and sensible political journalists with your furrowed concern for the future of democracy, but why bother? You know who you are. Just wake up and look around, you self-absorbed, incurious boobies.
The totalitarianism and exclusionary nativism you see rising all around us are the direct consequence of a universal but unspoken consciousness that we are fast approaching the end time. We face a fascist-style, dictatorial future, only because kleptocratic authoritarianism is the natural political response to looming dystopian chaos, the collapse of the civilized postwar consensus in which some – for a time – will win, and the rest of us will unfortunately be left to perish.
Populist totalitarianism and exclusionary nativism are – literally – the zeitgeist.
Is it the answer you want?
Then try asking the question. Earn your money.
And now I'll shut up.