Hi. I'm now totally confused as to which  BogPo this is, last Thursday's or next week's? Does it matter, when there's always a feast of great writing to be guzzled down with your wine?
More is being added as we speak! But I've only got this far, sorry.
"So tomorrow we invade Luxembourg!"
Wankers' corner…
As millions of schoolchildren and others strike around the world on climate action day, tired Labour "leader" Jeremy Corbyn's dimly illuminated brother Piers is leading a pathetic counter-march through London, a gaggle of climate-change deniers, most probably balding, retarded internet trolls day-released from their mothers' basements, blinking in the unaccustomed sunlight.
From the press photographs it looks like only about nine shambling, embarrassed-looking humanoids in total have turned out in support, bearing an unpunctuated banner reading "Climate policy controls you not climate", which can be taken several ways but perhaps lacks a little punch in the old persuasion department?
Good on you, Piers, for drawing attention to how stupid, feeble and anachronistic your dying little movement is.
Is there a particular Corbyn gene, I wonder, that turns out crusty and annoying old contrarians?
(But when will climate protesters understand, global heating and plastics pollution are NOT THE SAME ISSUE! From a PR point of view you need to fixate on one or the other or you'll just confuse people.)
As millions of people came out on the streets following the Dateline across the globe to protest official inaction over the climate crisis, a long-lost cause in your Granny Weatherwax's view but never mind, there's no harm in trying, the story made the front page splash all day as a running commentary on the BBC News website.
But occupied only 10th place on the Most Read listing!
And unless you went to the Weather page, there was no mention at all of the terrible floods in Texas from Tropical Storm Imelda, on which Severe-weather.eu commented: "There are truly catastrophic scenes coming out from Houston and Galveston."
Nearly 4 feet of rain has fallen over the Beaumont and Port Arthur area in two days, the same part of the state that saw immense rainfall only two years ago from Hurricane Harvey. Disaster has been declared. Several people have been killed, much property damaged.
It's not as if this is in some remote part of Africa. It seems the news media is just not interested in real life events anymore.
Postscriptum (lots of these today):
I'm perhaps not being fair on Jeremy, who has cleaned up his 70-year-old student activist image and is looking managerial these days. I've just read a very interesting and sober article in the Guardian that says Britain's financial community is starting to think he and John McDonnell would probably be a better bet to manage the economy and deal with Europe sensibly than Johnson's dysfunctional, profligate, flailing administration and its fourth-rate ministerial team of chancers, liars, incompetents, careerists and balloon-animal artists.
http://www.theguardian.com/commentisfree/2019/sep/21/bankers-corbyn-tories-no-deal-capitalism-radical-government
Although, that being mooted, nevertheless there is the minor matter of Corbyn's personal poll rating to get over. He's currently at minus 60 – a historic low for a British politician, or maybe anywhere.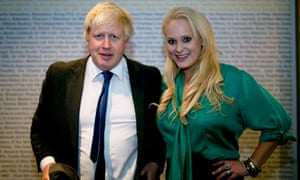 "I say, you fellows, BoJo's boobed again!"
(Mayor Johnson allegedly bankrolled his bling-encrusted American friend's business venture, using London ratepayers' money.)
Ha! Haaa!! TOLD YOU SO!!!!
"The question of why Wales voted to leave the EU can in large part be answered by the number of English retired people who have moved across the border, research has found.
"Work by Danny Dorling, a professor of geography at Oxford, found that the result could in part be attributed to the influence of English voters." (Guardian)
Ha!!! Your Uncle Bogler has been saying this at every conceivable opportunity, to absolutely no effect, since Day One of the Brexit farrago. No-one has paid the slightest heed to my trollings!
Until, obviously, now. Only this guy gets paid to say it.
UK media has been lazily unaware of the seismic demographic shift that has taken place here in Wales over the past 20 years, and continues to bumble along, stupidly imagining that the majority of people living in Wales must ergo be Welsh.
We're not! We're settlers. Colonialists. Incomers. Saisneg.
And another clue maybe lies in the fact that the Welsh national party, Plaid Cymru, is virulently pro-Europe, but holds only one seat in the European Parliament. Leave in Wales was a vote against the Welsh Assembly.
Nor has the media made even one mention of the implication for Welsh ports of a No Deal Brexit leaving a "border" in the Irish Sea.
So is Wales really a Leave territory? Not entirely.
My friend Harry tells me, he went along to a live broadcast of the BBC's Any Questions! here in Boglington the other night – an event of which your Uncle B. was totally unaware, as ever.
One of the panellists was the former Brexit Secretary, the lazy and dimwitted baboon, David Davis. When he was introduced, out of all the pundits on the show, he was the one who received a seething, hostile "Sssssssss!" from an audience composed almost entirely of academics and others linked to the local university.
For, thanks to the presence of so many people with an international perspective, students and staff, aware of how damaging to the universities sector this Brexit shitshow is already proving to be, our constituency was one of only two in Wales that voted solidly Remain.
I don't know a single person here who didn't. And when asked, all but one of the audience put their hand up to voting Remain; just as they had at a Comedy Club night I went to three years ago.
But then I don't personally know all the dreary-looking, gray-haired, genetically damaged retirees, economic and cultural migrants fleeing the brown faces repopulating the English Midlands, static caravan-dwelling hordes who throng the supermarket aisles on Friday afternoons with their heavily laden trolleys and whining Brummie accents, like a reunion of the old UKIP members' conference.
They look like Farage voters to a henpecked old man and hatchet-faced woman, although you never can tell. I certainly don't feel safe among them and hold my counsel. I'd rather not be beaten to death with a sliced loaf.
Prof. Dorling concludes that actually, far from embittered northerners voting to sell Britain out to Trump and Putin, the private equity investment management community and the hedge funsters, most Leave voters were middle-aged, affluent southerners.
Blame the Cornish, he advises.
Poldarkness descends.
Tories: a record

8 million: people in Britain living in "unsuitable" housing.
1 million: people on local authority housing waiting lists.
83 thousand: homeless people in temporary accommodation.
8 thousand: govt. estimate of regular rough sleepers.
31: homeless young people who have died in sheltered accommodation in the last 2 years in Brighton alone.
216 thousand: empty domestic properties in Britain.
The threewheelin' lifestyle
Whenever Hunzi decides to take me as far as the industrial estate that's rapidly expanding on the other side of the exurban space that passes for our local park, a land of cycle paths and sports grounds and a particularly fetching, aromatic sewage works, we have to pass a new industrial unit housing a retail store where the theme is electrically powered cycles.
Now, I'm a touch OCD and I tend to get hooked for months or years on impracticable enthusiasms. For instance, I'm desperate to own a campervan. Every time I see one in the carpark, which at this time of year is many, I will wander over and try to look in, to compare the interior fittings, the decor. Does it have a loo? A shower? Are the benches lined with hideous purple floral moquette? Would there be room for my jazz collection? Could I even lie down?
Two things prevent me from owning a campervan. One, unless I sell my little house I can't afford one. They are insanely expensive, given that you can buy a secondhand Ford Transit, a mattress and a primus stove for a few hundred quid. DIY camping is not my style, however. I demand fittings. A satellite dish. Metal cutlery. A Polish waitress.
Added to which, there would be running costs. And secondly, I know deep down in my heart that I would almost never use it. I so rarely go anywhere nowadays. Where would I go? On my own? What for? I already live amid scenery.
But I would have a campervan! I could put up guests. And if the world ended, civilization collapsed, warlords roaming the urban canyons, rising sea level inundating the village, I could run for the hills in my second home. Even spend a weekend with Hunzi at the Brecon jazz festival!
Oh, I so want a campervan! I am practically in tears today because a beautiful VW Topaz Autosleeper in midnight blue that was for sale for weeks at my local car showroom has suddenly gone, and I didn't win the lottery on Wednesday. (Okay, it was £35 thousand, and the bed looked to be only four feet long, but hey, it had a toilet!)
It's like that with the electrically powered tricycle in black, outside the aforementioned store. See, it's got fat tyres!
Electric vehicles are the future. One day, everyone will have one, by law. Why not me, now? I could sell the car, buy one and have change. Look, it has fat tyres and a large pannier on the back for all my shopping needs.
You don't need to pay road tax or have insurance with one of these babes, although it might be wise to insure yourself. It can go for 70 miles at 15.5 mph without pedalling. That's 35 trips to the supermarket and back, a whole month's worth! And just imagine the queue of fuming motorists building up behind you!
But. Where would Hunzi sit? There's nowhere, unless I bought a bike trailer for him. Would he be happy on his own, shut up in a flimsy trailer pod? It sometimes rains here, and there's no cover. It could get very wet. And would my elderly prostate, the size of an orange, let me sit comfortably on a bike saddle?
A probable clincher, my little cottage abuts a main road. The electric tricycle wouldn't pass through the front gate into the tiny garden. There'd be nowhere to securely park it, between daily trips to the supermarket.
I try to envision myself trundling about town on this somewhat eccentric, Victorian-looking machine, with its ladylike step-in frame. I can see how useful it will be in more dystopian times, when diesel cars are banned and the oil runs out, but now? I'd be practically the only person on the road with one.
Am I sufficiently ready to become a truculent and elderly, pioneering eccentric, like the safety-unconscious, obstreperously bearded Jeremy Corbyn lookey-likeys who ride those two-wheelers where you put on shorts, lie on your back and pedal with your legs in the air? Flying a little flag on a stick to beg sleepy Polish lorry drivers, please to not ignore your existence?
And then, unbidden, the image creeps into my mind, of me, on my electric tricycle, wearing a Pastafarian colander on my head instead of a safety helmet, and there the dream ends. For, how could you ride an electrically powered three-wheeler with fat tyres without a colander? The two just go naturally together.
Looking closer, I see that in fact, the face of the large man on the electrically powered three-wheeler with a colander on his head and a worried sheepdog in the trailer pod, trundling bitterly on squelchy fat tyres through the rain at 15.5 mph, shopping bags soggily perched in the pannier at the back, furious motorists honking behind, is not actually my face after all.
I'm more of a Bentley and good 3-star hotel with a Michelin-guide restaurant, Polish waitresses and a comfortable bed man, myself.
Postscriptum:
And lo! The very next morning in my email inbox Google have thoughtfully sent me an advertisement for… Wispa Bikes, "UK electric bicycle brand"…..
Go away, Google! Fuck off! Stop reading my stuff! This intrusive surveillance is intolerable. I have a right to a private life beyond what I publish. I am not this person who bogls!
Post-postscriptum:
Watching the industrial estate growing, with more and more large infill units opening "public welcome" trade counter-style operations, it occurs to me that press reports of our dying high streets are missing part of the story. I suspect these edge-of-town developments offering no-frills shopping with free parking may be bucking the trend towards internet home delivery.
Dog daze
Switching on the telly, I'm met with a BBC program about sheepdog trials, the venerable "One Man and his Dog".
My Rottweiler, the Boot, used to love this show and would watch spellbound as, responding to a series of whistles, clever sheepdogs would round up sheep on remote hillsides and herd them into pens ("shedding"), earning points for efficiency.
Hunzi, my lovely Welsh Border Collie – the most popular breed of sheepdog – looked completely disgusted when I showed him the screen, turning his back on us and subsiding to the rug with a despairing grunt.
Then, if he had ever taken any interest in herding sheep into a pen, the farmer would never have given him to me. And if I had not just happened along that day, after we'd sold the cottage at the end of the farm track, the farmer would almost certainly have drowned or shot him, as a waste of good rats.
Fucking cheek department…
Another advertisement sent to my email in-tray by Messrs Google offers a 6-point "Investors' Guide" to a No-Deal Brexit, from City investment management consultancy, Hargreaves-Lansdown.
Peter Hargreaves, the retired billionaire founder of Hargreaves-Lansdown, personally trousered over £600 million from his old firm betting on share price movements in the months following the Brexit referendum.
He had spent over £3 million backing the Leave campaign, arguing that "uncertainty" was good for the money business. The organizers now occupy seats and advisory positions in Johnson's government, and are arguing that No-Deal will not damage the economy.
I'm sure it won't. Not his, anyway. From Wikipedia:
"In 1986 he married Rosemary; they have one son and one daughter. They reside in a Georgian property in the West Country, where he grows his own vegetables."
Leave voters, when will you wake up to what is being done to the country by these plotters? Or do you think your lives will somehow improve?
Better get investing, then.
GW: Texas enGulfed

USA: National Weather Service (NWS) in Houston said unofficial rainfall totals for a 60-hour period to 19 September showed Fannet in Jefferson County, Texas received 43.15 inches (1,096mm) of rain, as Tropical Storm Imelda stalled over southern Texas and Louisiana, 20 Sept., "firehosing" warm water out of the Gulf in a mini-repeat of Hurricane Harvey, two years ago – from which the states are still recovering.
Rivers are overflowing, parts of the road network around Houston are completely inundated and people are being ordered to stay indoors wherever they are, or to seek higher ground.
3 people have been killed and states of "disaster" declared in 13 counties. It's already the 7th wettest storm in US history and it's still raining, Houston reporting rates of 3-4 in. per hour, prompting some weather forecasters to speculate that it could catch up to the wettest, Harvey, that dumped 60.3 inches near Beaumont and Port Arthur in 2017.
(The above from Floodlist/Accuweather.) Severe-weather.eu adds: "There are truly catastrophic scenes coming out from Houston and Galveston."
Accuweather also reported another familiar story: "Damaging thunderstorms will track through the northern Plains ahead of a push of cooler air at the end of the week." Tornadoes are expected too.
Oh, and I'm wondering why these horrendous events have gained no traction today in the centrist media? The Guardian website, updated hourly, for instance makes no mention of the real catastrophe unfolding in Texas, affecting real people, but features numerous speculative articles instead about Ms Thunberg's strike and its political importance for the working class.
Atlantic: "The second major hurricane of the 2019 Atlantic season, Humberto roared past Bermuda Wednesday night as a Cat. 3 storm with 120 mph winds. The powerful right-front eyewall battered (the island) with sustained winds well in excess of hurricane force as the eye passed 75 miles to the north, near 8 pm EDT." (Wunderground)
Meanwhile, forecast weakening Cat 2 to Cat 1 Hurricane Jerry, battling wind shear, is just passing the Leeward Islands, where storm warnings have been issued, on a curving track heading northwestwards away from the US coast towards Bermuda. (Accuweather) Three more tropical depressions are threatening heavy rainfall events for Caribbean islands over the weekend into next week.
Forecasters are getting excited about a somehow "different from usual" tropical wave among several spotted coming out of Africa, that before it has even reached the Cape Verde islands where Atlantic hurricanes generally breed, they have got tagged for development as a potential "major hurricane". (Severe-weather.eu) (It's now a TS, named Lorenzo. 24 Sept.)

Mexico: Compact "Tropical Cyclone Lorena made landfall near Playa Pérula, Jalisco, on 19 Sept. before moving across Baja California, bringing floods to Arizona. NHC warned that Lorena was expected to produce rainfall accumulations of 3 to 6 inches, with maximum amounts around 8 inches. (Floodlist/NASA) Tropical Storm Mario was reported south of Lorena over the Eastern Pacific, on pretty much the same track.
Trinidad and Tobago: "Heavy rain, strong winds and rough seas brought by Tropical Storm Karen have caused severe damage in the dual-island nation in the Caribbean. Strong winds downed trees and power lines, blocking roads and causing power and telecommunication outages." (Floodlist) Meanwhile in Haiti, at least 2 people have died and 4 are missing after flash floods in Ouest department, after torrential rain from 18 Sept. More than 20 houses were destroyed.
Japan: Not that you'd know it from reports of the Rugby World Cup, a major event, but at least 1 person was killed and another 19 injured in Okinawa as Typhoon Tapa passed over, headed for Kyushu island – scene of astonishing amounts of rainfall in the past three years. By 22 Sept. 400 mm of precipitation was reportedly falling on the island per day. Over 400 regional flights were cancelled. Rugby organisers have issued warnings and closed two venues as a precaution.
Singapore: Drivers preparing for the weekend's F1 Grand Prix are having to contend with some of the worst air pollution the island has experienced, because of forest burning for palm oil in neighboring Indonesia. (Guardian)
(Your Old Gran opines that, were she the Sultan of Singapore, she would immediately declare war on her neighbors and angrily bomb the bejasus out of them. This annual criminal destruction of habitat for so many threatened species surely can't be tolerated?)
Greece: "Heavy rainfall late during the evening of 19 Sept., caused flash floods in areas around the city of Thessaloniki. 2 people were rescued from vehicles trapped in flood waters." Hail flattened a large area of farm crops. (Floodlist)
UK: Flood alerts were issued for parts of England 24 Sept, as heavy rain continued to cause disruption for commuters. The Met Office issued a yellow weather warning for much of England and Wales, saying up to 70 mm of rain had fallen overnight in some parts.
Wales, UK: It is 00.05 hours (five-past midnight) on the morning of 22nd September, 2019. According to the digital thermometer in my front garden, here on the west coast, the day's top temperature had been 26.9C. It is still 20.2C at the time of writing.
Arctic: A blast of warm air pushing up into the region past the British Isles and Iceland will displace a pool of very cold air into the continent, extending down as far as North Africa. Surface temperatures 10 to 20 deg. C above normal for Greenland will still be at or just below freezing, however. (Severe-weather.eu)
Tunnel approaching…
Yellowstone: is wreathed in dense fog, caused by cold air settling over warm ground, while 4 wildfires are being monitored in the park. Unreported drumbeats, harmonic tremors, small quakes, rising gases, Tornillo "screw wave" signatures on the seismographs. (Greeley) Also, she reports Hawaii's Kilueia volcano's notorious new rift, 8, that erupted so violently last year, is showing signs of life again.