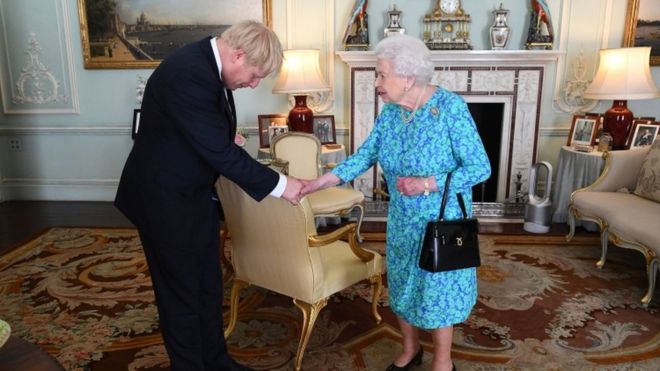 "You're absolutely right, your Majesty, it does seem to be coming from my shoe."
(Question: why does the Queen carry her handbag indoors? Is it for self-defense, or does she expect an incoming Conservative Prime Minister to walk off with it, like an unregistered plumber?)
Can't you hear that whistle blow
In a spellbinding display of the measured reporting she is famous for, MSNBC's Rachel Maddow today (24 Sept.) pulls apart with forensic clarity, from many sources, the tangled threads of what connects Trump and Giuliani with Ukraine.
And it isn't enirely what people are being conned by the president and his apparently demented, self-contradicting mouthpiece into believing it is. For that's the simple, easily reversible story they are happy for the media to run with. Whether it's a deliberate diversion or just a happy accident, no doubt we shall never be told.
It's easy for everyone to swallow a story about Trump strongarming the young and inexperienced TV comedian president of Ukraine – who is in New York for the UN convention and due to meet him this week – by holding back $390 million of military aid, to dig up some absurd dirt on Democratic candidate Joe Biden and his son.
That's the kind of thing the dumbfuck base will be happy with. Here's their hero, fighting for his political life. But see, there's his feared opponent, how guilty is he?
And the Bidens are not helped by the facts.
Hunter Biden was unwisely on the board of a Ukrainian energy company, whose CEO was accused of corruption. Biden Sr, then Vice President to Obama, persuaded then-president Poroschenko to replace a state prosecutor who was failing to investigate the case properly.
Trump has tried to spin the story around so that it was the Bidens who were corrupt and had unethically used US power to remove an honest prosecutor in order to protect the son of the Vice President.
He has admitted, yes, I did pressure President Zelenskiy, because I wanted to get to the bottom of Joe Biden's corruption and Hillary Clinton's role in it. But he denies witholding aid, the missing "quid pro quo" the summary leaves out.
The threat was there – the aid had been suspended, the order was given to the offie of budget management just 91 minutes after the phone call – but it remained unspoken. Which is a perfect echo of something Trump's bagman, Michael Cohen, told the court: Trump never gives a direct order to do something criminal, but you always know exactly what he means.
All this, just to discredit a political opponent who might not even gain the Democratic nomination, as his poll numbers were already slipping behind those of the prim schoolmarm, Elizabeth Warren; who even at 70 seems about 73 years younger than whatever Sleepy Joe is.
Frankly, the Bidens should have had nothing to do with Ukrainian politics and business. The country is or at least was one of the most deeply corrupt states in Europe, and everyone knew it.
But not, perhaps, as corrupt as Trump's USA.
Digging a little beneath the surface, Maddow raises the disturbing prospect that Russian organized crime is once again interfering in the US election, perhaps sanctioned by Putin – although he has his own electoral problems.
For Trump's intention in his dealings with the new Ukrainian president, according to official sources in Kiev, has also been to persuade him to open another inquiry, to raise doubts about the guilt of Trump's former associate and campaign chairman, Paul Manafort.
He wants to claim that Manafort – who is serving 7 years in a federal penitentiary for money laundering, tax evasion and failing to declare a foreign interest – was in some way framed by the Bidens…. and Hillary Clinton.
He has cleverly put in the hours of groundwork, turning Clinton into his personal Steinberg, the "two-minutes of hate" figure in Orwell's 1984 – convincing his base of gullible, adoring morons that she must be guilty of any crime he can point to, of which he is almost certainly himself culpable.
After several years of lucrative lobbying and image-work on behalf of the thuggish, profoundly kleptocratic former president and Putin crony, Viktor Yanukovych, Manafort, we are reminded, was deeply in debt to two immensely wealthy and dangerous oligarchs: Oleg Deripaska, Russia's "Aluminum King", who (according to Wikipedia) had murdered his way to the throne; and the handsome and urbane-looking Ukrainian, Dmytro Firtash – both of whom are regarded by the FBI as top-echelon Moscow mafiosi.
Yet somehow, Manafort managed to get himself appointed by, and vocally supported by, Trump as his election campaign chairman. As the Pumpkin has asked several times before, what did he bring to the party? Apart, obviously, from his handy connections to the Russian mafia? An organization to which substantial evidence connects Trump himself in the 1970s and '80s.
Profoundly compromised – he'd offered to invest $17 million of Deripaska's money in offshore blind trusts but the money mysteriously disappeared – Manafort was accused in the Mueller report of supplying confidential voter data to the St Petersburg troll factory implementing the Putin-sanctioned disinformation campaign to get Trump elected.
Data that related to voters specifically in the three most heavily gerrymandered states – Michigan, Wisconsin and Idaho – whose Electoral College delegates swung the election, which he had not won on the popular vote nationally, to Trump.
States where voter suppression by Republican legislatures – the rigging of qualification criteria to exclude tens of thousands of black and ethnic minority voters who always vote Democrat – was known to be rife.
Manafort was a plant.
Firtash, who benefits (on Putin's orders) from a percentage cut of the sales of all the gas Russia pipes through Ukraine to western Europe, an income running into the $billions annually, has been fighting extradition to the USA from Austria on corruption charges for several years. Allegedly, he'd bribed Indian officials for a license to supply titanium for airframes to Trump's favorite military contracting firm, Boeing. He also faced money laundering charges. (Bloomberg)
"In 2008, Manafort was part of an $850 million plan involving Firtash and Russian billionaire Oleg Deripaska to purchase the Drake Hotel in Manhattan and convert it into a luxury property." (Bloomberg)
The deal never finalized, while the FBI regarded it askance as a classic money laundering operation. But it places Trump's campaign chairman right in the orbit of Russian organized crime. Was Manafort put there by these influential men, to be a senior informant on the inside?
Now, despite having a huge team of the best lawyers his bottomless pockets can buy, Firtash (who personally posted $137 million bail to the Austrian court!) has reportedly just hired a couple of deadbeat lawyers, Trumpsucking TV pundits off of Fox News.
Why? Well, assumes Maddow, because they're the same two lawyers Trump almost hired in 2017, a husband-and-wife act, only to change his mind later because they didn't look as smart as they had on TV. It's a move that's sure to get Trump's fleeting attention. But for what?
Deripaska, formerly on the US's no-entry sanctions list, was removed from that list last December at the bidding of Trump's principal enabler in the Senate, Republican leader Mitch McConnell; whose wife, Transport Secretary Elaine Chao, is now under investigation by a Congressional committee for illegally channelling shipping contracts to her father's company.
Contracts that some media speculation suggests may have included the supply of narcotics, such as the addictive opioid, fentanyl – a poison that is killing over 60 thousand Americans a year.
Deripaska, Maddow points out, seems to have either persuaded or rewarded McConnell with a pledge to build a massive new aluminum smelting plant in his home state of Kentucky; while as previously reported, McConnell may have benefitted to the tune of more than $70 million from campaign donations from firms to which Chao has awarded contracts in her husband's Senate constituency, ahead of the 2020 elections.
(And according to The Guardian, he's also receiving campaign donations from two Brazilian companies involved in the burning of the Amazon rainforest; both part-owned by the $300bn US private equity management firm, Blackstone.)
Who is there to investigate all this criminality? The FBI is stretched to the limit. But I digress.
Maddow's not improbable conclusion, therefore, is that Putin oligarchs free to come and go are once again bankrolling efforts to get Trump elected, in a rerun of 2016. And he seems perfectly happy to let it be known that he welcomes foreign interference.
Tonight, it's reported, House speaker Nancy Pelosi may have finally cracked and is about to call for impeachment proceedings, after weeks of stonewalling her own party in the belief that an inquiry would only give Trump a hostage to Fortune.
It now seems she may have accepted the alternative argument: that letting him continually get away with breaking the law and acting in contempt of Congress is setting a dangerous precedent.
Possibly encouraged by our own landmark Supreme Court ruling today, that the Executive does not have primacy over the elected Parliament, and that the law permits neither an arbitrary prorogation nor barefaced lying to the Queen for electoral advantage, Ms Pelosi may be embarking on a perilous but ultimately decisive journey.
While the normally supine Senator Graham has jokingly suggested that if Biden's son is to be investigated, so too should Trump's sons, it seems unlikely that impeachment will reach the bar of 60% of both houses, whatever treachery, perjury and lies Trump may have committed.
The Pumpkin doubts that he will respect for one moment, the verdict of any inquiry; nor will he allow witnesses to obey subpoenas to testify. Ultimately he may even carry out his threat not to accept the result of next year's general election if it goes against him.
He said that last time, too.
With the Justice department and the Attorney General in his pocket, there seems little to be done but to wait for the real God's Executive Order to drag this horrible man with his Faustian pact down to the fires of hell.
Although, sadly, as the Pope has admitted, death is final. No such fiery fate awaits him: only the verdict of history, that this was surely the worst, most corrupt president America ever elected.
http://www.youtube.com/watch?v=dcT5gMPUR_w
Fast-moving news
A couple of hours after posting the above, news broke that speaker Pelosi has indeed shifted her ground and declared an "impeachment investigation" by the six House committees she controls. It's not the same as an actual impeachment, but already Trump has hit back with his signature "It's all a plot against me" whinge.
Which, actually, it is. Only a perfectly open and legitimate one. And you fucking asked for it.
Your Pumpkin was moved to tears by the reaction of the normally annoying and whooping Late Show audience when Stephen Colbert announced the news. They rose as one to their feet and gave it a standing ovation lasting well over a minute. We tend to disregard how much Trump is hated in many parts of America. We liberals deserve a break.
First, however, you need to catch your hare. And Trump is neither going to appear before any committees nor allow any of his people to testify. We feel sure he will simply ignore any subpoenas and go on the attack against Pelosi in person, appealing to his heavily armed dumbfucks for support.
One hope, Intel committee chair, Adam Schiff has announced that the Ukraine "whistleblower" has agreed to appear before the committee in private on Thursday to repeat the statement they gave to the Inspector General, evidence of Trump wrongdoing that "acting" Director of National Intelligence, Joseph Maguire is illegally witholding from Congress on the orders of Trump's lapdog in the Justice Department, AG Bill Barr.
Let's hope they make it through the door alive.
Even faster-moving news
Hi again. 18.01, local British Summertime…. You remember back in March, when Trump's Attorney General, Bill Barr released a three-and-a-half page "summary" of the conclusions of the Mueller report over a weekend, a month before he allowed the full 480-page report out, with redactions?
And how people then thought the real report must also have exonerated the president of collusion and obstruction when it absolutely had not?
But by then they were sick of hearing about it and couldn't be bothered to read it and so we all moved on?
No, of course you don't remember. But it happened Just So, Best Beloved!
Well, Trumpy has gone and done it again, releasing a 4-page copywritten summary which the White House is calling an actual transcript of the 35-minute phone call in which Trump and Ukrainian president Zelenskiy discussed digging dirt on the Bidens, father and son.
The release, which seems to show that the callow, ex-TV comedian Zelenskiy was happy to go along with it, and to prove that Trump never threatened to withold $390 million of US aid unless he did, is nevertheless bound to satisfy numerous wavering Trump supporters that, as the Republicans in the Senate are saying, there's nothing to see here.
It might also have the effect of taking the wind out of the sails of the "whistleblower", who is due to testify to the Intelligence Committee on Thursday (Trump says he is a spy who should be executed. He is cracking up.) . Why bother with the whole cloth, when you can make a pocket out of a sardine, as the Russians say?
(Actually, I made that bit up. So what? Prove it!)
Now, the law is absolutely clear: a matter of national security concern brought to the attention of the Inspector General by a whistleblower SHALL, within 7 days, be brought before the Congressional Intelligence Committee.
But I suspect it says nothing about a hastily concocted summary produced by the legal team advising the suspect, leaving out all the relevant bits we all want to know about and sounding disconcertingly fluent in the English language.
With yet another bound, he was free.
Senile as he appears to be, this Mafia-trained ex-property developer and conman from Queen's is slipperier than an eel; more difficult to shackle and drown in a tank of water than Harry Houdini.
Don't expect much, or anything really, from the impeachment proceedings, except more bullshit; more evasions and distractions and lies.
Aid memoir
Justifying his witholding of military aid from Ukraine to force them to "investigate" Joe and Hunter Biden, a connection his random mouthpiece, Giuliani has both denied and admitted, Trump was yesterday saying he was right to do it because Ukraine was a "corrupt" country and you shouldn't give aid to a corrupt country.
(That's regardless of the fact that Congress, not the President, technically controls the military aid budget.)
Today, however, he is saying he witheld US aid because other countries, especially Europe, were not sending aid and it was unfair the US should have the entire burden.
Fact-checkers immediately turned up an OECD chart, showing that European institutions (eg NATO) and countries, plus Japan, had on the latest figures (2016-17) together contributed five times as much in aid to Ukraine as the US had.
Yet again Trump will say just about anything, tell any lie, to justify his erratic foreign affairs policy and thuggish criminal behavior, for which impeachment hearings are finally grinding into gear.
The problem being, that despite his record low poll ratings that have consistently refused to climb much above 40%, and polling showing every single declared Democrat candidate to date, however unlikely to win the nomination, is considered more electable than Trump, there are 60 million voters who still refuse to understand – or to much care – what they elected in 2016.
Sixty million voters who support whatever he does, whatever it is, who believe anything he says, because they trust someone they see on TV pretending to be a business tycoon to know how to run the country, more than they trust experienced political administrators.
And they may yet be enough to see him through.
GW: several turns for the worse
Europe: "The disturbance everyone was watching out of Africa, Lorenzo is now a hurricane and is gradually moving into favorable environmental conditions, with low wind shear and warm 26-28 °C SSTs. Both will likely lead to a significant intensification after tomorrow. Lorenzo should become a category 3 storm on Friday" before its forecast track takes a turn north-eastwards, to – The Azores. They're technically Europe. It could end up in Portugal thereafter, the Bay of Biscay, or the English Channel. (Severe-weather.eu)
Middle East: Tropical Cyclone Hikaa – now downgraded to TS – made landfall in Oman on 24 Sept., bringing strong winds, heavy rains, some flooding and coastal waves of 3 to 4 metres. Schools were closed, some transportation disrupted and around 750 people evacuated to shelters. (Floodlist)
Sri Lanka: At least 1 person has died and almost 80,000 affected by heavy rain, landslides and floods after a storm swept across the country from the evening of 23 September, 2019. 124 mm of rain was recorded in 24 hours over the capital, Colombo. The highest rainfall was recorded the following day in a suburb of Negombo city in Western Province, where 272.3 mm (11-in.) fell in 24 hours. Many rivers are well above flood stage and further heavy rain is forecast. (Floodlist)
Puerto Rico: Over 5-in of rain fell on the already stricken island, still recovering from Hurricane Maria in 2017, as TS Karen passed over on its way out into the Atlantic. The storm impacted Puerto Rico just as the island dealt with several earthquakes and numerous aftershocks. A 4.9-magnitude earthquake struck on Tuesday night, close to where a M6 had earlier been recorded offshore. More than 50 tremors have rattled the area within 24 hours. No major damage was reported.
Wunderground added that as the storm's wetter southern edge passes over on the 25th: "Localized rains could top 8" across eastern Puerto Rico, Vieques and Culebra, and the Virgin Islands." The NHC is forecasting Karen could reintensify at the end of the week with possibly Cuba or an east-coast US mainland hit in view.
Trinidad: After last weekend's floods, officials in Trinidad and Tobago are urging locals in the village of Piparo to be prepared to evacuate. A mud volcano over a subduction zone under the village is showing signs of an impending eruption, which will threaten many homes. The Piparo mud volcano's last eruption, in 1997, displaced 31 families.
USA: Remnant hurricane, now Tropical Storm Lorena, has been pounding Arizona with rain, floods, landslides and even a rare tornado for the time of year, after passing over Baja California out of the Eastern Pacific. Accuweather reports on downed power lines and scattered debris from damaged buildings in the capital, Phoenix.
Tens of thousands of Southern Californians have been put on alert that their power may be shut off as hot air and strong winds have led to a warning of more wildfires. Meanwhile, the Dehesa Fire outside of San Diego has grown to about 200 acres in size and is only 10% contained with evacuation orders and warnings issued for nearby neighborhoods, as of 24 Sept.  (Accuweather)
Imelda made it to Number 5 in the shit parade of the wettest tropical storms ever recorded on the US mainland. "The peak of 43.39″ at North Fork Taylors Bayou, Texas puts Imelda fifth among the heaviest single-point rain producers", as noted by Capital Weather Gang. (Wunderground)
Switzerland: "Italian authorities have closed off roads and evacuated homes after experts warned that a portion of a Mont Blanc glacier is at risk of collapse." The mayor of the town of Courmayeur blamed 'strong change due to climatic factors' after "experts said up to 250,000 cubic metres of ice was in danger of sliding off the Planpincieux glacier on the Grandes Jorasses peak." The movement of the glacier has speeded up following successive annual heatwaves. (Guardian)
Tunnel approaching….
UN: One slightly hopeful sign that came out of the UN conference on climate change was a pledge by a number of large corporations to take up to two years to come up with some ideas for reducing their carbon footprint by 2050.
Actually, that's not really hopeful at all, is it. In fact, it's pants.
Especially when, as the New York Times records: "According to data from CDP, a British-based nonprofit group that collects environmental data from companies around the world and is one of the organizers of the pledge, emissions reported by some signatories have increased by 50 percent or more since the Paris Agreement was signed in 2015."
Start as you mean to go on, I always say.