Happy Birthday to Me! (70th.)
QotW:
Spotted by Private Eye:
"Brexit bombshell: why Tony Blair is behind Supreme Court ruling on Brexit shutdown (D. Express, 13 Sep.)
"Brexit revelation: why Europe is behind Supreme Court ruling on Brexit shutdown  (D. Express, 26 Sept.)
Next week: "Brexit supernova: why alien lizards from Planet X are behind…", etc.? (Both stories went on to elucidate some purely tangential connection between Blair, Brussels and the Supreme Court ruling on, etc. with no evidence offered at all of the direct influence of either on the Supreme Court.
This is the ersatz journalism we have to put up with, that is bidding to tear the country down. Who are the real traitors behind this shitshow, the judges or the editors?)
(Photo: Neil Hall/EPA)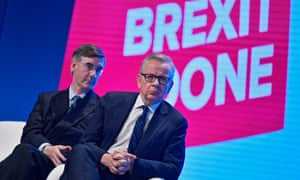 "It's alright, Michael, it's not Hurricane Lorenzo, just the wind of change."
For a clip of the early Rees-mogg, go to:#www.bbc.co.uk/iplayer/live/bbcfour
Tories. Lock them up!
The rigidly, almost insanely authoritarian Home Secretary, as dim and far to the right as any since "Something of the night about him" Michael Howard, Boris' Big Red Bus conductress, hardline anti-immigration campaigner and rabid Brexiteer, Priti Patel, 47, the thinking liberal's trigger-harpie, gave a rabble-rousing speech on Laura Norder at the Tory party conference.
"This party, our Conservative party" (just to remind you, in case you voted for Farage's frothing Brexit lot in the European elections), "is backing those who put their lives on the line for our national security." (Sure they're pleased to know you're behind them, Priti, stirring it up and making things worse – see recent Police concerns about rightwing terrorism, radical and racial violence).
"So as we renew our place as the party of law and order in Britain, let the message go out from this hall today:
To the British people – we hear you.
To the police service – we back you.
And to the criminals, I simply say this: We are coming after you."
(I've always reserved a soft spot I'd like to hit with a croquet mallet for soapbox orators who spout Victorian cliches like "to you, I say this!", as if people are too stupid to realize they're speaking to them. Ed Miliband used to drive me mad with it. Now carry on….)
Mentally at least, foaming at the mouth, Patel went on to assure the bigoted old dumbfucks, Express readers, caravanners and crochet-knitters in the hall that she would end "freedom of movement" for people from Europe "for once and for all!".
Er, is it okay to ask why? What is wrong with freedom of movement, Ms Patel? We took your parents in, after all. Without it, you wouldn't be here. I'd quite like to be allowed to move freely, thanks. Or would you like us all to stay exactly where we were born? I'm afraid I can't afford to go back to central London, not on my State pension.
Do you use the National Health Service? Ever popped in to Costa Coffee? Who do you think is going to man our essential services?
Silly cow.
A transcendently awful speech, by the sound and fury of it, fully characteristic of all pusillanimous, porage-faced Tory Home Secretaries (and David Blunkett) down the decades, with no regard for the actual consequences of their hardline policies, the social costs, that have failed time and time again here and in any country you can name, it met with wearily familiar subdued applause from the faithful and the Dreary Mail editorial team.
It seems not to have occurred to Ms Patel, a former tobacco industry lobbyist, who, let's remember, was fired from her previous job as International Development Secretary for holding unauthorized, private talks with Israeli hardliners, that included suggestions she might divert UK aid – taxpayers' money – to the Israeli army of occupation, that on top of all the admissions from senior Tories about their university drug habits, the biggest lawbreaker of all is her boss.
Perhaps she should have added:
And to the senior Law Lords, the Enemies of the People, we will ignore your rulings, traduce you in the scumbag press and put you in the Bloody Tower where we'll have your heads lopped off for treason if you don't let us do whatever we like, and to hell with the law.
Meanwhile, police at the conference in Manchester were "looking into" an altercation between Blimpish Tory MP, Sir Geoffrey Clifton-Brown, and a security guard who tried to prevent him bringing in an unauthorized guest; the room had to be put into lockdown, following which Clifton-Brown, 66, was ejected, still ranting and raving, from the building. (To think, his father – quite a courteous man – used to be our landlord!)
The party of law and order, indeed.
In the meantime, it's been revealed in The Guardian by "a whistleblower" that a Ms Paola Cuneiri, who worked for two-and-a-half years in "a senior post at London & Partners (L&P), the official mayoral promotional agency which Johnson had responsibility for while he was in City Hall", moved on from there to head the Sirius program.
That's the government scheme she claims to have invented, so she should have known  the rules, despite which Johnson's alleged mistress, or one of them, the American "former model" Jennifer Arcuri, a "businesswoman" with a pole-dancing pole fitted in her Shoreditch flat, as they do, was awarded a prestigious £100 thousand cybertech grant, for which two thousand companies had applied; 1,800 unsuccessfully.
The award came with an expensive and hard-to-get Tier 1 immigration visa, despite Arcuri's firm not meeting the qualifying criteria of being actually based in, or having anything much to do with, Britain, apart from a Companies House registration; or, indeed, with cybertech development. Innotech/Hacker House is basically just an online events management support service.
The whistleblower confirmed, too, that Johnson's department had granted Ms Arcuri around £26,000 in startup funding, and that she had travelled abroad three times on official trips with the Mayor, who had appeared on video and at events endorsing her company.
(Despite the existence of multiple photos and documents, Ms Arcuri has issued a statement denying any of this ever happened. It was all a dream, little Princess. And now she's giving hugely expensive interviews with the dumbfuck UK press, under the watchful eye of her lawyer, although she says they didn't actually, you know. She just gave him technological advice.)
"A friend" confirmed to the Guardian, Arcuri had told her she was having an affair with the married Johnson, who was seen "regularly" leaving her east London flat. He has refused to deny, or confirm it. Whether she overlapped with current squeeze, Carrie Symonds, has yet to be determined by the sound of breaking plates upstairs at No. 10.
Is it looking bad for Johnson? Not as long as his dithering and malevolent waffle over Brexit, his abusive populist tirades against MPs, EU officials and judges, his viral coffee-cup blunders, his halting improvisation of a terrible, unprepared closing speech to Conference and his harebrained scheme for an Irish customs border in the middle of a bog somewhere in Ireland, over which he appears to have stitched-up a deal with – yes, them again – the DUP, continue to hog the headlines.
He's learned a lot from Trump.
Word of the month….
Treason /ˈtriːz(ə)n/ noun
"The crime of betraying one's country, especially by attempting to kill or overthrow the sovereign or government."

Disagreeing with the idea that Boris Johnson can defy the law with impunity.

Thinking leaving the European Union is a bad idea.

Voting Lib-Dem.

er, that's it.
Not fit for purpose #1: The Home Office

"We welcome international academics from across the globe and recognise their contribution to the UK's world-leading education sector. All UK visa applications are considered on their individual merits, on the basis of the evidence available, and in line with the immigration rules."
Thus, a Home Office spokesmouth, defending with the standard press response their refusal to allow the two very young children of an American academic at Oxford to join their mother in the UK, forcing her to have to decide whether she can remain in her job, or even in the country.
(Oh, yes, forgot. Her husband, who is working away on contract in his home country of Cameroon at the moment, is, er, black. Tsk.)
Hundreds of overseas academics are being refused visas, often on spurious legal or procedurally incorrect grounds, sometimes suggestive of racial profiling.
Even invited conference delegates and speakers are being shut out, especially from the African continent, and some universities have started automatically rejecting overseas applicants for fear of getting entangled in Home Office red tape.
Welcome to HM Prison Hulk Britannia.
Home of the terminally thick.
Not fit for purpose #2: The President

In the 12 months to June, almost entirely owing to Trump's trade war with China, nearly 13 thousand US farmers declared bankruptcy.
Those, that is, who have not contributed to the record rate of suicides among small farmers.
Meanwhile the madness of King Donald continues unabated.
He's now accusing House Intelligence Committee chairman, Adam Schiff of inventing the telephone conversation in which he has already admitted asking Ukrainian president Zelezniy for a favor in digging dirt on Democratic opponent, Joe Biden, which he now says is fake nooze.
Er… but that's the report the Committee is investigating! It came from the Inspector General of Intelligence, not from the Committee! (No, "Shifty Schiff" is a traitor and a liar who makes stuff up and must be put on trial!)
And today, Trump doubled-down on Biden (who is no longer the Democratic front runner anyway), claiming "what he did in China was terrible" and maybe he will ask President Xi to look into it…
There is no evidence whatever that Biden did anything in China, any more than in Ukraine, where Trump once again admitted he had pressured President Zelenskiy but it was a "perfect conversation"…!
It is horrible watching the spectacle of this tortured man unravelling under the pressures of his job. He needs to be taken out of the pressure-cooker and put in a secure mental facility for his own good, but no-one in office has the guts, the perspicacity or the wisdom to see it; nor has anyone the power to do it, except the Vice President – who is himself under suspicion of assisting in the commission of a crime.
Trump is seriously not fit for purpose. Nor, indeed, is Secretary of State, Mike "I can't believe he's not Bunter!" Pompeo, who after five days of outright denying to the media that the phone call ever took place, that there was a report (of which he only read "two paragraphs") or that he or anyone else, let alone the whistleblower, had any knowledge of it, has now confessed he was in the room at the time, on speakerphone.
Mr Pompeo is in Italy currently, with a brief to continue the president's important foreign policy campaign to persuade world leaders to say it was Ukraine and not Russia that meddled with Trump's 2016 election, which he won, to get Hilary Clinton elected; that Paul Manafort and Mike T Flynn are innocent bystanders, and that the Mueller investigation was all a hoax.
Even Bunter is beginning to look a little uncomfortable.
Not fit for purpose #3: Britain

Downing Street, according to the Mail on Sunday, for which read evil genius, Dominic Cummings, is "investigating" several of the 21 rebel MPs expelled by the Tory whips' office last month for voting with opposition parties on the "surrender" bill.
That's the one denying the sexually incontinent oaf, Johnson, the right to simply walk Britain out of the EU at the end of this month with no agreement to discuss future trading and security arrangements with the market of 450 million consumers just 26 miles away across the Channel.
It is yet another of the extraordinary correspondences between the Johnson administration – for want of a less organized word – and that of the paranoid Trump, who has his tame Justice Department under "Shill" Barr, busy "investigating" his political rivals too; even the ones like Clinton who've already been investigated.
In both cases, what is being "investigated" is the allegation that the two men's political opponents are somehow in the pay of foreign countries and their secretive interests: exactly the same accusation that has been made against Mr Trump and Mr Johnson – but with much, much less evidential justification.
It is in fact just one gigantic smear, designed to intimidate and menace those calling for responsible governance from these two megalomaniacal, sociopathic sex-pests.
This is para-Nazism at its finest, the only difference being that we have not yet started to cause people to disappear into forest graves.
Former Justice Minister, David Gauke, one of the so-called "traitors", was moved to warn at the party conference yesterday – he is still a party member even though he cannot stand as a candidate or vote with the Tories – that Britain is descending into Trumpism.
As if to prove it, Tory party chairman, James "but not very" Cleverley has this morning again warned of civil disorder breaking out if Johnson doesn't get his way. Make no mistake, guys, it's a threat, not a warning.
I suspect few of the frothing old dumbfucks sensing victory for the way of life they misremember from their youth – no dogs, Irish or blacks – no Europeans, except waiters and comic detectives – Camp coffee and proper lightbulbs – toad-in-the-hole for tea, will give a monkey's, not even when their grandchildren are being arrested off the streets and hauled out of their school classes, Polish overstayers being interned, machine-gun nests dug into the White Cliffs of Dover, avocado toast criminalized (if there are any avocados) and Jewish and Muslim shops being firebombed.
"But I know we'll meet again some sunny… er, rainy day."
A state of surveillance
Now look. An hour ago I printed off a letter of complaint I had written to my optician as yet a third pair of these O'Neill glasses has fallen apart in my hand after less than three months.
I didn't email it, or platform it, or anything – I just wrote it in Word and fucking printed it.
Now sitting on top of my inbox is an unrequested email from a company I don't know, SelectSpecs.com, advertising prescription glasses.
Update… Friday morning, top of my inbox: "New sock is helping seniors turn back the clock…" "This new funeral plan is finally released to Brits over 50…" Oh, did they notice I turned 70 yesterday?
I'll say it again, Google.
FUCK OFF AND STOP SNOOPING ON MY STUFF, OKAY?
Miracle on Boglington Street
Although, a strange miracle occurred this morning (02 Oct.). (Wouhaaouwaahouwah!)
Friends, I'll admit, I've been having trouble with muh li'l laptop. F'rinstance, once it goes to sleep, you can't wake it up again. You have to switch it off, wait 5 seconds and then on again, for which purpose I keep a small stick beside the computer, my "on-off stick", to press the power key with, otherwise if you use your finger you can't see the little light.
(I'm very practical, although my son thinks I'm mad!).
Also, the desktop icons 'n stuff are never in the same places two mornings running, and occasionally you get this bluescreen warning of impending cyberdeath. Again, off-and-on-again does the trick. It's all a bit unnerving.
Well, this a.m. when I started it up, I got a red warning sign urging me not to switch off, as the Operating System was regenerating, like Dr Who. The text of the sign had partly slipped out of the frame of the box it was contained in, and there was no attribution to any source such as Microsoft, raising suspicions of a hack.
Anyway, after a few minutes it finished its operation and an illiterate note appeared, saying "Sucessful complete" (sic). Naturally, I ran a full security scan, as I speak Kyrzgystani, but it produced no evidence at all of anything untoward.
And then, wonderful to relate (mirabile dictu, as the Romans say), as it rebooted automatically, the old pretty photo background image re-emerged, that you get with Windows 10, a different one every day, that I'd forgotten I hadn't noticed not being there for the past several months, and I was welcomed as before to log in, which I can do because it's not password-protected.
(I figured that would drive anybody crazy, who tries to guess my password in order to break-in to my system!)
And the very next time I let it go to sleep, the computer woke up immediately I pressed any key! Quite astonishing.
If I've been attacked by Hacker House or someone, well, okay, Jennifer, I'm all in!
(And after posting this, what next on my Google inbox? "Norton antivirus-plus…" For Christ's sake, is this the world I'm bequeathing to my children? Well, at least they can't blame me for this part, I don't understand a fucking word of it.)
(Photo: Nikola Mijic)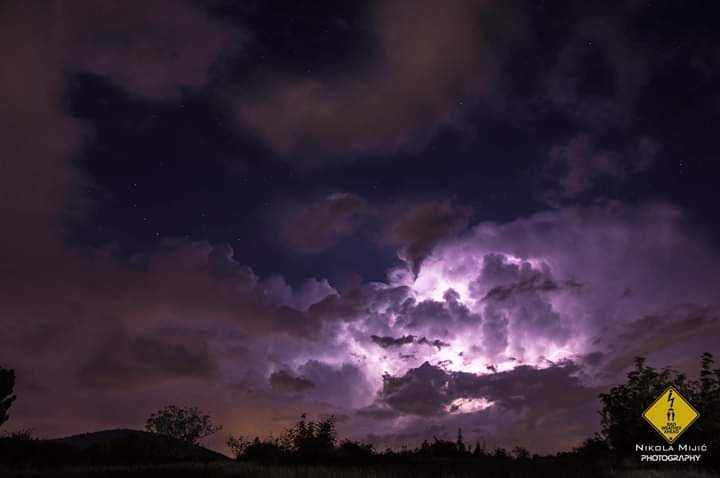 Lightning illuminates a funnel-cloud forming during a storm over Bosnia, 2 Oct.
GW: It never rains but it rains
Azores: "Winds were rising and intermittent showers were hitting the northern Azores Islands Tuesday afternoon (1 Oct.) as huge Cat. 2 Hurricane Lorenzo sped towards a Wednesday morning encounter with the islands. At 11 am EDT Tuesday, Lorenzo was racing northeast at 25 mph with 100 mph winds." (Wunderground). 7 of the 9 volcanic islands have been put on the highest alert – 250 thousand people live in the path of the storm. The islands, which are Portuguese territory, could be hit by waves up to 22 meters – 70 feet in height.
Update Thurs.: "Lorenzo brought sustained hurricane force-winds to Corvo Island, gusting to 101 mph. Winds of this strength have rarely been experienced in the Azores. AP reported numerous downed trees and power lines (a maximum gust of 128 mph was recorded on Flores). Civil Protection Agency said the main port on Flores had suffered "grave damage" – part of the dock, the port's building and some cargo containers had been "swallowed" by the sea. (Wunderground)
UK: Torrential rains have swept across the UK, 1 Oct., causing floods, closing roads and railways, and leading to some places being evacuated. Over 150 flood warnings were  issued and some areas were hit by a week's rain in just an hour. On the Isle of Man, a major incident was declared as a flash-flood trapped people in their homes. Elsewhere, drivers were rescued from cars. A change of wind direction spared coastal communities in Norfolk on evacuation alert from being flooded by a King tide. (BBC) The rain has moved away into northern Europe but further heavy rain and high winds are expected on Thursday as remnant Hurricane Lorenzo arrives. (Accuweather).
Update: The latest NOAA track suggests the worst of it will veer to the northwest of Ireland and Scotland's Cape Wrath by Friday. Its sheer size, however (300 miles in diameter), will bring 70 mph gusts, torrential rain and heavy swells from its outer bands to western Britain. The Irish Met. Service has issued an "Orange Alert" wind warning for the entire western coast, with possible 45-foot waves.
India: More than 100 people have died due to flooding caused by "completely unexpected" late-monsoon rains in the Indian states of Uttar Pradesh and Bihar. Snakebites have caused several fatalities. Rail and road traffic, hospitals, schools and power lines have been disrupted. Patna was underwater as the Ganges overflowed; Varanasi reportedly awash with sewage. The Deputy Chief Minister and his wife had to be rescued from their flooded home. (BBC)
Senegal: At least 6 people have died and over 4,500 displaced by flooding around the capital, Dakar. 4 people were struck by lightning. Large areas of farm crops have been spoiled.
Korea: "At least 5 people have died and several are missing (in floods and landslides) after Typhoon Mitag swept through southern and eastern regions of South Korea on 3 Oct." (Floodlist reports). Uljin, North Gyeongsang Province, recorded rainfall rates of 104.5 mm per hour, the highest since authorities began compiling the data in 1971.
USA: Accuweather reports: "Flash flood warnings remained in effect across several states (in a 1,500-mile corridor) stretching from New Mexico to Michigan on 1 Oct., as a narrow swath of soaking rain targets the middle of the nation. The combination of tropical moisture and a temperature battle zone will set the stage for the relentless rain, which (with ground soaked by endless rains all year) could result in widespread flooding."
The heatwave stretching from Florida to New York, that has brought record-setting early Autumn temperatures to the East into the high 90sF, will be replaced by colder air this week.
Mexico: "Narda" made landfall near Lazaro Cardenas on 30 Sept. before weakening into a tropical depression. However, on Monday, the storm moved back over open water and strengthened back into a TS. Narda then made a second landfall in Sinaloa on Monday night. Acapulco recorded 7-in. of rain. "Tropical moisture will be pulled northward into New Mexico and Texas, where there will be additional flooding concerns." (Accuweather)
Guatemala: 1 death has been reported and many buildings destroyed, highways blocked and schools closed, with over 5,000 people evacuated and 1,300 left homeless as heavy rains have caused flooding and landslides since the end of September. (Floodlist)
Australia: In a stuttering start to summer, Sydney experienced near-record October daily temperatures yesterday before the mercury suddenly plunged 15 deg. C in one hour. Mostly, though, heatwave conditions are building again across the entire country, and it's been the worst start to a fire season on record.
Tunnel approaching….
Terra trema: The town of Dublin in the bay of San Francisco has had 36 earthquakes in the past week, 14 just yesterday (30 Sept.) It lies on the Hayward fault, which is part of the San Andreas. The town of Snyder in Texas was shaken by a M4, right in the middle of a fracking zone. (Mary Greeley)
The evidence is that quakes caused by fracking go on getting bigger, UK Gov. kindly note, as they're getting bigger here too. There's a serious environmental health risk on top, according to more than 1,200 research papers. Ban, now!
No sweat: "Hundreds" of migrant workers are dying of heat, working on World Cup football stadiums and other construction sites in Qatar, according to an investigation for the Guardian. Causes of death are registered by the authorities as cardiac arrest, but among apparently healthy young men experts believe this is masking numerous incidences of heatstroke as summer temperatures approach 50C.
Poo story: In Florida's Miami-Dade County, where sea level has risen 4 inches since 1994, 105,000 residential properties still use septic tank sewerage, according to a new report. More than half are regularly "compromised" by higher tides and increasing rainfall and the situation is expected to worsen. (From: Wunderground)
Ironic deaths corner….
Your Uncle B. has long been interested in reports of "ironic deaths". The latest such is that of respected US weatherman Bill Lapenta, "former director of the NOAA/NWS National Centers for Environmental Prediction", who drowned in rough surf off the coast of North Carolina this week.
Surf that, er, weathermen had been predicting…. RIP, Bill.