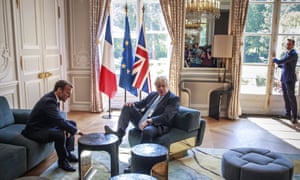 "Merde, monsieur Johnson, je crois qu'il est coming from zis shoe…"
"Gizza job!" (but what kind of "job", eh?)
"Johnson was listed as a reference on Arcuri's application for a role at Tech City, which was launched by David Cameron to bolster digital companies in east London. The Sunday Times said Arcuri was a 27-year-old student when she applied for the £100,000 a year job in 2012.
"In an email leaked to the newspaper, she allegedly later wrote: 'I still have the letter of rec from Boris. hahaha. To think that we asked him to write us a recommendation for the CEO of Tech City is just hysterical." – The Observer
This utterly lamebrained and gullible buffoon, this absolute bell-end who, tragically at the age of 55, visibly losing his trademark hair, will apparently do or say anything it takes to get to have sex with attractive young women, how is he still the Prime Minister of Great Britain and Northern Ireland?
He has clearly been taken for the most gigantic ride.
Where would he draw the line? Would he betray his country, say with a Russian prostitute ("We have the best!" – Vladimir Putin) for one more shag?
This is the creep who abandoned his wife of 24 years while she was having radical treatment for ovarian cancer, to shack up with a party worker 22 years his junior.
As well as being a terrible role model, who says he has no idea how many children he's got, a serial liar utterly without shame or morality, he is clearly a major security risk. He can't be trusted with women. He certainly can't be trusted with public money.
How in God's name do Johnson's Conservatives have (admittedly only on one poll) a 15-points-and-growing poll lead over Jeremy Corbyn's Labour party, with this well-composted shitshow of a government clinging to office?
It is inexplicable, other than in terms of a collective madness, general despair, or a cloud of sheer ignorance that has taken hold of the population.
I'm not attracted to Corbyn, any more than I would want to have a stubborn old billygoat in the barn rather than a placid young milker. But believe me, if he fired a couple of unreconstructed Stalinists in his coterie, he would make an infinitely more sensible and trustworthy PM than this unmade bed in No. 10.
I mean, it's understandable that people are fed up with normal politicians, but why would you vote for something so obviously much, much worse?
According to the Observer report, Ms Arcuri continues to deny that the stories about her and Johnson are true. But she will neither confirm nor deny, as does he, that they had sex.
In which case, why is her lawyer continuing to invite bids from the media, that are already approaching a quarter of a million pounds?
And why is the media apparently happy to pay it?
Once upon a time, this would have been curtains for Boris. The head of the 1922 committee would already have handed him the loaded revolver and quietly closed the door.
There's a crisis of shame in the world today.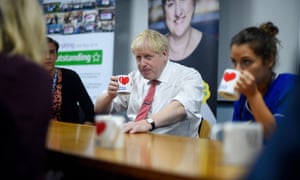 "See, hand's on the table!"
The Munchetty bunch
The row over BBC breakfast show presenter, Naga Munchetty, and her allegedly biased comment about Trump's racism, or – as one might say – racial bias, shows signs of never ending.
The broadcasting regulator, Ofcom, has weighed in with "serious concerns around the transparency of the BBC's complaints process", the Guardian reports. Unsurprisingly, as the original decision of the BBC complaints committee to discipline Ms Munchetty on the basis of just ONE viewer complaint was never fully explained; while it has required the intervention of the Chairman of the BBC Board, Lord Hall, in the face of a staff mutiny to get it reversed.
The arrogance of BBC executives mirrors that of an increasing number of politicians encouraged by the existence of Mr Trump, whose response to any criticism of their performance is basically to circle the wagons and break out the Gatling gun. There is something positively Trumpian about the manager responsible, Mr David Jordan, loftily responding to Ofcom's intervention by offering his opinion that it was none of their business, and refusing to answer their questions.
Had Ms Munchetty been casting an actual news bulletin, there would obviously have been a case for saying she had breached the impartiality guidelines. Newscasters may not offer comment, and that's fair enough. Just read the script and pick up your £350 grand a year. (£150g if you're female.)
However, when you're a morning chatshow host whiffling to your equally half-witted co-host from the comfort of a sofa in a fake living-room, joshing about this and that to a bleary-eyed audience putting on kettles, burning toast and getting the kids off to school, you might be expected to let out an occasional opinion about something.
In fact, they have all expressed their opinions from time to time; while some senior broadcasters like Mr Soapbox Humphrys, Mr Jeremy Paxman and Mr Andrew Neil never stopped making their opinions abundantly clear on any subject, preferably ones they knew least about.
A flick of the head, a raise of one eyebrow, a sneer in the voice, a demand for proper contrition… there are many ways to indicate your view of a story without directly saying it. While, of course, the best way of expressing an opinion on the BBC has always been to invite someone opinionated onto your show and let them do it for you.
Hence, the unceasing barrage of Farage. No bias there, obviously, Mr Jordan. (Actually, I'm starting to smell the unmistakeable whiff of fascist sympathiser rotting behind the skirting-board. Aren't you?)
It therefore seems more probable that, rather than breaching the general guidelines on balance and fairness, Naga's crime was to breach the BBC's private "Never say anything bad about President Trump" guideline, which thanks to the oversight of North America correspondent, John Sopel, or Sopoor as I prefer to call him, has been in place since before the orange madman was elected by a minority of American voters.
Barely a word of criticism of this big, fat liar, his ineptitude, his sexual incontinence and his many crimes – including now, it seems (and has seemed since Helsinki) treason – has thus far been allowed to enrage the ONE member of the viewing and listening public who apparently objects to Mr Trump's politicised racism being called out for what it is.
Anyone invited by the BBC to comment on Mr Trump's performance, even his opponents, will generally leave the audience with the impression that there is nothing wrong, that while Mr Trump may be endearingly eccentric, possibly even a little confusing, nevertheless his presidency is all quite normal, respectable and falls within the historical bounds of presidential propriety.
Which is, of course, very, very far from the truth. Mr Trump is claiming Presidential immunity from prosecution and under it, has committed Federal crimes including multiple instances of obstruction of justice, and numerous egregious breaches of his constitutional duties; while thumbing his nose at the Congress, a co-equal branch of government with a legal duty to hold him to account.
His presidency is not "normal"!
I don't suppose the complainant called himself John Barron, by any chance? (That's the name Trump used to use whenever he wanted to plant a juicy story about himself in the New York Post – he pretended to be his own PR flack.) Perhaps it was just someone from the US embassy, putting on a false nose, glasses and mustache.
I was reminded this morning that a little over a year has passed since the New York Times published over 30 pages, on 2 Oct. 2018, documentary evidence of the astonishing extent of the Trump family's financial crimes and Donald's years-long PR campaign to present himself as a brilliant and attractive self-made billionaire, when in fact his disastrous business decisions and many bankruptcies had required the writing of, literally, hundreds of millions of dollars' worth of bailout checks by his father, Fred C Trump; whose successes the miserable failure, Donald claimed for his own.
All in the most tax-deductible ways possible. And, of course, certain of his lenders have also been on FBI lists, suspected of involvement with organized crime gangs.
And yet he's still in office, and – the Pumpkin forecasts – may still be when he comes up for re-election next year; still whining about "Presidential harrassment" by Nancy Pelosi and the Deep State (catch their latest recording!).
The last real BBC investigation of Trump's shitty dealings was John Sweeney's brave March 2016 Newsnight special documentary concerning his extensive connections with organized crime in New York and Moscow. Earlier this year, Panorama looked into Russian interference with the 2016 and 2020 elections, but Newsnight reports inbetween have been characterized by Emily Maitliss and others conducting anodyne interviews with brazen White House apologists like Trump's atavistic "missing link", Gorka; never once calling them out on any of the outrageous lies they would tell to defend the man who had probably just fired them.
Does he have people's kids chained to a radiator in a basement somewhere? What is the reason for these halfwitted baboons he hires and fires, even retired 4-star generals, who will never work anywhere again, other than stacking supermarket shelves, to be so protective of his blatant lies and criminality, his horrible policies?
Why do they do that? Lewandowsky has been a staunch Trump supporter ever since he was fired, to be replaced as chair of the election campaign by an even bigger criminal wih Russo/Ukrainian connections, Manafort – now serving 7 years in a Federal corrections facility. Only yesterday, Fox News had to pull the plug on an interview with Lewandowsky, as he was clearly drunk.
In fact it seems fairly instructive that Googling "Trump Mafia" produces two consecutive hits in particular: one on The Guardian's report of last April, "Teflon Don: How Trump the Mafia Boss Fought the Law"; followed immediately by an unassociated link to the Wikipedia entry on Russia's top crime boss, the terrifying Semyon Mogilevitch. (That's top, as in "not including you-know-who.")
And now Trump is facing impeachment proceedings for attempting to blackmail the president of Ukraine into helping him win the 2020 election. Nothing has been said recently about last year's attempt – successful, as it happens – to get Saudi Barbaria to bully Qatar into bailing out Trump's near-bankrupt son-in-law, Jared Kushner to the tune of half a billion dollars. Not even though it might have resulted in a war.
(You may have wondered why Trump continues to refuse to accept that MBS had anything to do with the assassination of Jamal Khashoggi?)
You may wonder too why he has chosen to repeat the behavior that got him into so much trouble with the Mueller inquiry, and to do it on camera this time? His refusals to allow key staffers to testify to Congressional committees he has described as "a kangaroo court" is clear obstruction of justice, and he either doesn't know it, or he doesn't care.
You will find 102 issues of the BogPo's sister bogl, The Pumpkin, devoted almost entirely to Trump's insanity and his dangerously dodgy dealings – most of which have already been forgotten by the media as each day brings new evidence of instability and outrageous behavior. (The Pumpkin never forgets.)
This is the president the BBC has been trying for almost three years to pretend is entirely normal. Hardly surprising, then, that a perfectly innocent and heartfelt comment from a member of a racial minority (in the West, at least – India is full of Naga Munchetties, perhaps not all as attractive) should cause such frightful outrage, in a once-respected institution weakened and corrupted by political forces determined to swing the balance of popular media toward disruption, division and social breakdown.
Where, of course, it would never occur to a dead middle-aged white man like David Jordan that, to a significant proportion of his audience, the large south Asian-British community, Munchetty would only have been reflecting exactly what they were thinking.
Maybe like Trump, he thinks they should all go back to where they came from?
GW: blowin' hot and cold (with a bit of wet thrown in)
Iran: At least 5 people have died and over 300 displaced after a period of heavy rain from 01 to 04 October 2019 caused flooding in provinces of Sistan and Baluchestan, South Khorasan, Fars and Hormozgan. (Floodlist)
Yemen: Thunderstorms, heavy rain and flooding caused widespread damage over the past week. The UN reported on 3 Oct. that a total of 2,775 families have been affected by the floods in southern areas of the country; while damage to camps for internally displaced people was reported in Aden and other areas. (Floodlist)
Ireland: Although its arrival in the British Isles sandwiched between two wetter weather fronts last week was disappointing from a disaster-chaser's point of view, ex-hurricane Lorenzo brought 80 km/h storm-force winds, flooding and damage to western parts of Ireland on 4 Oct. (Floodlist). Lorenzo had at one time been the largest and most powerful storm ever recorded in the eastern Atlantic, briefly attaining the top Category 5, but was undone by wind shear and colder waters.
Guam: Supertyphoon Hagibis intensified over the Mariana Islands in the West Pacific, exploding at the weekend from a 30 mph tropical disturbance to a 150 mph, top-end Category 4 storm in under 24 hours, bearing up to 10 inches of rain. Severe-weather.eu has peak windspeeds approaching 190 mph by 8 Oct. Accuweather reports, after departing the Northern Mariana Islands, Hagibis will begin to turn northward on a possible collision course with Japan. Some modest weakening is possible from Wednesday into Friday as Hagibis moves over the open waters of the West Pacific. Tokyo may have some of the most significant impacts from the storm.
USA: Hot, dry "Santa Ana" winds are forecast to bring an enhanced fire threat across California and much of the West, including Nevada, Utah and Arizona this week. Fanned by the winds, the "American Canyon Fire" near San Francisco consumed 500 acres and burned down a ranch in its first 5 hours. (Accuweather ). With snow in the Rockies, as deep cold in the northwest (that broke late September/early October records) runs into the warm air from the recent heatwave in the southeast (that broke late September/early October records), thunderstorms, rain and snow are forecast across the whole of the midwest from Texas to the Great Lakes. Yippee, more rain!
Great Falls, Montana recorded a low last week of 9F (-12.7C), beating its previous early Fall low of 22F set in 1959. On 1 Oct., mercury in Cut Bank, Montana plunged to just 1F (-17.2C). At the same time, by lunchtime it was hitting 97F (36C) in Washington DC, the hottest recorded October day… etc. (Wunderground)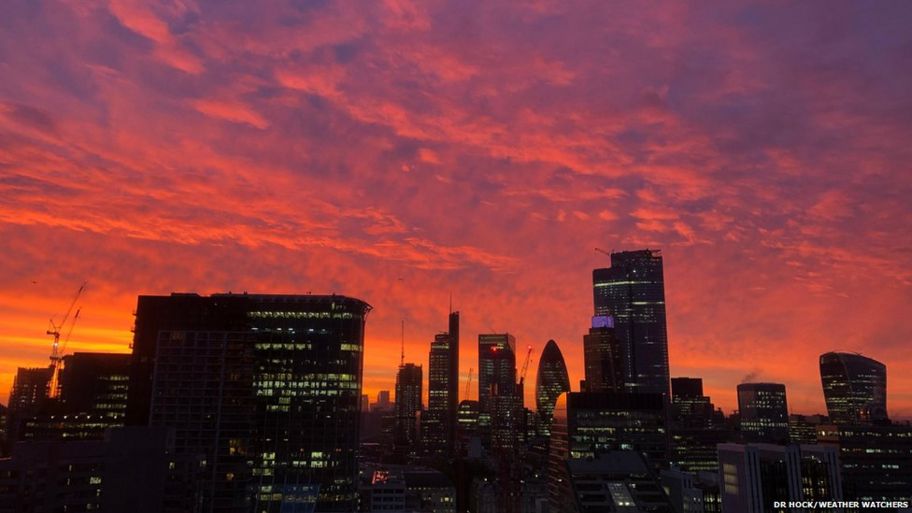 Sunrise over London, 7 Oct. Intense vermilion skies were seen over the whole of the eastern half of the UK this morning. (Photo: Dr Hock, BBC Weatherwatchers)
Azores: Following the blast from Hurricane Lorenzo, which hitting at Cat 2 caused extensive damage but no major loss of life, a casual browse led to a stumble over a GW item from June last year, in which it was reported that two of the volcanic islands had suffered severe flooding then, after receiving two months' worth of rain in under 24 hours.
Getting wetter, folks.
An open letter to a climate denier
Douglas Murray, Spectator associate editor and author of Neoconservatism: Why We Need It. (Sorry, must have missed something. Who needs it? Ed.)
Dear Douglas
I understand that moronism is the order of the day among certain classes of person who appear to find it amusing, politically expedient or profitable, but yours I feel is of a lower order. I'd call it attention-seeking.
First of all, let me say that if you wish to continue denying what is staring you in the face, that "climate change" – the dangerous overheating of the atmosphere and oceans as a result of emitting 37 billion tonnes annually of additional carbon and heat-absorbing gases to a finite system, causing adverse changes to the world's weather systems, with consequent food insecurity, mass migrations and socio-economic breakdown – poses an existential threat to our and other species, and in the very near future, that's fine by me. It's already happening.
Your childish protestations against reality won't make the slightest difference, as there is no expectation of some technological miracle that will provide our salvation. We have already passed the point of no return and must expect to live – perhaps not for very long – with the consequences. Atmospheric methane has nearly quadrupled over pre-industrial level and warming is only releasing more. Methane, 80 times more heat-retentive than carbon dioxide – these claims are nuanced, by the way, I don't have space to detail them – decays to carbon dioxide. There is a runaway effect in train, now.
The question is, what do we tell people about it? What is in their best interest to know? How should they behave? How should we manage the fallout?
Your definition of what drives those questions as "fascism" I find quite lacking in charm. Fascism in its proper definition is a system of direct, extraparliamentary governance in the interests of military, corporate, sometimes religious and state-sanctioned bodies, united under one all-powerful dictator; the abolition of one-man, one-vote democracy; the undermining of the judiciary and the rule of law; the cult of personality; a populism often based on a false myth of some previous "golden age", the licensing of citizen violence and the dehumanising of hated minorities; the abandonment of accepted norms of social behaviour; military expansionism in pursuit of the recovery of mythical "boundaries".
All combined with the kind of double-standard you support as a kind of "neocon", that what is awful for the "undeserving" majority is good for you.
Fascism has nothing whatever to do with a leaderless popular movement hoping, probably in vain, to extend the span of human life on earth through raising consciousness of other, possibly ameliorative modes of behaviour we could all adopt, given that the ecosystem of the planet clearly does not allow for infinite growth and the expenditure of energy derived from finite resources, to support the rising expectations of an unsustainably large population.
But then, you already know that. I'm sorry, this must be very boring for you.
Anyway, please feel free to continue lying your assinine head off about the lack of scientific consensus on the subject. I feel sure I can almost trace that particular meme back to Messrs Charles and the late David Koch, now making his own personal contribution to global warming; or to one of their well-paid PR shills from inside the Washington beltway, Mr Myron Ebell, possibly; or "Lord" Nigel Lawson, a dishonest paid proselyte whose entire knowledge of atmospherics is confined to cigar-smoke-filled rooms.
It would be traced too, to Exxon-Mobil, the world's richest privately owned oil and gas company. But look, they've confessed to the true scale and nature of the problem on their public website, you know, the problem you refuse to believe exists; and suggested that something – what? – might be done about it. Too late, alas, but a creditworthy attempt, given the money they have outlayed over the years on supplying ready-to-go misinformation to opinion-shapers such as yourself. The tragedy is, they're probably not even paying you.
You might be surprised to learn that the warming effect of burning fossil fuels – I am sorry if you find this difficult – actually, I doubt you even care, which makes you a true sociopath – was predicted in the latter part of the C19th, and fairly precisely calculated by the 1960s. It is not some new affectation. True, some collective action is required, that must conflict with your belief in the value of rugged individualism. I assure you, many rugged individuals are taking to the hills to survive the coming storm. Others are banding together in the hope of seizing power through group action – well-armed militias.
The fact that climatologists cannot predict precise outcomes in such a complex arrangement of competing forces as our turbulent atmosphere is surely obvious to any person with a modicum of intelligence, although not, obviously, to a journalist such as yourself, employed on the sort of low-circulation publication where you would expect to find a sneering contrarianism fashionable among the better funded set, imagining their money makes them invulnerable to environmental forces.
(I was born among them, Mr Murray. I know them. Having oodles of money does not improve them. But you continue poncing off them, pandering to their more absurd vanities if you will.)
Precise weather forecasting is not the point. Nor, really, is an exact knowledge of the likely degree of average warming: it is not the mean increase that kills, it's the extremes. And there is no doubt that with a warming mean they are becoming, statistically, more extreme. We see the effects everywhere; especially in the damage to the jetstream winds; the warming oceans and the increases in the intensification, duration and precipitation of storms. Many countries are experiencing declining agricultural yields.
Your children, should you have managed to engender any while admiring yourself in the bathroom mirror, are going to die anyway; or certainly your grandchildren, well before their time, as a direct result of the crisis you are denying; whether as a result of your self-delusion or their own; although I doubt that, should these young people exist in your life, they have any respect for your atavistic gruntings and fartings. "There he goes", they say, "the old fool, lying to himself and everybody else, and for what? His own self-aggrandisement? Fuck him."
But I would rather mine didn't have to die too soon because of your money-grubbing cynicism and the corrupted system of rotten, selfish values you live by, thank you. I'm sure many people would like to try to help, if they could. If they had the kind of information you'd prefer to deny them, to keep your rich friends rich.
In fact, I'm quite surprised to find you exist at all. Your ancestors must have had great trouble believing in the existence of smilodons, until they wuz gobbled up, one by one.
Yours truly,
GW