Quote of the month
Readers may know that US Congressman Devin Nunes, a Trumpsucker of staggering ineptitude, is attempting to sue anyone who has reposted a Twitter meme in which his mother is represented as a wise cow character who thinks her son is an idiot (The Nunes family are dairy farmers). The defendants could run into the tens, even hundreds of thousands. Somehow, the law suit has ended up targeting any Tweet containing an image of a cow.
In a California court, the defense deposition runs as follows:
"…cows are domesticated livestock animals and do not have the intelligence, language or opposable digits needed to operate a Twitter account."
It makes a change from the impeachment hearings.
Before you vote, you need to read this!
The 450 pages of notes from preliminary US-UK trade discussions Mr Corbyn was brandishing last week don't only tell us the Conservatives are talking about letting US healthcare corporations breakup the NHS.
Of even greater importance are our data protection, intellectual rights and internet usage laws, which the Americans want to bring into line with theirs.
Which, essentially, totally favors the unfettered interests of US corporations over UK service providers; even to the extent of demanding a tax-free environment for online transactions..
We have new rules, for instance, concerning age-related material, to protect our children from extreme pornography and violent radicalizing images.
They don't.
Back with the NHS, they're demanding unlimited access to British patients' medical data. While we would lose control over things like the operating software built-in to high-tech products such as cars and MRI scanners.
A vote for Johnson's shitshow of a government is a vote for our ultimate colonization by US corporate interests – the Big Selloff of our remaining sovereignty.
You can find out about it here:
http://www.opendemocracy.net/en/opendemocracyuk/threat-our-digital-rights-revealed-us-uk-trade-talks-leak/?utm_source=Daily+Newsletter&utm_campaign=7ae9268eb9-DAILY_NEWSLETTER_MAILCHIMP&utm_medium=email&utm_term=0_717bc5d86d-7ae9268eb9-408090269
"In this world of partial sightedness there are no straight lines. Everything is wrinkled, like looking through the bottom of an old pint glass."
It's a fuzzy old world
Trudging with Hunzi past the sports ground, I can hear a football match in progress. It might be a rugby match, we get all sports here.
I peer out across the grass, but can see nothing moving. I imagine youngsters running around, dads on the sidelines jumping up and down, bellowing helpful advice to pass it into space, but nothing at all seems to be happening. Which is odd, because I can see all the way across the expanse of grass to the road beyond, the passing cars, the buildings and the distant hillside, the trees and houses. Where are the people?
Welcome to the wacky world of partial sightedness.
A few days after my 70th birthday, for no reason other than that I am being punished by the Gods for some act of hubris, spending too much time on the computer possibly, a retina detached itself, requiring a repair operation of whose precise medical details I shall spare you, gentle Reader.
It was in my "good" left eye, that could see for miles. I'd twice been operated on the previous year for the same condition in my shortsighted right eye. Between the two I'd always enjoyed better than average vision, so this incipient blindness was new.
Following the repair operations last year, I'd needed glasses to bring the long sight in my "good" eye back to where I could comfortably read and write and view the big screen to which this keyboard is unreliably attached. I do a lot of writing. But – to my surprise, it's a self-certifying process – I could still legally drive without glasses, as long as I didn't rely on my right eye at junctions and I could read a numberplate at 25 meters.
The right eye was a different story. After the double detachment I'd been left with mostly peripheral vision, a fuzzy spot in the middle (my ex-wife joked, it was another of my gray areas. We're that kind of family…) meaning that whatever I look directly at, faces, text, even a light source, completely disappears; while the sharpest focus of the eye is uncorrectably fixed at about nine inches. It's not that I can't see with it, but the world is a blur, not helped by the subsequent development of a thickening cataract.
Reattachment requires the injection of a semi-opaque medical gas to keep the repaired retina in place for a few weeks. I could see almost nothing through it, only light or dark and a sense of movement; although after a while it takes on a beautiful translucent quality, like looking into a deep, clear pool, at the bottom of which, greatly magnified, is your toilet bowl. You should try it, instead of those drugs.
It's only a day surgery appointment, at a hospital 50 miles from home, so a couple of hours afterwards I was discharged from the NHS taxi as the wintry light was beginning to fade, into "the community", now virtually blind and with no support arranged.
"The community". God, how I despise that measly expression. I live alone, with a lovely dog and a serial-killer cat, both in want of frequent exercising and feeding. Fortunately, I'd parked the dog on a friend, but he would be back the next day. My little house sits on a terrifying main road, literally on a blind bend. The park and the convenience store, with its peculiar smell, are on the other side. My neighbors are all transient strangers, mostly students, when there're any around. There's no-one now in five houses either side of me. The community!
And there wasn't a lot in the fridge.
No-one at the hospital had mentioned that the first point of contact for support should've been the Red Cross, which offers a useful free service, doing any housework and taking you shopping, to post-operative patients for up to six weeks. I found that out two weeks later, only after a concerned colleague had called them on my behalf – I couldn't use the phone myself, on account of being unable to see the little names and numbers on the screen. Yes, I get that Google has voice activation. But I couldn't see to set it up, see?
Fortunately, at about 7 o'clock that first evening another kind colleague from theater group turned up, offering to drive me to the supermarket. Having shopped there for years I know my way around the shelves, although I could read neither the labels nor the tiny cooking instructions. That didn't matter, as I couldn't read the clock on the microwave either, and so lived for a month with oven casseroles on repeat recycle. I couldn't read cursively at all, but squinting sideways at larger headlines I could just make out a few letters here and there, that gave me clues as to what things were.
Helpful, then, that the hospital sends me appointments letters in tiny, 9-point type. To an ophthalmology patient!
I cursed myself, too, for never having learned to touch-type, as I was now no longer able to send or read emails, or maintain this, muh li'l bogl, at an extraordinary time in world history. A news junkie and compulsive bogler, I subscribe to an entire echo chamber of lefty media sources, all of them suddenly useless. Nor could I read the post; while a book I'd ordered remained in its packaging. Deflated, I turned back to BBC radio news, a known health hazard as brain-damaging as 2.5nm pollution particles; and listened to a lot of unidentifiable jazz CDs.
Concerned people were now phoning helpfully to suggest various items of talking software for the blind, that I had to explain I wasn't able to install because I couldn't see the effing screen. I found the inbuilt Windows reader app has an annoying habit of reading out metatext and the rubrics, a great eighties' r&b band, but not the actual contents of your emails. And besides, I don't need it.
One thing that probably saved me from harm was that, after the first experience of being half-blind, I'd taken care to rehearse the possibility of the other eye going, and had made sure everything in the house had its place, and I could find it with my eyes shut. There was a sort of comfort in blundering about, trudging through the park with the dog, gleefully informing everyone I normally meet that I had no idea who they were, but their heads seemed strangely tiny.
I'm not sure my predicament had yet sunk in.  I'd never realized disability, constantly having to think ahead and make allowances, would be so tiring.
Towards the end of the second week, after my ex-wife had done some phoning around, a nice lady turned up from Social Services and gave me a talking wristwatch, a thing that buzzes when your caffetiere is about to overflow, a non-slip mat for the kitchen worktop, and a "symbol cane", a short, white, tubular affair you keep folded in your pocket, and wave around to show people you're partially sighted. Taking that for a spin, I soon found it was more likely to get you killed. Drivers obviously get extra points for mowing down an elderly man on a pedestrian crossing when he's feebly waving a little white stick at them.
A free maintenance team was promised, to improve the lighting and install safety devices. I'm also still awaiting a precautionary visit from the Fire Service. The Red Cross took me shopping. A week later, three more helpful women were perched on my sofa, from different agencies, patiently explaining all the wondrous benefits I could apply for, a man in my condition. I found myself signing various forms I couldn't read, and thus the whole panoply of social care swung into action on my behalf, much to the annoyance of my genuinely blind friend Audrey, who complains that she gets no help at all, Guide Dogs for the Blind wouldn't even give her a dog. Actually, I'll be surprised if I do either.
Five weeks after the operation the gas bubble had shrunk to a pinhead and the vision in the left eye rapidly cleared. The consultant announced he was pleased with his handiwork, the retina was attached, the macula was immaculate, and in a few more months I might even be able to drive again, on one eye, with glasses. I thought to myself, I wouldn't want to be sharing the road with me! And cancelled my car tax and insurance.
So now I'm feeling anxious and guilty. Having been left to fend for myself when it mattered, as my vision clears I'm now snowed under with voluntary services I no longer need to rely on. And then there's the accusing evidence of those forms I signed, when I couldn't read them. Am I committing benefit fraud? Should I give the watch back? It's great when you wake in the middle of the night and can't be arsed to turn the light on.
In this world of partial sightedness there are no straight lines. Everything is wrinkled, like looking through the bottom of a pint glass. Passing trees loom towards you as they come briefly into sharp focus, like a bad 3-D movie. Steps aren't where you think they are. Wine goes over the table, not in the glass. People appear indistinctly as shapes out of a gray mist, I generally recognize them first by their dogs. They all look strangely etiolated, with long legs and small heads. Distant perpendiculars appear to have shadowy companions: double-vision, but with unexpected parallax effects. Last night there were three sinister-looking crescent moons in the sky.
Although the world is not in focus, I have to admit that everything is, to one extent or another, depending on conditions, visible, even at a distance; viable. My eyes, used to complementing one another efficiently, are no longer completely in agreement. But they do still work. I'm no longer blind.
So can I really consider myself disabled?
I keep meeting people in a far worse state, Parkinson's seeming to be la condition de nos jours, and think, okay, I've had a brush and on past performance it could happen again, but until it does I'm still doing okay.
Tonight I went to the final dress rehearsal of the play whose leading role I'd had to give up. I was touched by the welcome of the young cast, and gladly accepted the invented, obviously ironic, walk-on part of the "Blind ex-serviceman" in a crowd scene. They even found me a military uniform to wear; and there was my name on the program! All I could think was to complain that the jacket is too tight.
But I imagine they're used to that with me. Nothing fits.
"At least 135,000 children will be homeless and living in temporary accommodation across Britain on Christmas day – the highest number for 12 years – according to the housing charity Shelter." (Guardian)
Photograph: Dan Kitwood/AFP via Getty Image/Guardian, with apologies.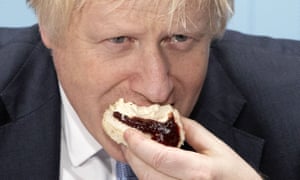 Who ate all the pies? This fat pig.
Keep on saying it until you bleed:
FIVE MORE YEARS? SERIOUSLY?

A spittle-flecked BogPo rant.
"He's too cowardly to be interviewed on the aggressive Andrew Neil show, and he's lucky Jeremy Kyle's been closed down."
Look. The record of the present government, especially on social issues, is criminal. The courts have frequently said so. But many of you are going to vote for them again anyway, because the Leader of the Opposition, Mr Corbyn, is not fit to be Prime Minister. Who told you that he's not fit? Why, his opponent, the Leader of the government, Prime Minister Johnson. Do you normally believe anything you are told? In that case, you owe me £100. Come on, pay up.
Here, nine years on, we still have the weaklings in government who imposed £9 thousand a year student fees, with loans repayable at an eye-gouging 6 per cent per annum, when they are paying only one quarter of a per cent for their massive over-borrowing. The Lib-Dems got the blame for promising they wouldn't impose student fees, but as the minority partner in a rare coalition government from 2010 to 2015, it wasn't their call, it was the senior partners: the Conservatives, who did that.
Remember that name, because you're sticking us with another five years of this horror show. You seem to want to believe their lies. You think, oh, I'm fed up with Brexit, and they say they will get it done, so I'll vote for them. That's a lie too: there are many more years of difficult Brexit negotiations to come, even after we have given up our influence in Brussels, given away our European powerbase and cast ourselves adrift on the trade winds, at the mercy of countries that have no interest in doing us any favors.
What did you think you were doing, voting for that? Oh, right. Too many foreigners.
These are the bastards who, having probably sensibly proposed shrinking the number of means-tested social benefits, with their 25-page inquisitional forms you are never allowed to finish completing, those endless forms, the endless demands for "evidence" – of what? Nothing! – brought in the disastrous one-stop solution, Universal Credit, that has actually killed people and made thousands homeless with its stomach-churning bureaucratic cruelty and grotesque inefficiencies. Under this heartless regime, 130 thousand children are officially classed as homeless. That is not Labour's doing.
These are the bastards behind the Bedroom Tax, a Stalinist policy effectively fining people in public housing who keep or merely happen to have just one spare room. Many have been forced out of their homes. The bastards under whom valuable social goods like public libraries, public transport, meals-on-wheels and youth centers are being decimated, schools reduced to beggary, street crime flourishing, while the rich grow ever fatter and ludicrous vanity projects, such as the environmentally disastrous, £88 billion HS2 "high-speed train" line between London and the already well-served Birmingham, abound.
Look at your boarded-up high street, and think back ten years. Are the shops disappearing by accident? Jobs are being lost by the thousand, yet unemployment has seldom been lower. You do know, I expect, that you only have to be working for one hour a week, to be "fully employed" and off the register?
These are the filthy, devious, corrupt bastards, secretly foreign-financed, under whose watchful eye homelessness has spiralled; people dying in doorways; inadequate and unhealthy housing has risen to record levels; child poverty has more than doubled, teachers having to find food for their sleep-deprived, hungry pupils before they can learn even the threadbare syllabus imposed by the doctrinaire weasel, Michael Gove.
Conservatives do not want the children of ordinary people to learn anything that might enable them to make sensible, educated decisions about their lives. Why, they might start asking questions.
Blaming "baby boomers", this knackered pastiche of a government has failed completely to meet its housing targets or rein in rapacious landlords or encourage the building of sufficient new affordable housing to meet even the targets of the lies it has told successively, year on year; while more "working poor" than ever queue at food banks and fewer young people than ever are able to get on the housing ladder – Mrs Thatcher's dream of a "property owning democracy" has died with this government. They don't care, as long as their own property values go on rising.
They are the self-inflating, Jingoistic bombasts who have criminally wound down our homeland defense capacity to meet the grotesque expense of a tired old military doctrine, MAD, no longer relevant in the internet age – and not even under their control. Who like to keep us all in fear with their threats of terrorism, in the most electronically surveilled country on the planet. Under whom violent street crime and gangsterism have flourished as rarely before – not since the nineteenth century.
These are the bastards who introduced the "Hostile environment" immigration policy, that has led to vast public expenditure on rectifying horrendous mistakes, so incompetent are the Home Office officials who lose over 60 per cent of the appeals against their monstrously cruel and arbitrary immigration decisions. People of the Windrush generation, victims are dying as a result of their sadistic ineptitude. NHS workers are flocking home, hospital wards closing, beds unstaffed, queues for operations stretching around the block.
Insecurity is the Conservatives' watchword. They make money out of it.
Yet it has not and will not reduce the net number of immigrants, if that's what you think you want. They will just come from somewhere else. The Court of Human Rights should be petitioned to shut this evil disorganization down, this "Home Office", under the ghastly authoritarian ladder-puller-up for migrants, Priti Patel – Boris' bus conductress. – as being completely unfit for purpose.
This is the government that claims, as thick Conservatives always do, that it is the only fiscally responsible political choice. The facts of history speak otherwise: Labour administrations are historically more fiscally conservative than the Conservatives. Whatever lies they tell you, the banks – greedy traders – caused the 2008 global crash, not the previous Labour administration. Nor did the previous administration rule that terrorists should be let out on the streets, that's another fat Johnson lie.
Profligate Conservatives have since wasted countless millions and billions of pounds on appalling policy errors and departmental inefficiencies, the "Grayling effect": £4 billion alone on compensating for the likely devastating effect of their lunatic "hard" Brexit policy, ferry companies with no ferries – and more than trebled the national debt since the last Labour administration, nine years ago, which it continues lazily and dishonestly to blame for all our current misfortunes.
The fact is, the Conservatives no longer care. Like the Gadarene swine, they are herding themselves over the cliff-edge into the slough of greed as they see the whole system unravelling, desperate to stuff their gross, wobbling faces with more undeserved entitlements, to get their children into the best schools, before the gravy train hits the buffers.
This is the government that has deliberately presided over our broken health and social services, cynically gaming the system so that voters will be dumb enough to welcome the arrival of rapacious US health insurers and ripoff pharmaceutical companies, putting an end to the greatest positive social experiment possibly in world history: a universal, fully funded health service, free at the point of delivery. No longer.
Conservatives do not give a monkey's uncle whether you live or die: death is just the market operating at its most efficient.
The government that, between elections, has cynically encouraged and financed a public campaign of destabilization of the opposition parties in Parliament, an attack on our democratic system, using the hidden donations of US conservative billionaires; and encouraged the demonization of Labour leader, Corbyn, through social media disinformation and complaisant press influence, the rabid attack dogs of the tabloids. Despite, or more probably because of, this government's historically unprecedented voting minority in the House of Commons.
How are they still there?
This is the neofascist government that fired 21 of its own MPs for being too moderate. You think they will have any compassion for you? For your kids, your ageing parents – your country?
The government that corruptly "elected" a leader, imposed on the nation by a tiny minority as our blundering, bullying and incompetent, patrician Prime Minister, a cynical, prevaricating former "Remainer" who – also a serial adulterer who boasts that he doesn't know how many children he has fathered – is under investigation for showing financial favors to his American "totty" while in office as Mayor of London.
And now he has yet another girlfriend waiting for him upstairs in the flat at Number 10, Downing Street – a woman 22 years his junior, against whom he was widely reported by previous neighbours last summer as committing domestic violence.
Nice man. Perfect Prime Ministerial material for our relentlessly superficial, talentless  celebrity-admiring, alternative truth-telling times.
Judged by its latest manifesto, Johnson's is a grubby regime that has no interest whatsoever in responsible governance; only in superficial nostrums. Mr Johnson, indeed, is advised by a man generally reckoned to have psychopathic tendencies; the "Boris whisperer" – an unelected Iago to his albino Moor.
Our government is currently sitting on potentially damaging reports it refuses to allow into the public domain until, it says, after the election; reports on the health risks of fracking, on the illegal funding of the Brexit Leave campaign, on the flood of Russian money into the Conservative party – on the secret discussions with US corporate lobbyists about terms allowing them to control British institutions in the wake of our departure from the EU, in favor of oppressive trade rules that will effectively see the United Kingdom deregulated, broken up and sold off.
As the BogPo has frequently alluded to, investigators are turning up more and more evidence of US corporate and private investors' money pouring into the coffers of phony "research" institutes behind the private cabal that has seized power within the Conservative party, the ERG. What is their aim?
Principally, the deregulation of markets, the loosening of labor laws and consumer protections, the imposition of a white, Christian hegemony, and the breakup of the EU, perceived as a barrier to their offshore tax avoidance schemes. Certainly, not the nation's welfare – yours and mine.
A new report can be found at: http://www.theguardian.com/politics/2019/nov/29/wealthy-us-donors-gave-millions-to-rightwing-uk-groups
Yet the latest YouGov poll gives these advocates for gangster capitalism, a comfortable lead in the election only a fortnight away.
In God's name, why? Five more years of this shitshow? Seriously?
The BogPo can only conclude that the majority of British voters are distracted, brainwashed baboons, numbly phoning in their meaningless votes for Z-list celebrity hoofers, who imagine fondly that the Conservatives will throw out all the foreigners and "Get Brexit Done!" as their dishonest slogan boasts. Shoppers, who find Boris Johnson more entertaining than his dour Leveller opponent. A serial adulterer, a habitual liar, a bully – a casual fantasist under investigation for public corruption in office, nevertheless he is more electable, apparently, in this age of "Reality" TV shows, phone-ins and Twitter memes than an honest if conflicted man.
Which is the biggest lie of all, that like the appalling Farage, "Good old Boris" is one of us? He's not, he's another opportunistic, overentitled, sexually incontinent One-Person Tory from a background of privilege and larky, upper-middle-class self-deceit, whose election was fixed and funded by foreign interests who do not have our sovereignty, our best interests, at heart.
Five more years. Seriously?
Have we gone insane? Perhaps we've reached peak CO2.
In a tweet claiming falsely that US troops had "secured the oil" and were "coming home" from Syria, Trump praised his Defense Secretary (acting), "Mark Esperanto". The Defense Secretary's name is Mark Esper.
We're assuming it was just his little joke.
GW: It's waterworld
Mexico: "Heavy rain has affected parts of northern Mexico over the last few days, with severe flooding reported in the states of Sinaloa and Chihuahua. Sonora and Baja California states were also affected." Local states of emergency have been declared and at least 1 person has died as over 140 mm of rain fell in 24 hrs. (Floodlist)
Brazil: "More than a month's worth of rain fell in just 3 hours in the city of Salvador, capital of Bahia State, on 26 Nov." Some neighbourhoods "recorded more than 250mm". Flooding and landslides were reported across the city. Several hundred were evacuated and properties damaged, but "No casualties were reported." (Floodlist)
Malaysia: "Flooding in eastern Malaysia has displaced over 2,000 people, according to disaster agencies." Rivers rose to danger levels after 400 mm of rain fell in 24 hrs. (Floodlist)
Philippines: "Rapidly intensifying Typhoon Kammuri rolled into the central Philippines on Monday night after vaulting to Category 4 strength. Winds were estimated at 130 mph. This sprawling typhoon, moving westward at about 10 mph, was on track to move across parts of southern Luzon island through Tuesday, bringing torrential rains, destructive winds, and the risk of floods and mudslides." (edited from Wunderground)
Uganda: Landslides in the west of the country after heavy rains "have affected around 4,000 people and destroyed almost 350 homes." Meanwhile, in Kenya, the Red Cross reports over 120 people have died and more than 160 thousand affected by floods since October's rains. Dozens apparently lost their lives in a landslide on 23 November. (Floodlist)
DR Congo: As if the raging ebola and measles epidemics that have killed thousands aren't enough, Floodlist reports, the capital, "Kinshasa is dealing with devastating flash floods and landslides which have left over 40 people dead. Northern provinces are experiencing some of the worst flooding for 25 years. Flooding began back in October after heavy rains caused the Ubangi and Congo rivers and tributaries to overflow."
Madagascar: An extremely rare event in the Indian Ocean has seen two near-identical tropical cyclones forming, one either side of the equator. They're rotating in opposite directions and expected to intensify over 30 deg. C waters to hurricane strength, with the southerly system heading towards Madagascar.
USA: New York city and surrounding Eastern states had their first snowfall at the weekend, around 20 inches falling on Albany, NY and an inch in Central Park. Maine is anticipating another 6 inches (Tuesday, 3 Dec.) Travel conditions in places are "impossible".  (Wunderground)
As 55 million Americans took to the roads on Thanksgiving Saturday, "Blizzard conditions stopped traffic near Rapid City, South Dakota (30 Nov)." 3 people, including 2 children, died in road acccidents. Winter storm Ezekiel underwent extreme bombogenesis over the midwest on 28 Nov. Meanwhile, back in California, 49 inches of snow was falling on Cedar Grove as a second storm front moved in. (Wunderground)
Arctic: While here on the west coast of the UK we've had a welcome run of five cold but sunny days after weeks of warm but tiresome rain, up in the far North Atlantic covering Newfoundland, Greenland and Iceland, the same period (30 Nov to 3 Dec) has been marked by a plus-15 deg. C cyclonic temperature anomaly. (Severe-weather.eu)
Tunnel approaching…
No more doubt: "A recent study found that the consensus among research scientists on anthropogenic global warming has grown to 100%, based on a review of 11,602 peer-reviewed articles on "climate change" and "global warming" published in the first 7 months of 2019." (Arctic News, 27 Nov.)
Hotting up: The World Meteorological Organization hasn't quite wrapped up its calculations for the decade but says it's well on course to be the warmest in the 120-year history of detailed records, with 2019 another Top 5 year, despite the non-appearance of an anticipated El Niño event. More than 400 heat records were broken around the globe.
Sent to Siberia: Andrey Kiselyov, a leading researcher, reports that the air temperature in Taymyr, to the north of Krasnoyarsk, has increased by 1.2 deg. C over the past decade, above average not only for Russia but for the planet. It's one reason the Northern Siberian reindeer is reported to be on the verge of extinction, after a rapid population collapse. (Siberian Times) Meanwhile, it's been noted that Siberia's birch trees are "climbing mountains" at the rate of half a meter a year, as warming pushes their habitable zone to ever higher altitude.