Quote of the Week
"So, if you're poor, you're dead?" – British passer-by vox-popped on US medical costs.
Too much information corner…
According to a new Washington Post report on the Orange President's presumably indictable labor practices, the undocumented Latina maids at Trump's Bedminster golf club complained of having to continually provide him with fresh shirts as his makeup would rub off on the collars.
"Imagine his sheets", exclaims Stephen Colbert. "It'd be like the Shroud of Turin every morning. A miracle!"
Lock 'em up!
In 1832 the radical English parliamentarian, William Cobbett, made a lengthy progress on horseback around the country and declared it to have become "A land fit only for stockbrokers". This was a reference to the growing wealth of land-grabbing rentiers and their financial advisors, at the expense of the landless poor.
Trump's America – and by extension much of the rest of the world – is turning into a land fit only for gangster capitalists, hell-bent on cornering the global market for energy and any other saleable goods in the twilight of civilization. It's a bit like Musk's plans for terraforming Mars, only in reverse. It's fast becoming an alien landscape modeled on the strange terrain inside the warped mind of one man.
Take one solipsistic sociopath, a malignant narcissist with paranoid fantasies, a Dunning-Kruger graduate summa-cum-quid-pro-quo, with added pre-dementia; an elderly, spoiled man-child with severe developmental issues and a complete lack of empathy or moral boundaries – whatever psychobabble you want to employ – make him the most powerful man in the world, and watch him go!
I'm going to have to insert a bit of backstory here, concerning Paul Manafort. This is the 70-year-old guy with the ostrich-skin jackets, Trump's former campaign chairman (for only four months, so of course Trump hardly knew the guy) who is serving a 7-year stretch in a Federal penitentiary for a range of crimes, including tax fraud, failure to declare himself as a foreign agent and spectacularly trying to out-con the FBI.
Having worked for some of the most brutal and corrupt dictators in the world, Manafort had been operating in Ukraine for many years as a PR advisor to some of the local oligarchs, and with wealthy Russians working on Putin's behalf to, essentially, terraform the political landscape there. One of the things he did was to help Viktor Yanukovych get elected as President.
Yanukovych's main rival was a not-unattractive, youngish woman called Yulia Timoshenko who, thanks to her high-level family connections, had been the Prime Minister. Manafort and his sidekick Rick Gates, also facing stir time, manufactured a corruption case against her, the charges stuck and she was locked up. Yanukovych got in, and started doing what Putin wanted, which was to push Ukraine out of the orbital influences of NATO and the neighboring EU, where the younger majority of the population preferred the country to go, towards Russia.
He also started looting the coffers of the state, ultimately getting away with almost $30 billion. But in 2014 he was overthrown in a mostly peaceful revolution, escaping in a dawn convoy over the border into Russia; whereupon, claiming that fascists were taking over, Putin sent his little green men to "protect" the mainly Russian-speaking secessionist population of the eastern coalmining region of Donbass, and, of course, illegally annexed the formerly Russian province of Crimea, reversing a post-WW2 settlement.
A low-level war has been going on ever since, with, now, more than 13 thousand casualties – mainly civilians on both sides.
One of Manafort's connections was an oligarch named Oleg Deripaska. This fabulously wealthy friend of Putin's had cornered the entire post-Soviet market in Russia's aluminum mining and smelting industry after a bitter struggle that ended with the unexplained murders of several of his business rivals (Wikipedia). Be that as it may, he set about cultivating well-placed global influencers. British and EU politicians alike have enjoyed the hospitality aboard his yacht in the Aegean.
In 2009, however, a Russian accountant called Sergei Magnitsky was found dead in his prison cell in Moscow, having been brutally beaten shortly before his trial. (Official cause: heart failure.)  An American financial intermediary, Bill Browder had employed Magnitsky, and was now accused of murdering him. He started campaigning for justice for the murdered man, pointing out that Magnitsky had uncovered a huge tax fraud involving people in high places, only to be arrested and held in custody on trumped-up charges. Outraged, the US Congress then passed a law, the Magnitsky Act, among whose provisions were the imposition of travel bans and freezing the finances of implicated oligarchs.
Among them was Deripaska.
Manafort also dabbled in low finance, and we gather that at some stage he must have offered to invest, or otherwise purify, about $17 million of Deripaska's fortune via offshore tax-free vehicles he registered, that never received the money. He appears to have spent it on buying apartments in New York, and those ostrich-skin jackets. Ooops.
The "Aluminum King" then deputed one of his lieutenants, Konstantin Kilimnik, who'd been involved with Manafort in skulduggery in Ukraine, to ensure that Manafort would repay the money in kind, if not in blood. The two men set off for Michigan to begin the process of filching confidential voter data and sending it to a GRU troll farm in St Petersburg, to fuel the campaign of disruption and disinformation through which Mr Putin thought to get his useful idiot, a sort of global "bull in the china shop", Trump, elected.
By an amazing coincidence, the three states in which they did this stuff were the very states that got Trump elected by a margin of just 77 thousand votes when the matter was decided in the Electoral College – an institution designed to level the representational playing-field between more and less populous states by, essentially, rigging elections. Without this thoroughly undemocratic jiggery-pokery, as we know, Trump would have lost on the popular scale by 2.8 million votes; nor would Dubya Bush ever have been elected.
For some reason, in July of 2016, Mr Trump – who of course did not know Mr Manafort – fired his campaign chairman, the vapid little Trumpsucker Corey Lewandowski*, and installed Manafort in his place.
No-one knows why, for sure. Does it look like he came clutching a reference hot from the Kremlin? Surely gnotte.
Yes, okay, he liked dictators because they were desperate to be liked, and he could make that happen in exchange for large sums of dirty money; yes, he had experience of rigging elections in Ukraine and elsewhere; yes he worked for and was profoundly obligated to a close associate of Putin's who wanted a man on the inside to persuade Congress to lift the Magnitsky sanctions. (In December, 2018 sanctions on Deripaska were lifted, at the behest of Senate leader, "Moscow" Mitch McConnell. The grateful oligarch then offered to build an aluminum plant in McConnell's home state of Kentucky. There is naturally no suggestion of a quid pro quo, a status quo ante, a canis canem edit, a casus belli nor indeed even collusio gravis.)
Yes, being on the inside of the campaign would prove useful to all sorts of people; yes, Manafort was in a position to provide high-level Ukraine contacts to Trump, Pompeo and Giuliani, who immediately began on Inauguration Day, 2017 to start work on removing the incorruptible US Ambassador in Kyiv, Marie Yovanovych, in preparation for another, probably Manafort inspired, campaign involving oligarchs, extortion, political favors – and gas. (Because, you see, it's all about the Energy, stoopid!)
And, yes, he'd successfully nobbled Tymoshenko with a manufactured accusation of corruption, via a corrupt state prosecutor much in the latest news of the impeachment inquiry, which is exactly what Trump set out to do to his rival candidate, Hillary Clinton, to "Lock her up!" Where did he get that idea from? Because four separate investigations, even by his own terraformed Justice and State departments, over three-and-a-half years, have found no evidence of serious malfeasance on her part.
And that's the synchronicity!
With the help of the corrupted Republicans in Congress, up to their necks in his filthy business and unable to escape, or to wash away the stain of their association, Trump is now frantically trying to forestall his impeachment by gaslighting America into believing that Ukraine, not Russia, was responsible for interfering with his election, to try to get Clinton elected instead; thereby justifying the attempt he denies having made, to force the Ukrainian president Zelinskiy to produce evidence of Putin's innocence – and to help smear his own rivals for the next election.
To achieve his aims, it was also necessary to persuade Zelenskiy's predecessor, Petro Poroshenko, to assist in doctoring the "little black book" evidence of large payments to Manafort for his services to Yanukovych, so that Ukraine could more convincingly be made the scapegoat for the 2016 election "interference" and thus justify Trump's bullying. Unfortunately, Poroshenko lost the election last April, so the conspirators had to start again with his successor.
That there is absolutely no possibility that this Ukraine "stolen Clinton server" scenario was ever feasible, or even likely, without means, motive or opportunity and no smoking gun; that the mass of evidence and his own past inadvertencies point straight at the Kremlin, does not occur to Trump's excusers and enablers, nor to his cult followers in the crazy community. In Trump's terraforned world, anything he likes can be true; every shape can be shifted.
How like the former Soviet Union is that?
The way he has gone about doing Putin's business and bidding emerges from such stories with devastating clarity. There is no doubt whatever in my mind, nor in most anybody else's who is following the shenanigans in Washington, that he is a compromized Russian asset. He might not even realize it, not fully – perhaps he is just struggling to find in Putin another authoritarian father figure to replace his monstrous dad, Fred, who bankrolled Donald's failures to make tax losses while findng nothing but tragic disappointment in his younger son. Or to find another successful homosexual mobster like his old mentor, the ruthless Mafia lawyer Roy Cohn, whose alarmingly direct methods of management he strives sometimes comically to emulate.
Increasingly, through his social and political terraforming, America and the world are coming to resemble the inner landscape of Trump: the original Lost Boy. A useful allegory is provided by the current BBC adaptation of Wells' The War of the Worlds, where starving survivors stumble through a barren, dustblown, rusty-red Martian landscape the alien invaders have been creating for themselves on planet Earth.
Most Americans now realize that the man they thought was a bit of a joke, a buffoon with no manners, taste or education; a typically brash, upwardly mobile NooYawk real estate developer who would "get things done" in managerial style, is nothing of the kind. In addition to being an inept old fraud, a third-rate "mom and pop" businessman who succeeds by actualizing his mental confusion, he's a monster, a mythical Balog dredged from the bowels of Hell by the wishful thinking of millions of disaffected voters dying for a savior to let loose their worst, most feral instincts on an unforgiving world they long to end.
Britain, beware. Under Trump mini-me Johnson, another devious, rotten and hubristic character winning on sheer media presence, entertainment value for the bored and fraxctious masses, we are going down the same path to perdition. Not for nothing did those Martians with their terrible machines first fall to earth in Woking, Surrey; home of The Spice Girls.
As Religion fades away, Politics is becoming the opium of the masses.
*I have since watched with growing admiration as Lewandowski, supposedly a former assistant DA, put on an utterly disingenuous performance under questioning by a Congressional committee, rolllng his eyes and wriggling in his chair, unable to remember anything, but no, he never suspected the president might have been ordering him to do anything illegal, whining that as he never went to Harvard law school the questions were too difficult…. You'll recognize the scene where the detective finds the money under the bed and the punk goes, "Gee, officer, I wonder how that got there?" It's true, Trump does pick only the best people. Especially for bungling criminal enterprises.

Starve 'em?
A vox pop on Britain's streets went viral last week as passers-by gasped in horror when, asked to guess what everyday pharmaceuticals cost in the US, that are available free on the NHS, they learned of the vast numbers of ordinary Americans bankrupted and even made homeless by the cost of uninsured medical care.
One young woman in particular was asked how much an epipen, that can save a life when someone goes into anaphylactic shock owing to an allergic reaction, costs in America, to be told it was $600. In Britain, pharmacists hand them out on free prescription. "Man", she exclaimed. "So, if you're poor, you're dead!"
The elimination of poverty through economic cleansing looks like becoming the central plank of the 2020 election for Republicans. The Trump administration has just tightened the rules so that another three-quarters of a million low-income Americans are to be removed from the food stamps program. If they don't qualify for it, their ragged-assed kids will no longer be eligible for free school meals.
Deaths will inevitably result.
The money is instead to go toward padding out the already $16 billion compensation package Trump signed last summer for farmers affected by export shortfalls and rising domestic prices created by his pointless trade war against China, that he says the US is winning but has bankrupted thousands.
But don't imagine farmers are immune from the Republicans' extermination policy against the working class. The bulk of the money has gone to bolstering the profits of large-scale agribusiness, mainly in the recidivist South, home of the former Confederacy, where rumbling discontent over issues like Civil Rights and Northern prosperity requires placating.
Or just string 'em up?
Mainstream media have been a little reluctant to report that Mr Thomas Bowers, 55, a wealthy former senior vice-president in the Wealth Management division of Deutsche Bank, was found hanged at his Malibu, Ca. home on 19 November.
Well, at least he won't have to testify at any impeachment harings.
Inquistr reports that Bowers was the direct supervisor of a staffer called Rosemary Vrablic, who had been introduced to Trump with a recommendation from the equally indigent Jared Kushner as his "favorite banker". Now, why was that?
"The bank's investigation of Trump's finances found that he reported values of his real estate assets that were too high by 70 percent in many cases." (Something confirmed in court by Trump's former bag man, Michael Cohen.) "Nonetheless, Vrablic and Bowers approved a $100 million loan for the president to buy the Doral Golf Resort and Spa near Miami, according to a New York Times report."
My Gosh, I wish I'd met them sooner!
Deutsche reportedly continued to lend more than $1 billion to Trump over a ten-year period, at a time when no US bank would touch him, and despite being aware that Trump was red-flagged as a possible money-launderer. He was certainly a serial loan-defaulter – according to Mother Jones, he still owes Deutsche Bank $345 million. This period may have overlapped with a similar decade in which Trump Organization allegedly declared $100 million annual LOSSES to obtain tax benefits.
Deutsche was recently hit with an injunction to hand over their records of dealings with Trump Org. to Congress, which they have apparently done. We understand that the New York Attorney's Office also has the records. Let's see who's the faster speed-reader.
Another client of Bowers/Vrablic was, we understand, his fellow suicide-by-hanging, Jeffrey Epstein.
So now, for some unaccountable reason, Mr Cohen, who had been due to give further testimony against Mr Trump – "Individual 1" – in February, is reportedly getting cold feet in the relative comfort of his cell at the medium-security Otisville, NY prison, and it ain't becuz the heating brunk down.
As they say, everything Trump touches, dies.
"In 2018, 58 people were killed in crashes during Uber trips; nine people were murdered, and 3,045 people were sexually assaulted. The numbers represented a fraction — just 0.0003 percent — of Uber's 1.3 billion rides in the U.S. last year." – New York Times
Drain the swamp!
Pumpkin followers may recall, we bogld ages ago about a certain Dr Joseph Ackermann, who is connected to the Trump saga in the following way:
Dr Ackermann is the former CEO of Deutsche Bank, a global organization that has in recent years been fined billions of dollars for money-laundering – essentially, failing to check where the money has come from, that has flowed endlessly through their coffers, mainly from Russian oligarchical sources.
Dr Ackermann then went on to found Bank of Cyprus, that has also been accused of money-laundering, to the extent that some wit described it as "the global laundromat".
The quip is quite amusing, as in the 1970s the late President Nixon, in order to hide the secret campaign funding he was getting from the Los Angeles Mafia, literally "laundered" it through a fake cleaning business created for him in Florida. (The state where Messrs Giuliani, Parnas and Frumin allegedly created a phony "gas" company, to launder funds from Ukraine into Trump re-election accounts. It's not only swamps and alligators there.)
The two vice-chairmen of Bank of Cyprus were a sanctioned Russian oligarch, "The Fertilizer King", Dmitry Rybolovlev, who "overpaid" $95 million for a worthless Trump property in Florida, netting Trump a $50 million windfall; and Mr Wilbur Ross, a "family consiglieri" described by the not-exactly leftish business journal, Forbes, as possibly: "One of the biggest grifters in American history", who after almost four years of the presidency somehow remains America's Commerce Secretary.
The Cambridge dictionary describes a grifter as: "Someone who gets money dishonestly by tricking people." Which Mr Ross certainly appeared to have done, when Forbes had to downgrade his public estimate of his fortune from $3.5 billion to just a few hundred million. Among which was, presumably, the $120 million he's alleged to have swindled from his former business partners.
And, look, I keep telling you, "It's the Energy, stoopid!"
Because here, yet again, that word pops up in a report, this time from The Guardian, back in November 2017:
"Leaked documents and public filings show Ross holds a stake in a shipping company, Navigator, through a chain of offshore investments. Navigator operates a lucrative partnership with Sibur, a Russian gas company part-owned by Kirill Shamalov, the husband of Putin's daughter Katerina Tikhonova."
See if you can "gas" which one!
Janus
In case anyone should think that Trump is really so thin-skinned as to have been genuinely upset by Justin Trudeau's overheard comment at the NATO summit in leafy Watford, home of the football team whose faded fortunes were turned around in the 1980s thanks to the lucrative ownership of Sir Elton John, The Pumpkin can only say, BS.
Trump never fails to rush to grab the headlines with some outrageous tweet, crass comment or cackhanded military decision when there's something more important going on, that concerns him and his criminal tendencies. If nothing else, he's a master self-publicist who for decades has played the "fake news" media for all he's worth, largely because he's never been worth all that much.
I mean, who would want the world and its wife reading about a devastating, 300-page Congressional indictment of his attempts to cover-up the true story of his murky interventions in Ukraine, listing the entirely believable testimonies of 17 witnesses – supported by a sheaf of White House call logs – to his naked acts of unpresidential thuggery, when they could be reading instead about how funny he thinks was his riposte that Trudeau is "two-faced" – an obvious reference to the scandal of the Canadian Prime Minister having years ago unimaginatively attended three student parties in blackface?
After all, does Trump not lurk behind a curiously mottled orange mask? What race, I wonder, is he trying to insult with that?
"Ronnie played fantastic but it's a really big win for me." – Ding Jinhui
Gnyaah! Stuff the apostrophe, bring back the adverb, is all I can say.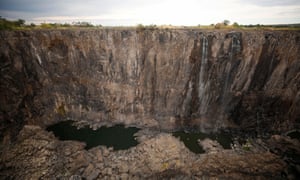 Victoria Falls, Zimbabwe last week.
(Photo by Mike Hutchings/Reuters/Guardian, with apologies)
GW: slipslidin' away
Indian Ocean: Yesterday, Severe-weather.eu reported on a very rare occurrence, twin tropical storms intensifying to hurricane strength in the western Indian ocean, on either side of the equator – rotating as per theory in opposite directions. Today it seems the rarity of such an event is being eclipsed as three more tropical storms are forming in the same region. One is threatening the coast of Somalia, another aiming for Madagascar and Tanzania. Those of you who recall the film, The Day After Tomorrow, may not be so impressed.
Update: One of the cyclones, Invest 93, now named Ambali, has intensified in under 24 hours from a 30 mph tropical storm to a "monster" Cat. 3 typhoon with windspeeds up to 130 mph. Some forecasts were predicting it could reach a maximum 160 mph Cat. 5 within another 18 hours. (Update update: it did! Maybe fastest-ever!) No land areas are currently in its path.
Philippines: Typhoon Kammuri has killed at least 13 people, while 345 thousand are in evacuation centers, reports Aljazeera. "Kammuri, the 20th to hit the country this year, crossed the coast on Monday night, forcing hundreds of thousands of residents to evacuate and the cancellation of hundreds of flights." Coastal communities south of the capital have been devastated.  Kammuri had intensified from a tropical storm to a Cat. 4 hurricane in just 18 hours.
Madagascar: "Yet another potentially monster cyclone is developing in the West Indian Ocean – Tropical cyclone Belna. The system is currently packing maximum sustained winds of 100 mph and strengthening. Rapid intensification is expected to begin soon. Belna will likely reach at least a strong Cat. 3 strength, possibly even Cat. 4 late tomorrow prior to landfall in NW Madagascar on Monday 9 Dec." (Severe-weather.eu)
Uganda: Floodlist cites, a little confusingly, Red Cross reports that at least 10 people may have died in landslides and flooding in two separate provinces; 5 in each, with a fairly large number still missing. "The tragedy hit after hours of heavy rain on 03 Dec."
Southern Africa: By contrast to the months of flooding and landslides in northern and eastern Africa, in the south the long drought is worsening. There are reports of the mighty Zambezi river drying up, causing power outages in Zimbabwe and Zambia, which are dependent on hydropower from the Kabila dam. The famous Victoria Falls, a major tourism revenue earner, has slowed to a "disappointing" trickle. (Guardian)
New Zealand: An estimated 1,000 foreign tourists are trapped after a weekend of severe storms dumping large hail and up to 40 mm of rain per hour triggered landslides and flooding that have cut off towns in South Island. Officials say it could take months to clear access roads. Most are stuck on the west coast in the towns of Fox Glacier and Franz Josef. Some have been forced to sleep in their cars, and are said to be scared and tired. Emergency supplies are being helicoptered in. There's a warning out for tornadoes. (From Guardian, 8 Dec.)
USA: If you're dreaming of a White Christmas, take cover! The polar vortex has split again owing to a heat anomaly in the stratosphere and a large part is drifting southwards. "Brutally cold Arctic air will flow down into the north-central US mid-next week. Current forecast indicates that air temperature could drop as low as -25°C, in some places even down to -40°C! Over the border in Canada, temperatures will be even lower. This is an unusually strong cold air outbreak for early December." (Severe-weather.eu) The US's Weather Company however is not predicting such low temperatures, meanwhile there's a "heatwave" over many states melting early snowpack, while more storms are bringing flooding and landslides to California.
Australia: Golfers "at the Australian Open have complained of stinging eyes as toxic smoke from (more than 100) bushfires around Sydney affected the opening round on Thursday. Sydney's air quality index registered on a par with Beijing. More than 2,000 firefighters are battling the massive blazes, which escalated in intensity on Thursday evening, 6 Dec. More than 1.6 million hectares of land in NSW have been burnt already. Fires have also raged across Queensland, Victoria, South Australia, Western Australia and Tasmania.." (edited from BBC reports)
Update: Fri 7 Dec. 5 large fires raging outside Sydney have merged into one, covering 365 thousand ha. on a 37-mile front. Fire service says the whole NSW coast is burning, mostly out of control. Reinforcements are arriving from the USA. More than 10% of the area covered by national parks has been burned, including 20% of the Blue Mountains "Gondwana rainforest" world heritage area. Worse conditions are forecast for next week. (Guardian reports)
Spain: "A storm has caused flash flooding in parts of Murcia,  prompting high water rescues and some evacuations. Emergency services said they received 534 calls for assistance, including around 30 people rescued from vehicles trapped in flood water." (Floodlist). Up to 390 mm (15-in) rain fell in 24 hours (on La Vita), coastal Valencia being battered by 4 meter waves and 80 mph winds. Storm conditions are expected across the South of France and into northern Italy.
Ireland: Storm Atiyah is bringing 80 mph winds across the west of the British Isles on 8 Dec. as the Atlantic cyclone season swings into action. Warnings of "risk to life" have gone out in SW Britain as travel disruption and heavy seas with up to 40 ft waves are expected in the Irish Sea. (BBC/Mirror)
Tunnel approaching….
Planet: "Oxygen in the oceans is being lost at an unprecedented rate, with "dead zones" proliferating and hundreds more areas showing oxygen dangerously depleted. Sharks, tuna, marlin and other large fish species were at particular risk, with many vital ecosystems in danger of collapse." (Guardian, citing International Union for the Conservation of Nature presentation at COP25 in Madrid). Warming oceans, acidification, agricultural runoff and overfishing are blamed.
No shit: President Trump is considering rolling back water conservation measures, which he is blaming for an increase in the number of times people flush the toilet – thus actually increasing water usage. "We're looking very strongly at sinks and showers," said the president, opaquely. Currently embroiled in a major constitutional crisis, Mr Trump has already revoked 85 other environmental protections, claiming they are damaging his economy. (From Guardian)