A note from the Editor: Readers new to this, muh bogl, may not realize that each new Post will be several days in the making and subject to frequent updates, revisions, additions and corrections, so you may wish to come back later for a second helping of pudding. The conceit being, that it makes the editorial process more fully transparent. Actually it just means I have second thoughts when I've sobered up in the morning. The incorporated Pumpkin, by the way, concerns itself mainly with American politics. Look away now.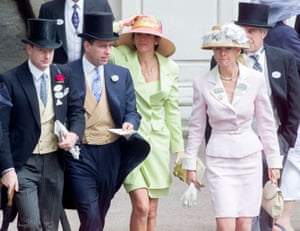 Abuse of power: Maxwell, centre, and Andrew, dolled-up at Royal Ascot races
Truth and lies – a postscript
On the very day after House Judiciary Committee chairman, Jerrold Nadler read out the articles of impeachment against Trump, alleging that he'd abused his powers of office for personal electoral gain and attempted to obstruct Congress, Mad King Donald – still insistently protesting that Ukraine, not Russia, interfered in 2016 to get his opponent elected – met at the White House with Russian Foreign Minister Sergei Lavrov.
The effrontery! The chutzpah! Doubtless, Putin sent him over to commiserate.
A report in The Guardian goes on: "The press were barred from the meeting, and were handed a White House statement saying that, among other topics: "President Trump warned against any Russian attempts to interfere in United States elections."
Now, why would he have done that if he hadn't prior knowledge based on experience that Russia, rather than Ukraine, might interfere, we wonder? After all, he has said on TV he would welcome interference from wherever, and who wouldn't
Asked about the statement at a press conference in the Russian embassy later the same afternoon, however, Lavrov claimed: "No, we haven't even actually discussed elections."
"Lie la lie, lie la lie lie, lie la lie…." – Paul Simon, The Boxer.
An article of faith
The Pumpkin noted while listening to the articles of impeachment being read out by the diminutive Nadler, that the wording has been very, very carefully constructed to accord with what the founders and framers were trying to say about the possibility of the nation electing a corrupt and filthy autocrat as president.
"High Crimes and Misdemeanors" is a peculiar expression, that doesn't necessarily require the incumbent to have committed a crime in statute law. It's not about robbing a bank, or murdering the First Lady – not about unpaid parking fines. It's more about letting the people down; failing to live up to your oath of office. In the indictment you will find keywords like "duty", which refers to the "fiduciary duty" which Alexander Hamilton thought a president should owe to the people. A duty of keeping faith; of governing wisely and responsibly.
Character – unlike anything this superannuated playboy, this cardboard mock-up mob boss, this made-for-TV charlatan, President Cheato has ever displayed in his rotten life.
Both articles also make clear that the expectation is that Trump won't stop doing what he's doing, even if he's impeached but not removed from office. The possibility of continued offending is what the framers argued should lead from impeachment to removal. You have to get that one out of the way too, as incredibly, he's still doin' it.
Schiff and Nadler haven't missed a trick. Framing the constitution was all about ensuring that no "King George" would ever again sit on the American throne.
Sadly, though, it's all a waste. He's not going to be removed. Not by the Senate, where he has gained a vise-like grip over the Republican caucus. No-one seems to know how or why, but a peek inside David Pecker's old safe at the National Enquirer might yield some talking points.
It cannot be a coincidence, can it, that both of the Republican Congressmen who first endorsed Trump's candidacy are facing gaol time on corruption charges. Others, such as the Leader, "Moscow" Mitch McConnell, will be in the frame.
America can still fight back.
"The fact that he phoned Zelenskiy and asked for "no" quid pro quo doesn't really alter the fact that he had previously phoned him and asked for "yes" quid pro quo, except in the terraformed nature of Trump's interior planet, where September is the new July."
This piece has been relocated for editorial reasons. So there.
Editing history
We seem to be moving steadily from the age of "alternative facts" to the idea of redemptive alibis and the re-engineering of Time itself.
As we know, no sooner did Trump go on camera to claim, wildly, that he had not asked President Zelinskiy of Ukraine for a "quid pro quo", that in fact he had said the very opposite, that he wanted nothing from him, than his loyal lieutenant, Rudy Giuliani took off for a week out in Ukraine and other European countries trying to recruit discredited former Ukrainian officials to falsify evidence to support the mad monarch's attempts to rig the 2020 election.
The fact that he phoned Zelenskiy and asked for "no" quid pro quo can never really alter the well-documented fact that he did previously phone him and asked for "yes" quid pro quo, except in the terraformed nature of Trump's interior planet, where September is the new July.
The point being, that these actions appear to amount to a deliberate conspiracy to construct an alibi for the president. An alibi based on retrospective actions taken and statements made sometime after the facts of the case were notified to the Justice department, prompting him only then to release the $391 million in Congressionally approved cash and military aid he claims he had not been illegally holding up since April.
It's as if the bank robber were to protest, but look, officer, I've just made a large deposit into my account! How could I possibly have robbed the bank?
In a tweet last week, Trump also claimed that the aid had been delivered "in full", so there could have been no quid pro quo in the first place. This is a common Republican talking point, that the blackmail failed to work, so it can't be a crime. Well yes, or rather no, but there clearly was a prior qpq, as the aid was not released until the day AFTER it was revealed that the Orange Leader may have committed impeachable offences by threatening to go on witholding it.
And it was witheld on his order, no-one else's.
How stupid do they think people are? Clearly, very stupid, as the polls have not moved significantly after two months of transcripts and open hearings confirming massive criminality on the part of the occupant of the White House, said to be far worse than anything Nixon had to resign over.
Amazingly, 49% of Americans still don't agree he needs to be removed. It's quite incredible. It's like people voting for Boris Johnson, or paying Nigel Farage £100 for the privilege of being told they can't stand as a Brexit "party" candidate after all, yet continuing slavishly to support him.
Should we be breathing this much CO2?
Nor is it true, as Trump claims, that Ukrainian officials did not expect the aid to arrive before September. This is all so much bullshit: they queried with the State Department not having received it, back in July. With the border war raging, they were desperate for it.
Nor indeed has the aid been delivered "in full" as he says. There is still $35 million of the package outstanding. No-one seems to know where it is.
Let's hope it doesn't turn up in a Trump 2020 PAC.
Deep Heat
The Barr faction in the Justice Department was quick to rush out statements disagreeing with the very clear findings of the Inspector General's 400-page report into the oranges… sorry, erringes… no, sorry, oregons of the FBI investigations into Russian interference with the 2016 election, and the collusion Mueller so clearly found with Trump's campaign staff, that he issued some 37 indictments. None to Ukrainians.
Just as Attorney-General Barr had pre-trashed the Mueller report in March – 488 pages, $24 million-worth of damning, if cautious, testimony – within only 48 hours of receiving it, and then sat on it for another month while people digested only his inadequate, highly selective 4-page summary and found the president might not have been so guilty after all; despite Barr's official duty to hand it over to Congress, and the president's absurd claims of "exoneration", he has now done something very similar with his own department's internal inquiry.
And as a predictable result the demented president, who is reported to have fired off no fewer than 105 tweets last Sunday alone, clearly in a state of nervous collapse, has been tweeting excitedly that the report proves beyond a shadow of a doubt that the Deep State set out to destroy his presidency, and has penetrated the deepest levels of government and the justice system.
Conveniently forgetting that the FBI investigation began in August, 2016, three months before he was even elected.
No need to add that he won't have read a word of it.
Eventually when they've familiarized themselves with its contents – I was going to write "read it", but, you know… – Mad King Donald and his pet Attorney-General (who looks like Elton John's evil older twin) will figure out that the report is not without its criticisms of the procedures followed, by one individual in particular, and use those to discredit the entire investigation and, by extension, the entire FBI and, by further extension, any other part of the law enforcement apparatus that threatens Trump.
Is he a complete moron? Is he a would-be Great Dictator? His defense against the dark articles of impeachment is to argue that no-one could possibly want to impeach probably the greatest and most successful president in American history, architect of their booming economy. No, that's not a joke, he tweeted it. He is insane, but there's always a method in his madness.
He must surely know that not a single Republican in the Senate is going to send him to the Big House, which is where he will undoubtedly end up if he is booted out of office before 2024. The triumphal tone of his flapdoodle is purely to support his enablers in their own electoral races, giving them a great talking point: vote for my opponent, and you're voting to destroy the greatest president this country has ever known.
All together: "Heil Trump!"
On the wings of a prayer
Following hot on the heels of KFC chicken-sponsored wedding ceremonies in Australia, with free buckets, comes news that Walmart is selling KFC branded, fried chicken-scented fire logs for Christmas.
Of course they'd never go as far as Gregg's bakeries in the UK, a popular high-street chain of size-enhancing snackeries, who promoted themselves last year with a nativity scene made from sausage rolls. I guess you call them pigs-in-blankets. Yes, even the infant Jesus was portrayed as a pork product.
And nobody breathed the word "anti-semitism".
But it's a great public service Walmart is doing. There are plenty of American families with no more food stamps, courtesy of Trump, for whom the smell of fried chicken this Christmas may be the nearest their kids get to eating anything.
Donald Trump and the other pigfaced gammons in the Senate don't mind making endlessly insulting remarks about the 16-year-old Greta Thunberg, still technically a child, voices The Pumpkin with disquiet. But the minute anyone even mentions the name of the 14-year-old, haunted-looking vampire-boy Barron Trump, even in fond jest, Melania, Fox and the enablers go apeshit.
And the Russian-flavored vomit spewed by the NRA and little creeps like Marco Rubio over the Parkland school shooting survivors who organized against them  was unspeakable.
Politics? Nah.
GW: More climate death and disaster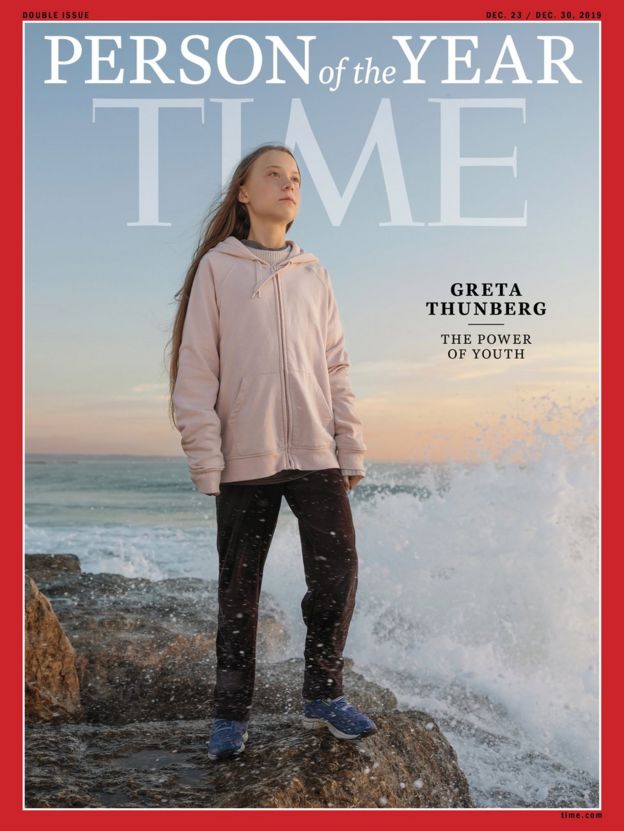 Hurrah! Greta Thunberg has been nominated by Time Magazine as their "Person of the Year, 2019". Let's ignore that she joins Josef Stalin, Adolf Hitler and Ayatollah Khomeini in that select company. Maybe even Donald Trump, who knows? It's not what you do, it's how famous you make yourself that counts. (PS – she's not really standing on that rock, is she? It looks awfully dangerous.)
Iceland: You can't technically call it a hurricane, but a huge winter cyclone is continuing to undergo intense bombogenesis over the island with wind gusts of 160 mph, and barometric pressure as deep as 940 mb continuing to fall. Extreme blizzard conditions and intensifying rates of snowfall, with the possibility of even greater windspeeds, have led to red "danger to life" warnings in the northeast. Most of the island is in lockdown, with all roads closed. (Severe-weather.eu)
The Guide to Iceland website treats the storm with good humor, pointing out that it's the third already this month – but the first ever to be given a name, Diddú, after an Icelandic opera singer. No casualties have been reported, and so far fairly minimal damage. The storm's track is taking it up into the high Arctic, where it will no doubt make winter sea ice formation problematic.
The rotation of the storm, which has developed an eye, is sucking strong southerly winds up over the British Isles. "Heavy rain and strong winds have been battering Scotland, causing disruption on the roads, railways and ferries." (BBC Weather, although curiously they're not mentioning the Icelandic hurricane. We've noticed that despite being an official source Severe-weather.eu does have a habit of exaggerating, in an effort we guess to live up to their name.)
Great Britain: "Election Day 2019 (12 Dec.) dawned bright and sunny…" Er, no, actually here in Boglington-on-Sea it's a filthy day, dark and heavy with rain. By 9.30 I had all the lights on, and walking with Hunzi we schlepped miserably through the teeming rain, me in my leaky wellies, puddles expanding everywhere. Now I have to go out to vote, the symbolism hasn't escaped me. This is the most depressing election I can remember since Thatcher in '79. The only hopeful thing I can say is, the older you get, the more you know from experience that in another few years' time "the people" might wake up and reverse the result.
Greece: A cyclonic system in the Aegean is causing "torrential and locally excessive rainfall across eastern Greece, with a good amount of snow further NNW into the higher terrain of North Macedonia and surroundings. Excessive rainfall could bring dangerous flash floods through the next 24 hours." (Severe-weather.eu)
Madagascar: Weakening Cat 1 Cyclone Belna has been crossing the East African island, with 2 confirmed dead and 3 missing. "Houses, public buildings and a hospital in Soalala all suffered damage from the strong winds and flooding. Coastal areas were flooded after waves and storm surge damaged a protective dyke." (Floodlist) On the other side of the ocean there've been floods and hundreds of evacuations in eastern Malaysia/Borneo, as up to 200 mm of rain fell in two days.
Colombia: and Venezuela have been affected by flooding for the second time this year, with over 6 thousand people displaced. (Floodlist) We missed an end-November event in Brazil: "Heavy rain in Salvador de Bahia City caused floods and landslides with widespread damage sustained to roads and more than 100 houses. 170 mm of rain fell in 3 hours – the monthly average for November is 100mm." (Reliefweb)
Arctic: Sea ice cover in summer 2019 was the second lowest on record, the lowest 13 years having occurred in the past – 13 years. And it's thinner than ever. The thickest 4-year ice has been reduced by a 1.9 deg annual warming trend from 33% in 1985 to just 1.2% today. (NOAA)
Tunnel approaching…
Your Old Gran is no scientist so she's struggling through many acronyms and unfamiliar abbreviations to interpret a new report by leading Australian climate scientist, Andrew Glikson, published on Arctic News today, so you don't have to.
Mr Glikson's literacy leaves a little to be desired, but what she takes from it thus far is that 'fings ain't looking good.
We need to take into account that although soundly based both in observation and theory, much of the future science is speculative. Which doesn't make the outlook necessarily any better, it only allows for the possibility of some climatic effects tending to mitigate further warming. How could it allow for any human efforts to reduce carbon outputs?
For instance, the last period when the CO2 concentration was high (1700 ppm) and the planet up to 8C hotter, the Paleocene-Eocene Thermal Maximum (55 million years ago), it doesn't appear to have rendered the planet permanently uninhabitable, and only 35-50% of life forms became extinct. Good news! Except that the PETM took around 100 thousand years and we're doing it in 350, giving species no time to adapt. The coming extinction will be rapid.
If we burn just 5% more of existing fossil fuel reserves, Glikson calculates, it will raise atmospheric CO2 by another 325 parts per million, or on the Meinshausen scale, "applying a climate sensitivity of 3°C per doubling of CO₂ would result by 2100 in a temperature rise of between 1.5°C to 4.5°C relative to pre-industrial levels". Clearly, it would help to stop burning stuff.
That huge gap of uncertainty is because you can't really predict the transient effects on the graph of things like forest fires (CO2 concentrations over Siberia hit 1060 ppm this summer) and permafrost thawing. Methane is now the main threat, but in all there's about 30 Teratonnes of carbon locked up in exploitable fuel reserves and retained in carbon sinks just waiting to be released as warming increases. A tiny percentage of that could be enough to knock the climate sideways.
And the predictions tend to be linear. The "boiling the frog" scenario doesn't take into account the likelihood of tipping points being crossed, the frog, as it were, suffering an unexpected heart attack – most scary of which is the Venus effect, of runaway transpiration of water vapor from warming oceans. There's an outside chance of this threshold being crossed in the next few years, according to the Arctic News team ("Sam Carana").
A bit of good news, then: water absorbs less CO2 the more it warms. The melting ice caps are creating huge cold pools, enabling the oceans to absorb more CO2. That'll help for a while, although it isn't good for marine life, for coastal communities or for people in the path of hurricanes. Also, you have to allow for the "global dimming" effect – pollution reflecting sunlight. (Only, as champion doomster Dr Guy McPherson has struggled to point out, as soon as we stop burning stuff, then….)
Your Gran does not understand why Glikson continues to use the mean CO2 concentration figure at the lowest point in the cycle? It might be a chilly 408 ppm in October, but it's a roasting 415 ppm by April, and rising at 3 ppm a year. By the end of 2019, it's estimated, we shall have added another 43 billion tonnes of carbon to the air and sea, with no sign of human activity being curtailed as it was meant to be under the doomed Paris accord.
In fact, it's increasing – in The Pumpkin's jaded view, a clear indication that rapacious gangster-capitalism in the end-time of the Energy markets is having success at persuading us all to use more.
Glikson ends with a veiled swipe at the international order: "As Australia burns, the IPCC maintains there is time left to consume a carbon budget and to keep handing out offsets and carbon credits…" He doesn't complete the thought, but I think he's implying that there isn't.
Siberia: Residents of the city of of Petropavlovsk-Kamchatsky on the Kamchatka peninsula are being warned that the giant Avachinsky volcano, just 18 miles away, has begun an eruption. Locals and tourists are being advised to stay away. (Siberian Times) Police have begun an operation to recover what they say are six bodies they can see on New Zealand's White Island after the sudden eruption which killed or seriously injured over 40 tourists last week.
Siberian Times also reports: 56 hungry polar bears have laid seige to Ryrkaipiy, a remote village in Chukotka, easten Siberia. Villagers using flares are fearful of leaving their houses at night and children told to stay indoors. The bears still have some food from abandoned carcasses at a seal colony nearby but "abnormally warm weather" has prevented them from moving to more northerly hunting grounds.
Births, deaths and mirages…
RIP Popular TV naturalist and actual scientific botanist, Dr David Bellamy, 86. Big beardy guy, climate-change denier ("poppycock"), weird slushy voice redolent of fermented fruit. You hadn't been on TV for a while, I don't expect you'll be missed by many people under 45.
RIP Global media: A check of the website of the widely influential South China Morning Post today, 11 Dec., for any news of extreme weather events throughout China and the whole of Asia turns up only one Environment story, about plastic pollution, despite the UN conference on climate change in Madrid, the fires in Australia, the cyclone in the Philippines….. We might as well not be here.