15,413. The number of outright lies Washington Post factcheckers say (on 17 December) that Mad King Donald has told in public or by tweet since ascending the throne on 20 January, 2017. I have been browsing on a wonderful website, trumpgolfcount.com/#services, to obtain details of his hobby and its spectacular cost to the American taxpayer. Currently about $114 million, and all at his own private clubs: Obama used mostly military ranges. He still owes over a million dollars to local authorities who have to clear streets, close businesses and provide police around his dumbfuck rallies.

"Me, a racist? Some of my best wallpaper is kikes."
Trump signs an edict for Hanukkah, banning criticism of Israel.
News from nowhere
At the reception Trump thanked Melania for her Christmas decorations – on the main Jewish festival of the year- and welcomed an old friend he spotted in the crowd, who's been dead for 30 years. He later held a rally in Hershey, Pa. at which he mocked a security guard he thought wasn't being rough enough on a woman protestor and "joked" that he wanted another 29 years in office because "the American nation itself" would collapse without him.
He is, of course, barking mad. In Victorian times, anyone who thought they were an entire country and not just a mildly demented solipsistic senior citizen temporarily employed as the President would have been carted off to Bedlam.
Ominous signs, however, are growing that his dumbfucks, more heavily armed than the Army, are becoming violently opposed to impeachment. Many are talking of civil war if Congress harms a well-spun golden hair on his sainted orange head. The internet is pregnant with death threats against his critics and opponents.
They are, of course, also barking mad.
Over 100 pages of documents awarded by a court to a private ethics watchdog lobby were released by the White House, and passed on to the Congressional judicial committee investigating the Ukraine story. Barely a line was visible behind blacked-out redactions and the clearly disrespectful and provocative documents have been entered as further evidence of obstruction.
The Attorney General has confirmed he has asked his own special counsel John Durham to investigate his Inspector General, whose investigation of the FBI's investigation into the links between the Trump campaign and Russia found there was no "Deep State" conspiracy against the president, who had not even been elected at the time it began. Bill Barr has already stated that he thinks the 400-page report is a scam. He should know.
Mr Barr is understood to be a member of the secretive fundamentalist Catholic organization, Opus Dei. He also recently gave a speech in which he advocated subordinating the powers of the legislative branches of the government and Congress to one single man: Trump, claiming tyranny is mandated in the Constitution.
He is also barking mad.
"It should never again happen to another president. It is incredible. Far worse than I would have ever thought possible. And it's an embarrassment to our country. It's dishonest. It's everything that a lot of people thought it would be, except far worse."
This tweet from the arch-crook, Donald J Trump, whining like a bitch under a bus to distract attention from his impeachment. It's another piece of projection, concerning the Russia investigation. The DoJ's Inspector General found that while there were procedural errors in obtaining two of four wiretap warrants, and one item of possibly pertinent information witheld from the court, there was no basis otherwise to Trump's paranoid delusion that the FBI and the "Deep State" were involved in a plot to discredit him.
But it's incredible. Dishonest. An embarrasssment. I wonder who he's talking about?
He has no respect whatever, no interest in the rule of law – which often depends on law-enforcement agencies carrying out investigations to enforce it.
And he doesn't want that.
Bondi beached
"You know, so many of us who are career law enforcement today are outraged," she said. "And I think the American people really should be terrified that this could happen to you when we're supposed to live in a society of integrity and honesty."
This from Pam Bondi, a former Florida Attorney General.
Integrity. Honesty. Outrage. Strong words.
The high-minded Ms Bondi was recently appointed to his impeachment legal team.
In 2016 – his election year – her office had been investigating a possible case against the so-called Trump University, when at her request (cf. Vanity Fair) he donated a measly $25 thousand to her re-election campaign, and she dropped the case. She later denied there was a connection.
He had donated the money illegally from his tax-exempt foundation and was later fined $2,500 for inappropriate use of charity funds. More recently, he was forced by a New York court to pay $2 million to court-nominated charities, having illegally diverted military veterans' charity funds via his fake foundation to the 2016 election campaign. (You see, Trump really IS a crook. It's not just some libellous gossip, some prejudice on my part. He has many times been fined or has had to settle out of court to avoid going to jail.)
The criminal president was BANNED from owning a charity. His three shifty co-trustees, Ivanka, Moron Sheephunter Jr and Eric, The Little Nazi, were ordered to undergo special training in charity law. Oh, how deliciously humiliating.
In 2018, to avoid prosecution Trump was ordered to settle $25 MILLION on victims of his Trump University scam, people who had lost tens of thousands of dollars investing in what they hoped would be a career-enhancing degree-level master-course in real-estate management and received only an invitation to a sales pitch and a few limp pages of excerpts from Trump's pathetic ghostwritten bullshit book, The Art of the Steal. Oh, no, sorry. Deal.
Why does the 73-year-old groper, Trump have so many attractive young women enablers like Bondi? A classic abuser, describes his former lieutenant Michal Cohen, he grooms you with flattery and lunches, draws you close, makes you his confidant, then gets you to lie and steal and dump dirt for him, until you get found out and he dumps you by tweet and protests he never even knew you. The slimy slugtrails never reach back to him. He has done this to people countless times yet they continue to defend him. Some women, it seems, just love an abuser. Men too.
Integrity. Honesty. Outrage.
Trump had all-but disowned his friend, enabler, inept apologist and motormouth "personal lawyer", Rudy Giuliani, whose actions in the Ukraine scandal (abetted by two low-level mafiosi and funded by one high-level Putin oligarch wanted by the FBI) were threatening to take Trump down. "He may have done some things for me, I don't know" is Trump's classic mob-boss shtick. Go at it, Elliot Ness.
So last week, in the middle of the Democrats' doomed impeachment hearings, Giuliani scoots off to Ukraine to recruit some discredited former officials to lie about former Vice President Joe Biden, Trump's main Democratic rival, claiming that he had acted corruptly – when an investigation they had previously conducted concluded that he had not.
Keep up, Rudy.
And he's now back in the mob boss's good books. "One of the greatest crime fighters in American history". Yes, indeed boss, we have plenty of dirt to dish out on the Bidens! Please let me back into your mothering embrace!
Ghouliani had previously flown to Ukraine to persuade former President Poroshenko to investigate Biden's son, who was just a celebrity name on the board of a gas company competing with another company Rudy was trying to get his own nominee onto. But Hunter Biden had joined the board only AFTER an investigation into corruption at the company had completed and nothing was found.
Nothing to see there, then, except the usual revolting influence of the rich and powerful furthering the career of an unemployable scion, that's been going on since the dawn of time. Trump does it for his kids too, in defiance of the no-nepotism rules, as do most Republican politicians. As do most people, actually, if they can.
In the midst of the hearings, Trump enabler and low-browed hominid with tiny eyes and a massive jaw, Congressman Matt Gaetz, a Neanderthal who has made it his life's work to endlessly interrupt the witnesses with irrelevant and witless distractions, declares that the keypoint in Trump's defense is in fact the case against Hunter Biden, Joe's son.
Trump, he argued, had perfectly legally made military aid to beleaguered Ukraine contingent on President Zelinskiy reopening the cold case against Burisma and… Hunter Biden! So it's not an impeachable offense!
Why not – it certainly fits the description?
Er, because…. he was so concerned about stopping corruption in Ukraine that he was prepared to help Vladimir Putin's military secure their illegal advance into the Donbass to root it out. And privately suspend military aid unlawfully and unconstitutionally without reference to Congress until Zelenskiy would do him "a favor, though…." and announce he was reopening the investigation into Burisma and the Bidens, to help him get re-elected.
And then lied about it, and concealed the evidence of his traitorous and bungling phone calls with foreign leaders in a highest security server reserved only for the dirtiest CIA intelligence operations.
Top-drawer legal work there, Matt, you total fuckup.
Where do the Republicans find these morons? And who votes for them?
Integrity. Honesty. Outrage.
Heads you lose
A possible clue to how Trump might behave if removed from office is found in a Vanity Fair story about recently defeated Republican governor Matt Bevin, of Kentucky, who while waiting for his Democratic opponent to take over has commuted the life sentence of a murderer who beat a mother-of-three to death with a pipe, cutting off her head and dumping the body in a drum of toxic waste.
Another convicted cold-blooded killer he has set free may be linked to the $25 thousand his family donated to the governor's fund. His poorer accomplices are still inside. And he has pardoned and released a guy who raped a 9-year-old child, because "her hymen was still intact".
I can understand that there may be people out there who are criminally sociopathic, but who the hell votes for them, and why?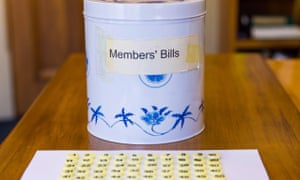 "It was what was available at the time," Trevor Mallard, the Speaker of New Zealand's parliament said of the tin, adding that it had initially contained "a mixed selection of biscuits".
I want to go live and eventually die in New Zealand, the sanest, best governed country on earth. I think, despite the volcanoes, probably many people do. Members' bills in Parliament are selected for debate by drawing bingo balls from a biscuit tin. And they are happy with that. Who wouldn't be? (Report: Guardian)
(It just occurred to me that Johnson probably has a tin on his desk labelled "Members' Balls"….)
It's the wrong song
One reason I want to go on living after my home is repossessed when I turn 80 and the mortgage is worth more than the bricks is that you go on discovering things every day.
Anyone know what a "mondegreen" is? I've just now found out! It means a word or phrase that's been misapplied as a result of mishearing the words in a song. A brilliant definition. I heard it for the first time today,
One example, a TV play in the 1970s was entitled: "I'm a dreamer, Montreal" when the actual song goes "I'm a dreamer, aren't we all?", but mishearing it constantly as a child prompted the hero to dream of escaping his narrow life in Ireland and emigratin to Canada.
"Mondegreen" apparently hails from Scotland and an old Border ballad: "They have laid him on the green". I probably have a dozen other examples but I can't remember any.
I do sometimes wonder where I have been all these years.
"If control of the media is not a major element in the imposition of State totalitarianism, it would be hard to think of another."
Cowardly Johnson attacks the Beeb like a fascist dictator

Upset by being pilloried over his cowardly refusal to allow himself to be held to scorn by the forthright interviewing of Tory Torquemada Andrew Neil, and presumably critical even of the sneaky Conservative bias of the BBC's lightweight senior political editor, Laura Kuenssberg, a day into his second premiership Johnson has launched an all-out attack on the internationally respected Corporation, whining about bias.
It's amazing how these egotistical and ambitious, lying charlatans whom The People love to vote for are always so resentful of their victories at the polls.
It has been perfectly clear since the Referendum to any Remainer on the left of politics that the BBC has been frantically virtue-signalling to its detractors and disablers on the Tory hard-right, bending over backwards to not say anything beastly about them, other than on its tiresome and formulaic "topical" comedy shows, with their panelists' utterly predictable nods to the politically right-on hipsters of Hoxton.
But just the effort of trying to balance their political coverage by interviewing a handful of opposition politicians or asking the most complaisant of "difficult questions" is invariably seen as an act of national treachery, despite the endless, dispiriting vox-popping of poorly informed Leavers – no Remainers – on the grimy streets of our forlorn post-industrial towns. I wouldn't mind them having opinions if they had the slightest awareness of what they were basing them on.
As for their egregious consorting with Farage… our colleagues at the BogPo have reported time and again about this, that BBC researchers have his number on speed-dial, top of page one, knees jerking to whatever deranged statements and shifts of position reminiscent of a nun on cylocybin doing the St Vitus' Dance he comes out with next. "Oh, he's just good entertainment value."
Yes, and there are websites where he is worshipped as a nativist hero and ethnic-cleansing demigod. Take your pick.
If Johnson decriminalizes non-payment of the BBC's licence fee, Britain's only independent public service broadcaster will, they think lose £200 million over the next few years as people simply stop paying to receive free programming. That's a lot of great programs and some shit they're going to have to farm out to the private sector. and the end of independent public-service broadcasting in Britain.
I have heard these people arguing out of a total misunderstanding of how it works, that they don't watch many BBC shows and so £3 a week for the availability of seven broadcast and one online TV channel, a dozen national radio channels, a 24-hour news, sport, weather, educational and magazine features platform, plus the iPlayer online catch-up website, the World Service and their local radio station, to licence the use of the apparatus on which they could receive it all is such a dreadful ripoff.
Of course, everyone moans there's not much to watch or listen to on the BBC, and I can sympathise with that at times. There are large gaps to fill between some of the best drama, nature and entertainment shows on the planet, and much of it is unwatchable padding. There's seemingly no limit to the miles Michael Portillo can clock up on the world's railways, but there's certainly a buffer to how much I can take of it. BBC News still tops the polls for credibility, although as a former newsman myself I have severe reservations about its current direction.
I'll bet they watch Strictly, though. The final drew an audience of 11.3 million. How do they think the BBC pays Claudia Winkleman's massively huge salary? I'll bet they watch Poldark, and Call the Midwife too. They just don't want to have to pay anything for it. it's the classic British bulldog spirit: "We're not going to be told what to do by anyone, even if it hurts us not to do it."
But they're perfectly happy to pay Disney £600 a year to subscribe to Sky TV for 40 channels of Babestation, a hundred tacky shopping channels, privately sponsored corporate TV, creaky old US TV cop shows in strange colors, and however many channels showing endless repeats and cheap archive content, on all of which they have to put up with a three-minute brain-destroying ad break every seven minutes that already pays for the service, did the dumbfucks but know it.
They're quite happy to pay Netflix to watch endless episodes of a fantasy Royal Family doing fuck-all for years in posh surroundings. (Btw, spoiler alert, the Queen dies in the end!) and Amazon for the pleasure of the company of booming-baby, Jeremy Clarkson and his infantilized petrol-sniffing chums.
Channel 4 has also drawn the ire of the thin-skinned Johnson, for naughtily substituting a melting block of ice in his place when he refused to turn up for a climate debate with the other party leaders. Just like his hero, Trump, he takes any degree of satire as a mean and unfair personal attack. Well, he should have shown up, but he was frit. A coward. He knows fuck-all and could care less about climate science, his party has been given plenty of money not to think about it.
"During the election the Tories confirmed that the party would review Channel 4's public service broadcasting obligations if Johnson was returned to Downing Street. Under the proposal it will 'look at whether its remit should be better focused so it is serving the public in the best way possible'" (Guardian).
If control of the media is not a major element in the imposition of State totalitarianism, it would be hard to think of another. Who the hell are the Conservative party, Number 10 or fucking Domino "Pizza" Cummings* to decide what best serves – rather than shafts – the public? Are they willing to pay for the privilege of ensuring their critics, political opponents and alternative ideas never get a look in?
Broadcast content absolutely must not be subject to Government control and vindictive partisan edicts or we are all doomed.
*Unelected policy "advisor", Dom (£90 thousand a year) has already started usurping Johnson's headlines, declaring yesterday that he proposes personally to reform both the Civil Service and Defense Procurement, although he is not in the Government.
Taking bets on how soon Johnson dumps him.
What's old, Pussycat?
Dame Vera Lynn, the still-going-strong 102-year-old singing star famed for her morale-boosting wartime hits, has successfully sued to prevent Halewoods, a drinks company, from naming a brand of gin after her. Dame Vera argued quite correctly that she had not agreed to lend her name to the brand and that people would imagine she had.
Halewoods' dismal brief tried to argue the fatuous case that "Vera Lynn" is a phrase in common use as cockney rhyming slang – a style of East London speech that went out of fashion decades ago. It did not imply her endorsement just because it's her name, and as artisanal gin is consumed mainly by young people, he said, no-one buying the drink would ever have heard of the actual Vera Lynn.
The picture on the label rather let him down.
The name of the solicitor?
Tom Jones!
GW: Roasting Matilda

Australia: "could experience its hottest day on record next week as a severe heatwave in the country's west is set to make its way east, forecasters say. Temperatures are likely to exceed 40C in many areas from Wednesday. Perth, in Western Australia, reaching 41C by Sunday. Adelaide should see a high of 44C (111 F) on Friday.
"The current record of 50.7C was set on 2 January 1960 in the outback town of Oodnadatta in South Australia." (BBC Weather) In the year to July 2019, Alice Springs had 129 days over 35C, and 55 days over 40C. (Guardian) Averaging 40.9C, Tuesday 17 Dec. was the hottest day across the whole country since records began back in 1910. Thursday is supposed to be hotter
The Gospers Mountain Megablaze now covers nearly half a million Ha., the size of greater Sydney, and is once again threatening the city's NW suburbs. Large fires are blazing out of control in several townships north of Perth, thousands evacuated. (9 News) The toll on wildlife is incalculable.
DR Congo: At least 24 people have died after a landslide buried a mine in Ituri province, in the far north east of the country, close to the border with Uganda, which is also experiencing heavy rain that has triggered deadly landslides over the last few days.
Heavy rain in other parts of the world is also likely causing industrial disasters: 4 people were killed and 14 trapped after a coal mine in Sichuan province, China flooded on 14 December. Over 300 people managed to escape.  In Afghanistan, 5 workers were reportedly killed in a landslide in a gold mine in northeastern Badakhshan province on 12 Dec. (Floodlist)
Indonesia: at least 2 people died and 50 houses were severely damaged in Central Sulawesi after flash floods hit several villages in Sigi regency on 12 Dec. Flash floods also hit West Sumatra, inundating around 1000 homes. At least 5,000 people have been displaced. Some areas were reportedly under 1.2 meters of water (from Floodlist).
France: "at least 2 people have died and thousands left without power after a powerful storm hit parts of southern and western France late on 12 Dec. Winds gusting to 108 mph caused major damage. Heavy rain and flooding were reported in some areas. The Lot-et-Garonne department was placed under red alert for floods after the Garonne river rose rapidly." (from Floodlist)
Europe: "An incredibly warm airmass persists over the eastern half of Europe with locally 12-18 °C anomaly while literally the whole continent is experiencing above normal temperatures. Very warm weather with close to 20 °C afternoon temperatures is likely over the Balkan peninsula." (Severe-weather.eu)
USA: huge fluctuations across the country, with minus 10C in the north, 3C in New York and 18 C in the west, storms, blizzards, floods all over. 3 people were killed by tornadoes on 16 Dec. in Mississippi resulting from highly mobile temperature gradients.