Hi, welcome back, me.
#grinder
Yes, I had a good time, thanks. Glorious weather after the first day, and a memorable meal at a busy Michelin-starred restaurant on the divine banks of the Loire. Chef/patron emerges: "Smell zis Caledonian peppair!" He'd personally gone to New Caledonia in search of an especially fragrant pepper to put in his little battery-powered machine and brought it all the way to our table to let us poor departing Brits (and one London-based American) smell it. That's what it takes to get one star.

For a whole day since returning, despite another gruelling all-day train journey with improbably explained delays, during which I managed to wet myself when the valve failed on my leg bag while I was falling in love with the stunning blonde passenger sitting opposite, in tiny denim shorts, and ended up instead chatting helplessly with a dyslexic theoretical physicist about string-theory, as you do on our local sprinter train, a guy with several PhDs, I have a cautious and totally misdirected sense of jaunty optimism.
Fuck it, I thought. I am the Chosen One.
We should all maybe tell ourselves that more often.
Photo: Reuters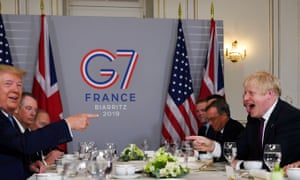 "He who smelt it, dealt it!"
"It's as certain as night follows day that in the event of a referendum the entire cabinet would agree in a heartbeat to restoring Irish unity, which would solve the problem at a stroke."
As Johnson descends on louche old Biarritz for another pointless G7 meeting to be hijacked by Trump, his abusive tweets, his capricious nonsense and his insatiable neediness, we look at….
The Irish border question: What is an Irish border?

Technology exists to track your movements and mine. Do not imagine that someone, somewhere, with the right authorization, could not, if tipped off to certain worrying keywords, or simply because you bought some branded product, log-in to a system that is tracking your every movement, purchase and utterance; and, with access to 5G, will soon know to the nearest half-meter where you are standing or lying, robbing a bank or screwing your boss's wife.
They are already doing it. You think your stuff is Off? It ain't. Unless it's dead (or you are) it's still transmitting.
So, imagine you have a truck full of shivering sheep, baa'ing piteously on their way to meet the Inevitable. (Again.) Ahead of you is a separation between one customs tax regime and another. They levy different tariffs. Some official clearly needs to know that you have trucked your terrified sheep across this border, which has no physical barrier, but which divides a higher-priced region from a lower, thus attracting people who will profit by bending the rules.
He or she will need to register that you have transhipped 135 sheep from one jurisdiction to the other, in order for more officials to send the producer and the retailer their bill and claim the tax – plus VAT – for the Government. Assuming, that is, that your sheep have not been diverted into a quiet field somewhere.
Such a barrier would naturally encourage producers on one side to smuggle their sheep across to buyers at night, and buyers to move them on at low cost into a higher-priced retail and consumer market, pocketing the difference. Bad men with guns would exploit the higher price on one side, and be prepared to shoot when questioned; or when they think someone is telling on them; or, more pertinently, competing with them. I'm pretty sure they're digging the auld Armalites out of their rural hideyholes as I write. There's nothing the rural Irish like more than a good ambush.
The activities of these gangsters are masked beneath centuries of political, alcoholic and religious pieties, justifying their murderous ways. Their largely bogus "movements" have in the past set off bombs callously killing non-combatants, and even conducted two wars to retain their opportunities for profit. It's called smuggling, and wherever it happens it's a murderous business.
And then, imagine that the complicated geography of the region means that, in order to get from a low-tax regime to the higher one, goods have to pass through the higher tax regime from the lower, and then back into the lower and on to the higher.
Who the hell is going to keep track of that?
Packed on trucks, the goods leave the freedom of one set of customs taxes and standards, to pass through a different jurisdiction, the UK, with different customs taxes and standards, in order to enter once again the former jurisdiction, the Irish Republic; and then, possibly reprocessed (unless they are to divert hundreds of expensive miles northwards through the UK to Scotland) have to pass once more across this barrier, the border, to enter the UK once again. The process, of course, having attracted more tax liabilities.
I'm sorry, there are those who think this is a good idea, but I don't. And I'll happily kill you over it, when the gloves finally come off, because you deserve it. You're a bunch of fucking ignorant, selfish, disinterested, determined klutzes who haven't been paying attention, and in your infinite laziness you believe anything you're told by bad people you think are on your side because they sell you pictures of very young women with big naked tits just like your mum's.
And there we come on to people. People living or working on either side of this putative border will have different rights and degrees of citizenship. No barriers separate the people south of the border from the people east of the bigger island that separates them physically by water from the other jurisdiction to which they belong. But the borders between the continent and the smaller island to the west, and to the north of an arbitrary line drawn across the island in 1926, now create differential rights, rules, loyalties and responsibilities of citizens in the south from those in the north.
A major part of the decision by a very small majority of UK citizens to leave the EU related to their objection to the principle within the EU that people should have an automatic right to live and work in any member state. As soon as several poorer East European countries with quite alien cultures joined the union, voters saw a potential threat and panicked. In future, however, anyone will be able to get in over the new, invisible Irish border. The assinine slogan, "Take back control of our borders", will be turned on its head. Fucking eejuts.
Their vote will substantially reduce the existing right of all EU citizens, however "acceptable", to live and work in the UK, unless they meet stricter criteria, possibly than less qualified people from other countries the UK will be forced to make its own trade agreements with. But if there are no border controls between the south and the north of the island of Ireland, and the south is in the EU and the north isn't, then the movements of people will need to be carefully monitored too.
I'm sorry this is all so boring. Blame the Leavers.
After all, I have just popped over to France for a week, and been biometrically analysed three times and presented my passport three times going out, and twice coming back, after enduring a lengthy spell in a restive queue, and the UK is still in the EU….
Lost control of our borders? How, exactly?
(If we have, I'm sure the lowering pairs of thuggish-looking Border Force goons hanging around every corridor and hall in their black uniforms with arms folded menacingly would soon reimpose it. Is Britain the only country that greets its visitors with Force? Every time I come home I feel sickened by this fucking country.)
Unless another delay is granted while British politicians pass their one greedy little brain cell around the table to try to find a 'unicorn' solution to what is a totally impractical geographical problem, by leaving the European Union without agreeing to open borders for customs tax and immigration purposes, in other words by retaining the existing regime but with even fewer controls and no say in what happens, the United Kingdom cannot remain united.
is this what these fuckwits wanted?
I do not imagine for one second that the fish porters of Sunderland and the demented Empire Loyalists of Tunbridge Wells thought about this problem for one second before seizing the opportunity to leave the European Union, an institution of which they were and remain entirely ignorant, other than suspecting it to be run by a cabal of garlic-munching foreigners bent on removing our hallowed right to behave as badly as we like..
It's certain as night follows day that the entire cabinet would agree in a heartbeat to restoring Irish unity, which would solve the problem at a stroke.
Of excellent landscape value, and producing very good beef, nevertheless Northern Ireland is an ungovernable province. It hasn't had its assembly government working for close on three years now, since the Catholic Sinn Fein party walked out on the pretext that the Protestant Ulster Unionist parties were blocking moves to institute an official dual-language policy (English-Irish, which practically nobody speaks) and other, frankly symbolic, issues, such as on which days of the week could the British Union flag be flown over Belfast city hall.
You might conclude, as most people do, that the Northern Irish are among the most stubbornly divided, batshit crazy people on earth.
Despite that, the British government has shown no inclination to revert to the old centralized rule from Westminster, while the terms of the Good Friday agreement that ended a vicious 30-year civil war never anticipated this rift known as Brexit and rather relied on not having to sort out the border issue all over again, removing, as it did, the border. Which is 300 miles long.
So, what could technology do?
Well, every sheep has its own "passport". A sort of "baa-code". All farm animals, every cow, pig, sheep or horse, have had to have individual numbered documentation tracking their progress from birth and vaccinations through to every movement off-farm and transhipment to slaughter, as part of the total traceability of foodstuffs imposed through the European Union since the late 1990s and the outbreak of Bovine Spongiform Encephalitis (BSE), that still has to kill many thousands of people who ate contaminated beefburgers at the time. (The gestation period is up to 50 years.)
One suspects Mr Johnson and several older members of the cabinet may well be coming down with it. (We are also waiting cynically for John Selwyn Gummer's daughter, to whom as Agriculture Minister he force-fed burgers to prove they were fit for consumption, to succumb. Sorry, I just loathe Tories. I expect she does, too.)
So it is perfectly possible using GPS in combination with 5G, using implants, to track the movements of every member of the doomed livestock community, that we should not be eating for the planet's sake, but which we could nevertheless tax to our hearts' content, knowing exactly where they have been and when throughout their too-short lives.
Then, were I to walk out of my local supermarket with any inanimate object valued by the retailer at more than a couple of quid and bearing some kind of transponder, klaxons would sound and the large security man would pounce on me to demand restitution or, more probably, my imprisonment.
If it can be done cheaply in shop doorways, surely similar tracking of goods and people across invisible boundaries is possible? It would require vast computing power to track billions of movements of goods and people via GPS, and automatically debit their bank accounts, but it can be done. The cost would initially be terrifying, but by scrapping the silly £100 billion-and-counting HS2 vanity project and ignoring our £1.3 trillion national debt, it might be done.
There are surely enough investors out there with money burning holes in their pockets to make the lucrative practise of customs control a viable business proposition.
If we really have to.
So, Farewell then, David Koch, 79. Net worth $51 billion. In a special tribute, Granny Weatherwax writes: "Did you take it with you, you fucking greedy, hypocritical little piece of ecocidal shit? I hope you died screaming."

The madness of King Donald
Departing this weekend's G7 in Biarritz, Trump put in an impassioned plug for holding the next one at his Doral golf resort in Florida, insisting to world leaders: "I'm not interested in money".
According to a new report by Citizens For Ethics and Responsibility in Washington, thanks to his refusal to divest from his business interests as required in the constitution, including his golf resorts, Trump has been involved in more than 2,300 financial conflicts of interest benefitting himself since taking office.
Trump has tweeted-out his approval of a comment by a conspiracy-theory-peddling radio show host that Jews in Israel regard him as their "King", and believe that he is "The Second Coming" of the Christ. Pundits rushed to point out that, technically, real Jews are still awaiting The First Coming. He later informed the servile gaggle of journalists on the White House lawn that he is "The Chosen One". No-one dared to question it.

On numerous recorded occasions, President Trump has, for whatever reason, told his dumbfuck supporters and even business delegates that "five or maybe even six years, even before I thought of running for President", he was named Michigan's "Man of the Year".
There is no such award. Oh, and he first announced he was thinking of running for President in 1988.
Twice in the past week Trump has asked aides for input on "his" idea of dropping thermonuclear bombs on hurricanes as they form off the African coast, to prevent them reaching the USA. The NOAA has humbly responded that it might not be such a great idea for the rest of the planet, and wouldn't work anyway. (The average hurricane generates energy equivalent to a 10 megaton bomb every 20 minutes.)
The White House rushed to clear up a statement he made at the G7, that Melania Trump had met with North Korean leader, Kim Jong-un and agrees with him, what a great guy the world's most murderous dictator is. She never has met him. New spokesmouth, Stephanie Grisham explained, the President really meant that the First Lady just "feels like" she has got to know him well.
A photo of Melania at the G7, looking like she couldn't wait to get her lipgloss around Justin Trudeau's manly dick, has gone viral.
And, though it's been widely reported, it's worthwhile recording – lest we forget – last week, Trump proposed buying Greenland from the Danish crown. Rebuffed by Denmark's young female PM, he went off on one, calling her "nasty" and cancelling a proposed visit to Copenhagen. Two days later, after a phone call between them, he described her as "a wonderful woman."
In much the same vein, he flip-flopped twice in the week on tougher background checks for gun buyers and once on cutting payroll taxes to boost the economy, while at the same time asking in a notorious tweet, who is the bigger enemy of America, President Xi of China or his own appointee, Federal Reserve chairman Jay Powel? (misspelling Powell's name). Leading economists described his tweet as "crazy".
As Anderson Cooper commented, it's one thing for a President to make policy reverses – another, when he doesn't himself seem to know or care what, if anything, his own words mean, or what he has said, from one day to the next.
The wit and wisdom of Donald J Windbag:
"I think I know more about the environment than most." (Spoken at a press conference at the G7 in Biarritz.)

White supremacists in Arkansas have cut down a tree planted to commemorate the Elaine massacre in 1919 of up to 800 African Americans across the state.
Jazz alert
Music, history.
Since returning from a full-on week trapped in an agreeable French location with a bunch of musicians – amazing professionals as well as stumbling amateurs like me – I've tried to avoid falling into the trap of telling myself, enough is enough, and kept listening to jazz since arriving back earlier in the evening than I had feared; despite the delay at Shrewsbury caused by a passenger claiming to have had their luggage stolen with their ticket in it.
Thus I have discovered the lovely Robert Glasper, to whom I am listening a lot.
However, last night I devoted twenty or-so minutes to watching the outstanding young Afro-British cellist, Sheku Kanneh-Mason, winner of the 2016 BBC Young Musician of the Year award, playing the Elgar concerto at the Proms.
I have to say, emotionally engaged though he always is, and technically superb, I found the whole thing a trifle perfunctory. Perhaps because there's nothing much more anyone can do to flog new life into this old, post-First World War nostalgia-horse, but partly also because the Birmingham Symphony Orchestra all looked supremely bored. In particular, the violinist with a ginger beard seated immediately behind the soloist, who kept rolling his eyes and pulling disdainful faces, who should be moved or sacked.
Right now, however, I am writing with one brain while riveted on YouTube by the other to a filmed 1965 Belgium tour performance by the John Coltrane quartet, music of an octane so high I am writing this on the ceiling for safety. I had not come across the video before. It is, quite simply, whatever your level of understanding of music, whatever genre and Magus you believe to hold the One True Flame, spectacular and, indeed, magisterial.
The concert – only 37 minutes survives – is performed to a packed house. Wondering in passing what Sir Edward would make of it (I imagine his patrician old head exploding, the sound reverberating ominously around the Malvern hills – although, let's remember, he lived on well into the Jazz age – perhaps not jazz quite like this), to the accompaniment of the unbearably suspended tension of a 396-bar (okay, I haven't counted them. It's several minutes long), positively heroic, symphonic solo by Tyner on what is surely Coltrane's best-ever production of "My Favorite Things", I was moved to post this Comment underneath:
"Belgium, 1965. The year the murderous kleptocrat (and reputed cannibal) dictator, Mobutu Sese Seko finally seized power in the African nation with the worst history of white colonial brutality of all, the Belgian Congo. The true "Heart of Darkness". Not a single black person in the audience. And yet… they're sucking this coruscating black anger up and owning it. Funny old world."
John Coltrane (ts, ss), McCoy Tyner (p), Jimmy Garrison (b), Elvin Jones (dr).
Eat your little hearts out, Trump, Putin….
In 1970, supported by the Americans, the increasingly unhinged Mobutu held an election in the DRC to consolidate his rule. The only candidate, he won with a vote of 10,131,669 to 157. (Wikipedia)

GW: The weather here has been as nice as it can be
Okay, I am going to mention this. During the late June heatwave in which parts of France saw record 45 deg. temperatures, it was pointed out that the new record maximum, at 5 deg. C above the old, roughly, was in itself a record increase in the record.
Announcing the hottest ever August Bank Holiday Monday in Britain, the Met Office said today, temperatures had reached 33.2C (91.8F) at Heathrow by 14:16 BST, beating the previous record of 28.2C set two years ago. (BBC)
I think we can draw from that, that summer maximum temperatures in northern Europe are running roughly 5 deg. higher now than they were only a few years ago.
Buckle up.
(And today in Boglington-on-Sea it's 15C. Brrr.)
China: "At least 9 people have died and 35 are missing after torrential rain caused flooding, mudslides and debris flows in Sichuan province on 20 August, 2019. More than 100,000 people have been evacuated , including thousands of tourists. Roads have been blocked and bridges damaged, making access to affected areas extremely difficult. Provincial disaster authorities were using helicopters to access areas and deliver relief supplies." (Floodlist) And: "4 people were dead with 11 others reported missing after multiple mudslides hit Wenchuan County, SW China's Sichuan Province" (citing People's Daily).
Wunderground adds: "Severe flooding and landslides have killed more than 200 people within two months across China. More than 60 people are missing, and about 1.3 million people were displaced."
Philippines: 2 people have died in landslides and floods in the Philippines, where Laoag City is under a state of "calamity". and 1 in Taiwan after strong winds and torrential rain brought by Tropical Storm Bailu. 9 people were injured in further weather-related incidents in southern Taiwan, where over 750mm of rain fell in 48 hours. Thousands of households were left without power and transport was severely interrupted, including dozens of flights. (Floodlist)
Laos: Northern provinces have been affected by flooding after heavy rain. (Floodlist)
Nigeria: Flooding has been reported in numerous states since around 16 Aug., leaving houses and crops destroyed and causing fatalities. Flooding has also affected some central areas of the country, including near the capital, Abuja, and in Niger State where the city of Bida recorded 86mm of rain in 24 hours to 23 Aug. (Floodlist)
A large and potentially devastating series of fires is raging in Central and parts of Southern Africa. Among the regions at risk is the Congo Basin forest, the second-largest tropical rainforest after the Amazon, mostly in the Democratic Republic of Congo. (NYT)
Spain: "The streets of Madrid have been turned into rivers as flash-flooding and hail inundate Spain's capital. One of the worst affected neighbourhoods was Arganda del Rey where cars were washed away in the torrents of water while huge piles of hail built up along some streets. The Spanish subway department declared several metro stations and highways closed." (Guardian, 27 Aug. – video http://www.theguardian.com/global/video/2019/aug/27/piles-of-hail-flash-floods-and-a-tornado-hits-spain-video ) In other news, a "spectacular" and "brutal" tornado grazed the Andalucian town of Campillos, near Malaga, leaving residents and tourists shaken but unharmed. Yellow weather warnings are still in place for "torrential" rain. (Various media)
A severe storm hit the Valencia region on 20 August, 2019, causing flash flooding in parts of the provinces of Castellón, Alicante and Valencia. (Summer rainfall records tumbled.) Some areas recorded more than 40mm of rain in less than 1 hour. El Toro in Castellón recorded 41.8mm of rain in 20 minutes." (Floodlist) The severe weather events follow another strong plume of N African heat pushing up across Europe.
Guatemala: Heavy rain has caused flooding and landslides in several departments over the last few days.
Bolivia: As fires continue to rage in Brazil, nearly a million hectares (6,200 sq miles) of farmland and unique dry forest have been destroyed by weeks of blazes across the border in Bolivia, where the flames have now reached the country's Amazon region. Ironically, while Bolsonaro expresses contempt for threatened tribal peoples and encourages big business to destroy the Amazon rainforest, Bolivia's President Morales, himself from a tribal background, thought he was doing the indigenous peoples of the forest a good turn by licensing them to clear more farmland. (Guardian)
Your Gran remarks, bitterly: All such squalid, greedy, pig-ignorant eco-criminals should be dragged out of their fucking palaces and hanged in the public square.
USA: The last week of August is likely to bring yet more heavy rain, lightning, big hail and flooding to the already rain-sodden Great Plains. (The Weather Channel). Lightning struck a flag-pin on a golf course in N Carolina leaving an interesting pattern of scorch marks around what locals are promoting as "God's hole-in-one". 6 people were injured by a lightning strike at a PGA tournament in Atlanta. Multiple homes were evacuated in Los Angeles on 25 Aug, after a wildfire started in Eagle Rock. 44 hikers were evacuated from a national park in Arizona because of lethally high temperatures. Rivers in Alaska are "too hot" for salmon to spawn, threatening the fishing industry. (Accuweather)
Floodlist reports (27 Aug.): Thunderstorms and heavy rain brought flash flooding to parts of Arkansas and Oklahoma from 24 August. Among the worst hit areas was Fort Smith, NW Arkansas, where police report that 1 person died when a vehicle was swept off a road by swift waters. Accuweather reported, the area received 8.5-in of rain in two days, 4 times the normal monthly total.
Barbados: "A tropical storm warning is in effect for Barbados in advance of Tropical Storm Dorian, a compact system that has the potential to strengthen quickly. Tropical storm watches have been hoisted for St. Lucia, St. Vincent, and the Grenadines. (The Weather Channel). Monday 26 Aug.: "Tropical Storm Dorian is headed toward the Windward Islands where it will bring heavy rain and strong winds later Monday into Tuesday, but has an uncertain future beyond that in the Caribbean Sea." (The Weather Channel). An NHS forecast puts Puerto Rico in its sights as Dorian intensifies to a possible hurricane by the weekend.
UK: A new record temperature was set for the late August bank holiday weekend, with 33.3C recorded at Heathrow on 25th. It's the second time in one day that the record has been broken after a temperature of 31.6C was recorded earlier – beating the 31.5C record set at Heathrow in 2001 (Independent). Monday is expected to go fractionally hotter still (BBC). The UK has experienced several new record highs this year. Most of eastern central and northern Europe is headed for 35C, 96F all this week, with the heat pushing up into Scandinavia by the weekend. (Severe-weather.eu)
Greece: "Hundreds of tourists were evacuated from hotels and beaches on the Greek island of Samos where a wildfire broke out Saturday, officials said. Nearly 70 firefighters and 13 engines were battling the fire in the east of the Aegean island. Around 1,000 people were evacuated to the nearby town of Pythagoreio from several hotels." (Daily Sabah) "Over 50 fires have broken out nationwide over the last 24 hours, fanned by gale-force winds, the fire department said."
Turkey: "Two people were injured in the Black Sea town of Terme, Turkey, on Monday, Aug. 26, when a city bridge collapsed after a period of heavy rain." (Accuweather)
Poland: "At least four people died and more than 100 were injured in lightning strikes during a thunderstorm. The worst hit a group of hikers at the summit of Giewont, a popular peak in the Tatra range in the south of the country. A fifth person was killed in neighbouring Slovakia. At least one of the victims was said to be a child. The storm is said to have descended suddenly after a sunny morning." (BBC)
Australia: "Firefighters were racing to tame an enormous blaze in southeastern Australia with officials warning it could merge with others to create a "mega-fire" if weather conditions worsen. Crews have been battling fires that flared in high winds and searing heat across the state of New South Wales last week with more than 200 homes so far destroyed and many others damaged." (Telegraph, 27 Aug.) More than 40 fires have been burning across Tasmania, while more than 100 fires were burning in Queensland, 23 Aug, where 1 person has died. (9 News) Meanwhile the forecast is for cold fronts bringing heavy rain across much of the country. Fucking weird.
Australia has just experienced its third-hottest July (a late mid-winter month) on record, beaten only by records set in 2017 and 2018, as fire and water authorities in the eastern states prepare for a worse than average fire season. The year-to-date temperatures from January to July were the second warmest on record, according to a monthly statement from the Bureau of Meteorology. (Guardian) (Let's recollect that midsummer in Australia is 21 December.)
Tunnel approaching….
Yellowstone: While your Uncle has been away, a M5.4 earthquake under the Cosco volcanic field in SW California set off a new swarm of quakes over in the Yellowstone caldera. The Blessed Mary Greeley records the epicenter as being not far from the China Lake military base and geothermal pumping operations.
As news reports of a M2.9 quake triggered by fracking operations near Blackpool, England, were coming in, the biggest yet, renewing calls for a permanent suspension, there was a M4.5 beneath the Kansas fracking zone, showing that quakes caused by hydraulically fracturing substrata have a cumulative effect and tend to get larger over time. (Dutchsinse)
NASA reports, a 340-meters-wide asteroid called Apophis, after the Egyptian god of Chaos, will whizz by Earth at an altitude of just 19 thousand miles in 2029. (Express, currently obsessed with clickbaiting readers fearful of apocalyptic asteroid strikes, most of which happened millions of years ago – old news.) That's within the margin of error for orbital calculations and brings this potential planet-killer inside the orbits of our weather satellites. But don't worry, etc., plenty more out there.