QotW
"The drab truth of tyranny is a life spent in waiting. But the perennial romance of tyranny comes from its promising its subjects a life more interesting than any they can contrive for themselves."
– John Gray.
"By the sacred finger of IDS, I flick my superior bogeys at you, women of humbug."
A very uncivil war
"Even after you cut off the head, the chicken still runs around the yard."
Trump mini-me, Johnson raced back from the UN on Tuesday (24 Sept.) to confront Parliament, recalled by the Speaker after the Supreme Court ruling that the unelected Prime Minister with a magnificent Commons majority of minus 44 MPs had lied to the Queen to get her to shut down Parliament for five weeks while he pretended to negotiate a new exit deal with the EU; although their deadline for him to present new terms, including a replacement for the Irish border "backstop", had expired days earlier with no positive proposals from Whitehall.
It was some confrontation, and it's still ongoing.
Against a background of scandal – the house is investigating £120,000 in public-money grants and foreign official trips he appears to have given to a busty blonde American ex-model turned smalltime internet entrepreneur, Ms Jennifer Arcuri, whose London flat he was seen leaving a number of times while he was Mayor – Johnson caused a furore when he said the Supreme Court was "wrong" on the points of law, seeming to back rightwing newspaper (and Farageist) slurs of "treason" and anti-Brexit bias against the 11 senior law lords and ladies on the bench. A familiar story.
The BogPo should have thought the judges would be well within their powers to summon Johnson to court to explain his disgraceful remarks, and possibly put him in gaol for a couple of weeks to expiate his contempt.
He then drew gasps from the assembled MPs when he appeared to traduce the late, passionately pro-Remain Labour MP, Jo Cox, who was shot and hacked to death by a white nationalist in 2016, saying the best way to honor her memory was to leave the EU.
He told women Labour MPs they were talking "humbug" when they said they were receiving regular rape and death threats as a result of his and other Brexiteers' violent rhetoric, a verbal assault which drew cheers from the wife-beating Brexit faction on the benches behind.
Not long afterwards a 26-year-old man was arrested on suspicion of throwing a brick at the window of the constituency office of Labour MP, Jess Phillips.
Johnson described opposition leader Jeremy Corbyn as a "coward" and a "chicken" (normally more than enough to get an MP barred from the chamber) and despite objections, continually called a vote he lost by a wide margin two weeks ago on a bill making it illegal to leave the EU without a deal, the "surrender" bill, setting the goal of a no-deal Brexit in terms of a war against the 27 remaining member countries of the EU.
(He frequently makes allusions to how Britain "stood alone" and eventually "won" the Second World War, "saving Europe" – whose people should be more grateful – knowing perfectly well that that is a mindless piece of historical revisionism that plays well with the elderly dumbfucks of Farage's extreme pro-Leave community, who would love us to do it all over again with Boris playing Winston, because they only just missed out the last time and it sounds fun. Except it wasn't.)
Meanwhile, officials have been frantically assuring us that Mayor Johnson never gave any grants to Ms Arcuri, although the office of the Mayor does appear to have donated £15 thousand directly to her little business. Perhaps his best defence would be to admit that he's been a bit of a chump? Everyone forgives Boris, he's so disarming. Like a little boy, really.
Despite, or perhaps because of, his wrecking-ball, cynical, abusive, adulterous, tyrannical, atrociously rude behavior, and a verdict delivered from the highest court in the land that he is a lawbreaker and a Royal liar; a verdict to which he has responded with open contempt and threats to ignore it, triggering a constitutional meltdown, Johnson still has a healthy percentage lead among the dumbfucks in the opinion polls.
We await his imminent arrest, trial and conviction with bated breath.
As with US President Trump, what to do with his millions of frothing, deluded supporters, who cannot tell the difference between the world they see on TV or on their little screens and reality; who are bored and fractious and poorly educated; easily distracted by bogus patriotic nostrums, and who don't care what criminal capers the leader gets up to as long as he's entertaining them and hates foreigners enough, is another question.
Even after you cut off the head, the chicken still runs around the yard.
Postscriptum
Oh, and two minutes later I see he's just lost another vote and won't be allowed to suspend business again during the Tory party conference next week. He might be delighted by that, as it moves us a step closer to the election the opposition won't grant him. Given that he can't govern, and the opposition refuses to move a vote of no-confidence so as to keep him twisting in the wind, he surely has to resign and trigger an election he knows he can't lose.
Can you believe a word he says? corner….
"The firm's collapse came after Johnson told parliament his government would do everything it could to help Wrightbus. However, a government source strenuously denied any such assurances had been given." (Observer)
Following the collapse of Rightbus with the loss of more than a thousand jobs that Northern Ireland can scarcely afford to lose, it emerges that one of the Wright family directors had been donating £millions of company money to his evangelical church.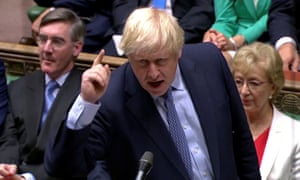 "Gentlemen, I give you a finger. It is a finger in search of a well-filled nostril…"
The Diversion bell
"Alpha-males are rarely the answer!"
(This article was constructed yesterday, before the latest revelations concerning Ms Arcuri's companies, all of which appear to owe large sums of money or have been wound up. Ms Arcuri herself is being chased for $100 thousand in unpaid student loans, yet she appears to have "lent" $1m to her company in recent accounts. I don't think that takes much away from the sentence that follows.)
Has Prime Minister, The Rt Hon Alexander "Boris" dePfeffel, dePfaffle Johnson been the victim of a classic honeytrap scam?
He is currently being referred to the Police watchdog over a possible "conflict of interest" situation that may have arisen when he was Mayor of London. Following revelations in Murdoch's Sunday Times, the Guardian reports:
"Johnson has been formally referred for potential investigation into whether he committed the criminal offence of misconduct in public office, over allegations about a conflict of interest with a US businesswoman while he was mayor of London."
The phrasing makes the affair sound quite innocuous, commonplace almost. Conflicts of interest between public officials and businesspeople arise all the time. They may be serious, they may be incidental. The Mayor's office probably has bigger things to do, like buying buses, than deal with minor grant applications for business start-ups.
The egregious nature of the case as reported however arises, in the view of the BogPo, from the many understated circumstantial details to be found between the lines.
The "businesswoman" in question was reportedly an MBA student who had started up a rather vague-sounding internet service, Innotech, that spawned other obscure company registrations. I'm not sure I understand what it really did, I'm sure Mr Johnson probably didn't, but it was to do with putting one lot of people in touch with another lot.
Not the most original of business plans, seemingly. I ought perhaps to confess that I got a little carried away myself when submitting an internet-based project to my tutors while on an IT course a few years ago, and ended up having to explain widely that no, it wasn't a real business….
The MBA student has been described as a "former model", and the former model was, or rather is, what those terrible sexists in the popular press might describe as "busty, blonde, 23-year-old Jennifer Arcuri". (I am guessing her age at the time.)
Other details leap out at you. In order to qualify for a £100,000 government cybertech development grant, half of which has now been witheld pending enquiries, Ms Arcuri, an American, needed to have a Tier One British residency visa, which she didn't. They're rather expensive and hard to get. Except that some time after meeting Johnson at a techfest, she did. Any connection has been strenuously denied.
Her subsidiary company, provocatively named Hacker House, also needed to be registered in Britain, which it was, only there's no sign of it. It was registered to her rented flat, which she vacated last year. She's no longer in the country. Mayor Johnson is said to have been a "regular visitor" to the flat in East London, for what purpose he declines to say.
Another qualification, the business needed to employ British staff and to train British apprentices. Ms Arcuri was listed as an employee, also her American "husband", there were three other names but thus far none seemingly has checked out.
Journalists on The Guardian telephoned the number registered at Companies House and were put through to a number in Florida (the Guardian is now referring to yet another number in California) , where a "receptionist" – not improbably Ms Arcuri herself, or her mom – was unable to confirm an address.
Madame Arcuri seems to have been adept at making contacts on a higher plane. It was when yesterday's Guardian update on the story mentioned the name of UK "business ambassador", Prince Andrew, with whom she had apparently embarked on some other sort of business liaison, that the fire bell in your Uncle Bogler's conspiracy-minded old brain began clanging insistently.
Has anybody checked to see if this lady has any prior connection, spiritual or otherwise, with the "late financier", Jeffrey Epstein?
To enlarge upon the notion of conspiracy, I would mention Mr Trump's known habit of collecting "dirt" to use against his political and business rivals, or on people of potential advantage; and speculate on what may eventually come out, that his former cohort Epstein, pimp and abuser of vulnerable young girls, was blackmailing his wealthy and influential clients.
As Gilbert and Sullivan wrote – "I've got a little list".
The Russians call it "kompromat" – compromising material, in the form of video, photographs or letters. Was Epstein feeding Trump helpful "kompromat" on his clients?
But I'm positive there are no such connections.
I feel sure however that MI5 will be looking closely at the case, as the security implications are fairly alarming. There is a possibility, is there gnotte, that our Prime Minister, a man about whom it has been said that he finds some difficulty keeping it in his pants, may have been the victim of a classic honeytrap scam – Florida being basically known for three things: retirement homes, alligators and swampy goings-on.
Where oranges, someone wrote, are not the only fruit.
In which case there must be some concern about the possibility of the existence of kompromat, collected on the prominent Mayor of London, a useful idiot, on a just-in-case basis. But now he is Prime Minister, the keeper of the nation's secrets, the man with his pudgy forefinger on the nuclear button.
The hope will be that we are still friends with the CIA and that any such material can be swiftly recovered.
Oh, Tory party! You keep doing this! From Profumo, through Lord Lambton, Cecil Parkinson and David Mellor, your sense of entitled inviolability so frequently lets you down. If the stench of sleaze, the "faint aroma of performing seals" is rising once again in the land, you have only yourselves to blame.
Alpha-males are rarely the answer!
Postscriptum:
Responding to the allegations using Trump's favorite flavor of smokescreen, "it's all a plot against me!", a Government source said: "The public and media will rightly see through such a nakedly political put-up job."
Clearly, in Conference season Downing Street is not without a seaside postcard sense of humor.
Ed Note: a number of the details in this piece have since changed or been clarified. I'm too tired to rewrite it, but essentially Ms Arcuri's lawyer has auctioned the rights to the Daily Mirror, who interviewed her in a car park in Fresno or somewhere, and she says Johnson never had sex with her, she only gave him technology lessons, and there's no kompromat. Hope that clears everything up.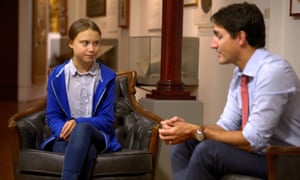 "Sorry, Mr Trudeau, I didn't recognize you without your make-up on…"
Uphill, down Dale
The shambling albino bear-man, Johnson has, as reported, casually dismissed fears of violent retribution against female MPs supporting either revocation of Article 50, or a "soft Brexit" – i.e. one that keeps Northern Ireland in the European Customs Union for another two years while a solution is found to the Irish border question.
I count 10 DUP "angels" dancing on the head of that particular pin.
Mr Johnson's aggressive language, his constant use of inflammatory imagery from the Second World War, his blatant xenophobia, misogyny and phoney patriotic cliches are widely criticized as being – less strong-willed, than ill-bred. They are all transparently a ruse to de-fang the Farage "Brexit Party" (which isn't a party, it's his private company), but he says he regards any suggestion that it might have an actual effect on his deluded dumbfuck supporters as "humbug".
Oh, really? So there's no connection at all between the Prime Minister's bellicose rhetoric, the screaming, hate-filled headlines in the populist press, the breakdown of democratic institutions and the rule of law under assault from the alt-right, and real life?
"Jolyon Maugham QC has revealed that his local police and crime commissioner was sufficiently concerned by recent threats against his life that he was advised to buy a stab vest" … and hire a bodyguard when attending public events. (Guardian)
Other, seemingly quite serious security precautions are being taken by the police to protect the human rights lawyer and his family, who is one of three litigants prosecuting the case in Scotland – the first leg of which they won, thus triggering the Supreme Court review – against Johnson's illegal prorogation of Parliament. He has even spoken of having to leave the country if he wins the next stage of the case.
There are clearly some very real, scary people out there, who the police think may be capable of taking things beyond mere threats and bluster. Beyond, even, the increasingly dreary and repetitive arguments of the Brexit debate. The question surely is, who is behind them?
At this point I need to make an apology. Referred to in the story is another of the litigants, Mr Dale Vince, "millionaire CEO" of a green energy supply company called Ecotricity. Mr Vince is a leading Remainer, I understand, who is reportedly funding a team to monitor threats against Mr Maugham on the internet.
Many years ago, wouahouhouwaah, eerie flashback music….
In 1992 Dale Vince was a small-scale entrepreneur and lobbyist, pushing hard to erect a prominent windfarm in poshest Gloucestershire, where I had my PR agency. It was a project from which he might have profited. The local media and public were ranged against him.
We were a new startup, with only £5 thousand liquid capital, specializing in supporting small green enterprises, environmental groups and NGOs, working to help them professionalize their communications, which were (and are still) generally woeful. Small as we were, we had years of individual experience between us in bigger media companies.
As someone who had been following the ecology movement since the mid-'70s, I'd devised an ethical charter on which we operated under conditions of full accounting transparency, in order to shake off the general impression among those client groups that the advertising industry was just a bunch of overpaid liars, sharks and charlatans.
Which it pretty much was, as I knew after seven years working in it. Except for the overpaid bit.
And, impressively as I thought, we also shared our office space (at my invitation) with the country's leading environmental campaigner, Jonathon Porritt, and his little team of helpers.
Asked to pitch for writing and designing a leaflet for his renewable energy campaign, I quoted Vince a derisory amount – £150 – just as a token fee, for what would have been a full day's work for two creative people and more hours for our print-buyer. Beyond that first small brief, I was eager to propose a longer-term working relationship.
After we had driven 15 miles to his office and spent an hour discussing his needs, all on my and my MD's time, he sneeringly dismissed us as being, basically, rapacious capitalist lackeys, and rejected the offer as being too absurdly expensive.
I have said bad things about him at any opportunity ever since, as I regarded him as being a hypocrite, a bully, a timewaster and an all-round slimeball. Worse, now he's also a millionaire.
So no, sorry, Dale. I haven't changed my opinion, but I'll keep quiet about it from now on, okay?
Take one for the team.
Take 2…
A second apology is due to Mr Arron Banks, the self-promoted millionaire, frequent visitor to the Russian embassy in London, possibly Britain's Ugliest Man, and the money behind Nigel Farage, his £1.2 million house and the unofficial Leave.EU party.
We were obviously wrong about him and would like to be sorry.
The National Crime Agency, I think it is, has declared there is "insufficient evidence" of criminality, apart from the extensive evidence with which they were presented, obviously, to warrant further investigation into his sources of funding.
As Mr Trump, he kno', "insufficient evidence" to prosecute a successful case is not the same as total exoneration. Saying won't make it so, so this apology is, at this stage, a little tentative. But hey, in the interests of national unity, etc.
In a previous statement, the forces of law and order had admitted, their investigation of Mr Banks, who has extensive obscure offshore holdings and apparently unproductive mining interests in South Africa, in addition to his loss-making Gibraltar-based insurance businesses, and frequent dealings with Russians (he has a Russian wife) yet who somehow funnelled £7 million to Leave.EU out of feelings of pure patriotism towards Britain, had been delayed for over nine months, since it was "too political" to start work.
Your Uncle Bogler therefore trusts there will be no ill-feeling, in the light of previous Posts, which were based on exhaustive private investigations by the indefatigable journalists at Open Democracy dot Org, and Ms Carole Cadwaladr of The Guardian group.
Although I still feel ill, to be honest.
The Walmington-on-Sea Home Guard receives a threat from Command to hive the oldest members off to the Civil Defence corps:
Captain Mainwaring: "I have to tell you, Wilson, that I too have taken steps to look more virile…"
Sergeant Wilson: "Oh my God, it's not monkey glands, is it?"
– Dad's Army.
Down for the count
I've just this minute had through the post, as I imagine have millions of other householders, an official government form that I'm being requested to complete and return.
Extending to 32 pages of densely packed questions about myself, where and in what condition I live, it purports to be, not exactly a census, but a "census rehearsal".
The next official census, taken every ten years, is not due until September 2021.
But this form is the census! It's the actual script! The same questions! There is no difference! And we are not, so far as I know, legally obliged under the 1801 Censuses Act, whatever, I shall have to Google it all shortly, to complete the national census, wasting hours of our time, in 2019.
The government is currently in a state of dangerous disarray and showing all the signs of administrative incompetence and bitterly divisive rancour one would anticipate shortly leading to total socio-economic breakdown. Incipient public disorder portends the imposition of what, for want of another term, one can only describe as a quasi-fascist regime under Mr Farage; one of über-nationalistic authoritarianism and suppression of liberal dissent.
This new, as-yet unborn government will, should we complete the form, be in full possession of a vast amount of my personal data with which to oppress me at its leisure.
As it does not seem to carry any legal penalty, I do not need to rehearse carrying out my solemn and onerous duty to provide the enemy State with intrusive details of my life, thank you. I'm quite prepared for when the actual performance comes.
I think I should write to them and say so.
GW: it's all going swimmingly
India: At least 12 people have been killed and several are missing after heavy rain and flash floods in the district of Pune in Maharashtra state, on 25 Sept. 5 people died when a wall collapsed. Around 150 homes were also damaged. 5 other victims died when buildings were washed away by flood waters in Shivapur. Schools and colleges in Pune district have been closed. Of major concern are low-lying areas following a controlled release of water from the Nazare dam on the Karha river. 15 thousand people have been evacuated as a precaution. (Floodlist)
USA: "Parts of the Northwest and southern Canada are bracing (27 Sept.) for a potentially 'historic' storm that will unleash heavy snow, fierce winds and record cold — meteorologists say the timing of this storm will add to the dangers" (people aren't prepared for winter yet). "Hazardous travel conditions and power outages will result as blizzard conditions will unfold in some areas", with up to 3 feet of snow a possibility. "As the storm evolves, temperatures may plummet 50 deg. F. (25C) or more in some locations." (Accuweather)
Meanwhile: "Millions of Americans across the Southeast will face record-challenging temperatures into early October as an area of high pressure remains anchored over the region" (Accuweather). Atlanta last week hit a high of 95F, 35C – 18F above average and breaking a 1950 record. "Augusta and Savannah, Georgia, both topped 97F while Columbia, South Carolina, had the high for the day at 99F, topping the previous record set in 1984."
Record rainfall and flooding plagued Nevada and the Southwest all week, while Wisconsiners recorded a 150mph, EF-3 tornado. Three injuries were reported.
Caribbean: Tropical Storm Karen refuses to lie down. After dumping heavy rain over Puerto Rico and the Virgin Islands, it's expected to hook a left and head for the east coast USA, or perhaps Cuba first, maybe as a low-end hurricane depending on wind shear which, if strong enough, could finally rip it to pieces.
"Hurricane Lorenzo, currently spinning over the central Atlantic, first became a hurricane on Wednesday, but by Thursday afternoon, it had rapidly intensified into a major Cat 4. On Thursday evening, Lorenzo was packing maximum sustained winds of 140 mph, but meteorologists believe it could continue to strengthen and eventually become a Cat 5 storm with winds exceeding 157 mph. If Lorenzo achieves Cat 5 status, it would be the farthest east that a Cat 5 hurricane has ever been observed in the Atlantic Ocean." (AccuWeather) "After passing the Azores, Lorenzo will then track toward Europe as a weakening TS and could impact areas like the British Isles."
Tunnel approaching….
UN: "Earth is in dire straits, and rising sea levels will cause 'sweeping and severe' consequences for humans, an expert United Nations climate panel (has) warned. … sea levels are rising at an ever-faster rate as ice and snow shrink. Oceans are getting more acidic and losing oxygen (up to 3% now…).
"The agency warned that if steps aren't taken to reduce emissions and slow global warming, seas will rise 3 feet by the end of the century, with many fewer fish, less snow and ice, stronger and wetter hurricanes and other, nastier weather systems." (Reporting: The Weather Channel)
Scientists on the panel were at pains to point out that UN IPCC panellists are directed to be conservative and things are probably twice as bad as they say.
What the media is not mentioning while it is fixated on the avoidable consequences of sea-level rise is the part of the report where, according to the team at Arctic News: "there is 1,460 to 1,600 Gt of carbon present in the" (permafrost – plus a possible 2,200 Gt more on and under the seabed, just in the shallow East Siberian shelf alone) … The IPCC report projects permafrost (top 3–4 m) to decrease in area by up to 89% by 2100 under a high emissions scenario (RCP8.5), leading to cumulative release of tens to hundreds of billions of tons of carbon in the form of carbon dioxide and methane to the atmosphere by 2100." … "The report fails to warn that, as the Arctic Ocean keeps heating up, huge seafloor methane eruptions could (also) be triggered (Shakhova, et al.)."
In other words, cackles yer Old Gran, as this is based on a current linear warming trajectory that is already being disrupted by nonlinear feedbacks – it's curtains.
Plague: Deaths are being reported in the USA from mosquito-borne Eastern Equine Encephalitis, which has a more-than 30% mortality rate. There've been a dozen cases in Massachusetts, while "in hard-hit Michigan, they're warning people in high-risk areas not to go outside after dusk and before dawn." (Accuweather) Officials are praying for a cold winter.
Terra trema: There've been some fairly severe earthquakes in the past few days. At least 25 people were killed by a M5.8 in northern Pakistan; 100 injured in Albania's worst quake for 30 years, also at M5.8, and worried people took to the streets in Istanbul after a third M5.8 rocked northern Turkey, damaging buildings. A M6.0 hit off the coast of Puerto Rico at the height of Tropical Storm Karen, followed by a M4.9 that damaged buildings on land and more aftershocks. There was also a M6.0 off the coast of New Zealand.
Your money: "Deutsche Bank CEO Christian Sewing (has) said central banks like the European Central Bank and US Federal Reserve 'have used their tools to a large extent already' to avoid global economic risks. He said they have 'no conventional measures left to effectively cushion' the hit of a 'real economic crisis'." (Express) He was speaking as the latest German numbers showed the European powerhouse led by the car industry sliding into recession. (NB – The Express is a virulent anti-EU fascist snotrag, however this does look genuinely a bit bad.)
Former Bank of England monetary policy committee member, David Blanchflower is accusing the Bank of "fiddling while Rome burns", and says the UK economy is probably already in recession as the figures have a long lag time, while all the indicators are looking very much like 2008.
Heat the rich: 1% of English residents are responsible for 19% of all UK flights abroad. The 10% most frequent flyers took 52% of international flights in 2018. The aviation sector accounted for about 7% of the UK's total greenhouse gas emissions in 2017. (Guardian)
Hope springs: "People who have an upbeat outlook on life have a lower risk of cardiovascular conditions and premature death", says a new report (Guardian Science)
x
Long essay:
The march of the anti-Vaxxers: an open letter to a Representative from Maine
Rep. Heidi Sampson
House of Representatives
Washington DC
Dear Ms Sampson
I saw you interviewed tonight on a BBC documentary about the anti-Vaxxer movement in your country.
I have rarely heard such a malicious and tendentious tirade before. Well, I probably have, as I follow American politics, and I've also watched Adolf Hitler's speeches. But you know what I mean. You disgracefully constructed a doctrinaire, ultra-conservative political platform from an avoidable threat to your nation's children.
You are, of course, entitled to your uninformed medical superstitions.
Sixty million of you, after all, were easily persuaded in 2016 to vote-in as President, a superannuated playboy and ex-TV reality show host with no political, economic or diplomatic experience: a malign and vindictive solipsist – an uneducated, emotionally retarded, bullying sociopath with a history of serial bankruptcies, bank defaults, business failures, compulsive lying, gross sexual misconduct, grift, blackmail, tax fraud, money laundering and dealings with organized criminals at home and abroad.
All of that was known or strongly suspected beforehand, even to us in Europe. Your own intelligence community warned you against this fateful step, yet you still supported him. Now he stands accused of treason against your country and covering up crimes – yet your party still supports him.
Why then would I imagine you could possibly, on any day of the week, not regurgitate a ludicrous conspiracy theory promoted by someone like Alex Jones of InfoWars; like you, a leading medical specialist in epidemiology, and also someone clearly in want of secure psychiatric care, about vaccines?
It's a truly bizarre phenomenon, human nature.
Ten thousand competent, practising medical doctors with years of training and experience will tell you one thing. One discredited, disbarred and thoroughly dishonest British practitioner, a known charlatan promoting a bogus scientific theory for financial gain on a worldwide publicity tour, a desperate individual whose reputation is thoroughly sullied, career self-destroyed, hopelessly pursuing a dangerous fallacy that has been thoroughly investigated and statistically disproven, will appear on a notorious conspiracy-theorist's website to tell you another.
Who do you choose to believe? Don't tell me! It's such a romantic story, that poor Dr Wakefield. So wickedly, unfairly persecuted by evil scientists!
But they contain aluminum! No, Heidi, vaccines contain a harmless salt, aluminum hydroxide. Not the metallic aluminum, many millions of atoms of which you consume daily from your own cookware. And formaldehyde! They embalm corpses! You, Heidi, manufacture formaldehyde naturally in your own gut, from the digestive process. It comes and goes. In vaccines, it's a necessary preservative.
My God, Heidi, do you ever look at the lists of ingredients on the packs of food in your supermarket? What you're eating is lingering death, to put it kindly – dozens of known carcinogens like nitrates (preservative); aspartame; butane; propyl gallate. Tests show your fresh food is rich in chlorpyrifos, a commonly used agricultural pesticide your government has just re-licensed, after the President received a million dollar donation from the makers, Dow. A chemical banned everywhere else and proven to damage the brains of unborn children.
But you still force yourselves to eat it. Pro-Life? Anti-vaccine? Please, Heidi, do try.
It's frankly astonishing; although to me, it's equally astonishing that so many Americans believe Jesus is going to rapture them up to Heaven at any moment, or that a clump of insentient and possibly malformed cells is a human being, worthy of more respect than a born child who might die without vaccination. Are you all on some wonder drug I haven't heard of? I'm not sure Fentanyl quite does it.
Surely, your cult of rugged individualism must clash with the obvious need for more altruistic communal responsibility? As vaccine uptakes fall, it's other people's kids that are going to bear the brunt of your individual selfishness. And where do you stand on lead pollution in drinking water?
I'm 70 years of age, Ms Sampson. During my childhood years I so enjoyed being made sick and missing school for weeks by the common viruses and bacilli of Measles, German Measles, Pertussis, Chickenpox and Mumps, all of which I survived. The one thing I didn't get was Polio, which was endemic when I was very young.
That was because your brilliant Dr Jonas Salk invented a timely vaccine, which I was given, and I didn't get Polio. Tens of thousands of children did, and a few still do. It's a vicious, disabling disease: you die when the muscles you use to breathe go into paralysis. You suffocate, slowly. But not in my country, not yet, although thanks to your anti-Vaxxers it's sure to return here one day.
I hope your kids didn't get Polio, Ms Sampson. I guess to you that would have been God's will. Your greatest president of the 20th century, and certainly of the 21st so far, Franklin Delano Roosevelt, got polio when young, because there was no vaccine. He could stand only with a back-brace, walk barely  at all, and much effort was expended by the White House staff to make him appear electable in public.
I wonder, Ms Sampson, if he would have been an anti-Vaxxer?
If you have ever visited the Indian subcontinent or Southeast Asia, you may have seen many older people with deeply pockmarked faces, some of them blind and/or deaf. That was caused by an even more deadly virus, Smallpox. Millions died from it every year. The poor things, they wouldn't have been raptured up to Heaven by Jesus, like your sick babies, because they're only Muslims and Hindus.
Back in the 19th century – it sounds disgusting – Edward Jenner noticed that dairy workers seemed not to get Smallpox as much as others. He experimented with scraping pus from cows infected with a related common disease in cattle, Cowpox, into the bloodstreams of healthy subjects, then exposed them to Smallpox sufferers. None of them got Smallpox, and an industry was born.
An industry whose motives you deeply suspect, of course, because you're an expert, but one that has saved millions of lives.
Were I able to transport you back in time to 1918 and the last months of the First World War, there in a camp in Kentucky where men mustered to go fight in the trenches, an avian virus called H1N1 took hold. Sick men could not be spared, so they were sent on packed and insanitary troopships to fight in Europe. Many never got there. Others did. In the subsequent influenza pandemic that swept the world, half a billion got sick, and 90 million people died, struggling for breath until their lungs ruptured and they drowned in their own blood.
Have you been getting your 'flu jabs, Heidi? Your annual protective inoculations? Have your parents and kids, because, you know, the old and the young are especially vulnerable. Pharma labs work continuously to keep up with the latest viral mutations, because the world isn't the lovely place you'd like it to be. Evolution – which I doubt you believe in – goes on at the microbial level. We live in a soup of constantly mutating viruses and bacteria. Deadly pathogens emerge. They're taking it seriously, even if you aren't.
You asked – shockingly, I thought, mendaciously, but perhaps naively – on camera if the World Health Organization is a trusted source? What do you think, are they any less trustworthy than your own Centers for Disease Control? Why would you assume that? Oh, Heidi, it's not because they're not American, is it? They're only World?
Do you know how backward, how narrow-minded your country is beginning to look, with its lowbrow medievalism, its millions of poor, uneducated, low-income families unable to afford any kind of healthcare, let alone vaccinations, or sanitary housing, and its burgeoning epidemics of long-ago childhood diseases?
Your poor, demented President retreats visibly and audibly from the complexities of a world he doesn't understand, but in which he foolishly imagines himself omniscient: a classic Dunning-Kruger personality. He drags millions of gullible, childlike people down with him, victims of a cruel and arbitrary system of corporate greed, billionaires and corrupt politicians benefitting from astounding inequality; ordinary folks who will believe in absolutely anything he wildly promises because it seems more exciting than everyday reality. Victims who even believed his false promises on healthcare.
You're not wrong when you say the pharmaceutical industry has a vested interest in selling its products expensively. Why wouldn't it? The profit motive seems perfectly in line with the rest of the capitalist system you wholeheartedly endorse. Do you not accept that there is a little hypocrisy there? The prices are a disgrace, no doubt. Diabetics are dying for the price of a shot of insulin.
But the principles on which they operate are no different from those of any other sector of industry. And your President lied: he promised voters to bring those prices down. He gave huge tax breaks to Big Pharma, and instead they pushed their prices up. That's the capitalist ethic. Do you imagine he cares?
Neurotic Americans are notoriously over-medicalized: laxatives, painkillers, slimming pills, snake-oil – but that is not your proof that vaccination is bad, only that the methods by which it does good might be bad. Your pernicious oil and coal industries also have a vested interest in making the whole world sick, but would I ever hear you castigating them, those fine American globalist corporations that prevent so many of your colleagues in Congress from going hungry?
The World Health Organization has successfully eradicated Smallpox from the world through a determined, multi-decadal program of vaccination. Aren't you glad your children don't die from Smallpox? It's a filthy disease. Rotting pustules bursting all down your digestive tract, in your eyes, your vagina. Happily, thanks to vaccine, nobody gets Smallpox anymore.
Currently, they're battling an epidemic of the Ebola virus in the dark heart of the Republic of Congo. There's a vaccine, not yet fully tried but showing promising effectiveness. Nevertheless, over two thousand people have died agonizing deaths, their organs failing as the alien virus replicates inside and bursts out through the cell walls, spewing blood, who might well not have died but for the ignorance and animistic superstitions of the inhabitants, who – just like you Americans – regard Western medicine as a conspiracy and its vaccines taboo.
Aren't you better than them?
And then there's the Human Papilloma virus, that men unwittingly carry, and women develop ovarian cancers from, and many die, like my first wife, Trish… There's a vaccine today, but I don't really need to go on, do I?
If there was a vaccine against ignorance, superstition and criminal stupidity, Heidi, I'd make it compulsory. On the basis of what I heard you say you don't deserve to be in office, you have no credentials: you imagine yourself to be a responsible person, a rectitudinarian in the finest traditions of public service, a crusader for individual choice and freedom, but you're not – you're a menace!
As a result of your wilful ignorance and doctrinaire conservatism, children are dying. Happy Jesus!
Go home, Heidi. Bake cakes. Watch TV.
You truly, utterly silly woman.