The BogPo's Quote of the Year:
"When wine turns to ash in your mouth, you can't deny the new reality anymore." – Brigid Delaney, writing in The Guardian, 20 Dec.,  from an apocalyptic fin-du-monde beach party outside Sydney, where the Gospers Mountain megafire is now the size of Wales..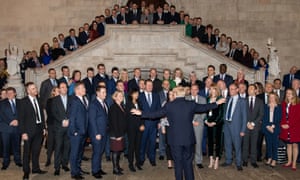 "All together now: 'My money lies over the ocean…'"
Baris welcomes the new intake of Conservative MPs you might hear of someday.
With snow on their boots
The Guardian's Security analyst, Dan Sabbagh, writes:
"Downing Street blocked an analysis of the threat posed by Russia to the British democratic system written by MPs from the all-party intelligence and security committee from being published during the election campaign.
"Immediately after the Conservatives were returned to power with an overall majority, No 10 said that the document had been approved for release, but claimed that publication had to wait for the committee to be formally reconstituted."
A process requiring some adroit manoeuvering as members will no doubt be scattering across the globe over Christmas, the New Year and probably Easter too. By which time no-one will remember the report, which has been redacted to death anyway. Who will worry that members of the Government are in the pockets of people close to Putin? Spy stuff, it's all so remote from ordinary life.
It's said that few American voters polled, actually care if Russia interfered in the 2016 election, and are still doing it, to re-elect Trump. They have other, more pressing worries. Besides, isn't it great that we have better relations with Russia?
But look. This morning I briefly mentioned in an email that I have a cataract in one eye. Within the hour, I was being offered information about cataracts from a medical website in America, courtesy of YouTube. The connection? Both Gmail and YouTube are owned by Google. I did not ask for the information. Your email has no privacy with them.
So why is it a surprise if a PDF posted by a civil servant in Whitehall on their private Gmail account results in the leak via Reddit of a 450-page document to the Labour Party? It will have gone straight to Google and thence probably to the St Petersburg mob for processing. A decision would have been made on what to do with the information, that would cause the most disruption.
Brandishing half a tree's worth of paper, Jeremy Corbyn thought he was onto a vote winner during the election when he announced that the dossier proved that the Tories were preparing to negotiate away the National Health Service to the Americans. Which they are
No-one seems to have believed him. Lyin' Baris called bullshit on the dossier and that seems to have satisfied everyone. We are all used to being told that the naive and inoffensive Corbyn supports terrorists and is a traitor who can't be trusted. Incurious lot, the British. Especially the press. But no-one has seriously denied that the content is correct.
Now, however, the security services are under orders to find the leaker, the whistleblower, whoever, in the best US Justice Department style, and the Russians are in the frame again for a hack of the Civil Service. Why, it's almost as if Johnson takes the dossier seriously after all.
But you don't need to hack Google, it automatically cross-platforms everything you write, say, post, call yourself or, probably even, think across half the internet. There's no such thing as a free lunch.
Let's see what this produces.
"Not only is propaganda of any kind offensively patronising, it is also deeply boring."
Save our Beeb!
In January 2014, the BBC's flagship Radio 4 Today show employed as its guest editor for a day, the singer PJ Harvey. I wrote that it was an unusual and rather alarming opportunity to hear what broadcasting in Britain might sound like if it had a real left-wing agenda, as opposed to the anodyne metropolitan liberalism with which it usually greets the day; and the Welsh Methodist humbuggery of its late presenter, John Humphrys.
The issue has again arisen in 2019 as Britain has elected by a staggering majority, a rightwing government led by a morally bankrupt, casually racist upper-class charlatan with authoritarian tendencies.
Despite winning a historic victory, Baris Johnson immediately set about castigating the BBC for its shameful bias against him, threatening to de-criminalize non-payment of the token licence fee required of all citizens to receive its wide-ranging pblic service output – a move that could see one of our premier and most widely respected institutions broken up and sold off (the "Murdoch agenda").
Almost six years ago we wrote:
"Harvey held the Corporation's skirts to the fire, lifting the crinoline on a potentially vast body of hitherto under-reported facts, statistics, opinions and human stories concerning corporate and government greed, deceit, bullying and evasion on a global scale, undermining Auntie's bland daily 'news agenda' that feeds public opinion; hinting at the extent to which we are manipulated and controlled by the information machine, and the degree to which the supposedly impartial BBC actually conforms to the consensus of the political right.
"At the same time, however, it demonstrated perfectly just how ghastly it would be to have a State-controlled media promoting an exclusively biased agenda, either to left or right, unchallenged by any attempt at balance or impartiality; such as is seen in Orwellian states like North Korea; or in the corporatist USA, with its endless, mindless hectoring by controlling business interests. Not only is propaganda of any kind offensively patronising, it is also deeply boring.
"The independence of the Beeb is something worth fighting for."
Aux armes, comrades.
Now even Jesus disapproves of him
Christianity Today, a magazine founded by the late pastor Billy Graham, whose son Franklin notoriously announced in 2017 that Trump had been "sent by God", has performed the most remarkable reverse-ferret since Pontius Pilate washed his hands, calling for President Trump to be fired.
Wrote editor-in-chief, Mark Galli: "The impeachment hearings have illuminated the president's moral deficiencies for all to see. This damages the institution of the presidency, damages the reputation of our country, and damages both the spirit and the future of our people." (Guardian report)
Will this astonishing Christmas editorial finally mark the end of the beginning for Donald Trump, darling of the Evangelistas? (Oh God, no, not Pence!) Probably not: it's a cult, but a strange one as he is not even its leader, he is merely an avatar. But we can hope.
It's taken perhaps the least of his many calumnies in office to bring him to this pass. Why?
Those of us who aren't choked by smoke or drowning in sewage this year have known for some time of the President's "moral deficiencies". Christian fundamentalists make up at least 99.9% of his dumbfuck base, something of which the grotesque, fawning Republicans in Congress – most of whom are on copious record as having held thoroughly derisive opinions of him before his election, but who now thank God daily for the nation's deliverance – must surely take note.
Before the Repblican-controlled Senate has managed to gerrymander his trial by refusing to allow any witness testimony and moving straight to a vote (the McConnell Doctrine), arguing that there is no case to answer, Trump has begun a witch hunt for anyone he can blame for the unfamiliar predicament he has brought entirely upon himself.
The word is, Acting Chief of Staff, Mick Mulvaney is already in Coventry, on the naughty step and expected to leave in the New Year with the President's dainty Size 5 shoeprint on his pants. That makes number… what?
As safe as….
A Bank of England spokeswoman said: "The Bank operates the highest standard of information security and is confident in our ability to recognise cyber threats and defend our systems appropriately."
"The Bank admitted late on Wednesday night that it had suffered a security breach." – The Guardian, reporting that cuts at the bank have led to the loss of more than 20 key cyber-security personnel and the hack gave traders crucial seconds in which to make profitable decisions.
I know PR spokesmouths are expected to be little more than paid liars, but this? The Bank of Fucking England? Whatever happened to fiduciary duty?
All things must pass
Well, I've finally got it. My free Seniors' bus pass.
I'd been gently resisting for ten years since becoming eligible, as, I must confess, I wasn't entirely sure what a bus was, having driven myself toxically everywhere, even just the less-than-a mile to the supermarket, since I was 17.
Now, sadly, I wouldn't pass the driving test – can't see well enough to make out a numberplate at 25 meters. The consultant thinks some recovery could be on the cards, but realistically I've put the car up for sale. It's time.
I'm sure there are people merrily driving around with even less visual acuity than I have, since the standard is self-policing. But I'm finding the walking quite exhilarating, especially on miserable, dark and rainy evenings when I can feel really glum and tragic, trudging along in my leaky wellies with heavy bags cutting into my hands, sucking in traffic fumes and shouting abuse at motorists who try to run me down on the crossing.
It seems almost as though I am enjoying acting the part of an older man, now that I am one. Because otherwise, I don't appear to be one.
Not until I see the photograph on my bus pass.
Who is this dismal old git? Why is he living in my house, wearing my clothes and drinking my pension away?
GW: Fire and rain

Responding to growing protests, Australia's Prime Minister, the appalling Trump-shill Scott Morrison, has finally cut short his agreeable Christmas holiday in Hawaii, apologizing for not having come home sooner as his country burns to death.
Severe-weather.eu writes: "Remarkable heat values have been reported from parts of South Australia today – many locations climbed above the 46 °C mark, some of them even above 49 °C. Nullarbor station reported an incredible 50°C."
What is particularly odd about the Australian heatwave is that nowhere else on the same summer latitude is anywhere near as hot. Colour-rendered satellite images on CNN show the island continent as an angry red blob in the midst of an ocean of calm greens and blues.
Vast fires continue to burn through New South Wales, where (after opening a new zoo for the purpose of conserving wildlife) the governor declared a state of "catastrophe". 2 firefighters were killed on their way to tackle one of the more than 100 fires blazing in the state, and several others have been injured. The area affected totals 7.6 million acres (Guardian Australia). Air quality in parts of Sydney remains "hazardous to life" (BBC) Yet again the BBC returns to its favorite theme: "Oh, you can't tell it's global warming just from one event."
Tell this guy that.: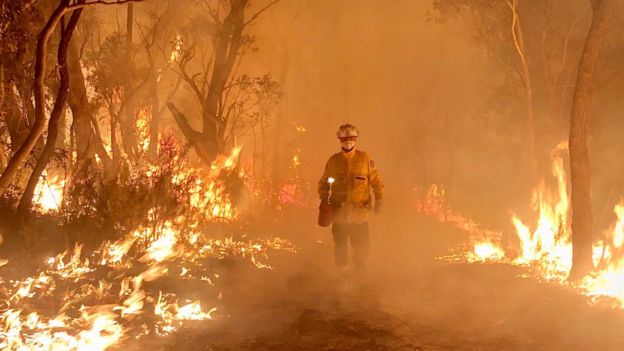 Last man standing?
Photo: Daniel Knox/HORSLEY PARK RURAL FIRE BRIGADE
Europe: too has a heatwave, although not on an Antipodean scale because it's the middle of winter here. Nevertheless the current anomalies bode ill for the return of summer: "Locally, temperatures peaked in the 20-22 °C range across Turkey, Cyprus, Greece, the Balkans and southern Italy." (Severe-weather.eu, 19 Dec.)
The death toll from a storm that battered Spain, Portugal and France rose to 8 on 21 Dec. Storm Elsa flooded rivers, brought down power lines and disrupted rail and air travel across the region. Authorities have warned of a fresh threat: Storm Fabien has already brought winds of 105 mph to northwestern Spain (from: Guardian).
Strong winds and torrential rain – perhaps 400 mm over 72 hrs – are forecast for Greece and Southern Turkey in the next two days, bringing significant risk of flooding. (Severe-weather.eu)
Here in Boglington, western Britain, the weather continues to reflect the mood of the nation. Putting the lights on only seems to make it darker. "Heavy rain and strong winds hit parts of southern England from 18 to 19 Dec., causing flash flooding which damaged homes and disrupted transport." (Floodlist)
DR Congo: after weeks of heavy rain the situation for tens of thousands of people is "dire". The government in Brazzaville has declared a national emergency. The Oubangui and Congo rivers have overflowed acoss a huge area. "Hundreds of villages along the river have been affected, many of which are completely submerged. Flooding has damaged infrastructure and impeded access to food, water, education and health care. Homes, schools and health centres in affected areas are flooded and only accessible by boat.
"The UN said: 'most water points and sanitation facilities are no longer functioning. Affected communities do not have access to safe drinking water, and hygiene and sanitation products are scarce, exacerbating the risks of contamination and epidemics caused by water and mosquitoes (typhoid, cholera, malaria)'." (Floodlist) With much agricultural land underwater and the next staple cassava crop not due until next Autumn, food reserves are running low.
There's flooding too in southern Iran. "Flooding began around 16 Dec., after a period of heavy rain. At least 1 person is missing and 4 were rescued after a car was swept away by flood waters." (Floodlist) 4 patients died in an intensive care unit in Abadan after a hospital's power supply was knocked out by lightning. The city recorded 113mm of rain in 24 hours, about half the average annual rainfall.
Malaysia: "Thousands of people have been displaced by a second wave of flooding in peninsular Malaysia. Parts of neighbouring Thailand have also been affected. Meanwhile more flooding in East Malaysia has prompted evacuations in the state of Sabah on the island of Borneo. (Floodlist)
Tunnel approaching…
Or maybe not. Nothing too alarming has emerged lately from the Blessed Mary Greeley, doyenne of Yellowstone watchers, although it appears she was shut down for most of a month after ads were mysteriously banned on her site. What was that about? She reports a lot of micro-quakes lately suggesting magma movement. Washington state, inland from Seattle towards Mts St Helen's and Rainier has been rattling around with a couple of +M3s.