"But Dad, you promised to treat me to dinner!" Pizza Express to close 75 restaurants.
QotW
"…at every PMQs Boris merely reveals more of the true character he is trying to conceal. The thin-skinned, unprepared opportunist who cannot tolerate a word of scrutiny or criticism. It's like dealing with a toddler. If you're not 100% behind him, saying how marvellous he is, then you are totally against him. There are no in betweens. In terms of emotional development, Boris is barely out of nappies."
– John Crace, master political sketchwriter for the Guardian, skewers Johnson after yet another petulant and bad-tempered showing of his inability to master his brief and his propensity to prevaricate nastily under even mildly forensic questioning from Sir Keir, QC, about his government's truly dire performance on the coronavirus pandemic.
A senseless waste of a bad joke
Perhaps the most telling moment at Wednesday's PMQs (15 July) was when Johnson was forced to admit, he hadn't bothered to read a new report from the SAGE scientific committee, warning that more preparedness was needed to combat a possible second coronal wave, perhaps combined with a widespread 'flu outbreak in the winter. He was, he fluffed, "aware" of it.*
This from the Prime Minister who has managed to attend only one COBRA emergencies committee meeting of his own cabinet in the past five months.
But look, a few people have been saying the parallels between the UK and the USA in the current multiple crises are extraordinary, including me. They're surely not wrong. I never am.
Just take the carnage in care homes, resulting in part from central government orders to evacuate untested elderly patients or with special needs to unprotected care homes, to free up hospital beds. Britain did that, 40% of our total Covid casualties resulted – it's been an uncannily similar story in the US, yet we have completely different healthcare systems. How was that? Oh, is what we have in common maybe a policy of killing off the elderly social dependents?
The BogPo has in the past alluded to certain character traits our transatlantic leaders, Mini-me, me and Maxi-me, me, share in common with the former German dictator, Herr Hitler – as revealed in the lauded BBC documentary The Rise of the Nazis. Principally, sheer laziness combined with a fragile ego revealing early parenting stresses, multiplied by a sociopathic lust for power devoid of empathy for those weaker than yourself, any  intellectual content, plus a certain brittle charm.
None of the three men has or had an interest in taking expert briefings. The opinions and advice of others being just a boring distraction from The Master Plan, merely undermining their unquestionable authority in matters general.
Let's put it down for the record before we're whirled away by the media to the next plateau of crass indifference, that when asked en fin if he would say something comforting to the bereaved families of the 45 thousand sadly British dead, Johnson replied of the lawyerly Starmer: "He's got more briefs than Calvin Klein."
Not only was it probably the worst attempt at humor in British parliamentary history, it didn't even make sense in the context of the question. Perhaps because it was the only pre-rehearsed statement he has ever made.
Thus, the Johnson premiership = a senseless waste of a bad joke.
A pants joke.
*Scorn appeared to work. The following day he announced that a further £3 billion he hasn't got would be pumped into the NHS to increase winter resilience. Probably not new money either, it's the thought that counts.

Do you speak nitwit? (Nitwit loqueris?)

Born in the tenth month under the star sign of Libra, 'the scales', I keep in my fuzzy old head a perpetual, 180-degrees alternative reality to balance whatever it appears I'm expected to perceive, or agree with: an oppositional view that sometimes I have to let out or I'll burst.
Just as I often fear I may have detected some actual, meaningful content hidden within Donald Trump's meandering effusions, that nobody else seems to "get", imagining him to be merely imbecilic: sometimes, even a hint of a perverse sense of 'Yuma', which The Mooch – former communications director for a week, Anthony Scaramucci – says his friend the Prez used to possess, so it is with Baris Johnson.
Many leftish commentators and volunteer commenters airily dismiss him as a fraud, a dilettante, a public-school windbag quoting spells in Latin without a trace of irony to disguise his hidden lack of genuine intellect. It's easy and amusing to perceive him that way, and he seems to encourage it with his tiresome antics. However….
A 180-degree handbrake turn, smokin' rubber, brings us to Harry Mount, editor of The Oldie magazine and a well-connected member of the bien-pensant set (see, I can do it too! Only in French), who knows Baris and his ilk better than Crace, or Marina Hyde, or any of the quasi-literate numpties who feel free to Comment in the Guardian "BTL", as the jargon goes.
Mount, an occasional Mail and Telegraph conservative hack, assures us (The Oldie, 14 July) that his man can genuinely spellbind classical academics on aspects of Ciceronian rhetoric just as easily as he can knock-out some bumbling drivel for the masses – or for the Parliamentarians he so clearly fears and loathes.
It's not that he's lazy. He just finds it all too easy not to bother with the hard stuff, so his well-stocked (if intolerably needy and overentitled) brain engages at different times on different levels, depending on ergs required. Mount recalls:
"Boris," I once asked him, "I've got to write an introduction to your collected wit and wisdom. I was just wondering whether you ever use any classical devices in your speeches or your articles."
"Oh yes, I most certainly do," he said, slipping on his ultra-serious skin, "there's one particular Roman oratorical trick I use the whole time. Couldn't survive without it."
"Oh really. What is it?"
"It's absolutely crucial – it's called imbecilio."
'Nuff said.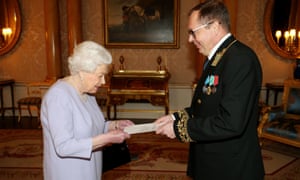 "Is this the Russia report, your Exellency? Well, just bloody let go!"
So where are we today?
In the same old place, it seems.
There's been a mass of publicity lately concerning our national propensity for polite racial prejudice, together with an air of embarrassed self-flagellation and calls for change. There have been marches, statue-bashing, even a little light rioting over the matter of racial profiling and police obtuseness. No-one could be unaware of it.
So when the Editor of British Vogue since 2017, Edward Enninful OBE, a successful black man in the world of high fashion, in charge of our national edition of probably the most famous fashion publication in the world, walked into the foyer of the magazine's London offices yesterday, you can imagine his surprise when a security guard approached him and told him he had to use the loading bay entrance.
The exact wording the guy used is not reported, but no-one has yet offered the excuse that it was for security reasons.
Covid-19, it transpired shortly thereafter, is not the only reason so many people today are finding themselves having to apply for Universal Credit. The man was unceremoniously advised shortly afterwards by the head of HR to visit the unloading bay exit, forthwith.
Corona v. us
Oh dear, the UK is slipping down the leader board and now with only 290 thousand cases has fallen to the number 10 spot, as South Africa and Peru race away; although we're still holding on firmly to the position of third highest death toll in the world. We'd do better, I guess, if we had more people to infect.
With a population of only 66 million, how are we supposed to compete with the likes of Brazil and the US? The former has just recorded its 2 millionth case, including that of the unpleasant fascist president, Cap'n Bolsonaro – we wish him a speedy recovery, along with the Amazon – while Trumpland posted another staggering record number, 77 thousand cases just yesterday, 15 July, passing the 140 thousand deaths mark. USA, USA!
Another number that's on the slide in the UK is tests. Despite Johnson insisting we have a world-beating test and trace system, the numbers both tested and traced continue to fall. Good news that Oxford University thinks Public Health England (boo!) may have overestimated coronavirus deaths by counting anyone who'd ever tested positive, whatever they might have died of. Except that the figures they've been giving out have, according to the Office for National Statistics (hurrah!), consistently underestimated the true numbers by ignoring those dying at home and anyone with Covid-19 certificated only as a contributory factor.
A rate of nuts….
The New Mathematics also proves Trump's Theorem, that the fewer people you test, the fewer cases you get. And his other theory, that a marginal increase in employment in June as people on furlough were forced back to work or starve, outranks the other 1.3 million jobs being lost every week. (Also, the widely expressed media theory, that a reduction in the amount of CO2 being emitted because of Covid shutdowns might somehow reduce the amount already in the atmosphere.)
Luckily the UK infection rate has been slowing all by itself, although the almost total relaxation of lockdown restrictions in England that few were still taking notice of anyway in the wake of the Cummings affair; the incomprehensible instructions to maintain the "2-metre, or 1.5 meter" prescribed social distance, and to wear a mask in a shop, on a train but not in the office or in a takeaway queue, because, er…. the millions cavorting on beaches or celebrating Leeds' promotion to the Premiership en masse, will take a little while to work through into a new peak.
A dose of the clap….
I have to get this off my chest. Sorry.
We're constantly being exhorted to go out in the street to applaud 'our heroes' in the NHS. Doubtless, you have to be fairly heroic to throw yourself into the blazing radioactive hell of our coronavirus Chernobyl, inadequately protected by a kiddies' play apron and a week-old paper mask.
But I look at the numbers, and note that Britain's death rate per case hospitalized is about the highest in the developed world; higher even than America. The pachyderm in the parlour appears to be that, however heroic the staff, we're not very good at treating this thing.
You gotta have friends….
The European Union is negotiating advance purchase deals of potential Covid-19 vaccines with drugmakers Moderna, Sanofi and Johnson & Johnson and biotech firms BioNtech and CureVac, two EU sources told Reuters.
Russia will unveil a deal with AstraZeneca to manufacture a Covid-19 vaccine being developed by the pharmaceuticals giant and Oxford University, its wealth fund head said. (Guardian)
Good to know whose side we're on.
The BogPo: a joke.
Q How do you get rid of Huawei technology?
A Have you tried switching it on, then off again?
Granny's World
Colombia: "Wide areas have seen heavy rainfall since the start of July. According to the National Unit for Disaster Risk Management (UNGRD), the rain has caused over 80 incidents of flooding or landslides in 19 departments of the country, with over 5,000 families affected." (Floodlist) Thousands of homes have been damaged, roads and bridges washed out, local states of emergency declared as rivers burst their banks. At least 5 people have died.
Bangladesh: A "second wave of flooding is sweeping through the country, inundating wide areas and affecting almost 1.4 million people across 15 districts. The first wave of flooding began in late June and continued into July." (Floodlist) Many rivers are at danger level and more than 15 thousand people are in temporary shelters where the risk from coronavirus is growing.
China: More heavy rain is forecast for central areas. "In Hubei, the flood response was raised to Level II, the second highest on a four-level scale, after a record-breaking 426 mm (16.8 inches) of rain fell on Sunday, July 5, the official China Daily reported. In Hubei's capital, Wuhan, after being locked down for months, residents were told to stay indoors again, this time due to severe flooding" as the Yangtse overflowed its banks. (Accuweather) Around 40 million peole are affected, 2 million are in evacuation centers and the total of dead and missing stands at 141.
USA: Driven by strong winds, as the 90°F-plus heat stifling the whole of the western, midwestern and southern US maintains its record-breaking grip, "the Mineral Fire has consumed more than 22 square miles of brush near Coalinga in Central California, an area with no known fire history, and was only 15% contained late Wednesday (15 July), according to the Fresno County Fire Protection District." (The Weather Channel) About 60 properties are in its path. The fire forced evacuations northwest of the city and closed a nearby state highway.
Elsewhere, more 'damaging' localized storms are predicted at the weekend almost anywhere across the midwest, with heavy hail, rain, intense lightning and 80 mph winds. (Accuweather) Meanwhile, the heatwave is expanding into the northeast, bringing 90°F-plus temperatures as far north as Vermont. 90°F (32°C) is now the AVERAGE temperature taken across the entirety of the contiguous United States.
I have not seen a single mention of this phenomenon in relation to the spread and rapidly increasing rate of Covid-19 infections.
Italy: "Severe flash flooding swept through the city of Palermo, capital of Sicily, after torrential rain on 15 July. Several buildings were evacuated. A search is continuing for 2 people thought to be trapped in a vehicle in a flooded underpass. Some reports said that 115.8mm of rain fell in around 2 hours – the equivalent locally of a year's worth.
Iberian peninsula: "While the rest of Europe remains trapped in a cold weather pattern, extreme heat conditions are now worsening over Portugal and Spain, as an extreme heatwave is expected this weekend (18/19 July). Temperatures should push well above 40°C, locally reaching near 43-44°C (110°F)" (Severe-weather.eu)