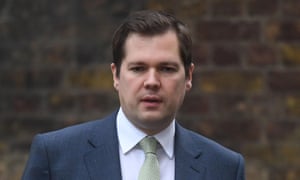 Meet Robert Jenrick, the well-stuffed Face, fuck-you attitude and weak chin of modern Conservatism.
By the time you read this, the erstwhile Housing Minister might have been sent packing to the back-benches and be lost somewhere among the dodgy Zoom thumbnails of shuffling, coughing, technologically-challenged Parliamentary colleagues not privileged to be among the 50 or however many are physically allowed into the chamber at one time.
But I doubt it.
Conservative MPs, by and large, are used to social distancing. They have very little to do with the likes of you and me. It's said, in London you are never more than six feet away from a rat. It's the same for the Conservative party.
First, Mr Jenrick was caught breaking the lockdown rules. They didn't apply to him, for look, he drove just the two-times on mercy missions to deliver desperately needed food parcels and medicine to his humble, starving old parents at their country hovel, beyond the reach of Ocado and the Royal Mail. If posties could go on delivering, why not Tory MPs? It's the party that delivers.
I seem to recall an old Peter Sellers sketch in which the village squire altruistically has his estate manager take "a basket of rotten apples" to one of his grovelling old, near-feudal tenants. It may have been a few miles further from some posh part of town than the Covid guidelines recommended, but it was understandable.
Baris Johnson duly understood it.
Next, the story emerged that, a little while earlier, before 87% of British working mums agreed that life was better on lockdown (Bright Horizons survey), Mr Jenrick had found himself surprised to be seated at a Tory fundraiser next to the former proprietor of the popular Asian Babes magazine, Mr Richard Desmond, who furtively pulled out his smartphone below the table and muttered "'ere, 'ave a butcher's at this!" Or something like.
To Mr Jenrick's obvious relief, it was not the background accompaniment to a Thai massage but a 360-degree estate agent's virtual tour of a putative £1bn housing and shopping development, for which permission had been refused by the local authority as being completely out of scale with the area's built environment and out of touch with its social values.
Desmond explained, the "Marxists" on the Labour council had succeeded in getting Parliamentary approval to surcharge developers to enable them to compensate cash-strapped authorities for the use of their scarce space to warehouse desperate Yuppies by building much-needed facilities for the local community. Such a charge – forty million large – would fall due imminently unless Mr Jenrick used his veto to overrule the Smellysocks and push the project through instanter.
Which he duly did, only as soon as the possibly compromising nature of the decision was pointed out to him, in a cloud of burning rubber he pulled a handbrake turn. (Actually no, it seems civil servants were imploring him for weeks to reconsider.) All the same, a £12 thousand donation to party funds followed.
Emails later released to exonerate himself of allegations of undue influence reveal that Mr Jenrick employs at least one SPAD who had no idea Desmond was no longer the influential proprietor of Express newspapers and so had urged him to meet. There was also a curious ambiguity in another email where Jenrick makes it clear that he thinks their relationship should remain at arms' length as it might otherwise seem he was doing favors for the Tory donor.
Indeed, it might.
Photographed at some event with his arm matily around Desmond, Baris had little choice but to immediately understand the situation and once more loyally stood by his minister. He has not yet plumbed the depths of mendacity that would allow him, Trump-style, to brazenly declare that he had no idea who the guy was, many people like to be photographed with him.
Only now, opposition politicians are asking questions about Mr Jenrick having had meetings going even further back in time with a "family friend", the billionaire Israeli oligarch Idan Ofer, at a time when as a secretary to the Treasury Jenrick was involved in deciding on a funding application for a rival company's mining project.
"Ofer told the Guardian he had met Jenrick to discuss the 'post-Brexit business climate'*. He said he could not recall if they had talked about the Sirius Minerals mining project, but that it would have been 'touched on only briefly' if so."
Ofer's innocent, almost seraphic account differs somewhat from Jenrick's, who recalled that the meeting had been about electric vehicle charging points, on which Mr Ofer had lots of useful expertise to, er, offer. (Like knowing where one is? Ed.)
In the event, six months after being advised to recuse himself from the matter, although he hadn't, having left the Treasury, and a meager £10 thousand donation to Party funds from an Ofer subsidiary later, the mining company, Sirius Minerals' funding application was turned down by Liz Truss, now Business Secretary in charge of trade negotiations with the US, God help us, and the bereft company was bought for a song by the giant Anglo-American Mining conglomerate, many small shareholders losing almost everything.
Shadow Communities Secretary, Steve Reed is hoping to force Jenrick to explain his actions to Parliament, "because the public are now worried that a new era of Tory sleaze has begun in earnest."
Wot, we worry? Not a chance, mate! We're off to the beach….
And as for Baris, well, he's bound to understand.
(Reporting: Guardian)
*(Possibly 3 degrees warmer by 2030? Ed.)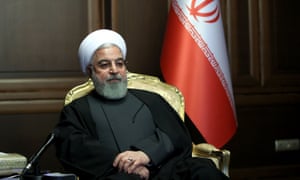 "And to guard against impure thoughts at night, we wear the mask like so…"
Granny's World
As expected, May was the hottest May on record globally, and the sunniest ever in the UK. "Oh, but you can't tell it's global warming from one event, dribble-wibble" – except that the highest temperature anomalies contributing to the overall increase were at both the North and South poles, where temperatures were on average 10C above normal. The Czech Republic is suffering its worst drought recorded in the past 500 years. (BBC Weather)
Is the mainstream media finally waking up to the horrors unfolding all around us? Today's WaPo Worldview release is headed "The World's Climate Catastrophe Worsens Amid the Pandemic" and, while committing the usual journalistic error of conflating atmospheric CO2 with traffic pollution – what do these poorly paid scribblers understand? – Ishaan Tharoor does a pretty good job of drawing together scientists' increasing alarm over global heating, Arctic wildfires, waves of popular unrest and the crisis of food insecurity affecting millions of people, exacerbated as it is by the emergence of vast swarms of hungry locusts encouraged by warmer, wetter conditions in many parts of the world.
India: Getting on for 1.5 million people are affected by floods in Assam currently, with over 25 thousand displaced to shelters. (Floodlist).
More than 100 people have been killed by dozens of lightning strikes across two northern states in recent days, officials say. The disaster management team in Bihar said 83 were killed, while another 20 were in hospital with injuries. At least 20 more people are reported dead in neighbouring Uttar Pradesh. Since 2005, on average, 2 thousand people in India have been killed every year by lightning. The high numbers of outdoor workers and small farmers seems to be the reason. (BBC Weather)
"Rivers are above danger levels in 14 locations across Bangladesh, reports Floodlist, as of 30 June. Local media report thousands of people are marooned or displaced, their homes and land submerged."
China: "More flooding has affected parts of Sichuan province, southwestern China, leaving over 20 people dead or missing. Over 7 thousand have been evacuated. 3 people have died in flash floods in Yunnan province, 30 June, after 224 mm rain fell in 24 hours.
Brazil: "At least 9 people died after a cyclone swept through parts of southern Brazil on 30 June. Winds of over 120 km/h were reported in the state of Santa Catarina. The states of Rio Grande do Sul and Paraná were also badly affected and rivers are close to flood level. A storm surge has prompted warnings for coastal flooding. Over a million people are without electricity." (Floodlist)
A satellite detected a single lightning bolt over Brazil more than 700 miles in length during a storm last week – believed to be a world record. In Argentina, a bolt of lightning set another record by persisting for 16.7 seconds. (Severe-weather.eu)
USA: More heat is continuing for the midwest. "100 F heat (46 C) will focus from West Texas to the Nebraska Panhandle on Monday, before shifting slightly eastward toward Wichita, Kansas, and Oklahoma City during Tuesday and Wednesday. This would be the first time either city has hit the century mark this year, and Oklahoma City may even come close to Wednesday's daily record of 103 F set in 1917." (AccuWeather)
Residents of Lehi in Utah were evacuated after a firework set off a 200-acre blaze at the weekend. Over 1 million acres in the southwest have burned already this month thanks to hot, dessicating winds. AccuWeather says Sacramento, Cal., topped 100 F (38 C) three times last week, and Phoenix reached at least 110 degrees (42 C) for four days in a row." Conditions have been described as "dismal".
1 person died driving into a flooded ditch as flash floods raced through Baldwin, Wisconsin and other parts of St Croix county on 29 June after 9 inches of rain fell in 24 hours. (Floodlist)
Miami, Florida had its warmest week ever, with the mean 7-day temperature (both by day and night) averaging 88.1 F, 31.1 C. The previous seven-day record was 87.8 F, set last year also in the final week of June. The high on 30 June was 98 F, 36.6 C, 3 F higher than the previous 30 June record set in 2015 and the 2nd hottest day in the city's history (100F, 1942). (AccuWeather)
Caribbean: A second wave has been reported. Not Covey, a second "Godzilla" dust cloud is approaching across the Atlantic from the Sahara, over the West Indies. N2.5 particles from the first wave are already affecting air quality in the Gulf, across the southern states of the US and over the Yucatan peninsula of Mexico. "(This) weather pattern will persist for a few days, which will lock the dust cloud over the southern states. The dust cloud will finally start moving back out into the Atlantic on Monday, leaving Florida as the last state affected by the dust." It will then collide with the second wave moving in. (Accuweather)
Spain: temperatures in the south around Cordoba were once again touching 40 deg C, 104 F on 28 June. (Severe-weather.eu)
Poland: "About 400 people were evacuated from their homes in south eastern Poland after flooding that began 27 June during a powerful storm. Jasło in Podkarpackie Voivodeship (province) recorded 100.4 mm of rain in 5 hours." (Floodlist)
Russia: the widely reported record temperature at Verkhoyansk, north of the Arctic circle, that hit 100 degrees F, 38 C just over a week ago, a 1-in-500 thousand year event, conceals a more disturbing record. The temperature at ground level, where lies the permafrost layer, reached 113 F, 45 C in places the same day.
Severe-weather.eu reports, 2 July, a huge smoke cloud is drifting towards Canada and the northern US as wildfires in Siberia, where the hot weather is continuing, reach 3 million acres (1.2m Ha) in extent. "The average temperature in Siberia was nearly 10 °C above normal for the first five months of 2020." A satellite scan shows land temperature over the north of Siberia at around 40 deg. C.
Please understand that these measurements are unprecedented and utterly terrifying.
It was reported too that the huge oil spill at Norilsk, caused by the collapse of a bund wall as the frozen ground beneath melted out, has already reached the shallow waters of the East Siberian Arctic shelf. Peat fires in the tundra that had been smoldering all winter have reignited, Siberian fires emitting as much CO2 in just the last 18 months – 14.5 million tonnes this June alone – as the region has produced over the last 16 years (citing tweet from climatologist Dr Thomas Smith).
Tunnel….
Economy: Warming to his theme of the incipient collapse of capitalism, Prof Richard Wolff reports, almost 50 per cent of all US commercial enterprises were unable to meet their rental payments in April and May, triggering a cascade of litigation. "This is the kind of thing that happens when empires fall apart," he told Thom Hartmann.
Democracy: "Hundreds of thousands" of postal voters in Georgia, according to journalist Greg Palast, are in danger of losing their vote as the prepaid mail-in envelopes they've been sent have glued themselves down in the mail under hot, humid weather conditions. Opening – tampering with – the envelope to put in your ballot or substituting it with an unauthorized envelope is a federal offense.
Globalism in action: Listeners tuning Monday to the inaugural broadcast of Rupert Murdoch's new all-speech station, Times Radio, with its Baris Johnson feature interview, were misdirected all over the place by their little Alexa devices. Some to a station called "X Radio" – times, geddit? – but many more to Times Radio in Malawi, which sounds much more interesting, free of Brexit propaganda, and also has bouncy music.
After Covid…
Hundreds of tonnes of single-use plastics containers; "thousands" of empty nitrous oxide canisters; piles of human excrement were among the leftovers of the great end-of-lockdown stampedes that have left Britain's parks and beaches a testament to the disgusting British public at their selfish and self-indulgent, abusive worst.
Local authority essential workers are dreading 4 July, reports the Guardian Green Light, "Super Saturday", when, encouraged by that oafish troll, Baris Johnson, pubs will reopen and alfresco drinkers spill out into the world anew, adding their careless detritus to the burden of those tasked with cleaning up after them.
With no mention of any 'Green New Deal', or restoration of the near-dead public sector, Johnson has announced a fatuous post-Covid recovery policy to build, build, build more hospitals, schools and roads. No mention either of spending the money instead on securing the jobs people are already losing by the hundreds of thousands.
People with no construction industry experience.
Does he seriously believe that what the public will thank him for are more hospitals with unused beds we can't staff, more schools that won't have enough pupils to pay for the teachers, and more roads to spaff brain-damaging, climate-baking carbon dioxide and nitrogen dioxide into the atmosphere? When our existing road network is falling apart?
Has catching Covid mulched his brain? This is not the early 1960s! We have 'had it so good', but seemingly not any longer. And he ain't Franklin Roosevelt, the president he seemed to be suggesting he is emulating by proposing all this wasteful public spending on unrealistic and unneeded pipe dreams.
Pundits are already shredding his proposals, as the tiny £5 billion he is offering for all these recycled presents is already budgeted for. It's history repeating as farce.
Welcome to the new, greener world that awaits us as the tide of the pandemic recedes (not that, at this rate, it ever will). Welcome to shithole Britain.
And pray for rain.