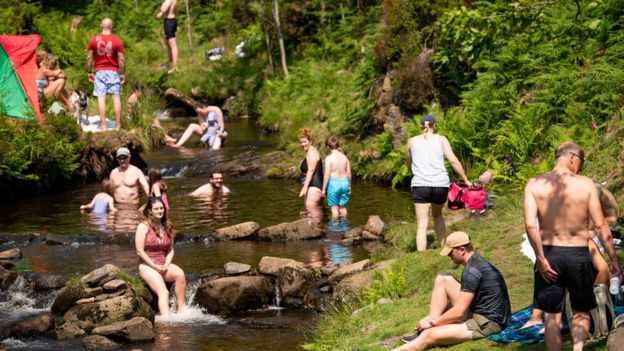 "It's nicer than I thought, being dead." (PA)
24 June, the UK enjoys its closest day of the year so far, at a humid 33 C, 91 F. At the behest of the pub trade, the Government reduces the "safe" distancing limit to "1 metre – plus", whatever that means. Big thunderstorms will bubble up on Thursday. (BBC)
QotW
"Many of us are frequent fliers, we drive long distances in big cars, buy a lot of equipment, have fridge-freezers the size of a small terrace house – every facet of our lives, although normalised by us, is central to our nation's high emissions. But the models are unwilling to accept this – preferring to pass the buck onto our children in the form of future technical silver bullets."
Professor Kevin Anderson, highly-paid academic and world-leading climate scientist beginning to despair, on why the UK's Committee on Climate Change is going to miss its 2050 target for carbon reduction as it is too pally with politicians and not listening to scientists; while the overconsuming wealthy responsible for 1/3rd of emissions are blaming the rest of us.
Granny's World
Caribbean: An enormous plume of dust 3 km deep now stretches 4,000 miles from the Sahara desert of North Africa across the Atlantic to Florida, blackening the skies over barely visible Caribbean island paradises where the pollution is posing a serious health risk and people with asthma and other conditions are being urged to remain indoors, possibly for many days.
Although such dust storms are not uncommon, whipped up by storms over the desert region, often moving northwards over Europe, this year's Saharan Air Layer heading westwards has been dubbed the "Godzilla dust cloud", described by one AccuWeather meteorologist as "possibly the most significant extreme weather event of the past 50 years".
The bad news for Florida, apart from the enormous spike in Covid cases governor Ron de Santis has admitted was his mistake in opening up too soon, is that the reddish color of the dust indicates the amount of iron contained in it. When this iron is deposited over a large body of warm water, it promotes the growth of algal blooms, such as have been plaguing the sunshine state's coast and decimating marine life in recent years.
The cloud is in two main parts, one affecting the Caribbean islands and Puerto Rico, the other moving further south across the Gulf of Mexico towards Yucatan. Sadly, it's not just a matter of colorful sunsets: the cloud is so thick you can't even see the sun. "The (northerly) system is forecast to lift out to the northeast between Thursday and Friday, opening the door for more concentrated dust to fill the skies over East Texas Friday or Friday night into Saturday. Like it has in the Caribbean, the dust is expected to bring reduced visibility and poor air quality from eastern Texas to Louisiana."
Only, more of that persistent Gulf rain is expected to come to the aid of Texans for a time midweek. There, Accuweather comments, hospitals are already at breaking point with respiratory cases.
China: "The flood situation has worsened in Guijou, southwest China, with 74,000 people now affected in 12 counties or cities. 3 fatalities were previously reported. Heavy rain in the area has increased river levels: on 22 June, the Qijiang river in Jiangjin  jumped more than 5 meters above flood level. Between 40,000 and 100,000 people have been displaced across Chongqing." (Floodlist)
Ukraine: Floodllst reports, 3 people have died in flooding. Overflowing rivers have caused severe damage in western areas after heavy rain over the last few days, destroying bridges and roads. Power lines have been damaged, as have hundreds of homes.
Turkey: At least 1 person was killed and 8 others injured after severe weather in Istanbul on 23 June. Torrential rain caused flash flooding in the city, inundating streets and causing traffic problems. Strong winds including a rare tornado also damaged roofs of buildings and brought down trees and power lines, interrupting power supply in some areas. (Floodlist)
Bolivia: "Hours of heavy rain from 21 June caused flooding in Santa Cruz City. 2 people have died, as at least 175mm of rain fell in 11 hours. Other reports suggested over 300 mm of rain fell in localized areas. Emergency teams were called in to evacuate residents. Some areas were under 2 meters of water. The local government has provided medical and food assistance to affected families." (Floodlist)
Uruguay: "Heavy rain 22 to 24 June caused flash floods, cutting roads and prompting evacuations. Strong winds downed power lines leaving hundreds without electricity. The town of José Batlle y Ordóñez recorded 105 mm of rain in 24 hrs. Around 360 people were evacuated in the capital, Montevideo, where wind damage left 1,800 people without power." (Floodlist)
Côte d'Ivoire: "At least 5 people have died and one is missing after flash flooding in Abidjan District, 25 June, after 240mm of rain fell in a few hours. More heavy rain is forecast over the next 2 days. (Floodlist)
UK: More temperature records are falling. 25 June, the area along the Welsh border could see temperatures of 34C "very locally" making it the hottest June day on record for Wales, at least. "The hot weather is expected to turn from 4pm on Thursday as thunderstorms form. The Met Office has issued a yellow weather alert warning of disruption due to flooding, lightning strikes, hail and wind. Between 30mm to 40mm of ("torrential") rain could fall in less than two hours." (BBC)
Tunnel…
12 thousand people called in to the USGS to report a M5.8 earthquake centered near Lone Pine in eastern California, Wednesday (24th), just a day after a M7.4 struck in the Mexican province of Oaxaca. No injuries or significant damage were reported but the shallow quake produced a public warning to duck and cover, 100 miles away in Los Angeles. "More than 35 aftershocks were recorded in the area ranging from M1.6 to M4.6", reported AccuWeather. Veteran Yellowstone watcher, Mary Greeley places the quake on the same fault line that produced a M7.1 at Ridgecrest two years ago.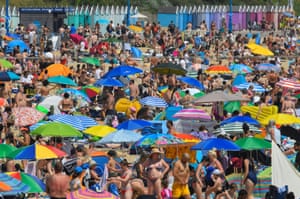 Bournemouth beach revisited, 25 June. (AP)
What will a post-Covid world look like?
Well, the answer to that may be that Covid will never go away, but will recede into the background. The herd immunity idea makes no sense in its first season, indeed the virus doesn't appear to be seasonal at all, but by the time 70% or 80% have had it and survived it will remain with us like the common cold, picking off the weakest every winter – assuming it's not like chickenpox and hits you a second time years later.
The question is, how long will people put up with social restrictions? The answer appears to be, not long.
The police and local authority in Dorsetshire declared a major incident on 25 June and were pleading with people to stay away; the local MP called for government help, as England's southern beaches were once again rammed with thousands of suicidal lunatics who, in the sporting phrase, "think it's all over". It will be, sadly, for many of them.
There's a school of thought operating in the ruins of the sensible media, that Covid-19 will have given us a chance to start anew, to reset the clock on consumer capitalism, homelessness, exploitation in the workplace, racism, driving and flying everywhere. We can all be nicer and kinder and leaner and greener and work from home and reopen the libraries and scrap tuition fees and bake artisanal bread and vote Lib-Dem while the CO2 drains gently down out of blue skies and fluffy bunnies play in the meadows.
No-one looking at the photo above could possibly give the liberal ideal of the post-Covid Utopia, with a Green New Deal at its heart, any credibility. This is anarchy, raw and simple. Mostly polite, mostly permissive, but anarchy, British-style. We can co-operate with authority in an emergency, but not when it becomes an imposition, we can't really see the enemy and we suspect our leaders are taking the piss.
There are three months of summer to go and already we've had three spells this year of record temperatures in the UK and several instances of bad tempered confrontations with police in the streets. Stifling city nights are the perfect breeding ground for truculent resistance, especially when – not if – the government has to reimpose lockdowns as defiant contiguity produces huge rolling spikes in infections through the autumn and winter.
Some random act, perhaps of police violence against a person of color – as with the Mark Duggan riots of August, 2011 – could spark something we're not equipped to understand or control without military intervention. While, the full effects of the depression: mass unemployment, bankruptcies, debt defaults and evictions have yet to kick in. Around 7 million people are reported to have gone without enough to eat in the first months of the lockdown.
Just one looming problem among many: you've probably wondered how your neighbors can manage to afford to buy and run that big, shiny new SUV? Nine out of 10 – 6.5m vehicles in the UK, a market worth £75 billion – are owned on domestic leasing deals with expensive back-end residuals and monthly payments that are "already proving unaffordable" for some laid-off as a result of the coronavirus. (Guardian).
The post-Covid landscape this summer could well come to resemble Los Angeles, 1992 – with added middle-class economic zombies.
Nominative determinism corner…
"Francine Prose is a novelist and the former president of PEN America…" (Guardian)
Corona v. Us
A couple of "What the ???s" from the Washingon Post today:
The US Treasury Department has sent more than 1 million stimulus payments to dead people, totaling nearly $1.4 billion.
Trump keeps saying Obama left him 'no ventilators.' The true number is 16,660. (You may recall he also complained that Obama had left the army with no bullets. Funny man.)
Fearing a second Covid wave in the autumn clashing with annual 'flu, the CDC has ordered an extra 7 million 'flu vaccine doses. "This is a big move," said Redfield, the CDC director. It is, given they probably don't yet know which strain of 'flu to vaccinate against.
The Trump administration has asked the Supreme Court to overturn the Affordable Care Act ("Obamacare") — a move that would wipe out health insurance cover for as many as 23 million Americans in the middle of a pandemic. (NYT)
A White House staffer has been awarded a $2.4 million contract to supply PPE to the Federal Bureau of Prisons. The individal concerned has no experience of supplying PPE and has registered a new company to fulfil the contract. (NYT)
70-year-old Michael Flor, from Seattle, was a "miracle patient" who spent 62 days on a ventilator unexpectedly surviving Covid-19.  Apart from getting his life back, his reward was to receive a bill from the hospital for $1.1 million dollars.
A clever sequence of graphics in the New York Times ("How the virus won") shows how the pandemic spread and re-spread throughout the USA, where it's now out of control. It's like a compilation buildup of scenes from a disaster movie. The most telling point is contained in the footnotes explaining how the data were arrived at: "There are no comprehensive, official counts of cases, deaths or tests throughout the United States."
http://www.nytimes.com/interactive/2020/us/coronavirus-spread.html?campaign_id=57&emc=edit_ne_20200625&instance_id=19757&nl=evening-briefing&regi_id=93094685&segment_id=31874&te=1&user_id=57c84490f6448f9cceff76e9e5000e64
In a staged Fox News 'Town Hall' q&a with real people, under intensive grilling from his best friend Sean Hannity, Trump solemnly let it be known that if he didn't do testing there would be no cases of coronavirus. It also appeared from what he was saying that he thinks the -19 in SARS-CoV-19 stands for the number of different names the virus goes by.
Australia: The Woolworths chain of supermarkets has reimposed rationing of toilet paper and other, less essential food items as panic buying has broken out again after a fresh surge of cases in Victoria state began running into double digits daily. (Guardian Australia) The Morrison government has decided to tough it out – no new lockdowns will be ordered.
Korruption Korner…
A federal appeals court has ordered a judge to dismiss the criminal charges against retired 3-star general, Michael T Flynn. "A three-judge panel of the DC circuit court of appeals issued a 2-1 decision overruling judge Emmet Sullivan and ordering him to dismiss the entire case against Flynn, Trump's former national security adviser. The ruling comes a month after the justice department filed a motion to dismiss the case, prompting allegations of political bias." (Guardian)
The reversal of a court finding on the basis of a guilty plea by the defendant is probably unprecedented in the murky annals of American jurisprudence. But whatever Donny wants, Donny gets. Anyway, it seems the case isn't over as it now goes to the full Appellate court and maybe thence to the Supreme Court, by which time Trump will have been thrown out on his waxy old ear – or he won't.
Let's remind ourselves, folks, Flynn pleaded guilty to two charges of lying to the FBI and to Vice President Pence about his Russian contacts, including famously having dinner with Putin, and holding talks about lifting sanctions with former Ambassador Kislyak, as part of a plea bargain to obtain reduced charges in exchange for helping the Mueller investigation, which it seems he didn't, much. (Not squealing to the Feds earns you extra points in Trump's book.)
He had previously been dismissed by the Obama administration in 2015 as a security risk, being paid both by the Russians and by Turkey; but Trump hired him anyway – on whose rekomendatsiya we can only guess – firing the acting Attorney-General, Sally Yates when she tried to warn White House counsel, Don McGahn about Flynn's nixed security clearance – a turd now being polished by Trump as evidence of Obama's "treason".
He also failed to declare the earnings from his PR consultancy as a foreign agent, and should (if he wasn't) have been indicted for breaching the Logan Acts, intended to prevent non-governmental actors from corruptly attempting to negotiate State policy with foreign governments.
The chair of the Appelate Court bench in DC who wrote the opinion that passed 2-1 is a Trump appointee, Neomi Rao. "Circuit Judge Karen L. Henderson (a Reagan-era veteran) who was appointed to the appeals court seat by George H. W. Bush," notes website Law & Crime, "joined Rao on the majority." The third judge, Robert L Wilkins penned a legally crystalline dissenting opinion but was outgunned, although a motion to dismiss Judge Sullivan was overruled.
On 7 May, CNBC quoted the president as saying: "He (Flynn) was targeted by the Obama administration and he was targeted in order to try and take down a president. And I hope a lot of people are going to pay a big price, because they're dishonest crooked people, they're scum, and I say it a lot, they're scum, they're human scum. This should never have happened in this country."
Quite. It's not normally the President's job to attempt to influence the outcomes of trials of his criminal associates. Also, few presidents have publicly referred to their honorable predecessor as "human scum".
As his polling nosedives, a febrile and increasingly sweaty-looking Trump has been trying to establish the theory he calls Obamagate, that his predecessor was somehow committing treason against the Republic by plotting against him personally. That is, before Trump was even elected as president, when he was still a superannuated playboy grifter, tax-dodging "billionaire", serial bankrupt and tacky reality-show TV front. And long after Flynn was disgraced the first time for, er, what Judge Sullivan described as "selling-out" his country. That is, treason.
You did it! No, you did it!
Trump is absolutely blatant in his wild inventions. But the dumbfucks, struggling for one last breath on their ventilators, will buy it. After all, flawed as he is, he was sent by God to redeem America from normal people.
Tailpipe….
Republicans in Kentucky are so terrified of moderates winning the party's primaries against pro-Trump candidates that they've closed 95 per cent of the polling stations, leaving only one open in the capital, Louisville, making it almost impossible for anyone to vote unless they have paid time off work and a car, preferably with SatNav. (Democracy Now!)
Faced with losing our GPS cover from the European Galileo satellite project in the wake of Brexit next year, the UK government has patriotically contracted a UK-registered company called OneWeb to supply the necessary network. OneWeb recently declared bankruptcy in the USA, where it was mainly trading, and, say space experts, has the wrong type of satellites to reliably provide the vital service. (Guardian)
Baris Johnson has proposed that former minister, Chris Grayling should chair the security committee responsible for publishing the long-delayed, almost completely redacted report on Russian influence in British politics. Grayling is famous for his lack of competence, having, it's been calculated, cost the country £3.4 billion in failed project implementations – including contracting a pizza delivery firm with no ferries to operate an emergency ferry service in case of a No Deal Brexit interrupting cross-channel trade.
На здоровье!