QotW
"What is the cost of lies? It's not that we'll mistake them for the truth, The real danger is that if we hear enough lies, then we no longer recognize the truth at all." – From the script of TV miniseries, Chernobyl.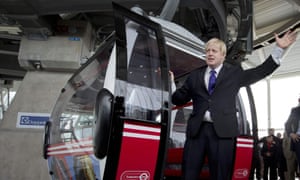 "Pwafle-whaffle…, this shiny toy car is turning left. Who's with me?"
Wild is the wind
This could be difficult to explain, because as your Old Granny W. has said before, there is so much intense cyclone activity in the North Atlantic currently that it is becoming difficult to differentiate one storm from another. However, on the heels of Storm Ciaro, Severe-weather.eu reports, there is another cyclone heading into the British Isles tonight, 12 Feb., with central pressure falling to about 960 mb – windy and rainy.
Then there is Storm Dennis, due on Saturday
Only, forming off the coast of Newfoundland, maybe behind that or part of it is a potential monster of a storm, that we think should be christened Stormy Daniels. It is, they say, very possibly destined to be the most intense storm ever recorded in the region, with central pressure plummeting by 50 to 60 mb in 24 hours, to an impossibly low 915 to 920 mb, producing tremendous winds and waves up to 18m, 60 ft in height.
Is that Dennis? No-one is making it clear.
Severe-weather.eu says: "What we are seeing on the weather models through the remainder of this week is beyond exceptional – an incredibly large, extremely deep and violent system, with central pressure potentially even shooting towards the lowest pressure readings ever observed, will be possible." The BBC Weather service merely describes things as 'wet and windy'. Is that classic British understatement or is Severe-weather getting overexcited?
Below is a map of projected peak wind gusts on Thursday,13th. The outline of the British Isles can just be seen in the centre. It's pretty messy: hung on your wall, it might be worth millions: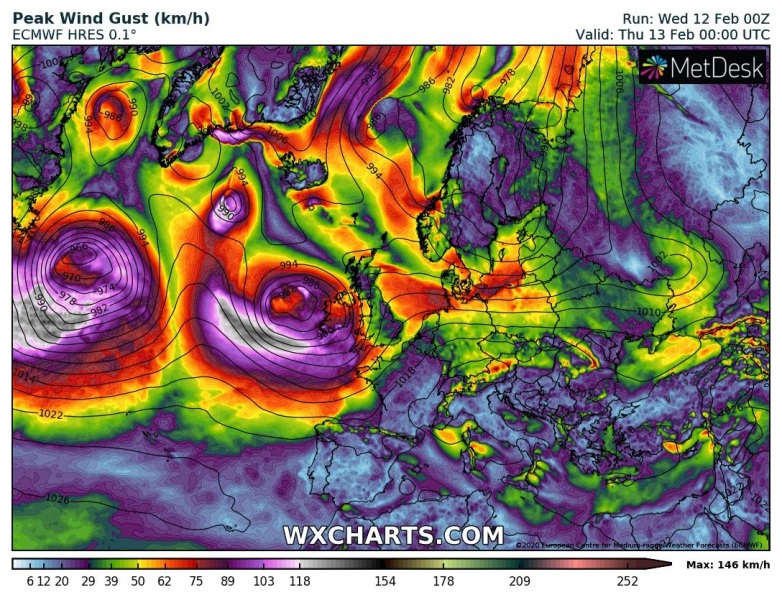 Where are these cyclones obtaining their formidable energy, over the cold waters of the North Atlantic in winter? Please, do not tell me that everything is normal and this is just the natural cycle-stroke-solar minimum!
And, OMG as they say, as a brutally cold weatherbomb deposits Arctic gales and snow over the northeastern states of the US, and with two intense cyclones already out in the North Atlantic, now there is another matching pair of huge, powerful cyclones presenting an even more perfect picture from space, forming across the North Pacific and heading for Alaska with hurricane-force winds via the Aleutian Islands.
This is unprecedented, Day After Tomorrow stuff.
We are fucked, no question.
Corona v. Us

Update: 13 Feb. 00.00 hrs, 45,222 cases; deaths 1,118. 4,888 'recovered'. First case reported in London; Hove 'spreader' Steve Walsh leaves hospital, clear. All quarantined travellers in UK testing negative. Experts warn of an outbreak in the UK lasting into the summer.
Reset: 13 Feb., Beijing has fired officials in Hubei province and recalculated: cases 60,376; deaths 1,369. Authorities in Wuhan impose 24-hour curfew on all but health workers.
USA: An estimated 22 million people have experienced 'flu-like illnesses in the U.S. this season, with 210,000 hospitalizations and 12,000 deaths from the 'flu, according to the CDC. The second peak of the season, which still has weeks to go, has seen a major rise in hospital visits described by epidemiologists as "hard to believe". (Accuweather)
An extended outbreak that limits the volume of … (prescription) drugs available for export from China could lead to shortages and price increases, particularly in the United States, according to ratings agency Moody's.
New update: 14 Feb., it appears no figures can be trusted as Beijing first revised the numbers upward but has now admitted that over 100 deaths were double-counted. 'Over 60,000' cases is a best guess estimate this morning, with close to 1,500 deaths. Wuhan says 1,700 patients are health workers.
A report in The Sun newspaper says the Chinese woman patient who tested positive in London a few days ago attended a conference at which a number of MPs were present.
Sleep tight
Zero Waste Scotland has estimated that if the 600,000 mattresses Scotland throws away every year were stacked on top of each other, the pile would be more than 100 times taller than Ben Nevis.
Yes, but safer to climb, I should have thought, in your ordinary day clothes and trainers in the middle of winter with Storm Ciaro bearing down, as most people do.
Building bridges #1

The Queensferry crossing, the bridge that connects Edinburgh and Fife, remained closed on Wednesday morning in the wake of Storm Ciara, resulting in commuter chaos and lengthy tailbacks on the 35-mile diversion necessary for drivers.
The £1.35bn bridge, which opened to traffic in August 2017 and had been hailed as a crossing that would remain open in all weathers, has been closed since Monday night owing to excessive ice forming on the superstructure…. A lesson there possibly for Vanishing Johnson and his bridge to Northern Ireland?
Building bridges #2
Mr David Ross, a just-about billionaire and massive Tory-party-donating schmoozer, ousted as deputy chair of Carphone Warehouse over a dodgy loan guarantee, who was listed on the Prime Minister's latest sexpenses declaration as having provided Baris and Carrie with a free £15k holiday in the West Indies at Christmas, has denied it was he who paid for the relaxing jaunt away from the turmoil of assassinated Iranian generals, but says he merely supplied a contact with a fellow villa owner.
The hunt is now on to find out who did pay, before the Commons Standards Committee gets involved. (£15 grand is not such a lot of money, you would imagine Baris on his new PM's salary could have afforded to pay for his own fucking holiday? Carrie's not that hard-up either. Poor chap, must have been exhausted after toasting his election victory with his Russian friends.)
According to The Guardian report, Mr Ross was certainly in the habit of currying favor with one of Baris' predecessors, David Cameron – like him, a fellow 'tax exile' – to whom he gave free helicopter rides, and sucking up to a litany of tired old A-listers with jollies at his "huge villa" on Mustique. In best Cliveden style, it is said, "prominent Tories are known to have been visitors to shooting parties at his sprawling country estate in Leicestershire".
A Number 10 spokesmouth commented: "All transparency requirements have been followed…" Yes, you certainly can see right through them.
These are just the sort of chaps we want running New Britain.
Zombie genes
Paleontologists are excited over the discovery of an entire set of chromosomes dating back to our time in Africa, that have no known corresponding fossil relics to prove that the bearers ever existed. They're calling it the 'ghost population" – an unknown species of human that must have lived half a million years ago, and cross-bred with known populations, passing its genetic inheritance down to modern people.
All West Africans tested so far have up to 20 per cent of this mysterious hinterland coursing through their veins. Given their geographical location, muses The Pumpkin, it must surely have spread through slavery "comforts" to white Americans. He suggests US geneticists should have a look. Maybe it's that mythical "stupid gene" Trump voters have inherited.
Suffer little children
Anyone who disbelieves in the Millennium Bug should read the following tale.
"A 101-year-old Italian man who has been in London since 1966 was asked to get his parents to confirm his identity by the Home Office after he applied to stay in the country post-Brexit.
"In what appears to be a computer glitch (his birthdate of 1919 came up as 2019) the Home Office thought he was a one-year-old child."
Yet they STILL WROTE TO HIM! Demanding 5 years' tax records to show qualifying continuous residency.
This cowboy bunch are not fit for purpose and must be disbanded.
(Reporting: Guardian)
The madness of King Donald
After reminding his cheering, swivel-eyed dumbfucks at a spoiler rally on the other side of town from the Democrats' New Hampshire primary that public healthcare and social security had never been safer than in his tiny hands, after a chilling remark about how he's not allowed to say how beautiful Ivanka is because she's his daughter, Trump unveiled his 2021 budget.
It contains a trillion dollars in cuts to public healthcare and social security programs to pay for yet more military spending, more of his border wall and other immigration controls, and bigger tax breaks for the wealthy.
He also outlined a further massive cut in the budget of the organization that's struggling to contain the coronavirus and a major 'flu epidemic, the Centers for Disease Control in Atlanta, and proposed to slash the US contribution to the World Health Organization by 50 per cent.
He sure hates America.
Yet another book about the insanity in the White House recounts how, when Reince Priebus, who comes from Wisconsin, was Trump's first Chief of Staff, Trump would get into a weird riff over the state's official mascot, the badger, about which he appeared to know little. "Are badgers mean to people?" he asked. "How do badgers work?"
GW: I'll take a little water in that
Antarctic: "has registered a temperature of more than 20C (68F) for the first time in history, prompting fears of climate instability in the world's greatest repository of ice. The 20.75C logged by Brazilian scientists at Seymour Island on 9 February was almost a full degree higher than the previous record of 19.8C, taken on Signy Island in January 1982." (Guardian)
Brazil: "Heavy rain has affected wider areas of the state of São Paulo, 11 Feb., with severe flooding reported in the city of Botucatu, where 1 person has died and 2 are missing. 3 have been killed elsewhere in 88 reported mudslides. Some places recorded more rain in 3 hours than normally seen in the entire month of February."
Bolivia: floods, 1 dead.
Indonesia: Jakarta, hit again. Several rivers overflowed, 1.7 meters of floodwater in places. No casualties. Up to 150 mm of rain fell in 24 hours, in the north of the province.
Australia: "Torrential rain has been falling in parts of New South Wales (NSW), Australia, since 07 February, 2020, causing rivers to rise and flash flooding. Strong winds have also caused damage and thousands of homes have been without power. Sydney received 391.6 mm of rain between 07 and 10 February, more than three times the average for the whole of February." Narcoola, Queensland, had more than 230 mm in 24 hours to 11. Feb. Waves more than 5 metres high have lashed the coast, but the rain has at least replenished the city's near-empty water reserves.
Accuweather reports: "drenching rains across NSW have extinguished 30 fires, including the Gospers Mountain "mega-blaze" (outside Sydney) which burned more than 500,000 hectares (1.24 million acres).
The industry has declared an official 'catastrophe' for the 6th time in 5 months after insurers received 10,000-plus claims for storm damage, with a value estimated at AUS$45 million, on top of thousands of claims for fire damage in the last 3 months.
Burundi: the flood situation has worsened. Initial reports indicate 3 dead and over 1,000 people displaced.
(All above, Floodlist reports, 12 Feb.)
Russia: Minus 25°C temperatures by day, minus 45 at night, 65 mph winds and huge snowfalls have buried the Siberian city of Norilsk in several meters of the white stuff. Videos show residents digging down from 1st-floor height to find their garage doors and clear driveways. A local bus terminal is sheltering people who can't get back to their homes in the city. (Siberian Times)
USA: "Heavy rain that caused flooding from Louisiana to the Carolinas continued Tuesday, 11 Feb.  Many rivers and creeks were at or above flood stage. Tennessee Valley Authority said some of its rivers and lakes had received as much as 400% of their normal rainfall for this time of year. In Mississippi, emergency management officials were keeping a watch on the Oktibbeha County Lake Dam. In Jan., the dam was in imminent danger of breaching before pumping lowered the water level in the lake. Officials said the dam has again risen to the same dangerous level." More heavy rain, wind, thunderstorms, possible tornadoes and snow are forecast this week, on the usual track. (Accuweather)
Update: 12 Feb., northern and eastern states experienced the coldest spell of the winter so far, hit by "a fierce winter storm that produced 'near impossible' travel conditions with near-zero visibility and strong, biting winds." In North Dakota, Accuweather's own patented temperature index (basically I think it's got something to do with how hot or cold it feels, rather than the true figure – no-one does facts anymore) plummeted overnight to minus 60 whatever. Accus?
Despite the wintry plunges, more than 5,500 new warm weather records for both highest daytime and nighttime temperatures have been set in the USA already, just in the first 40 days of 2020. Only 307 daily record lows were recorded. On 3 Feb, Atwood, Kansas posted 84°F, 29°C. (The Weather Channel)
Britain: as we prepare for Storm Dennis later in the week, around 8 thousand homes in Cumbria, in the northwest, are still without water after a main burst during Storm Ciara on 9 Feb. Updates to follow….
Tunnel approaching….
Insectaggeddon: A survey of insects hitting car windscreens in rural Denmark used data collected every summer from 1997 to 2017 and found an 80% decline in abundance. It also found a parallel decline in the number of swallows and martins, birds that live on insects. A second survey, in the UK county of Kent in 2019, examined splats in a grid placed over car registration plates, known as a "splatometer". This revealed 50% fewer impacts than in 2004. (Guardian)
Envirocide: Trump has signed an order approving plans to open up the world-famous Utah national monument land known as Grand Staircase Escalante to drilling, opencast mining and grazing, over the objections of environmental groups and residents. Over 1 million tourists visited the site last year.
He really hates America. You have no idea.
You think this is normal? Of course you don't. It's just choreography. Synchronized extinction. 140 mph winds forecast over Iceland. (Photo: probaby NOAA from Severe-weather.eu)
Gotland dammerung
"Taking in all stages of production, concrete is said to be responsible for 4—8% of the world's CO2." – Guardian special report, Feb. 2019.
"Experts" have come up with an interesting idea to construct two huge dams: one between Scotland and Norway, another across the Dover strait, to seal off the southern part of the North Sea from sea-level rise and protect coastal infrastructure in the UK, Denmark and the Netherlands. The cost of this "North Sea Enclosure Dyke" is estimated at between €250bn and €500bn which, judging by the ever-multiplying cost of HS2, looks pretty conservative. Your Old Gran would suggest budgeting about £1.5 trillion, currently the entire annual GDP of the UK.
But the North Sea is mostly only 100 meters deep, having flooded relatively recently in geological time, inundating a huge area of low-lying countryside known as 'Doggerland'. So the feasibility is looking promising, and motorway or high-speed railway lines or even a Baris-style airport "runway" across the tops; maybe the odd island tax shelter, would create a bridge between Europe and the UK that would… Oh, yes. Right. Anyway….
Your Old Gran has a somewhat jaundiced eye, sadly, and wonders how much additional sea-level rise might be occasioned by the vast volume of CO2 emissions that would be created in the production of enough concrete to build a wall 120 meters high by 635 kilometers long by, probably, 40 meters thick, given that concrete is a major known source of greenhouse gas emissions. (The 3.05 billion cu. m. needed is 9 months' worth of total global cement production. A cubic meter of concrete weighs roughly three tonnes. 907 kg of CO2 is emitted per tonne of cement produced.)
Thanks to China's race to modernize, concrete – made from finely ground Portland stone, a finite resource –  is also in quite short supply. We would also need to remove, grind, transport and tip, literally, whole mountains of granulated stone just for ballast. Billions of tonnes of fresh water would be needed for the mix – salt water would corrode the reinforcing bars. Perhaps desalination plants could be constructed near the sites, requiring further materials, along with the service bases and personnel housing and transport facilities. Steel reinforcement would require a major manufacturing effort, again pouring vast quantities of CO2 into the atmosphere from the furnaces, as steel-making is majorly energy-intensive. Again, we would be competing with China, the world's Number One steel-making country, for supply.
So, to avoid busting the UK and EU's 2030 target to achieve zero emissions, project-wide carbon capture and storage would have to be designed first, assuming the bedrock will take it. Nothing on this scale has been tested before.
Shipping traffic would need to be channeled through, somehow, during and after construction, one of the busiest shipping lanes in the world, traversed by ever-larger container ships. An environmental impact survey might show, such a project might not be too conducive to the happiness of marine life. The barrier would have possibly unknown effects in transferring tidal and wave energy to other contiguous coastlines, for instance the Baltic sea, even possibly affecting the weather.
I suppose we should consider, too, the possibility that, like the Mediterranean has at times in the past, without throughflow such an enclosed body of water might eventually dry up, creating miles of festering, malaria-ridden swamplands. And then the sheer weight of the thing – what would be the geomorphic effects? On the plus side, we might, I suppose, incorporate tidal energy generation as a bonus.
It would, frankly, be easier and cheaper to move London to the Chilterns, and Amsterdam to the Caucasus.
So, who is going to build this supermassive project?
It's, er, projected to run on for 20 years, from 2030 up to 2050. By that time, constructors will be battling with half a meter of sea level rise and may need to divert resources to other, short-term flood protection measures, such as raising the height of the Thames barrier. They will be competing on price and supply for raw materials with other parts of the world equally or more affected by rising sea level, where skilled labor will be in great demand; but where violent nativism may erupt against the import of foreign labor. It's already being predicted, probably conservatively, that barring socio-economic collapse, demand for concrete will have increased by 2 billion tonnes annually by 2050. It would, frankly, be easier and cheaper to move London to the Chilterns, and Amsterdam to the Caucasus.
What will the period of construction look like?
If this winter's activity in the North Atlantic is anything to go by, in the 20 years after 2030 an immigrant labor force (for such it will have to be) of maybe 20 to 30 thousand workers, especially on the more difficult northern phase, will have to contend with frequent cyclonic storms: 180 mph sustained winds, with gusts over 240 mph and 90-ft waves (windspeeds in the Faroe Islands reached 140 mph during one storm this January). Daytime temperatures might veer by as much as 100 degrees Celsius, from plus 50 in summer on the southerly phase, to minus 50 in dark winter in the north. Additional resources will have to be devoted to healthcare, as the workforce are likely to be riddled with tropical diseases; and to the production of artificial, nutrient-rich foods.
Of course, human labor is unlikely to be the solution by then. The bulk of the work will have to be undertaken by robots, armed with at least some degree of expensive, autonomous AI requiring a large number of skilled programmers, operators and maintenance crews; the advantage being, these specialists could work from anywhere in the world.
Is it worth all that, just to protect a couple of hundred miles of vulnerable coastline? I suppose the infrastructure along those coasts is economically very valuable, but what might its role be, by the time we find ourselves in the Mad Max, dog-eat-cat, scarcity-driven geopolitics of the late 2030s? Will the project be sustainable by then? We are not going to stop global heating this century, if ever.
Anyway, it certainly dwarfs Donald Trump's manic obsession with his wall to keep out a few drug mules and abused children from crossing along the entire 2,000-mile southern frontier of the USA.
Plus, we have nothing much else to think about. (Insert Orange Mussolini face.)
But for God's sake, don't suggest it to Baris. He's a sucker for big, shiny toys.
(Original reporting: Guardian)