QotW
"The most fundamental function of a government is to keep its people safe. It is from this that it derives its authority, the confidence of the people and its legitimacy. … When I heard about Britain's 'herd immunity' coronavirus plan, I thought it was satire."
" – Dr William Hanage, Professor of the Evolution and Epidemiology of Infectious Disease at Harvard, on learning with horror of Baris Johnson's plan to allow the coronavirus to cull the elderly.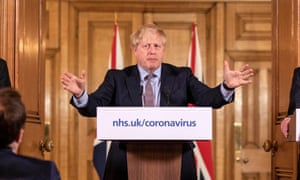 So, you need to be this far apart. I appreciate it may make procreation difficult for most people…
"And what happens to the healthcare system if we all get ill? Everyone is scared to speak up publicly, and it's possible I could lose my job for doing so, but it's like the moment in the disaster movie when the tide has gone out and everyone is saying, 'Oh let's go to the beach', and you're jumping up and down saying, 'No, run for the hills."
– NHS doctor, Nishant Joshi, on how health workers are receiving only minimal protection and cannot get tested if they fall ill.
"'Trump lied' must become the default setting for reportage of his direct speech, as the götterdämmerung of his hoax presidency plays out to its fateful conclusion."
Trump lied?
"This day should be an inspiration to every American," he said, "because thanks to your leadership from early on, not only are we bringing a whole-of-government approach to confronting the coronavirus, we're bringing an all-of-America approach.
"Mr President, from early on, you took decisive action. You suspended all travel from China … throughout this process, Mr President, you've put the health of America first."
Thus the horrifying, slavish nematode, Vice-President Michael Richard Pence, goes down in infamy, nailed to his own cross, reaffirming the death penalty for millions of uninsured Americans betrayed by a mendacious and incompetent lunatic, who continually projects his delusionary, diseased inner landscape and vindictive loathing of his people onto the country he swore to protect.
Trump has shown leadership all right. Down to the bitter dregs.
For the decisive wrong actions he now lies he did not take, claiming that others took, actions of which he was unaware because, well, it's the administration, stupid, were for reasons of self-enrichment and that of his donors to remove the agencies of public health monitoring and protection, and replace them with loyal administrators both incompetent and venal.
And among their actions, of which he was completely unaware because, well, he's only the president, very stupid, was the early rejection of reliable but foreign testing kits and their replacement with worthless but patriotically American ones. Between Sunday last week and Wednesday, the Washington Post reports, the Centers for Disease Control conducted precisely …
77 tests.
Which rather gives the lie to Trump's assertion on national media that anyone could get a test who needs one, because millions of testing kits were being made available. No, they weren't.
As of this morning, Sunday 15 Mar., the number of confirmed cases has soared, not down to one, as the fake president reassured his frightened people how, under his divine leadership, it would, but up over 3,000 across 49 out of 50 states. Coincidentally, about as many as died on Puerto Rico in the aftermath of Hurricane Maria, while Trump chucked paper towels at the survivors, lied as he does to this day about the casualty numbers, abused local officials and boasted of being awarded a 'ten' by the celestial ratings panel who award him marks, for his grotesque failure of leadership on that occasion, that in his diseased brain he sees only as a triumph.
You all knew he was mentally deranged. Could you not have seen this coming?
Journalists must now stop writing: 'Trump said'. Every single utterance of this self-serving criminal monster has been a lie from start to finish. So very few dare tell him so, for fear of receiving a nasty tweet. Are you kidding? The power of the tweet is somewhat overrated.
'Trump lied' must become the default setting for reportage of his direct speech, as the götterdämmerung of his hoax presidency plays out to its fateful conclusion. Editors please note.
The hope that Pence might invite the Cabinet to approve the removal of the president on grounds of mental incompetence, using the 25th Amendment of the constitution, the V-P's prerogative, has never been a realistic one. Trump put Pence 'in charge' of the response to Covfefe-19 precisely for this purpose, that he could blame somebody else for the failures whilst being left to carry on with his blundering project to manipulate the stockmarkets so as to con the voters into believing his lies about the economy being 'the greatest in history'. It isn't.
For Pence is a gutless wonder; a slimy, hypocritical, religiose little turd sandwich on processed Sunblest bread, who will unfailingly defer to His Satanic Master's every bonkers utterance with that sickeningly worshipful expression I imagine millions of Americans would willingly right now remove from his beatific face, with sandpaper.
Corona v. Us
Update: Sunday, 15 Mar, 1 pm: cases 161,982; deaths 5,973; recovereds 76k. 9.45 pm: USA has put on another 680 cases in an afternoon; Italy an astonishing 3,500 more; another 250 in the UK, to a global total for Covid Sunday: cases 169,229; deaths 6,494. (Worldometers)
Upperdatier: Monday, the Ides of March: cases, 171,044; deaths, 6,526; recovereds 78k. 7 pm: 179,758. x7,100. 11.45 pm: 182,423. x7,144.
UK govt. is seeking police powers to detain people breaking their isolation curfew, in advance of imposing one. Over-70s (who are no more likely to be carrying the infection than anyone else) are the first group 'within weeks' to be quarantined forcibly, Hunan-style, in our homes. Those, that is, who are still walking around unconcerned by events swirling around us. Difficult, as having left it so late we have no opportunity to stock up with food and incontinence pads, the shelves are already stripped as bare as an East African farmer's field.
It seems it will be easier to starve us in silence than allow us to die from the shortage of ventilators – of which there are barely 1,000 in the whole country. Large numbers of scientists in epidemiology and related disciplines have condemned the government's policy of testing only people who have clearly got the virus as… well, a bit pointless. The government, the only one in Europe pursuing the policy of 'herd immunity' – ie, encouraging me to die – has hit back, saying their tame experts know what they are doing.
Personally, I've bought a bottle of Scotch and self-isolated.
Don't let the air of competence fool you.
btw… Your Uncle Bogler has noticed, some delays seem to be creeping into the normally urgentmost Amazon delivery service, with despatch being held up on a number of his recent orders. As they can't bill you until the goods are in despatch, they may start losing money. And I've just had an email to say my tiny order of hand sanitizer can't be fulfilled, as the supplier has run out. Poor Bezos… Is it the end?
With stunning ineptitude, as though nothing whatever was learned from Trump's arbitrary Muslim travel bans in 2017, the abrupt closure of US airports to many overseas flights has led to the mass return of thousands of US citizens from Europe, leading to six-hour waits in baggage halls and a further four-hour wait to proceed through Immigration under extra, medically meaningless health checks. Images have been emerging of jam-packed arrivals halls, vast herds of humans crammed shoulder to shoulder and positively steaming with viruses of every kind, as police helplessly hand out wet wipes and bottled water.
The crisis has revealed that IAG group, Spanish owners of British Airways, among other airlines, now tragically faced with laying off hundreds of staff without pay and cutting back 75% of flights owing to collapsing demand, pleading poverty, is sitting on a £9 billion cash pile. That's crapitalism in action.
When I worked in the junk mail business, we held to the belief that timing was everything. Obviously it's a long-forgotten principle, as I see from my postbag today that Morrisons supermarket has just run out a door-drop campaign with money-back incentives to consumers to pop along and admire their empty shelves.
Monday, and the weekly slide on the markets crashed in on news that Trump had bullied the Federal Exchange Bank into slashing interest rates to zero. "Stocks plummeted over 9% upon opening, triggering a market-wide halt for 15 minutes as traders on the floor yelled, 'Halt! Halt!' (Or maybe 'Help, help!? Ed.) The S&P 500 dropped 8.14%. The major concern for investors is consumer spending, as major cities across the U.S. begin to close down all nonessential businesses as the coronavirus continues to spread." (Nowthisnews) Wherever else the Fed's $1.3 tn in money the ink hasn't dried on will go, it certainly won't be into the pockets of consumers. What, you think they've learned anything from 2008?
Searching online for any antiviral products that might help stave off the inevitable, I realise that thousands upon thousands of people must have been buying up all the antibacterial soaps, sprays and gels they could find in the foolish belief they will help. Oh dear, it's where our education system has led us.
We're also warned that aspirin and ibuprofen are likely to make your viral fever worse. Stick to paracetamol is the message from the French health ministry; although your fever is a natural adaptive response that will help you get better, not worse. Call a GP if you're on Prednisolone.
"San Francisco area officials announced a shelter-at-home order for six counties, beginning at 12:01 a.m. Pacific time on Tuesday. The decision affects more than 6.5 million people and will last until at least April 7. The governor of Puerto Rico has announced a total shutdown of the island." Washington Post.
How in the hell does he do it?
Yet a fourth Brazilian delegate and an American official who sat down to dinner with Trump at Mar-a-Lago last weekend have tested positive for the virus. Doubts remain, too, over that vile fascist hyena, Cap'n Bolsonaro, not that we give a fuck what happens to him and how painful it will be.
For several days, however, Trump resisted all attempts to persuade him to take the precautionary test, perhaps in fear of a positive outcome for all of us; perhaps because he thought there were no testing kits left in the country. He continued to go around shaking hands, frequently touching the inch-thick protective orange pan-stick makeup layer known as his face, grabbing microphones unprotected, seemingly unconcerned by his own scientific advice.
But no, it seems even the virus cannot touch the perpetually gilded youth that is Donald Jesus H Trump, any more than can the criminal justice system, the tax authorities or the Congress. His doctor writes, he is totally exonerated. Er, sorry, he is clear of the virus.
He's dodged the bullet again. Or so we are told.
How in the hell does he do it?
The astonishingly transactional nature of the psychopomp, Trump
It's being reported that Donald Trump, desperate to shore up his vote after two spectacular weeks of displaying his fathomless ineptitude and self-serving instincts in a time of crisis, so entirely predictable, has offered a German pharma company, Curevac, which is apparently on the verge of producing a potentially viable vaccine, a virtually unlimited sum of US taxpayers' money to secure the exclusive rights to their invention, effectively preventing its use outside America, let alone for the protection of German citizens.
There is no possible reply to this unspeakably amoral proposal. If Trump cannot be removed by constitutional means, or by the courts, because he has abused his powers to overturn the established checks and balances and brought the entire US system of accountable jurisprudence into his personal gift, then he must be removed by force of arms, and arraigned as a criminal against Humanity.
It is impossible to imagine that any filthier, more selfish son of a bitch has ever befouled the office of president of the United States. or ever will.
America First!
Sotto voce: Cunts.
The madness…
With Americans dying hourly, Trump is refusing to meet Democrat leader and speaker of the lower House, Nancy Pelosi, to discuss a nonpartisan response to the virus. Asked why, he replied it was because she had been "mean" to him.
"Respirators, ventilator, all of the equipment – try getting it yourselves," Trump told (state) governors, according to the New York Times. After the call, Trump went to Twitter to single out New York Gov. Andrew Cuomo (D) to "do more." Cuomo shot back: "I have to do more? No — YOU have to do something! You're supposed to be the President." Trump later deleted his tweet. (Washington Post)
You see? He's a toilet-paper tiger. He has nothing. Go get him.
Stay sane with Mr Rainbow

http://www.youtube.com/watch?v=-CCW4Xnp_sQ
GW: Hang on, weren't the Three Degrees Prince Charles' favorite girl band?
Italy: The beneficial effect of Covid-19 has been registered from space! Severe-weather.eu reports, data analysis by the Copernicus Sentinel-5P satellite has revealed a significant decline in air pollution across Italy, particularly visible across the industrial north, where normally the highest values of nitrogen dioxide (NO2) emissions are observed. The difference is really noticeable, and if sustained will have an effect on the incidence of lung disease balanced only by… er… . A similar phenomenon has been noted over parts of China.
Pakistan: "The devastation caused by heavy rains in Khyber Pakhtunkhwa Province continued late last week when at least 11 people died and 17 were injured. Heavy rain has affected the province since 06 Mar., causing landslides, flash floods and buildings to collapse." (Floodlist)
Colombia: "Heavy rain that began late on 14 March caused flooding and landslides in areas near Bucaramanga in Santander Department. One man died after he was swept away by the flood waters. Two other people were injured. Local media said that around 100 families were affected." (Floodlist)
France: Ever-longer, hotter summers punctuated by extreme rainfall, unexpected frosts and battering hailstorms are forcing traditional Cognac brandy makers to consider changing to more resistant varieties of grape as their tightly controlled staple variety, the Ugni blanc, isn't coping well. (Guardian)
USA: is it ever going to settle down? "An intense storm could move into the center of the country later this week, bringing a return to wintry conditions. The far-reaching storm system will first bring much-needed snowfall across the Sierra Nevada early in the week, before slowly tracking through the Intermountain West on Wednesday. Blizzard warnings were issued for western Nebraska and eastern Wyoming. " (Accuweather)
New Zealand: Cat 2 double-cyclone Gretel battered the islands of New Caledonia over the weekend with strong wind and torrential rain and is headed with high seas towards the north of New Zealand. (Severe-weather.eu)
Madagascar: 140 k/h winds, floods. 4 dead.
Angola: floods.