Happy Holiday!
Special Holiday edition to celebrate Winterval.
Australian politicians celebrate Summerval, 25th December, when a traditional meal of roast koala is barbecued on the beach.
"Boy, what day is this?"
I can't help observing how, each year, the media seems to become evermore besotted with portraying the Christmas festival in a nostalgic, Victorian warm glow, replete with all the seasonal "tropings":
…festive robins, mince pies, presents, Dickens, carol singers, cards, good cheer, turkey, Santa, pudding, holly, presents, the whole family glowing around the fire, tinsel, baubles, presents, trees, recipes, more turkey, the Queen, presents, Morecambe and Wise's 1979 Christmas Special, lights, Lappland, elves, brandy butter, candles, mistletoe, children laughing, sleigh bells, reindeer, icing the cake, wise men, one too many Bailey's, baby in the manger, more presents, cards, oxen, turkey sandwiches, shepherds, skating on ponds, people greeting each other warmly in the streets, supernovae in the East, woolly hats and scarves, more presents, marzipan, turkey curry…. the first Easter eggs in the shops.
Why, it's almost as though the EU never happened. "Boy, what day is this?"
It doesn't feel like that at all. Perhaps we should change the name Christmas to "Mythology mashup"? While, of course, Holiday wouldn't be Winterval without… snow. Lots of snow.
Beyond the snug warmth of the radio or TV studio, the Lifestyle section of The Guardian with its tips for handy gifts costing only £400 and budget wine selections at £18 a bottle, women's magazines and their endless recipe ideas, as we know the reality is somewhat different.
I shan't depress you with images of working mums queuing at food banks between office cleaning jobs; the 130 thousand children in temporary accommodation, looking forward to going back to school hungry in two weeks; Leavers punching themselves in the head; the hundreds of Syrian orphans we promised years ago to take in, still being trafficked into sex slavery from the Calais jungle because the Daily Mail doesn't think they're deserving enough to be let in; mass turkey orgies in drafty church halls for the homeless and the elderly lonely; publicity-hungry World Leaders flying across the globe on First-class sleighs to bring photo-op cheer to the forgotten troops stationed wherever the enemy is poised to invade – nothing much on TV, no real news until there's the usual Boxing Day disaster somewhere, pine needles all over the carpet, exploding tree lights, drifts of shredded wrapping-paper and the washing-up still to do – that terrible sense of anti-climax on the 27th – but I ought perhaps to bring you back to reality where snow is concerned.
I used to enjoy visiting my stepfather's family home, a 15th-century Cotswolds manor house with its own village (houses were built to last in those days), as you could be pretty much guaranteed every year to get snowed in, and there was a Hawaiian-themed bar upstairs. Snow is not really a feature of Holiday UK these days, even at northerly latitudes. Indeed, to ensure the misery of hundreds of households whose Christmas trees will be sloshing around the living-room this year, some for the second time, there are something like 100 flood warnings out for the east and north-east of England this morning, where it has barely stopped raining for the past three months; while yet another storm is barrelling across the Bay of Biscay towards the south.
Back in 2017, my old boglposts remind me, the Met Office warned us that rain and floods would become a more regular feature as the region warms. The average British winter day is 2 degrees warmer now than it was back in the 1970s, when Christmas was Christmas and your Old Uncle still used to indulge happily in all the seasonal imagery, especially whichever trope contained the most alcohol, and there was often real snow on the ground. Remember 1982? I remember 1962! (Now I have just an artificial twig with LED lights on the windowsill as a nod to my childhood. It's not the same after your mum's gone.)
Indeed, the Old Bogler still clings nostalgically to memories of childhood Christmases: like the time he and his mother and her parents were ordered out of my other grandmother's house, the wealthy one, midway through lunch, when "Ben", my step-grandfather, City gent and unreconstructed Edwardian thug, learned that Grandpa Tomlinson – a career RAF officer – had voted Labour in 1946.
Being the only-child of two only-children who didn't get on, either with one another or with their own parents, has its advantages. Where other kids hung a stocking filled with sparse hope on the mantelpiece, above the stuttering coal-gas fire – yes, great-grandchildren, we used to do that – anticipating perhaps a tin-toy train and an orange if they were lucky, I would cheekily pin up two pillowcases, anticipating correctly that parental guilt would ensure they were full in the morning, of space ray-guns and joke blackface soap from Ellisdon's magic shop, a cowboy outfit and the Beezer annual.
I made no connection between my satisfaction with their parenting and the income they would have obtained as two struggling actors working in weekly rep. My own two children were brought up in deep poverty in the wake of my business failure in the mid-1990s without TV or the internet, deep in the countryside alongside our sheep, goats, pigs, cats, dogs, ponies and varieties of edible poultry. They were no strangers to death. As well as our own Christmas decorations, we made our own electricity with a clattery, 40-year-old generator and pumped our own well-water, until one day we discovered the increasingly foul taste was because the well was full of drowned rats.
I hope someday they will recall with a warm glow of nostalgia – rather than in the warm glow of a planet on fire – how we inculcated in them, values of thrift, self-reliance and a deep appreciation of what that first Christmas must have been like, two thousand years ago, when families lived in caves and your firstborn were traditionally slaughtered.
Winner of the Year
Denise Coats, the grasping, rat-faced female who founded online money factory Bet365, paid herself £323 million this year.
Fifty-five thousand children under 16 in Britain are reported to have an addictive gambling habit.
Postscriptum
Iain Duncan Cunt, the architect of Britain's failed Universal Credit experiment that has killed hundreds of people and driven many thousands more into dire poverty owing to the sheer cruelty and incompetence of its execution, has been knighted in the Queen's New Year's Honours list.
It just shows that it doesn't matter how evil you are in life, honors always come to the dishonorable.
I for one will be delighted if she accidentally removes his tortoise-like head from his shoulders with her ceremonial sword, or if the ribbon tightens around his scrawny throat and he can't get it off until his lungs burst, or if he finds it easier with his knighthood to book a table in a restaurant and he chokes to death on a bit of something expensive.
Otherwise, just a normal death in 2019 will do. Perhaps his black heart will rot, emanating a foul stench.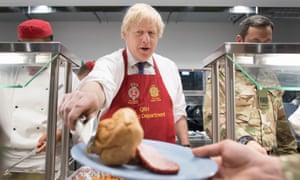 If only Victoria Wood had lived to see this.
On the front line in Estonia, Baris doles out oven-ready poussin with more than a slice of ham to one of our 600 brave British boys facing down a million Russians across the Baltic.
Meanwhile, as the heavily redacted MI5 report on Russian money pouring into the Conservative party continues vitally to prop up one wonky leg of the cabinet table at Number 10, questions are being asked about the Prime Minister's more-than cozy relations with Putinist mini-oligarchs Alexander and Evgeny Lebedev, father-and-son owners of the Evening Standard (editor: former Conservative chancellor, George Osborne).
Reports allude to the bunga-bunga parties Baris has attended on their hospitality, both here and at their sprawling Italian villa (where "anything goes", with "mountains of caviar" to follow) – even while he was Foreign Secretary, making him, one would have thought, more than a security risk – and a lavish, celebrity-spangled dinner held in London the weekend before last to celebrate his election victory the previous day.
Attention has been drawn to one especially notable dinner Baris hosted for Evgeny at his  Islington home in February 2016, with guest guest Michael Gove, where the three men reportedly discussed in private how they were going to handle the EU referendum.
Have we possibly been betrayed to a hostile power, like our American cousins?
By the Conservatives? Perish the thought.
The Great Escape
The Duke of Edinburgh, 98, has been admitted to hospital again, his doctors say as a routine precaution.
It seems to this old cynic that he's more likely to have had himself admitted to avoid having to spend Christmas with his ghastly family, trying to coax Andrew out of the bathroom where he's locked himself in, having to separate the Cambridge woman from Meghan Sussex as they roll around, kohl-eyed on the Aubusson carpet, pulling their hair and scratching one anothers' eyes out.
("You bitch!" "You slag!" "You tosser!" "One is an absolute Muppet!")
Instead, he is reportedly sitting up in bed, cracking jokes with the nurses. Let's hope they're not too racially inappropriate.
I too am spending Winterval on my own*, unable to contemplate being without Hunzi and Cats, which – owing to difficult travel arrangements – I should have had to be, were I to have accepted an invitation from my ex-family to join them in London for three days of jollity comparing medical notes.
Oh well, as the song goes, we'll catch up some other time.
*Except to spoil a good story I was just writing this when a kindly fairy godmother appeared on the doorstep and invited Hunzi and me to lunch with her family. Sigh, more shopping. I'm sure she just felt sorry for the dog….
Quote of the hour
"I should avoid reading the Culture sections from now on, I no longer have any idea who anyone is, or what it is they're doing." – Uncle Bogler
The Operator of Last Resort
As Southerners and Nor-folk wade through thigh-deep floodwater to do their final bits and bobs of shopping – festive wet suits are going well – spare a thought for Northerners whose Christmas train services have been hit by "unprecedented levels of sickness" among train drivers already scheduled for extended holiday breaks.
(Note; In his last posting as a domestic caretaker, your hardy Uncle B. took only one day off sick in six-and-a-half years, having had surgery under general anaesthetic. He still remained on-call. These so-called working-class people nowadays, with their 60-inch TVs and DFS "pay nothing now" sale-bargain sofas don't know they're born.)
The operator, Northern Rail, has managed to get only 56% of services running on time so far this year, consumer protests tipped over into the popular Northern vote to Get Brexit Done, hoping Baris is such a big fascist he can make the trains run on time, and Department for Transport is taking the matter quite seriously, promising:
"We are developing contingency plans for the replacement of the current franchise with either a new short-term management contract with Northern or The Operator of Last Resort."
The what? That sounds ominous, in an increasingly secular society. Who in God's Holy Name is The Operator of Last Resort? It's like calling in the Grand Inquisitor, the Witchfinder-General, the guy with the nuclear football or Sir John Humphrys*. What if The Operator fails in his task? What then? No more railways?
Or maybe it's Sir Rod Stewart?
A quick check with Wikipedia reveals the fascinating information that, despite its doctrinaire opposition to renationalizing the rail network, since 2012 the government has in fact had a plan for doing exactly that, on a franchise-by-franchise basis, with Department for Transport poised at a moment's notice to take the running of the railways back in-house, operated by a consortium of engineers and accountants – and the French government.
Sneering Tory warnings therefore that Corbyn was planning to bring back the bad old British Rail days we remember from films like Brief Encounter, all clouds of sooty steam, desultory affairs and sad farewells over curly sandwiches, were – as one might have expected – totally hypocritical.
They've been planning it all along.
*You wait. New Year's honours…. first broadcaster K'd since Sir Trevor McDonald. Listen for the sound of gritting teeth.
(Original reporting: Guardian)
Have a great whatever and a suitably bereft of hope New Year!
UB, carolling in concert with The Pumpkin and your old Granny Weatherwax (Global Warmed). Christmas greetings too, from our excellent editorial team: Political editor, Laura Facebook, @laurasweeplace.sco; Football correspondent and Brazil's retired midfield supremo, Boglinho; and, of course, Economics editor, Sterling Pound, @longliquidlunch.urg. Greetings, one and all.
Look, they're waving.

GW: 'Tis the season to carry a brolly

Indonesia: At least 6 people have died after heavy rain triggered flash floods and landslides over the last few days. Days of heavy rain caused several rivers to overflow. Almost 9,000 houses in over 200 villages have been damaged and over 60,000 people have been affected. (Floodlist)
Philippines: Yet another typhoon,  "potentially dangerous" Ursula (Phanfone) has intensified to upper Cat 1 and is expected to make landfall on Christmas Day. Warm waters may support further development before it hits. (Severe-weather.eu)
Update: 110 mph winds as Phanfone hits the coast at Cat 2 causing extensive damage, power outages and travel disruption. No reports of casualties.
USA: "Much of the North American continent will experience unusually high temperatures into early January. At the same time, an intense cold outbreak will affect much of Alaska and the Yukon into New Year. Extremely low temperatures are expected – well below -40°C, locally more than 30°C colder than normal for this time of the year." (from Severe-weather.eu)
Europe: Storm Elsa brought 100 mph winds and heavy rain across parts of northern Portugal and Spain on 19 Dec. 4 weather related fatalities were reported. Flooding also affected parts of Andalusia in southern Spain and strong winds caused power outages in southern France. 12 crew were rescued after a cargo ship was driven ashore in a fierce storm on the island of Sardinia, 21 Dec. Parts of the south and east of England have been battling extensive flooding after days of heavy rain. Houses have been flooded-out, whole villages underwater, farmland inundated and transport affected. More is forecast, with over 80 warnings out currently – although Xmas Day is expected to be dry.
Australia; A new heatwave with localised pockets of extreme heat will bring a return to dangerous fire conditions across South Australia on Saturday and Sunday, reaching NSW and Victoria on Monday. Temperatures may reach 45C in Penrith, 37C in Sydney and 35C along much of the NSW south coast on Monday. Thousands of Queenslanders are without power, Christmas Day, after severe thundersorms.
Tunnel Approaching…
Canada: Three shallow <M5s followed by a M6.0 earthquake struck in the Pacific northwest, 23 Dec., off the coast of Vancouver Island; since when there has been an M4.8 and another M6.2 on the 24th. No damage is being reported. The quakes are at the northernmost end of the Cascadia subduction fault, on the edge of the Juan de Fuca plate. Simultaneously, southern Mexico going into Guatemala had an upper M5, maybe M6.0. (Dutchsinse)
Lebanon: After 30 years of corruption, squabbling and incompetence following the civil war, the "economy is disintegrating at an alarming rate, sparking a currency devaluation, a mass flight of money, restrictions on withdrawals, a grave threat to the country's banking system and a guarantee that – without a foreign bailout – the country will default on its enormous debts by March at the latest." (Guardian)
Space: One of the biggest stars in the Orion constellation, Betelgeuse is about to explode as a supernova, say astronomers, ending a tradition of jokes about "beetle juice". It's expected to happen sometime in the next 100 thousand years.
Happy New Year: The 17 Dec. post of Arctic News website offers the enticing prospect of human extinction by the end of 2020. Yes, next year.
There are a few "If"s involved, obviously.
Basically the blue line on their graph goes on rising incrementally, based on 1880-2019 data and current rates of emissions, and hits 3 degrees by the end of the decade – which is bad enough.
The red line factors in things like an El Niño, rising ocean temperatures, a methane 'burp' from the warming Arctic and a more logical way of measuring things that makes allowances for historically missing data and a 1750 startline. It's based on the faster rate of increase since 2009.
From today, roughly, the red line takes off like a startled grouse and disappears off the chart at 3 degrees by the end of next year.
Now, humans are pretty resilient. Let's recall that in the 20th century, two world wars killed around 120 million people. Inbetween there was an influenza pandemic in which 80 million died around the world. Famines in India, Russia and China accounted for perhaps another 140 million people. Plus there's always a natural rate of attrition – about 57 million people die around the world each year, 0.8% of the total. Yet the population bounces back and goes on rising. We're at about 7.6 billion now.
So it's debatable how long it might take to get down to the last human at only 3 degrees. Probably decades, it's hard to kill us. But from 3 it's a short step to 5, or even 10, and that really is curtains. And there's a clue in that word "bounceback".
There's no bouncing back when the planet can't sustain us anymore.
Happy New Year!