The steady trickle of body bags
I was disturbed, when I'm normally complicit in our mutual liberal-lefty echo-bubble, by last Friday's edition of the Rachel Maddow hour on MSNBC. Rachel is a cool-headed analyst not normally given to hyperbole, but her rundown of all the terrible things that are going to happen to America as a result of the assassination of Iran's General Suleimani played straight into the hands of Trump and his gang.
Autocrats – dictators and tyrants of whatever stripe – thrive on popular fear, and Trump set the tone right from his inaugural address three years ago, ramping up fears of immigrant crime and imminent social disintegration in a broken nation, that only he could put a stop to.
Americans are the most fearful people on the planet, as he well knew. Everything terrifies them, from supposedly foreign ideological constructs like the British National Health Service, to their own government.
But for some unfathomable reason, the majority of voters seem to have no fear of real things that are being done to them:
being stripped of their already limited opportunities for subsidized healthcare: 27 million Americans had no health insurance in 2019
seeing billionaires receive huge tax concessions when their own taxes are in some cases increasing and their modest wages remain stagnant
being supplied with polluted water and carcinogenic or climate-changing chemical emissions to benefit private corporations and corrupt public officials
watching the president play golf three days a week at a cost of, now, $120 million to the public purse while he and his family benefit to the tune of millions of dollars from clear abuses of his office
the deaths of 60 thousand Americans a year from opioid abuse promoted by rapacious pharmaceutical companies; 33 thousand more from gun-related crime and accidents
the egregious corruption of executives of institutions like the National Rifle Association and the department for agriculture, with its well-funded refusal to ban teratogenic chemical poisons
mass shootings in schools, churches and synagogues, mostly by white supremacists
the opening up of protected monument lands and popular hunting grounds to extractive industries in whose pockets their politicians sit stuffing their faces
the refusal to acknowledge scientific facts regarding dangerous shifts in weather patterns caused by climate breakdown, for the benefit of political funders in the extractive industries
the packing of courts with judges whose only qualification is loyalty to the president and his henchmen, the subversion of the Justice Department and attacks on law enforcement agencies
appalling patriarchal laws limiting women's rights and criminalizing even natural abortion
the emergence into daylight of the influence of organized crime hand-in-glove with extreme fundamentalist Christianity going right to the top in national life
the rolling back of environmental protections and planning laws; the poisoning of their water supplies
the introduction of dangerous instability, bullying, extortion and brinkmanship in international relations
the lack of an effective opposition in Congress.
None of these public abuses and more seems to create anything like the terror in Americans as does the absurd implausibility of the suggestion that Iran might somehow invade or fire nuclear missiles which they don't yet have at the United States in retribution for the extrajudicial killing of one of their leaders.
Certainly, if hijacked airliners were to crash into Trump Tower now, we all know who would be getting the blame, regardless of any and all evidence to the contrary.
Mr Trump's – and by extension, America's – rambunctious imperialist bullying only works with such smaller, less lethally armed and invasively inclined nations as are incapable of inflicting any real and lasting damage to the homeland.
Beware, however, the ability of ideologically motivated peasants in flip-flops to conduct asymmetrical warfare for years in their own lands.
The steady trickle of body bags.
Speaking of which, have you seen what that drone did to Suleimani's car? He wasn't alone – wasn't driving. There were others in there, including the senior commander of Iraq's Shi'a militias, a PR man and the driver.
I see the funerals taking place, the coffins – but I'm not convinced anyone knows who, what or how much is really inside them.
And, yes, okay, he was a bad guy. Was the poor bloody driver a bad guy too?
A tale of two shitties
Amid speculation on US TV about the decision to whack Suleimani, two stories may be true.
One, that Trump was going around for days telling everyone, including his higher-echelon ($200k a year) private members at Mar-a-Lago, with a conspiratorial smirk, that something really big was about to blow over Iran and they should keep an eye on Fox News.
So much for a rapid response to a threat of imminent attack. But it seems to have allowed his golfing buddies to get their lucrative bets down on the stock market.
The other, that the option of whacking Suleimani was just one on a list of a dozen ideas the Pentagon had sent over at his request. Apparently it was on the list only because they thought it was the last thing he would be dumb enough to do. Pompeo and Pence persuaded him otherwise.
The only press that has come out in full favor of Trump's action has been Murdoch's Wall Street Journal.
I wonder why. What could their readers possibly have to gain?
And a third shitty:
"A 2009 study conducted by researchers at Harvard Medical School found 45,000 Americans die every year as a direct result of not having any health insurance coverage. In 2018, 27.8 million Americans went without any health insurance for the entire year."
The Guardian America story reports workers being fired purely over a medical diagnosis – Walmart imposes a strict limit on the number of days you can take off work – voluntarily giving up treatment and dying because their savings have run out.
Welcome to Trumpland, Brexit idiots.
I know what you're going to say
Ha ha! After three days living with Alexa, I just called: "Alexa, please play…" and as I hesitated for one brief moment, she jumped in: "Here's a station you might like – vocal jazz."
It wasn't exactly what I was going to say, Norah Jones is good if a bit C&W oriented, but a valiant first attempt at mind-reading. Also, it was a song about rain. It's teeming down outside.
And rain is an anagram of…. Iran!
How spooky is that? 😉
And deliver us from the 21st century
I'm just now listening to some of my old vinyl records on my new £99 transcription turntable. You know, with the five-star reviews.
It took only about 40 minutes of working with the inexplicably small and useless diagrams I can barely see through my elderly vision impairments, using a torch, to figure out how to build the flimsy plastic Sony turntable from scratch, using matchsticks, an old cocoa tin and a skinny rubber band.
Surely to God they can sell these things in one readymade piece? Without nasty, crunchy little push-buttons? Maybe with a bit of hydraulic damping of the tone-arm? A spare stylus? And would a little LED light to show it's operating really have broken the bank?
But I didn't spot until I had already hanged myself in the garage, the little switch right at the back that frees the output phono plugs to talk to the phono plug inputs on my active speakers. I'd feared for a while there, I might have had to go back online to buy a separate amplifier and wait in another day for Hermes to deliver it.
As you can gather, rather like my old vinyl records I'm a bit scratchy today.
It's partly because I'm being relentlessly pursued by a cheery email from Amazon, apologizing that they hadn't been able to deliver my turntable because I was out when the courier called, only don't bother replying to this email because it won't be read. So I can't tell them it's already here.
The last time this happened,  they sent me another whatever it was in the post the following day. If I end up with two turntables, I thought, I shall take it as a sign to become a DJ, whatever, as I can't see to drive to the recycling center.
I'd already determined in fact that the turntable hadn't been delivered, because after I risked taking Hunzi out for 15 minutes to uncross his legs at lunchtime I checked the tracking information just in case, and it told me that the driver had called at 1.30 pm, a time when I know we were in, only apparently we were out and he hadn't delivered it.
I could check the non-delivery note or go to their website and do 'x' or 'y' if I wanted more information. I would be allowed two more chances to be in when he called again.
I'd already determined that there was no non-delivery note, and going to the website I was unable to find an address for 'x' or a link to 'y' anywhere visible. So I gave up, trusting that they might just try again the following day, and began composing one of the worst one-star rancorous Trustpilot reviews that my spleen could manage.
At precisely 2.00 pm there was a knock at the door; whereon opening it, a courier presented me with a Sony-branded box containing a flimsy plastic £99 transcription turntable. 'Did you try delivering that earlier?' I enquired. 'No, mate', was the reply. 'It's only just arrived at the depot.' He declared himself mystified, accepted my scrawled signature and left.
As I said at the start, I'm listening to a slightly collectible vinyl album recording of Mark Murphy's Brazil Song on my new, flimsy plastic £99 transcription turntable. You know, the one they haven't yet delivered. That took 40 minutes to put together and get working from the terrible tiny instructions after I found the tiny switch at the back.
But I now have a new record – as being someone who cannot be relied on to be at home when the courier doesn't call, who needs to be pursued with more instructions that don't make sense.
Anyway, it works, and the sound quality is not too bad, surprisingly.
Clever old me.
Except that, a few days after I'd ordered the thing, an Alexa Echo spy-in-your-home unexpectedly arrived, a Christmas present-cum-disability aid from my ex-family. 'Alexa, play album, Brazil Song', Mark Murphy….
Anybody want some old vinyl albums? Transcription turntable, almost new? Ready assembled?
(Aren't vinyl albums annoying? You get only 20 minutes a side before you have to turn them over. No bonus tracks. No time for a snooze.)
GW: Baby light my fire
Israel: "At least 4 people have lost their lives after flooding swamped parts of the country following heavy rains on 04 and 05 Jan., 2020. 2 people drowned in an elevator. Dozens of rescues were carried out. 74mm of rain fell on Tel Aviv in 2 hours, around 20% of its annual rainfall." (Floodlist)
Australia: may be grateful for a change for a tropical cyclone, Cat 1 Cyclone Blake is the first of the season for Western Australia and will bring heavy rain and strong winds to the Kimberley region, having made landfall near Broome, 5 Jan before moving briefly back out to sea and reintensifying to Cat 2. (Severe-weather.eu)
Angola: 1 person died in flash flooding after a continuous 12-hour downpour in Luanda province. Several hundred are homeless. (Floodlist)
Turkey: Floodlist reports, 8 Jan., "Severe weather including strong winds, rain and snow has affected wide areas of Turkey over the last few days." 2 people died after heavy rain triggered landslides and flooding in the southern province of Mersin, where 165mm of rain reportedly fell in 24 hours.
Israel: "A second severe storm in 4 days brought more heavy rain and flash flooding to parts of northern Israel. 1 person died in floodwaters as he tried to rescue passengers trapped in their car. Emergency services rescued people from flooded homes and trapped vehicles." (Floodlist)
USA: Accuweather is reporting on the potential for yet more storms coming out of the Gulf into  southern states later in the week. In Texas, Oklahoma and Louisiana, "millions of Americans are under threat for severe thunderstorms, including the potential for tornadoes."
In South America once again, parts of both Peru and Colombia are under quite severe flood threat as rivers overflow after heavy rain, with many hundreds displaced.
UK: Thanks to the winter of 2010 when your Old Granny froze her skinny ass off in an unheated building undergoing refurbishment, despite a record number of heat records being set last year the Met Office has declared that the decade 2009/19 was only the second warmest in the temperature record, the honours going by a whisker to 1999 to 2009.
Observed over a gap of 100 years, during the period 1910 to 1920 as many cold records were set in the UK as heat records were set last year; the exact reverse was true too, with only one hot year record broken in the 1910s as opposed to 8 in the 2010s. The 10 warmest years – 2019 wasn't even one of them, apparently – have all occurred since 2002.
Faroe Islands: 7/8 Jan., and it's a rough old night in the North Sea. A very large, twin-core cyclone with hurricane-style low pressure – 940 mb and deepening – is centered over Iceland, bringing winds gusting over 140 mph and 50-foot waves to the Faroe Islands and the northern isles of Scotland.
Arctic: measured over Iceland in the past few days, the polar vortex high up in the stratosphere has recorded its coldest temperature in five decades of measurements, 600 km/h winds cooling the top at about 25 km altitude to minus 96 Celsius. Not sure what it means, but the clouds over Finland sure look pretty: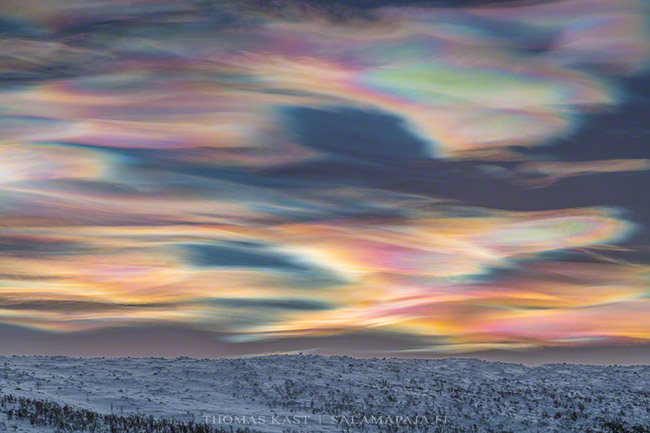 Photo: Thomas Kast. Story: Severe-weather.eu
Tunnel approaching….
China: "Health authorities in Wuhan first reported 27 cases of an unidentified pneumonia-like illness at the end of December, a figure that jumped to 59 as of Sunday. The patients, seven of whom are in critical condition, have been quarantined. There have been no reported deaths. Symptoms of the mysterious virus include fevers, problems breathing and invasive lesions to both lungs." (Guardian)
Yellowstone: Newsweek reports, "In its monthly update of activity, the Yellowstone Volcano Observatory (YVO) confirmed there were 48 eruptions last year (2019). That's 16 more than the previous record set in 2018, when there were 32 eruptions at Steamboat." Up to then, the average activity at the world's tallest geyser had been 2 to 3 eruptions a year, although 1964 set the previous record, with 29. At one time, 50 years passed without any activity at all.
Bushfires: An old Comment thread I found from October 2018 under a Guardian story on the great Australian drought has numerous contributions from ordinary citizens expressing profound concerns for a devastating season of wildfires that year. 'Kickthismobout', for instance, contributed:
"Between 1900 and 1970 there were 13 Major bush fires, which is 1.85 per decade.
1970 – 1980 – 4 Major bush fires
1980 – 1990 – 3 Major bush fires
1990 – 2000 – 7 Major bush fires
2000 – 2010 – 16 Major bush fires
2010 – 2016 – 25 Major bush fires (15 Major bush fires in total, averaged out over projected decade, could be more)."
So let's not pretend Canberra was not warned.
The 2019/20 season is about halfway through and already more than 800 fires – many merging together along fronts measured in hundreds of Km, to make calculating the numbers of 'Major' fires pretty well impossible – have burned uncontrollably through 6.3m ha – 15.5m acres – across four states, much of it forest rather than scrub. Around 2,400 properties so far, and 28 lives have been lost.
Tens of thousands of internally displaced refugees, mass evacuations, clogged roads and beaches, the military called out – toxic air quality in five cities…. It's already the worst fire season in the country's entire white history.
Presciently, 'Kickthismobout' asked: "What kind of disaster will it take to wake our bloody leaders up?"
Well, now we know. No kind of disaster at all. After days of inaction and gladhanding, reviled PM, Scott Morrison has eventually pledged Aus $2bn for 'reconstruction', and has gone on Facebook (along with the other fake news merchants) to advertize what a great job he's doing.
Many other 'bloody leaders' have continued to deny that climate change even exists, let alone has any responsibility for the seemingly endless, lethal drought and are refusing calls to limit the burning and export of coal.
Whenever devastating wildfires are mentioned, with their huge contribution to the CO2 burden, almost nobody seems to have noticed that 16m Ha, 35 million acres of Siberia's vast boreal forests also burned through between April and August 2019.
Perhaps it's because not many people live there.
And it's an interesting question, isn't it. Are we causing these wildfires, or are they merely a perennial problem in nature?
Well, some are obviously the result of arson, or of carelessness while camping, or of accidents to man-made power lines and overheating compost heaps. But many more are set off by lightning, a natural phenomenon. And aren't wildfires contributing to the CO2 burden, and therefore a principal natural cause of a warmer world – not us?
But if droughts in parts of the world are getting longer and deeper and average temperatures are increasing, leading to greater extremes, then there's a pretty good connection with changing overall climatic conditions that are the predicted result of adding 37 billion tonnes of CO2 annually into an increasingly carbon-rich atmosphere.
And it is an unfortunate fact that the more CO2 is added to the atmosphere the warmer it gets, leading to further increases in the emissions of CO2 and 39 other warming gases.
The added CO2 emissions from wildfires are therefore part of a vicious circle, that begins with us.