We're really sorry, Prime Minister, it was an experimental vaccine….
Editor's statement – a statement from the Editor
6 April: We are keeping a watching brief on news of Baris Johnson as he has been admitted to hospital with the virus he used to make jokes about, and will, we suppose, have to delete the joke above if things take a turn. This is why we have found it so difficult to continue normal service as we are no longer living in normal times.
UB
Update: Tuesday, the PM is now gravely ill but stable in an ICU at St Thomas' hospital, London.
Editor's previous statement
Dear Spammers, Likers, Followers and Those No Longer Reading This, etc.
22 March: Developments this evening have taken a rather alarming turn. The German chancellor is in quarantine. Prince Charles has tested positive. The Democrats have blocked Mnuchin's bailout bill, leaving tomorrow morning's markets suspended over a cliff edge. Lockdowns are about to become lockdowns. Around 18 thousand new cases were reported globally today, New York alone is up to 15 thousand and three more countries brings the total to lots. Very few viral pandemics will have spread so fast and with such a toll on the at-risk categories.
I'm afraid I can't squeeze any more mordant satire out of the situation. Evil people are at work, making the most of it. I'd rather not be considered one of them. I'm also being driven spare by the faults developing in this, muh li'l laptop. Consequently The BogPo is shutting down while we get on with some DIY gardening and catch up with our drinking. The usual information sources are available, make what you will of them.
I hope to return soon. Ed.
Meanwhile, here's some extra reading material:
buzzflash.com/articles/the-deconstruction-of-the-administrative-state-the-trumpidemic2020c-and-the-forked-road-for-trumpite-triumph-from-electoral-victory-to-the-establishment-of-dictatorship
And Randy Rainbow latest must-watch:
http://www.youtube.com/watch?v=2Kydr2a7Uy4
Random addenda…
The Madness of Jair Bolsonaro
President Jair Bolsonaro of Brazil is the last notable holdout among major world leaders in denying the severity of the coronavirus. Brazilians, he declared last week, are uniquely suited to weather the pandemic because they can be "dunked in raw sewage and don't catch a thing." – New York Times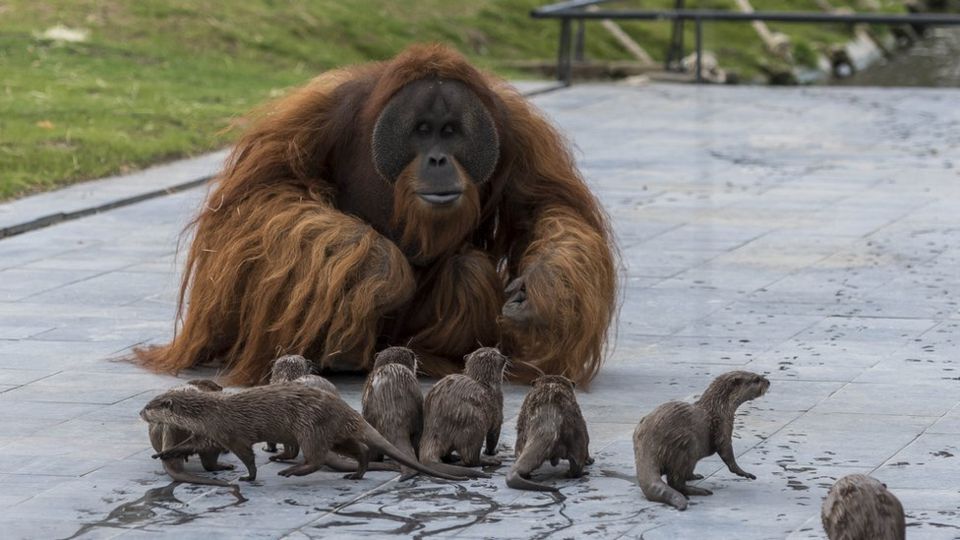 "Have I told you, Best Beloved, about how the humans came to lose their shit?"
Superforecaster corner….
From The Pumpkin – Issue 79 (20 March, 2019)
"And if no indictments are to follow, with no moderating influences left either in the White House or in the congressional Republican party, and any opportunity taken to claim his Democratic opponents have demonstrably been involved in a hoax witch-hunt, Dictator Trump now has a heaven-sent opportunity to let rip.
"It could be calamitous."
(04 April, 2020: reported pandemic Covid-19 cases in the USA at 10.30 am GMT: 277,522; deaths 7,403.) (Update 5 pm 6 April, cases 377,605; deaths 11,784. Update: 2 pm 8 April cases 400,549; deaths 12,857 and Trump is still president. How? Why?)
The Madness of King Donald…
I keep doing this, don't I. But it's irresistible, chronicling the madness with which our human civilization is rushing toward its inevitable end.
"What do you have to lose?" (Trump) said Sunday. "They say, take it. I'm not looking at it one way or the other … If it does work, it would be a shame if we didn't do it early. I've seen things that I sort of like, so what do I know?
"I'm not a doctor."
Doctor Trump ('My uncle John' – an electrical engineer – 'was a great scientist') repeatedly plugs the as-yet unproven if possibly very mildly efficacious snake-oil, Hydroxychloroquine – yes, he has shares in a company that makes it – as a cure for Covid-19 on the basis of a widely discredited French trial involving just 42 patients, 11 of whom died. So scarce has the 52-years-old malaria medication become that he has leaned on his friend Modi to divert India's entire supply to cure his ever-believing, gullible dumbfucks and – if enough survive – get himself re-elected.
http://www.theguardian.com/world/2020/apr/06/hydroxychloroquine-trump-coronavirus-drug
In his latest rambling diatribe to the nation, Trump has lied copiously that 'four' US doctors have been sent to treat his great friend, Boris Johnson; that US pharma companies are providing medicines to cure him and that he is considering granting a desperate British appeal for "200 ventilators" that were in fact already on order in the normal way from a US manufacturer. What a filthy lying dog this man is.
Last week, Trump boosted his ratings by triumphantly waving off the Navy hospital ship, Comfort, on its mercy mission to help save New York from a Bergamo-style coronavirus meltdown amid chronic shortages of medical supplies, which Trump is still encouraging the manufacturers to sell to the highest bidder in the international market ('good for my economy, fuck governor Cuomo, goddam Deep-State Wop Democrat daring to criticize my sensationally successful management of the crisis, drivel-slurp…').
The 500-bed Comfort docked in the Hudson river two days ago and has since admitted only 20 patients, none of whom has the coronavirus – a highly infectious disease organism which, under Navy quarantine regulations, they are not allowed to treat onboard.
Meanwhile the Orange Nightmare has forced the Secretary of the Navy to fire the captain of the aircraft carrier USS Theodore Roosevelt for sending a demoralizing plea to the Navy office for help dealing with a major outbreak of coronavirus onboard. The lower-ranking official ordered to carry out the firing has resigned.
Still with no Federal-level response to the virus despite having made himself responsible for tackling it by declaring a national emergency, Trump today focussed his efforts on firing the Inspector-General for the Intelligence services, the official who referred a whistleblower's concern that the president was blackmailing the leader of a foreign country to fake charges against his opponent, Joe Biden, to the Department of Justice, as his job legally required him to do.
He's also fired Stephanie Gruesome, his fourth Comms director, and appointed a virtually identical-looking Trump-sucker so bonkers, so fanatical she makes him look statesmanlike – threatened to defund the World Health Organization for being too nice to China – and issued an Executive Order authorizing his space force to 'mine the Moon'.
He is fucking nuts.
Those are the priorities of the ignorant and demented sack of egotistical shit in the White House: to seek revenge on his perceived opponents, even those who were merely doing their duty; to make himself 'look good', and to maintain the ratings for his daily show while his country sickens and dies. (32,500 new cases just today, 05 April)
A Siberian tiger in the Bronx zoo has tested positive for coronavirus among several big cats that have been displaying symptoms. Apparently transferred by an asymptomatic human keeper, it seems somehow ominous. What is this thing?.
Call cull
Meanwhile in the UK, hordes of medieval village zombies are going around attacking phone masts and BT broadband engineers, who have nothing whatever to do with cellular telephony, in the belief, propagated by certain minor celebrities who need to be imprisoned for spreading false rumors, that the coronavirus is being propagated by 5G signals in a government plot to kill everyone.
Do we really need banks?
My bank has mailed me with the cheery announcement that it's reducing the interest rate on my savings by 0.65%, which by my calculation means I'm paying them to borrow my money.
Sympathetically, however, they go on: "We appreciate that the current economic conditions are making it challenging for savers. As a result of this change, you also have the option to close your account…." Oh, thanks. Maybe I'll just buy another guitar.
Meanwhile, awash with cash and failing scandalously to distribute the vast amounts of QE the Bank of England is pleading with them to lend to Covid-strapped employers, they've just hiked the interest on our overdrafts to 39.9%.
Why are these cheating, greedy, overpaid, motherfucking sons (and in the case of my bank, daughters) of bitches not being put in prison? Do we really need banks? What do they actually do for us?
One or two other things that may have been masked:
Arctic sea ice extent this winter was only the 11th lowest on record (NB extent is not volume, volume is less than ever) but a spring melt has begun that is faster than any previously recorded as sea surface temperatures pushing up from the north Pacific and Atlantic above the Arctic circle are 20C above average and the ice is really thin. Shall we have blue water by September?
Comet C/2019 Y4 ATLAS will soon be visible to the naked eye, and by end-April if it hasn't been frazzled as it orbits close to the sun will be visible even in daylight as it is probably the biggest and brightest comet anyone has ever seen, being much larger even than the planet Jupiter. (Severe-weather.eu) The ancients regarded comets as portents of dreadful events. They weren't always entirely wrong. Oldies may recall 1987 and Comet Hale-Bopp, a baleful looking visitor that was high in the sky on the night Princess Diana and the ghastly but widely revered Mother Teresa both died.
US scientists have developed artificial intelligence that can turn brain activity into text. While the system currently works on neural patterns detected while someone is speaking aloud, experts say it could eventually aid communication for patients who are unable to speak or type, such as those with locked-in syndrome. Or lazy bloggers. possibly? (Guardian report)
Keepers at the Royev Ruchei Nature Park in Krasnoyarsk, Siberia, who've elected to be locked-in with their charges, noticed that with no visitors to entertain them, the chimpanzees were becoming depressed. Siberian Times reports: 'After seeing them getting sad we decided to put up a TV set on a wall, and started showing cartoons. Their favourite is a Russian cartoon about an exhausted mother monkey who lives in a zoo. They are ready to watch it non-stop', said park's director Andrey Gorban. Another favourite is The Lion King.
It does certainly look like the animal kingdom has quickly grasped that humans are staring into the abyss. Could it be the beginning of the end of our brief time as the dominant species on Earth? Reports are popping up everywhere of nature rewilding our towns and cities; feral goats, deer, monkeys, bears and coyotes roaming deserted suburban streets, while the dearth of traffic has led apparently to an effusion of celebratory birdsong unheard in recent times.
Finally we have to record the tragic story of a young Australian astrophysicist, Dr Daniel Reardon, who was rushed to hospital with four powerful magnets jammed up his nose, after he tried to invent a method of alerting Coronaphobes to the disturbing possibility that they were about to touch their faces. From his hospital bed, he confessed he had had no idea what he was doing as he had never invented anything before.
GW: glug
Vanuatu: tropical storm Harold intensifying to possible Cat 4 cyclone arriving by Tue 7 Apr. (Severe-weather.eu)
Update: Monday, 6 April Harold crossed the islands as a monster (920 mb) 175-mph Cat 5 and still intensifying, is headed for Fiji and/or Tonga as the second most powerful storm ever recorded in the region. (Severe-weather.eu) Up to 70% of the buildings have been damaged in the islands' second city, Luganville, which has been cut off by flooding, landslides and debris. (Floodlist) 27 people are drowned or missing after being blown from a ferryboat whose skipper had ignored storm warnings. (BBC)
Iceland: a kick in winter's tail, a deep cyclone has been bringing hurricane-force winds and up to a meter of snow in the north, heavy rain in the south. (Severe-weather.eu)
Spain: dozens rescued from floods after record rainfall in Murcia.
Iran: 21 dead, hundreds displaced in floods.
Colombia: hundreds displaced by flooding and a huge landslide.
Indonesia: 3 dead, 2 missing, hundreds affected by floods in Bandung.
Papua New Guinea: hundreds displaced by floods.
Afghanistan: 11 dead, hundreds affected by flash floods.
(all Floodlist)
Tunnel approaching….
Balkans and eastern Europe: widespread fruit and vine crops destroyed by sudden -8c freeze.
Europe: another summer of heatwaves is anticipated, based on historic data showing cooler waters in the North Atlantic, as churned up by this year's highly anomalous cyclone activity, usually lead to hotter summers in Europe and the USA where, according to Copernicus' modelers, a more active hurricane season can be expected from the rapidly heating Gulf of Mexico.
Meanwhile, having missed out on an El Niño last year, it looks like we're into a La Niña year, in which cooler waters in the southern Pacific lead to a stronger hurricane season in the Atlantic. (Severe-weather.eu)
Turkey: Up to 70% of the world's hazelnut supplies could be threatened by a plague of the brown marmorated stinkbug. Native to north-east Asia, it's been spreading across the world in shipping containers, breeding freely thanks to warmer temperatures and a lack of natural predators. (Guardian)
"Almost half Tunisia's 670 km (420 miles) of beaches are acutely threatened by coastal erosion, according to the State Agency for Coastal Protection and Planning. The cause is a mix of rising sea levels, construction and more extreme weather patterns exacerbated by climate change. In the last 5 years, Tunisia has seen 3 "1-in-20-year storms" (Floodlist report)