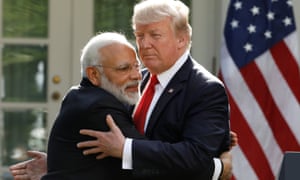 "Thank Vishnu, I've found someone even crazier than me!"
Photograph: Kevin Lamarque/Reuters
"In 36 days' time there will be only resistance left."
Welcome to the Resistance
In a month and one week from now, at midnight on Friday 29 March, Britain will leave the EU, almost certainly without a working deal for a transitional arrangement while a permanent settlement is negotiated.
At which point, it will be too late. Under EU rules, a permanent settlement will not be available after a Brexit without a deal. The settlement will be as it is: a complete and devastating break.
Forty-six years of co-operative engagement with almost the whole of the rest of Europe will end. Tariffs and visas and customs controls we thought we had done away with forever will be reimposed, food prices will rise, and the rights of visa-free movement and settlement and reciprocal free medical treatment will be abrogated, just like that.
Hundreds of British MEPs and civil servants will troop back to the UK and an uncertain future.
In time other rights, safety standards and product convergence we have long enjoyed will disappear, along with our obligations to our treaty partners; who are themselves, thanks largely to the British vote, under threat of divergence and breakdown.
We will default on the €39 billion it has been accepted we were already committed to pay, and walk away with no satisfactory arrangements regarding a whole range of issues it appears those who voted Leave had never even considered.
We shall enjoy only reduced security co-operation in Europe, and be faced with dealing with the probable consequences of a breakdown of the Good Friday agreement that has brought relative peace to the divided island of Ireland for the past 20 years. Co-operative agreements over science and technology, such as the Galileo GPS project, Airbus and the European Space Agency; the European Medicines Agency, will abruptly cease.
Hundreds of established foreign-owned companies employing thousands of workers have already made plans to relocate, either to Ireland or to the continent, in the event of No-deal. Companies needing to forward-order materials and components are struggling to stock-up; smaller airlines are facing bankruptcy. No reciprocal landing rights have yet been renegotiated: under a temporary arrangement, UK flights into and out of the EU will continue, but there is no agreement on internal routes.
We will enter into a protracted period during which our elected officials will struggle to obtain favourable trade agreements with a host of countries we already have reciprocal trading arrangements with under EU rules, faraway countries who owe us nothing and will add no value to any subsequent agreements, perpetuating the insane belief (or cynical lies) of politicians that Britain will again become the power in the world we once were.
(Mr Fox has just this evening confessed that he cannot rollover the same free-trade deal the Japanese have just agreed with the EU and we'll have to start with them from scratch. To date just seven trade deals agreed include the Faroe Islands, Switzerland and Turkey, exports totalling £13 billion. Our current trade with third countries through the EU is £117 billion.)
The Government has already made plans for a security clampdown and the possible, temporary introduction of rationing of certain goods, food and medicines. The Army has been put on standby. Just this alone should tell you something about the situation Britain has got itself in.
We shall in a relatively short time become serfs to an unelected global criminal elite; subject to an international organized crime syndicate operating at the highest levels of many governments we propose to "do business" with, having its legitimized corporate and political roots in the rise both of the US mafia and the collapse of the Soviet Union – and, of course, global commodity interests: oil, food, the arms trade.
This 'coup' against the current world order involves an unholy alliance of far-right and far-left groups with agendas including the establishment of an apartheid, anti-abortion 'white, Christian' state in the USA; extreme anti-immigrant, antisemitic parties in European countries; those who believe, like Steve Bannon, that we are on a crusade against Islam before the Final Battle; those promoting Russian expansionism and the hegemony of the super-rich, the global corporations and those who oppose globalization.
Already, the threats are arriving. The US ambassador to Britain has instructed the government that we will have to accept US food imports produced to lower standards of safety and animal welfare if an overall trade agreement is to be put in place.
Against all that, the climate clock is also ticking down to a fast-approaching dystopia of economic and social chaos, prior to the probable extinction of most life on earth: the 'sixth great extinction' that has visibly begun; foreboding of which is clearly making us insane.
And they know it.
Everyone I meet who is willing to discuss this worrying situation is now in the final stage of grief, numb acceptance; wandering around in a dark mood of not really caring what happens next.
Sadly, I know of no-one who has more than just the normal dark suspicion of politicians, who understands how things have come to this pass: who it is that has secretly and deliberately advocated behind the scenes for 'No-deal' and why, and what the future holds.
But we should care, because as time has gone on, the extent of the treason and the true motives and identities of the shadowy funders of the project to replace the Western alliance become ever clearer.
The 'No-deal' option is, as we sort-of know, being nudged by a handful of Conservatives on the right and a few nitwitted fellow-travellers in the disintegrating Labour party – I hesitate to call them the Opposition – who have successfully co-opted Theresa May into their project with a threat to breakup the Party if she crosses their 'red lines'.
Do you know why, and on whose behalf?
As the clock ticks down to midnight, the full extent of the conspiracy to steal Britain is only now emerging.
It is a story that has gained zero traction with the British people, because those journalists who are fighting to expose the shadowy plot behind the practised dissembling of a few front-runners – Johnson, Rees-Mogg, Davis, McVey, Baker, Farage and the others – are so easily dismissed, shouted down, disparaged as conspiracy theorists or traitors or liberal elites seeking to thwart 'the will of the People'.
And of course the corporatist media – the Murdoch press, the Mail and titles like the Express and the Star, now under the aegis of Reach – formerly Mirror Group Newspapers – and their online surrogates – are not going to pick the story up and run with it, because they have spent decades preparing for this moment.
I urge you, if you value your freedom, to read and understand the following. It is quite a long article, because it concerns quite a big – and breathtaking – conspiracy:
http://www.opendemocracy.net/uk/brexitinc/peter-geoghegan-jenna-corderoy/revealed-how-dark-money-is-winning-brexit-influencing-ga?utm_source=Daily+Newsletter&utm_campaign=7a15ab4b9d-DAILY_NEWSLETTER_MAILCHIMP&utm_medium=email&utm_term=0_717bc5d86d-7a15ab4b9d-408090269GW
In 35 days' time there will be only resistance left.
You were warned.
"No wonder people are confused"
What will it take for people to get serious?
How will we continue to react to the accelerating story of global warming?
Certainly not in the news media, where there is a tradition of putting different categories of stories firmly into their own silos and failing to recognize any connection between them. Not a single report of, say, the political situation or war in the Middle East allows itself to be confused with the rapidly increasing extremes of temperature, the rise in the number of hurricanes in the Arabian Sea, or this winter's extensive flooding throughout the region.
I first noticed the effect quite recently. Back in 2017, it was being widely reported on the news that our bumptious Foreign Secretary at the time, Boris Johnson, had managed to insult the entire Maori nation while on an official visit to New Zealand. There was no mention whatever of the fact that the area he was visiting was under a state of emergency declared in response to widespread, record floods.
More egregiously, last year the International Panel on Climate Change launched its notorious "12-years-to-act" report (basically, 12 years in which to do nothing) in the coastal city of Incheon, historic site of Gen. McArthur's decisive invasion during the Korean War. Just the day before, several people had been killed in a ferocious typhoon that struck the south; one of many last year, in a part of the world that has also experienced killer summer heat each year for the past few years.
The irony obviously escaped the world's media, as there was not one mention of it in the coverage of the conference.
All these opportunities being missed, to make the approaching extinction event even just a talking point, let alone the screaming banner headline news it ought to be.
A Guardian report today of a UN report warning that biodiversity issues are threatening world food security fails to mention that climate change is pushing agriculture northward and southward out of its traditional zones, where new varieties will need to be developed if production is to be maintained on poorer or less adapted soils. The grainbelt in the USA is moving northward at an alarming rate – as is the breadbasket in Australia moving south (toward the sea!) and shrinking fast as it succumbs to drought.
You would think that falling production in all of the main grain-producing areas of the world would exercise governments whose economies benefit from grain exports, as well as those reliant on imported bulk foods, but no, there are apparently more important things to worry about.
Over in India, a row has erupted between pressure groups over an ordinance forcing possibly as many as 5 million aboriginal tribespeople to leave their remote forest lands. While the authorities say that those who have title to the land can stay and they're only pushing out overpopulating illegals who are destroying the forest ecology, other environmentalists are arguing that ethnic tribespeople have a right to pursue their rural economy unmolested by modern civilization.
It's humans versus plant and animal diversity, again – the new Bolsonaro regime in Brazil is threatening to bring this clash to a head – with no obvious solution to a dilemma that is, in fact, affecting the entire planet.
Then we have the story of thousands upon thousands of French citizens donning yellow tabards and rioting in protest against a rise in the price of diesel fuel. There, we had a few mentions in the early days of the paradox that everyone knows we have to burn less fuel but nobody wants to be the one burning less fuel. A few people wrung their hands over this demonstration of the impossibility of getting nations to decarbonize; requiring us, as it does, to accept declining living standards. (The joke being, they are already declining anyway, that's why the French are rioting!)
But your Uncle Bogler has seen little follow-up to this rather crucial point, given that environmental protesters and schoolchildren everywhere are on the march against climate-change inertia; while the somewhat blurred focus of the 'gilets jaunes' has moved from fuel to a broad range of social ills and a protest against the government in general.
The news media is a caravan that is always folding its tents and moving on. No wonder people are confused: is the threat supposed to be climate change, plastic bags, disappearing bugs, peak oil, antibiotic resistance, migration, overpopulation – what?
People are not going to understand the gravity of the situation while the media encloses these protests in a file marked 'cranks'. Only when the climate change story becomes embedded in the wider news agenda and extreme weather events are seen for what they are – integral to the processes of social, economic and political change, not merely curiosities – it was a winter record18.5C, 65F in Scotland yesterday and the ski resorts are closing – only when they see how it is already affecting their lives and how everything is connected will people finally take notice.
GW: Let it snow, let it snow, let it… rain?
USA: Las Vegas, Nv. just had its first measurable snowfall since records began there in 1934. Up to 3-in was forecast, although with rain on the way it's not expected to last. (CNN)
A huge storm system is moving up from the Gulf. "Significant flash flooding is expected in the South Friday, then severe thunderstorms, including the threat of tornadoes, are an increasing concern Saturday in parts of the South and Ohio Valley in what may be the most widespread severe weather event of this winter, so far." A warning of life-threatening floods has gone out for the Nashville area of Tennessee, heading for its wettest-ever winter record. (From The Weather Channel)
Meanwhile, Winter Storm Quiana is already moving into position over the west coast, with forecasts of more heavy snow and blizzard conditions across the Plains and Midwest. Flagstaff, Az. just set a new record with 36-in. of snowfall, 21 Feb. Snow was also reported in Malibu, West Hollywood and Thousand Oaks, California, and at Rose Bowl Stadium in Pasadena, California. Even LA had 0.8-in (From The Weather Channel)
Pakistan: Heavy rain has brought flash flooding to several provinces over the last few days, with local media reporting over 25 fatalities. … At least 9 people were killed in three incidents of roofs collapsing after heavy rain in Punjab Province. The city of Multan is reportedly among the worst affected areas. (From Floodlist)
Ecuador: Disaster authorities say that around 250 people have been affected by flooding in Los Ríos Province since 19 February. Several rivers have broken their banks in Pastaza Province, causing damage to homes. No casualties have been reported. (From Floodlist)
Pacific: The typhoon season has got off to an early start this year. "Category 2 (100 mph) Typhoon Wutip is gathering strength in the waters to the southeast of Guam. Wutip is expected to pass 150 miles to the southwest of Guam as a Category 3 typhoon on Saturday night local time, bringing tropical storm conditions to Guam and Rota in the Mariana Islands."
Meanwhile, "Tropical Storm Oma, was located on 21 Feb. about 500 miles east of the Australian coast. Oma was headed south at about 8 mph, parallel to the coast." Weakening due to wind shear, "Oma peaked as a Category 1 storm with 85 mph winds on Tuesday, and is predicted to bring gale-force winds to the northeast coast of Australia on Friday and Saturday. The storm's high waves and surge may bring coastal inundation up to a meter (3.3 feet) above high tide. (From The Weather Channel) Update 23 Feb: Oma stalled off the coast and is rapidly weakening – not before 25 beaches were closed due to huge waves.
Europe: Trapped between two very cold airmasses, "Very warm air with temperature 10-15 °C warmer than normal overspreads western and northern Europe, Arctic region and Greenland" over the next few days." (Severe-weather.eu) Temperatures are well above normal in the UK: a record high of 18.3C, 65F was recorded in Scotland, 22 Feb. and for most it's been shorts and T-shirts.
Much colder conditions however are affecting the eastern Mediterranean: "High temperatures on Friday will climb to around 16 C (60 F) in Athens, and struggle to reach 7 C (45 F) by Sunday" (Accuweather). Severe-weather.eu has: Greece is up for another intense snowstorm this weekend as a new cold outbreak is pushed across the Balkan peninsula. Locally up to 40-50 cm of fresh snow seems likely until Sunday, combined with huge snow drifts due to strong to severe winds. Blowing snow and blizzard/whiteout conditions are expected."
Meanwhile, hurricane-force Bora winds gusting (at altitude) up to 230 km/hr (140 mph) were expected at the weekend over Italy and the northern Adriatic up into Slovenia this week. (Severe-weather.eu)
Yellowstone: new earthquake swarm, harmonic tremors, ground uplift continuing, ground shaking, bigger M3-M4 quakes in the park and outside in Utah, toward Salt Lake City and in Montana. Ground temperature rising – also "water temperature" now "over 100C". (NB yes, I know, you can't heat water above 100C under normal pressure as it tends to turn to steam! Unless you're a Yellowstone watcher, in which case anything is possible.) (Mary Greeley vlog post)
Denier time
"The world's capacity to produce food is being undermined by humanity's failure to protect biodiversity, according to the first UN study of the plants, animals and micro-organisms that help to put meals on our plates.
"The stark warning was issued by the Food and Agriculture Organisation after scientists found evidence the natural support systems that underpin the human diet are deteriorating around the world as farms, cities and factories gobble up land and pump out chemicals." (Guardian)
http://www.theguardian.com/global-development/2019/feb/21/worlds-food-supply-under-severe-threat-from-loss-of biodiversity?utm_term=RWRpdG9yaWFsX0d1YXJkaWFuVG9kYXlVS19XZWVrZGF5cy0xOTAyMjI%3D&utm_source=esp&utm_medium=Email&utm_campaign=GuardianTodayUK&CMP=GTUK_email
Adjust the ticket
Parking meter usage records are being employed to provide a reliable guide to rising sea levels around US coasts.
Based on a research paper from Stanford University, Dr Jeff Masters at Wunderground explains that commercial areas of coastal cities experience a fall in traffic on days when high tides are encroaching on their activities. In the early 1960s, he reports, Annapolis had about 4 high-tide flooding days a year. In 2017, the small city on Chesapeake Bay experienced 63 "nuisance flooding" days, at an estimated cost of $176,000 a year in lost revenues. As a result of the finding, the city is planning to install pumps in its parking lots. (Weather Underground)
http://www.wunderground.com/cat6/Using-Parking-Meter-Records-and-Tweets-Local-Businesses-Sea-Level-Rise-Research
Teen spirit
Using parts he bought on eBay, 12-year-old Jackson Oswalt of Memphis, Tennessee has become the youngest-ever person to build a working nuclear fusion reactor, in his parents' spare room. The Open Source Fusor Research Consortium, a hobbyist group, has recognised the achievement, although official verification is still pending. The previous record was held by 14-year-old Taylor Wilson, who is now working in the nuclear industry. (Guardian)