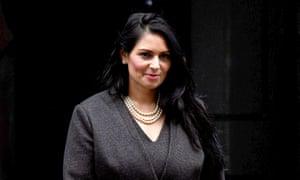 "Me, a bully? Say that again and I'll rip your fuckin' face off. Now give me all your pocket-money…."
Corona v. Us
Update: 21 Feb., total cases to date, 76,805; deaths 2,249 – including 29-year-old Wuhan doctor, Peng Yinhua, who postponed his wedding to remain at his post.  Of those cases, 18,800 are reported to have already recovered. (Worldometers.info)
Another update: 22 Feb., cases 77,924; deaths 2,362; recovereds, 21,251. Massive spike overnight in S Korean city of Daegu, linked to churchgoing 'superspreader' and local mental hospital: +229, total 433.
Sunday afternoon: 23 Feb., cases 78,966; deaths 2,468; recovereds 28,440. Italy – northern towns in lockdown, 130 cases, 2 dead and no clue as to where it came from as the assumed 'Index patient' has tested negative.  S Korea: 'Over 600' cases. Iran: admitting to 43.
Monday morning: 24 Feb., cases 79,707; deaths 2,626; recovereds, 25,253. These figures are provisional, as the death toll in the Iran outbreak, currently at 50, is greater than the number of cases the Ayatollahs are admitting to. Shia pilgrims to the city of Qom are at risk. Stockmarkets tumbled this morning on news from Italy.
The BogPo watched with faint horror as about 35 thousand Italian and Scottish rugby fans mixed it up together in Rome on Saturday. Scotland won 10-nil. God knows what they've brought home. 10 northern Italian towns are closed as 60 new cases were confirmed yesterday.
"Hopes for a slowdown in the spread of the novel coronavirus were dashed Friday as the number of new cases rose in China, and outbreaks worsened in Japan and South Korea." (CNN) A spike of 36 new cases found in a Beijing hospital looks like an indication that the genie is really out of the bottle now.
100 new cases and a second death (of a mental patient) were confirmed overnight in South Korea, where the number of confirmed cases linked to one "superspreader" within a fringe church congregation that believes in the Rapture has reached 86, with another 400 showing "symptoms".

500 prisoners in jails across China are said to be infected, one particularly grim institution being Wuhan Women's Prison, where 230 cases have led to the dismissal of the governor. (Guardian)
The WHO is expressing concern over a woman from Wuhan who travelled with no symptoms and a negative test to another city, where five of her relatives promptly went down with the virus. The woman herself then tested positive but still has no symptoms whatsoever.
Also of great concern: "… a 38-year-old Italian man in Lombardy … in intensive care, may have contracted the disease after meeting a colleague who had recently returned from China, even though the colleague had tested negative for the virus.
This virus seems to have evolved intelligence.
After another delay, UK passengers on board "death cruise" liner Diamond Empress are being evacuated today, to a tired-looking hospital in Cheshire. Unlike the American evacuation last week, about a dozen with the virus will not be flying. Passengers have been offered vouchers by the Empress line toward a future cruise.
Congressmen are criticizing the US government for lack of co-ordination in the response to the threat, saying there is no-one in the White House they can talk to. In addition to defunding the main health agencies, Trump has failed for over two years to nominate a health advisor to the National Security Council; a post he has suggested scrapping altogether.
No, you can't come in here
"The comparison between Assange and Dreyfus drew criticism, including from the Community Security Trust (CST), a charity working against antisemitism and racism in British society, which tweeted: 'Disgraceful false equivalence to one of the key learning moments of modern Jewish history.'" (Guardian, 20 Feb.)
I am moved to tell this "charity", propagandists presumably funded by Tel Aviv and with a clear desire to whip up more self-mortifying antisemitism in Britain, in the nicest possible way, to go fuck itself. I mean, it's like these people just love poking the anthill with a stick over any little thing, when there are big things going on that they do need to worry about.
Isn't there enough division and hateful, even violent prejudice out there, not just against Jews but against Muslims, blacks, browns, yellows, Reds, Greens – liberal elites, women, asylum seekers and refugees, experts, poofters and pedos, people on benefits, the disabled, you and me, immigrants, gypsies, tourists and anyone else foreign who is found not speaking the Queen's English?
What this bunch is virtue-signalling is that it it is verboten to cite the notorious case of Alfred Dreyfus, a victim of 19th century upper-class French prejudice against Jews in the military, to illustrate the kind of prejudice allegedly being shown by the British establishment against Julian Assange. Anti-Jewish prejudice being so vastly more morally worse than anti-anyone else's prejudice that no-one else can possibly ever get a look-in with prejudice. Because why? Because the Jewish community owns the copyright on prejudice? Some would seemingly like us to think so.
Dear Community Security Trust: the '"key learning moment" we should pluck from history teaches us that while we cannot fully eliminate our innate perceptions of Otherness, ALL extreme prejudice is to be discouraged at all times. Including yours.
The comparison being made by the Labour party's shadow chancellor, John McDonnell is, in my view, unwieldy, ahistorical and somewhat hyperbolic. Assange, battling extradition, is no innocent victim. The argument that the crime he's charged with, of publishing stolen State secrets, ought not to be a crime due to public interest, even though it is a serious offence, is perversely promoted by the same people who argue that Trump should not have been acquitted in the Senate on the bogus grounds that his private act of extortion against a foreign government, although a crime in law, was committed for the greater good of the country, i.e. to secure his own re-election.
Most of us would call that corruption.
Assange's slender defense now rests on a probably accurate claim that Trump offered him clemency through an intermediary, Senator Dana Rohrbacher, if he would lie about Russian involvement in the 2016 election. That's a clear contempt of court, not that "America's Chief Law-Enforcement Officer" cares a whit about witness tampering and perjury.*
The Community Security Trust, whoever they are, could have said something like that, offered some sympathy with Mr Assange in his plight, as he faces 140 years in a Federal penitentiary, but no. Sympathy for others is not in their repertoire. No argument is permissible beyond the confines of the Tel Aviv echo chamber. They had to raise the specter of antisemitism in a context where antisemitism was the least important part of the matter.
They had to find another stick with which to beat the Labour party.
A white one.
Because, as we know, prejudice is blind as justice.
*Rohrbacher, who is well known and joked about in Congress as the most pro-Russian person in America after Trump himself, or maybe actual Russians, confirms the story. Mr Trump, predictably, says he 'barely knows' the Senator. Play another record, Your Majesty.

The madness of King Donald
Whipping his dumbfucks into another spittle-flecked frenzy of xenophobic hatred, booing and catcalling, at a Nuremberg rally in Colorado Trump rounded on the Motion Picture Academy for awarding the Best Picture Oscar this year to a foreign film.
Particularly a South Korean foreign film, with subtitles already.
"The winner is a movie from South Korea, what the hell was that all about?" Trump demanded to know, riffing insanely on a completely irrelevant, two-weeks-old subject, an arthouse film he has not and will never watch – as neither will his "base", any of them. "We got enough problems with South Korea with trade and on top of it, they give them the best movie of the year."
Boo! Bad Hollywoods! Lock 'em up, traitors! We likes zombie movies! (etcetera)
So much for America's staunchest democratic ally in the SE Asia region. Their evil, practically Chinese trade policies, making stuff and selling it, obviously leads to the creation of degenerate artistic products that must be banned as socially harmful, inimical to the supremacy of the master race. Trump's enemies in Hollywood, Deep Staters – probably The Jew Soros himself – treacherously conspiring against America and thus, by extension, King Donald.
One wonders what would have happened if the moguls had awarded Best Picture to a North Korean movie? Beaming congratulations to Mr Kim, no doubt. Wonderful guy. Love him to bits. Practically the only recipient of an award not to make a speech badmouthing Trump in the past four years was the film's director, Bong Joon-ho. But politeness doesn't count with this fascist pig when he's on a power trip.
Doubling down, both on his red-meat racism and his cultural vacuum, Trump then called for the return of probably the only film he has ever fidgeted through that didn't have either a cameo of himself or steamin' Stormy Daniels a humpin' and a grindin' in it, the 1939 MGM epic 'Gone With the Wind'.
Why can't we have that? he whined, plaintively – disingenuously conscious of its racialist undertones, its grotesque whitewashing of an idyllic lifestyle on a slave plantation, its sideways wink to the KKK and its Southern Confederate sympathies.
The man has absolutely no bearings.
You're fired
As if to prove he doesn't, though no further proof is necessary, or indeed bearable, Trump has fired his Acting Director of National Intelligence, Mr Joseph Maguire, and replaced him with the imperious, far-right-wing-sympathising ambassador – described by one Congressman as 'an internet troll' – who has spent his time in Berlin upsetting the Germans, Richard "Dick" Grenell – a man with no intelligence community experience or friends.
Mr Grenell has already set about gutting the department and bringing in a Trump loyalty requirement for all staff.
The president is said to have blown his thatch when told that another top security official, Mr Shelby Pearson, had given a briefing to the House Intelligence Committee based on evidence that the Russians were up to the same old tricks, interfering to bring about Trump's re-election. Claiming it was a Democrat disinformation campaign, a "hoax", he lashed out because, no, he is not unaware that Putin has given the order to St Petersburg to meddle some more, but because he knows it; is desperate, and will do anything, even sellout his country, to retain the mystic powers of the Constitution that are keeping him out of jail.
Other top officials were also fired last week after coming under suspicion that they had done or said things disloyal to the President, despite their first loyalty being to the country.
Korruption Korner….
The New York Times reports, a glittering fundraiser for Trump was held at the "palatial Palm Beach home" of billionaire, Nelson Peltz. Ticket price: $500 thousand per couple. The gala raised ten million dollars for Trump's superPAC, America First!
Second, came the presidential pardon, three days later, of Michael Milken, the Junk Bond King, serving ten years for racketeering and fraud.
Mr Peltz's former business partner.
For the whole appalling but somehow no longer surprising story, and an anguished comment that it's time to stop pretending this is all not happening, compulsorily flip to Rachel Maddow at MSNBC, 22 Feb.
"This is not a warning. The dark days are not coming. The dark days are here."
http://www.youtube.com/watch?v=roGPWFUCz0c
A cluster of tea leaves
A 'superforecaster' is a person described in a 2015 book by someone called Philip E Tetlock as practising the art and science of prediction.
I'm sure we can find many words for such a person that don't sound like such pretentious sociologese.
Seer; soothsayer; augur; oracle; diviner; haruspex.
"Bogler", possibly.
Yes, dear Spammers, Likers, etc., I am considering writing to Sir Dominic Cummings – how the imaginary knighthood trips off the tongue, with which he will one day have earned it – to offer my services as a SPAD, being one of the "true wild cards, artists, people who never went to university and fought their way out of an appalling hell hole".
For, lo, I have encountered the following "superforecast" I made in an ancient BogPo post from March, 2016 – a full however many months before the EU referendum – while slagging off the Man Who Would Be King, Russia's own Baris Johnsky:
He only joined the 'Outers' because he knows it will gain him many Brownie points with the Eurosceptic tendency of the party, who will welcome him win or lose at September's party conference with wild approbation and, who knows, a vote for the leadership; especially once Cameron and Osborne have lost the referendum and miserably climbed down in the face of defeat, their fate compounded by disappointing trade and borrowing figures: growth slowing (it already is), and the pound getting rockier, as investors discount the inevitable Brexit.
Spooky, or what? Pretty super, actually.
Sordid reality
Just inadvertently opened Cummings' opaque blog, where in the Introit he quotes various obscure sources – just as I used to, to try to improve my "Marx" on the college degree course I took in Applied Photography, Film & Television, with Sociology of the Mass Media.
Here's one:
'Two hands, it isn't much considering how the world is infinite. Yet, all the same, two hands, they are a lot.' Alexander Grothendieck, one of the great mathematicians."
I think, Dom, most of us can count to two. There's a danger, too, in imagining the world to be infinite.
And to be honest, reading on a line or two, your naively surprised remarks at finding there is life out there lead me to suspect you of being Nigel Molesworth, age 48 3/4.
Only Molesworth was far more perceptive and brilliant in his aperçus:
"Reality,' sa molesworth 2, 'is so unspeakably sordid it make me shudder'."
Speaking of Spammers, I have received praise from a lady who tells me that The Pumpkin – Issue 114 has helped her with her dog training.
Glad to be of service.
GW: and the beast goes on

Australia: Invest 99P is intensifying in the Gulf of Carpentaria and expected to slowly drift ashore on Monday in the Northern Territory as a tropical cyclone carrying up to 600 mm of rain. One model is suggesting maybe 900 mm. could fall over a 10-day period, with severe flooding to the thinly populated area southeast of Darwin. The storm when it develops will be called Esther.
North Atlantic: Severe-weather.eu writes: "While a large, deep extra-tropical cyclone over the North Atlantic is currently occluding, there is already a new, rapidly intensifying cyclone to its west. Its future track will be further south than the first one, likely smashing into the UK with a potentially severe windstorm this weekend. Models are in fairly good agreement it will produce a broad windstorm over the North Atlantic as well as major waves and severe winds towards UK and Ireland on Saturday."
Storm Ellen will arrive just in time for the crucial 6-Nations Wales v. France rugby fixture in Cardiff. Fortunately the stadium has a roof. Once again the BBC Weather service is downplaying the forecast to windy and – later – rainy. Models are showing at least 3 more cyclonic weather systems queuing up to cross the North Atlantic next week. (Severe-weather.eu )
Here's a link to a nice, scary video of last weekend-but-one's Storm Ciara hitting St Malo in Brittany…. http://www.youtube.com/watch?v=zH1o9TPETYk
Your old Gran suggests, if you've been flooded, don't bother cleaning up yet – a Caribbean holiday will take your mind off it. Sort it out later.
Arctic: On January 3rd, writes someone at Severe-weather.eu, "a radiosonde … over Reykjavik, Iceland,  recorded the lowest temperature in the stratosphere in the past 40 years, at -96°C (-141°F)." More recent measurements closer to the pole were recorded at the tropospheric boundary, where the weather starts, at -85C. The purport of this dull data is that an extremely cold polar vortex such as this, 20C lower than normal, helps to promote colourful Polar Stratospheric Clouds, that assist the process of destroying the ozone layer. Ozone is currently as low as it's been only three times in the past 40 years; while the vortex has been spinning so fast that the jetstream is almost perfectly circular, leading to unusual satellite mapping like this: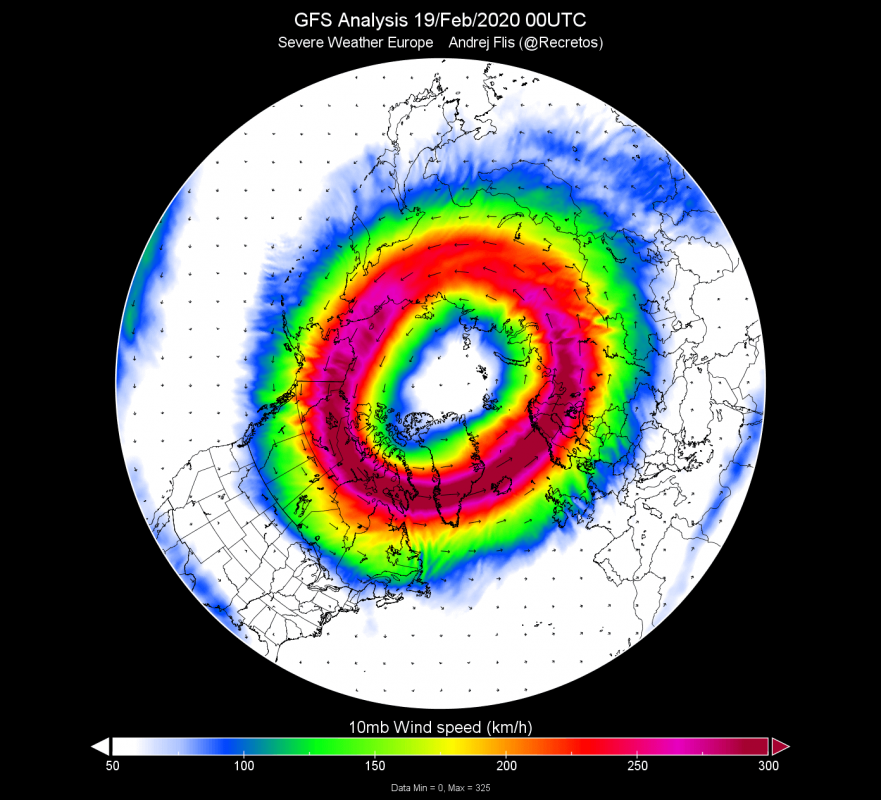 Weird shit, huh?
Tunnel approaching….
Tiny thumbs: "An analysis of millions of tweets from around the period when Donald Trump announced the US would withdraw from the Paris climate agreement found that bots tended to applaud the president for his actions and spread misinformation about the science. … On an average day during the period studied, 25% of all tweets about the climate crisis came from bots." (Guardian)
California: is back in official drought after a February, normally the wettest month, in which San Francisco and Sacramento have seen zero rainfall. Snowpack in the Sierras is at 56% of normal.
Extinction Rebellion: "The world's largest financier of fossil fuels has warned clients that the climate crisis threatens the survival of humanity and that the planet is on an unsustainable trajectory, according to a leaked document. The JP Morgan report on the economic risks of human-caused global heating said climate policy had to change or else the world faced irreversible consequences." (Guardian)
Well, maybe not. … "The paper notes that global heating is on course to hit 3.5C above pre-industrial levels by the end of the century." Ha ha, bless!
"JP Morgan has provided $75bn (£61bn) in financial services to the companies most aggressively expanding in sectors such as fracking and Arctic oil and gas exploration since the Paris agreement was signed."
They should know, then.