"I didn't doubt for a moment that there would be thousands of mediocre journalists, broadcasters, lawyers and administrators who would happily work for the new regime if it pandered to their vanity by giving them the jobs they could never have taken on merit." – Nick Cohen, from an interview with Anne Applebaum in Observer Books, 12 July.
Her explanation of the new populism, that democracy is a casualty of what is essentially a mediocracy inhabited by the resentment of failed elites, is a persuasive one that disturbingly reflects Hannah Arendt's view that communist and fascist dictatorships both replaced "first-rate talents" with "crackpots and fools whose lack of intelligence and creativity" was the best guarantee of their loyalty.
Trump and Johnson watchers especially, take heed!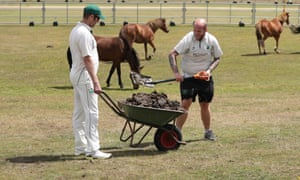 "Just take this round to the Cabinet Office…"
This stinks (ça pue la gouvernement)

http://www.theguardian.com/sport/2020/jun/16/horse-racing-tory-donations-and-a-swift-return-from-lockdown-matt-hancock
http://www.theguardian.com/politics/2020/jul/10/firm-with-links-to-gove-and-cummings-given-covid-19-contract-without-open-tender
Back-to-back stories in The Guardian, 10 July illustrate perfectly, the depth and stench of the swamp of corruption, influence-peddling and sleaze oozing out of Downing Street under the 'power behind the throne' duopoly of Michael Gove and Dominic Cummings, an arrangement from Hell for which, surely, almost nobody but their mothers voted.
As if the formation of the latest iteration of the Parliamentary committee on Intelligence and Security, with a loyalist  Conservative majority and an unconstitutional recommendation from Johnson that the famously useless Chris Grayling, whose name has become a byword for administrative bungling, should be the chairperson*, were not enough to convince voters that we are living in a parallel world to Trump's America.
Well, the dumbfucks neither know nor care. They just want Brexit done, their invisible "sovereignty" back and the immigrants out. Followed by the deepest recession since the 1930s, which they were warned about. (The UK's economy shrank by 19 per cent between March and May. And that's before a No Deal Brexit.)
The final connection being Russia: a long-delayed report from 2018 on whose influence on the Brexit referendum and the 2017 election now rests in the hands of the said committee, that is likely, Downing Street explains, to take several more months to settle in, get to understand its own remit – funny, newly appointed ministers are usually expected to hit the ground running – and only then to read, digest and release the report, after putting in an order for another hundred gallons or so of black highlighter.
This administration stinks to high heaven. That, unfortunately, is no more nor less what the 43 per cent of voters who stupidly put it in power expected it to do, holding their noses and rejecting more competent and caring alternatives on the grounds that "They're all the same".
I seriously doubt that the Labour party is or was so deeply in bed with the horseracing fraternity that they would have condemned possibly hundreds of punters to an agonizing slow death by allowing the lucrative Cheltenham Festival of racing to go ahead in March, despite warnings from public health professionals.
Or that they would be handing out Covid contracts like taxpayer-funded candy bars to dubious entities run by their mates, no questions asked, while ignoring the existing support networks of qualified public services.
Except that we do have one or two precedents set by 'Failing' Grayling that might have given them the odd clue.
*It's not in the Prime Minister's gift to nominate the chair of the committee, it's up to the committee itself to vote… Oh, er, right. They're mostly Tory gong scourers** who will do anything they're told for a knighthood.
**In medieval times, a gong scourer was a lowly municipal employee who collected up the night soil people chucked out of their upstairs windows. Today it's pretty much the same.
"There is simply no aspect of the British state that is regarded as too big to Grayl. In the event of nuclear devastation, almost certainly somehow caused by Chris Grayling, Chris Grayling would not simply survive, but there would be someone surveying the ash cloud and the onset of nuclear winter going: "You know what, clearing this up looks like a job for Chris Grayling." – Marina Hyde, writing in Guardian Opinion, 10 May.)
Your Old Uncle has just discovered a dedicated website produced by researchers at the Unison trade union, called http://www.howmuchmoneyhaschrisgraylingwasted.org. The answer is, apparently, £2.778 billion.
Is there no end? #137
Oh God, here we go again. It's Deutsche Bank time, and a 2013 memo that's just turned up warning them with all kinds of red flags against doing business with Trump's friend, murdered society pimp and child-abuser, Jeffrey Epstein.
Only they did.
And have just paid a $150 million fine for compliance "failures", for which read that, despite knowing he was a convicted pedophile and pimp, Epstein's bank accounts were used to channel millions of dollars from his clients to his shadowy enablers, mainly Wall Street figures, and to less savoury recipients. The Hill reports:
"…transactions identified by state regulators included payments to individuals who have been publicly accused in lawsuits filed by Epstein's alleged victims to have played a role in enabling the sexual abuse of young women; payments totaling over $7 million to law firms for what appear to be settlements as well as payments totaling over $6 million to law firms for what appear to be legal expenses for Epstein and his alleged co-conspirators; and payments to Russian models and other women with Eastern European surnames to cover hotel expenses, tuition and rent."
So, well-regulated law firms were being paid for five years by Epstein – until he was charged a second time – to help him to conceal his predatory activities worth many millions of dollars, out of the same accounts as he was using to pay Russian prostitutes to recruit and tutor underage girls in how to have sex with wealthy men. (Other banks are under investigation.)
And they knew!
"Regulators cite numerous instances in which bank officers escalated concerns about Epstein-related transactions to bank executives, who permitted the activity to continue with minimal increased oversight". (The Hill) In connection with which, records appeared to vanish into thin air.
It gets worse.
In November last year, a former Deutsche Bank private wealth division executive, Thomas Bowers, was found hanged in his Malibu beach house, just days (according to an unreliable source, Reddit) before he was due to be interviewed by the FBI over what he knew about Epstein's accounts, the old Florida trafficking case against Epstein having been reopened by a New York court after more witnesses came forward.
Bowers – who left the bank in 2015 – was reported at the time to have been the boss of Rosemary Vrablic, the manager who greenlit almost $2 billion in loans to Epstein's former friend, Donald Trump – ignoring similar memos warning that Trump was a serial defaulter possibly involved in illegal money laundering. Trump was introduced to Vrablic by his son-in-law, Jared Kushner, who described her as his "favorite banker".
She was also Epstein's, it seems, having recommended taking him on as a client who had "a powerful network of friends" the bank might be able to do business with. (Report: Saagar Enjeti – The Hill Rising, http://www.youtube.com/watch?v=AA7j9XMwfTs ) It seems she too had been taken in by his glib charm: the son of a humble New York park groundsman, living in a $70 million Lower East Side mansion, a "gift" from Victoria's Secret founder, Les Wexner, who had been virtually his only client at Goldman Sachs; and the owner of a Bahamian property the locals called 'Pedophile Island'.

Those wealthy concealers really had to work for his living.
Trump, we recall, after his usual way of rewarding guilty enablers with secrets to spill, handed the post of Secretary of Labor in his administration to Alexander Acosta, the former Florida attorney who brokered a plea bargain in 2007 that saw Epstein given the lightest of sentences, 13 months in an open "come and go" prison, for trafficking a minor for sex. Acosta was obliged to resign in 2019 when the case was reopened on further charges, after Epstein's "friend", Ghislaine Maxwell tried to sue one of his victims for slander and, in best Oscar Wilde fashion, managed to incriminate herself while losing the case.
Arrested in her agreeable, $1.1m, 165-acre New Hampshire bolthole after a year on the run, Maxwell is now being held on remand in a New York prison, awaiting trial on charges of aiding and abetting the trafficking of minors; while in Windsor Castle  another "friend" of hers and Epstein's, His Royal Highness The Prince Andrew Albert Christian Edward, Duke of York, Earl of Inverness, Baron Killyleagh, Knight Companion of the Most Noble Order of the Garter, Knight Grand Cross of the Royal Victorian Order, Personal Aide-de-Camp to The Queen (possibly not any longer), squirms on a hook of his own making.
As the song goes, "You gotta have friends".
To push the conspiracy theory boat out into the turbid floodwaters of insanity, the Mail reported in January: "Revealed: How Prince Andrew's tycoon friend and £6m Tory party donor David Rowland hatched a plot to become Kim Jong Un's private banker."
And we all know who Kim's best friend is, don't we!
PS Not to be outdone, your Old Uncle once worked with a colleague who'd been Idi Amin's personal PR man! And lived to tell the tale.)
'I think I made a mistake, I thought this was a hoax, but it's not.' – last words of a dying 30 year-old patient who attended a "Covid party "in Texas for unconvinced Americans wanting to meet other people who have tested positive, to see if the virus is real. And you wonder why they vote for Trump.
Corona-v-Us v Something else?

The South China Morning Post is reporting on a mystery outbreak of a pneumonia-like virus that is affecting three areas of Khazakstan, a former Soviet republic, that are many hundreds of kilometers apart. An official is reported as saying they are experiencing 300 new cases a day in the capital; other sources put the numbers at up to 500, 1,770 in June, from which 648 patients have died. It's not clear if it is connected with Covid-19 or, as Chinese health officials seem to think, it is a different virus. (Thousands of Russian cases of Covid were initially put down on death certificates simply as 'pneumonia'.)
Nevertheless, the Chinese embassy is warning its citizens to take precautions. "The death rate of this disease is much higher than the novel coronavirus. The country's health departments are conducting comparative research into the pneumonia virus, but have yet to identify the virus," said a spokesman. Khazak health authorities have dismissed the warning as alarmist and are insisting it's just ordinary pneumonia brought on by the usual range of causes. The WHO says it it is not aware of any new emerging disease in the region.
President Trump has postponed an election rally, apparently in an attempt to avoid a repeat of his embarrassingly low numbers in Tulsa three weeks ago, since when the city has reported a spike in Covid-19 cases. The Guardian reported:
"Trump said Tropical Storm Fay (see below) had 'forced' his campaign to postpone his planned rally in Portsmouth, New Hampshire, which was supposed to take place tomorrow night." His Democratic opponent, Joe Biden immediately backtweeted to point out that, in an echo of Sharpiegate, when Trump had a weather chart hastily doctored to cover-up an error he'd made in forecasting the path of a hurricane, the storm is not expected to go anywhere near Portsmouth.
"A dog in Texas has become the first animal in the state to catch coronavirus. The U.S. Department of Agriculture's veterinary lab received the positive test back on Tuesday that confirmed the dog has been infected with SARS-CoV-2, according to The Dallas Morning News. The dog was tested after the owners contracted the virus." (AccuWeather) It's not showing symptoms.
The White House has launched a campaign to discredit America's leading epidemiologist, Dr Anthony Fauci, who has dared on occasion to contradict the Dear Leader's medical opinion. The press office has published a list of 12 things he said going back to January that they claim were "wrong".
Public disapproval of Trump's handling of the pandemic now stands at 67% (ABC poll)
The madness…
As Mexico's president Lopez Obrador departs Washington after a suckup Oval Office visit to celebrate a few pointless amendments to the NAFTA treaty, a meeting Canadian PM Justin Trudeau declined to attend, President Trump has claimed that the US would be "inundated" with Covid-19 cases had he not built the border wall with Mexico. "They have some big problems there", he opined hopefully. But, he said, thanks to the wall "our numbers on the border … are very small."
That's Texas and Arizona, where new infections are jointly running at 20 thousand a day.
What he seems not to want to know is that only 250 miles of steel barrier has been erected so far along a border 1,950 miles long. The "wall" cannot stop anything. Then, there is the minor disparity between the two nations:
The US has 3 million, 285 thousand cases of the virus as of midnight GMT, 10 July. A record 65 thousand new cases were reported just today, hospitals in some states are putting up tents to cope with the overflow of serious cases, ICU beds are maxed-out and many health professionals to whom Trump is not listening and who have been sidelined by the White House, fear the disease is out of control.
Mexico has 282 thousand cases and has been attempting to prevent Americans from entering the country. Maybe they will have to pay for a wall after all.
Granny's World
Nepal: "Further deadly flooding and landslides have struck again in Nepal, where disaster authorities have reported 7 fatalities and 20 missing in the last 2 days." (Floodlist) A major highway connecting with the Chinese border has been blocked in several places. Over 250 mm of rain fell in 24 hours.
Update, 13 July: "Dozens" of villagers have now died in a series of landslides and floods across much of the country, as up to 10 in. of rain has fallen in some places within 24 hours. The cumulative known death toll since 9 July is 47, but more than 50 people are still missing. (Floodlist)
Ukraine: "Forest fires have killed at least 6 people and ravaged several villages in the Luhansk region, near areas held by Russian-backed separatist forces. High winds and soaring temperatures have contributed to the spread of the fires. President Zelensky visited the area and promised compensation for those affected. Earlier in July heavy flooding hit nearly 300 towns and villages in the west of the country." (BBC Weather)
Bulgaria: "Areas around the capital, Sofia were hit by heavy rain, lightning strikes and strong winds overnight 6 to 7 July. Emergency services received 750 calls for assistance. One person was injured. Streets, metro stations, underpasses and buildings were all flooded. The Perlovska River broke its banks flooding roads in the city causing traffic problems and damaging vehicles." (Floodlist)
Turkey: At least 2 people have died and 5 more injured in flooding and landslides in the Çayeli district of Rize Province bordering the Black Sea in the northeast of the country. Over 270 mm of rain fell in 24 hours to 14 July, causing houses to collapse. (Floodlist)
India: "At least 8 people have died after flooding and landslides in the eastern state of Arunachal Pradesh. Incessant rains for the last five days have triggered landslides and floods, leaving a trail of devastation in the state, damaging roads and houses and inundating low-lying areas." (Floodlist)
China: Is bracing for more torrential rain. "Flooding in central and eastern provinces has worsened, with (update, 14 July) over 34 million people affected across the worst hit provinces. Rivers (including the Yangtse) peaked well above danger levels in over 80 locations." (Floodlist) "After weeks of intense seasonal flooding in southwestern and central China, torrential rains have caused more floods along the Yangtze River, with nearly 300,000 people evacuated in the eastern provinces of Anhui and Jiangxi as homes have been destroyed, roads paralysed and many left stranded without food or electricity." (South China Morning Post) 121 people are known to have died in floods and landslides since May. The all-important national university exams sat by 10 million students annually have been disrupted.
USA: Tropical Storm Fay, the record sixth this year and earliest 'F'-designated Atlantic storm on record, has turned into a super-soaker as it trundles at 10 mph northwards along the east coast, heading for Maine and Nova Scotia over waters warmed to 82F. Flood warnings are out. (AccuWeather) Latest: it's taken a bit of a left turn and is clobbering New York City.
The brutal heatwave affecting the southwest is set to continue. "Temperatures in Death Valley, California, often the hottest daily location in the United States, are forecast to stay above 120 F (48.8 C) into the middle of next week. The daily high hasn't dropped below 100 F (38 C) in Phoenix, Az. since 9 June. 11 July, Palm Springs posted a near-record 119 F, 48 C.
Yet another band of damaging "severe" thunderstorms is forecast over the midwest this week.
Brazil: Floodlist reported, 11 July – Several rivers have broken their banks in the state of Rio Grande do Sul, southern Brazil, after days of heavy rain. Authorities report 2 people have died and over 7,000 people displaced. The flooding comes just days after areas of southern Brazil were hit by a deadly cyclone.
Arctic: sea ice extent is chasing down the record low set in 2012, while volume is less than ever. A high pressure weather system over the Arctic seems stuck, bringing unprecedented heat anomalies. Current sea ice extent over the Laptev sea, off northen Siberia, is at levels normally seen in August. (Severe-weather.eu), whose geeks have worked out:
"If we could reduce the size of the Arctic ice cap down to that of a sheet of paper, the ice cap would be around 800 times thinner!"