QotW
"For an open economy that is especially dependent on trade flows and finance, there is no vaccine to protect us from economic influenza. If the world catches that cold, Britain will be sneezing with it. Few members of this government know much about viruses." – Andrew Rawnsley, The Observer.
Nor, it seems, do many journalists!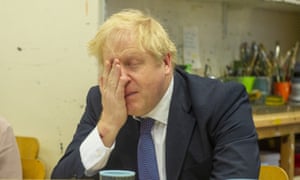 Oh God, do I really have to be Prime Minister?
The enormous bullshit of Baris dePiffle
"The prime minister has repeatedly projected a readiness to crash out at the end of the year, claiming that if talks collapse the UK would at least have an "Australia-style deal".
"This has been rubbished by many who point out that Australia does not have a deal with the EU…" (Guardian)
And that of course is the point. Uninformed Tory voters will buy the bullshit and believe there is another trading option called the Australia deal we will have defaulted to. We like Australia, they're nice and white and part of the Empire. Good old Baris, gettin' it done!
The rest won't buy it, but there's nothing we can do, other than to argue against the dismantling of tariffs on kangaroo-related products. What 'Australia' is code for, is no deal – WTO rules.
A fascinating sidelight on Johnson emerged under the 30-year rule today, when papers were released showing that, just as Donald Trump acts decisively on any dastardly policy suggested to him by that lying fat shithead, Rush Limbaugh, or Trump's Fox friend, the millionaire rack-rent landlord Sean Hannity, in 1989 Thatcher delivered a famously negative speech about the EU in Parliament – as we now know, on the basis of little more than a 'fake news' column in the Telegraph, scribbled by, yes, a juvenile Brussels correspondent called Baris Johnson.
Easily bored and too lazy to do any actual work, Johnson was notorious for making up stories about Brussels, a stuffy provincial city where he disliked being stuck. To his poison pen can be ascribed the legends of new regulations being imposed on the shape of British bananas, or the banning of Prawn Cocktail-flavored crisps under new fishing regulations. Now, here was another, in which he spun some personal remark by Jacques Delors about possibly one day moving to a federal European structure, into an active policy proposal.
"No, no, NO!" cried the Iron Lady, passionately swinging her mighty handbag at the vanishing ghost of British sovereignty. Even though her Spads had warned her, the story wasn't exactly true.
Thatcher's speech was too much for her Chancellor, Sir Geoffrey Howe. Following an excoriating resignation announcement in the Commons (Howe's yawn-inducing debating style was, said Denis Healey, like being 'savaged by a dead sheep'), the party moved against her, a leadership election was called, and after a couple of rounds of less than enthusiastic voting she was out.
One up for young Baris, on his way to the top of the wobbly pile.
A quick weather heads-down
Extra-tropical cyclone Jorge – first named by the Spanish weather service (you have to get your names in quick – it was supposed to be Ellen) – could bring winds gusting to over 90 mph when it scores a direct hit on the Irish coast overnight and ploughs on across SW England and Wales by the afternoon.
But according to Severe-weather.eu's satellite maps, Jorge is a double-cored cyclone, both rapidly intensifying – the more northerly core will cut through the north of Ireland and up into Scotland later on.
The storm will bring excessive amounts of rainfall to river catchments above areas already affected by severe flooding.
Your Uncle is reminded of a BBC interview heard many years past with the widow of the late, great anglophile Argentinian author, Jorge Luis Borges. The interviewer mentioned that there was some controversy in the English-speaking world and asked politely, how precisely should one pronounce the name Jorge? "Oh", she replied airily, "We all called him George…"
A US weather nerd is tracking the jetstream and predicts another 'bomb cyclone' emerging over the Atlantic coast Monday. So it looks like another wet and windy one in the British Isles next weekend, folks!
Corona v. Us
Update: help, we have our first case here in Wales – about 60 miles away in Swansea, where fortunately they have two big hospitals. (They took her to London…!) In everywhere else, the numbers this 28 Feb. lunchtime are: cases, 83,905; deaths, 2,868; recovereds, 37,000.
More update: 29 Feb. (no, it's a Leap Year), cases 85,473; deaths 2,924; recovereds 39,600. South Korea added more than 800 cases overnight, most in Daegu city. The first positive case in Britain with no known travel or contact history with the virus has been found in Surrey; another in Oregon, and a second in California – although one is 15 minutes from an airbase where Americans were flown back from Wuhan. Can this thing just pop up anywhere?
Last update for this edition: 01 March, cases 87,670; deaths, 2,994; recovereds 42, 600. A small spike in China recorded nearly 600 cases overnight. S Korea had 586 new cases, bringing the total to 3,736 – but still only 20 deaths, a mortality rate of 0.54%. Is it because S Korea has a young population, or just good defensive medicine?
The Chinese cases graph continues to level off, thanks to alarmingly effective control measures, some victims in Wuhan apparently being nailed-in to their homes to stop them going out, and at the moment, bar any drastic peak in the figures, looks like not making it as far even as 100 thousand.
Your Uncle, 70 and counting, is crossing himself and gelling liberally after accepting a lift last night from his Italian friend, newly returned from Italy (655 cases, x17) via Malta – which seems so far to have escaped the Gray Plague. He wonders seriously what he would do with Hunzi and Cats if confined to home or hospitalized; how would he get food, go walkies?
Prime Minister Abe has ordered all schools in Japan closed until APRIL as health authorities start reporting anomalous 'Community' origin cases and fears grow that the virus is not being contained and is already out there in the wider population.
Roughly $5trn has been wiped off global stock markets this week, an average fall of 9%, the worst rout since the financial crisis of 2008. Economics correspondent, Sterling Pound writes: Good, It's a necessary correction to a dangerous bubble.
Markets continued to plunge today on news that Mike Pence has been given the task of co-ordinating the US response. He has already slapped a censorship notice on all health professionals, who have to go through his office before making any statement to the media.
Not a health professional or a believer in science of any sort, except maybe Christian Science, Pence earned notoriety when previously Governor of Indiana he temporarily imposed his sanctimonious religious strictures on a clean needles campaign for intravenous drug users while he 'prayed' for moral guidance, thus accelerating an AIDS epidemic in the state by some 200 cases.
It's another one of Trump's nasty, vindictive little jokes. Trump has blamed Democrats and the media – his 'enemies; for creating panic and sidelined the country's top experts, and, yes, he used the word again, 'hoax' – but says that when he's re-elected in November the markets will bounce back "like you've never seen them before".
As if 99.99% of us give a fuck about his stupid markets, that he is continually trying to manipulate for his own benefit. The entire USA has so far managed to test only a few hundred people already showing symptoms: it doesn't have enough test kits, and those it has are defective. The government has no idea how far this thing might have spread. The first attributable death was recorded today, 29 Feb.
"…what for many must have seemed an abstract concern – Donald Trump's assault on facts, experts and science – is now a matter of life and death." – Jonathan Freedland, Guardian Comment.
"Trump's willfully obstructing what science requires to best protect the US population, in its potential for a devastating lethal impact, is akin to a war crime." – Mark Karlin, Ed. Buzzflash.
"8 Jobs"
Former UK Chancellor, George "8 Jobs" Osborne has tweeted:
"The British Government now needs to go onto a 'war footing' with the coronavirus: daily NHS press briefings, regular COBRA meetings chaired by the PM, Ministers on all major media shows. The public is fearful, wants information and needs to know their leaders have got a grip."
Poor 8 Jobs. If the British public took the slightest interest in being told anything, we would not have left the European Union and he might have been Prime Minister by now.
A rare Tottori Matsuba Itsuki-boshi ('Five Shining Pine Leaves') crab weighing just 1.24kg has been sold to a restaurant in Japan for a record 5 million Yen (USD $46,250) – Japan Times
Age appropriate language alert: 18-plus
Fuck Google, again
Every day, I visit a particular website that provides coronavirus data, and borrow the data for this, muh bogl, to provide my Corona v. Us summary, with commentary.
I thought it might somehow help.
In the Search box I key co, cor, corona, coronav, and Google still goes, oh, we really don't know what you want, how about these totally irrelevant options?
I have been there to the same site maybe thirty times. Dozens of 'cor' words come up as suggestions, except the one I always choose. The next time, Google cannot manage to guess the actual one I want until I key the full 'coronavirus' name. So much for the world's most intuitive Search engine.
Day after day after day after day, it's like having tea with a particularly tiresome deaf aunt.
Phones. Would it be okay if I personally took Google out in the yard and beat them to death with muh bare hands? Thanks.
Why, just because I bought a new phone and registered it with Google, have I ceased to exist as far as any other whatever that uses Google is concerned?
This is a fucking joke. They know perfectly well who I am, nothing has changed, although I was forced to change my password. Why am I expected to re-register, platform by platform, across the entire fucking network – only to find my new phone won't open Google mail for two days?
It's bollocks, Google. I don't want you to have my data, down to the last strand of DNA, but as it's the only way we can live together on this shit planet, the open internet that you have corrupted with your fucking money is all yours.
I surrender. Just let me access my Google emails on my phone, for fuck's sake, you dismal retards. And if you're going to tell me there's a problem, could you possibly manage to say what it is, so I can at least try fixing it – given that my domestic teenagers have long ago flown?
Bunker mentality: a BogPo superforecaster special
After The Pumpkin's multi-month speculations as to where Trump could have got the money to pay for his Scottish golf resorts, in the midst of the 2008 banking crash, according to the BBC 28 Feb., "Scottish Greens (no pun intended!) co-leader Patrick Harvie said the US Congress had heard concerns about possible money laundering involving some of the president's business deals.
i love that "possible", don't you? He's been at it for three decades, as is widely reported.
Harvie claimed there were 'big questions' over Mr Trump's dealings in Scotland, and has asked First Minister, Nicola Sturgeon to investigate, using an Unexplained Wealth Order of the kind we created for Russian oligarchs' wives shopping in Harrod's.
Harvie's instincts are right, based on questions raised in the US House of Representatives, which heard testimony that: "We saw patterns of buying and selling that we thought were suggestive of money laundering". Because at the time of his $100 million investment in the Menies course north of Aberdeen and his $150 million development of Turnberry, both of which have steadily been losing money, Trump was pretty well bankrupt, blacklisted – and no-one, other than Deutsche Bank's Private Banking division would lend to him.
Trump's two cretinous sons and the Trump Organization have squealed in unison. How dare you treat important inward investors to your tiny, insignificant country in such a flagrantly flagrant manner? Runs the totally predictable outburst of self-justifying, snarling, bullying outrage – although it was Eric Trump who blurted out years ago to a US golf journalist who also couldn't understand where the money had come from, that they got "all the money we need" from Russia.
Although Mr Harvie was basing his case on what he had heard produced in the US Congress and not making it up:
"Sarah Malone, executive vice president of Trump International, Scotland, described Mr Harvie's comments as 'utterly baseless and malicious' and called on him to retract them. She added: 'This attention seeking behaviour is not what is expected of a responsible elected member of Scottish Parliament.'"
In other words, Mr Harvie can look forward shortly to finding himself hauled up in court on sexual assault charges he knows nothing about yet; videoed doing the Highland Fling with witches at full-moon, or maybe even accused of blackmailing one or other of Donald's CEO friends. If Trump had a Latin motto, it would be 'Nemo me impune lacessit' – cross me and I'll destroy you.
The Pumpkin has over the past year joined a few dots, and asked a few unanswered questions, about an investment management company called Aberdeen Asset Management – now Aberdeen Standard Investments following an £11 bn merger last year with Standard Life Assurance, making Aberdeen with over £350 bn the second largest managed fund in Europe. Where did the money originate?
For a long time, apart from geographical contiguity and the probability that nowhere else locally had that much money to spare, the dots seemed only tenuously to connect Trump with Aberdeen because of Aberdeen's 2005 acquisition of his lender of last resort, Deutsche Bank Private Banking, or a part of it. That's the subdivision headquartered at 82 Sadovnicheskaya Street, Building 2, in Moscow.
Only three years earlier, in 2002, Aberdeen had gone AWOL, owing £650 million to small investors who never got most of their money back. Ordered in 2004 by the regulator to pay £78 million compensation, the business somehow rose again from the ashes, while founder and CEO, Martin Gilbert was being described in the Commons as "the unacceptable face of investment management'. Along with Deutsche, he bought a substantial slice of Murdoch property, Sky TV and set off on the acquisitions trail. But there was still no visible connection to Trump.
And then just a few months ago, The Pumpkin stumbled on an item in the Financial Times, recording that Sir Martin Gilbert had been a guest of the Trumps at the president's inauguration ceremony in January, 2017. They had met, Gilbert gushed, "on the golf course".
It's good for a relationship when you have an interest in common.
Shortly before it was reported last 3 December that Deutsche Bank had agreed to hand over all its records relating to Trump's loans in the Southern District Court of New York, on 19 November the executive who had signed off the loans, Thomas Bowers, was found hanged at his home in California. In October, SLM had announced that, with a new chairman taking over, Gilbert would be leaving the board in May, 2020 and joining online money transfer service, Revolut*, a secondary bank founded by london-based tech whizzkids Nikolay Storonsky and Vlad Yatsenko, as chairman. 'I'm leaving to concentrate on my golf game!', he joked, in jest. "I'm resigning before I'm pushed!"
I'm sure it's all just coincidence.
Dots. People can join them, anyway they like.
And no doubt will.
*"The BBC understands that in the past three years, Revolut has seen the departure of two chief risk officers, two money laundering reporting officers, a chief compliance officer and a chief finance officer, amongst other roles." Clearly a steady hand at the wheel is required. Still to obtain a full banking licence, Revolut attracted interest when it was found that it had disabled an automated blocking system preventing clients  named on sanctions lists from transacting international business.
GW: nothing much to report yet.
UK: Wettest ever, had an average rainfall of 202.1mm last month, beating the previous Feb. 1990 record of 193.4mm. In South Wales, the Southwest and other parts of the country there were over 200 flood warnings out for 29 Feb. and 1 March as more heavy rain from extra-tropical Cyclone Jorge, the third in three weeks, fell on already saturated hillsides and rivers that had peaked during the week began rising again. Police declared a 'temporary critical incident' in flooded Pontyprydd.
USA: Yet more rain across the south up into the Ohio valley is contributing to a three-months winter season in which more than twice the average rainfall – around 30 inches – has fallen since last December, prompting new flood warnings. Blizzard warnings were in effect on Feb. 28, AccuWeather predicting several 'feet of snow' in parts of upstate New York. Schools have been closed.
Italy: as if the northern regions being in virtual lockdown as coronavirus rapidly spreads were not agonizing enough, "a deep surface cyclone develops across the northern Mediterranean (Genoa low) through Sunday and Monday, resulting in excessive rainfall and locally amounts close to 300 mm", affecting the north of Italy and the Balkans, warns Severe-weather.eu.
Your Granny Weatherwax has asked herself if comparison of the areas most affected by the virus might reveal any useful correlation with areas of extreme weather activity over, say, the past three years. Is Covid-19 possibly the first pandemic virus to be spontaneously engineered by the changing climate?
Australia: ex-Tropical Cyclone Esther has been drifting slowly along the northern coastline, firehosing rain onto the Northern Territories. Another five days' worth is expected as it wanders inland, with possiby 300-500mm more rain to dump, warning of floods. (Severe-weather.eu) Despite the rain, the actual monsoon season in the north is two months late. While heavy rains in the south have probaby ended the early and dvastating fire season, some farmers have benefitted while others have remained in drought. (ABC Weather)
Peru: more floods in the south. People displaced. (Floodlist)
Tunnel approaching….
Yellowstone update: After an alltime record year with 48 eruptions in 2019, the Steamboat geyser, largest in the park, has started 2020 in a more introspective mood. There have been just 5 eruptions this year, and Yellowstone watcher, Ben Ferruiaio reports, the latest was the weakest he's seen. January was, he writes, 'boring', but throughout February there have been new swarms of microquakes.
Russia: 17 Feb, air quality in Krasnoyarsk, Siberia qualified for Worst in the World, being many times worse than nearest rival, Mumbai, on the WHO scale. The 'black sky' event due to industrial pollution led to authorities warning people not to venture outdoors – or leave town if they could. Pollution in several Siberian cities is being blamed for a rising incidence of breathing problems and skin conditions in pets. (Siberian Times)